Headed Off-Road? Don't Be Afraid To Go Diesel!
As diesel-powered pickup trucks became more and more refined, the public's demand for them prompted The Big Three to offer compression ignition in more configurations. Fast-forward 20 years later and ¾-ton and 1-ton diesel trucks are everywhere—and can be had in countless versions of each manufacturer's trucks. Over the course of the last decade in particular, off-road packages have spread to these heavy-duty platforms, which have been hot sellers for Detroit truck makers. And it's no surprise that many buyers frequently opt for the torque-monster diesel option when ordering them.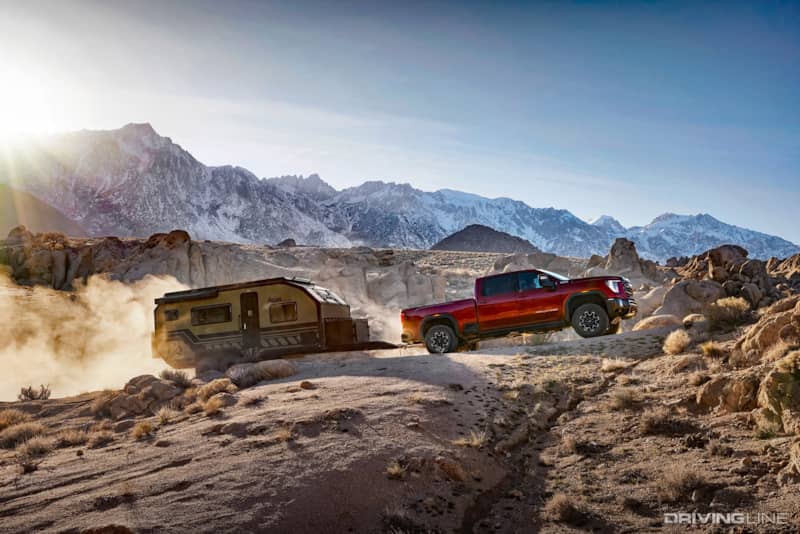 By combining the low-rpm torque turned out by a diesel with an electronic locking rear differential and the right amount of gear reduction, you can crawl up just about any obstacle in your path. It's no wonder why options like Ford's Super Duty Tremor package, GM's HD AT4 (GMC) and ZR2 (Chevrolet) packages and Ram's 2500 Rebel carry such high appeal for would-be off-roaders. After all, once they hop back on the pavement they can put those gargantuan towing and payload capacities back to work—all while achieving respectable fuel economy.
This time, we're spotlighting the latest diesel-propelled, backcountry-prepped heavy-duties on the market.
Ford's Tremor Off-Road Package: Go Anywhere, Tow Anything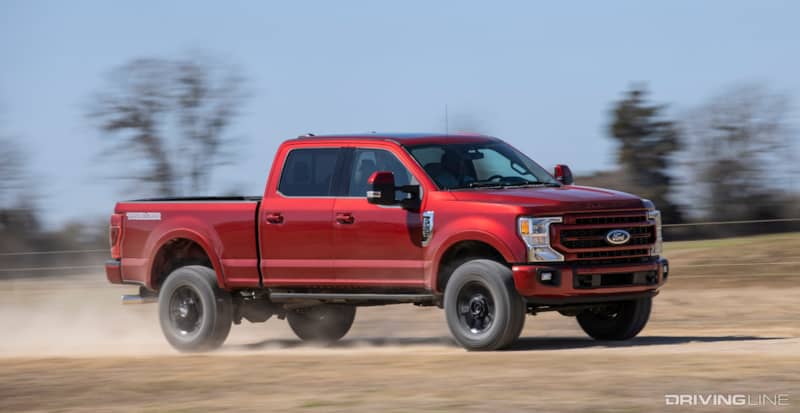 Many believe Ford's Tremor off-road package for the Super Duty was designed to best Ram's Power Wagon, a vehicle that's not available with diesel propulsion. It comes with 35-inch all-terrain tires (LT285/75R18) mounted on 18-inch, low-gloss aluminum wheels, boasts 2-inches of lift up front, 10.8-inches of ground clearance, an electronic locking rear differential, a limited slip front diff and a 3.55:1 axle ratio. An off-road-intended front and rear suspension consists of a 1.7-inch twin-tube damper present at each corner and skid plates to help protect the transfer case and fuel tank. The Tremor package is available in conjunction with Ford's high output 500 hp, 1,200 lb-ft 6.7L Power Stroke diesel V8. F-250 versions can tow 22,000 pounds and F-350 spec'd models are rated for 27,000 pounds (gooseneck).
The Budget-Friendly, XL Trim Off-Road Package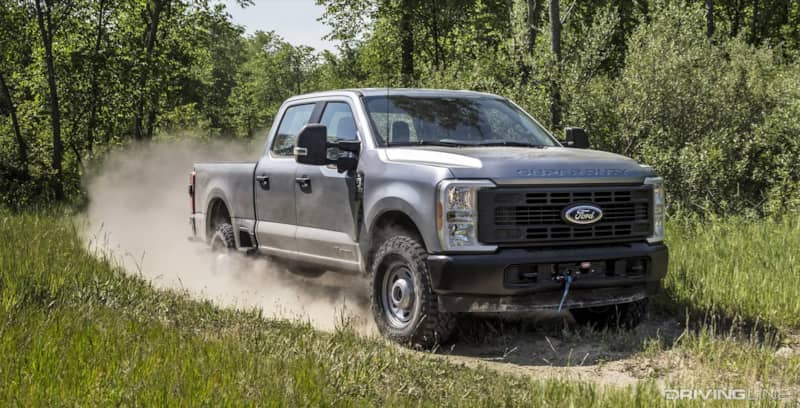 Surprisingly, Ford's bare bones Super Duty trim, the XL, can be had with its own off-road package—and it provides relatively high bang for the buck. The XL Off-road package entails 33-inch (LT285/70R17) all-terrains affixed to 17-inch painted steel wheels, fuel tank and transfer case skid plates similar to what is employed in the Tremor package and also includes the electronic locking rear differential. Also like the Tremor option, there are water fording vent tubes in place should you encounter water on your off-road excursions. For a $12,495 upcharge (which may seem hard to stomach for a budget-oriented XL buyer) the highly sought after, high output 6.7L Power Stroke can be had under the hood.
Building On the AT4—The GMC Sierra 2500 HD ATX4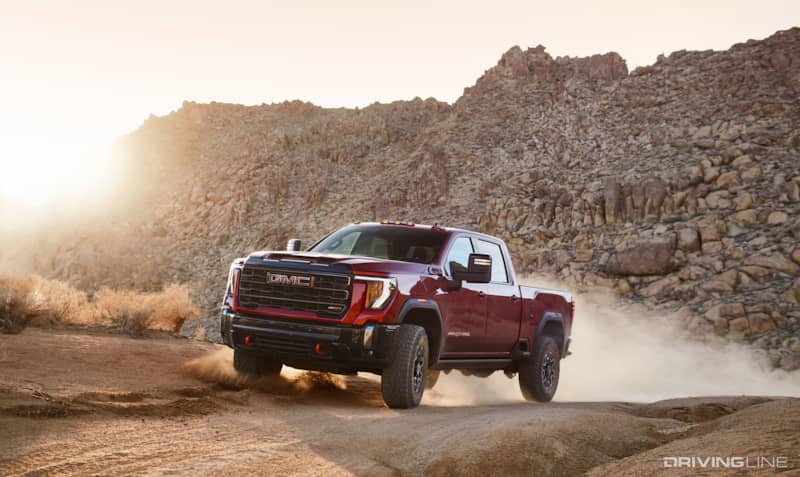 To match Ford's Tremor package, GM created a beastly, comparable package of its own: the GMC Sierra HD AT4 and now the AT4X. Packing a 1.5-inch, factory-installed lift, boasting 11.6-inches of ground clearance and rocking a rear electronic locking differential, AT4X builds on the AT4 package. Thirty-five-inch diameter mud terrains, sitting on your choice 18-inch aluminum wheels with high-gloss black accents or 18-inch gloss-black aluminum wheels with laser etching, are along for the ride. For both exceptional off-road performance as well as on-road comfort, a Multimatic DSSV spool-valve damper exists at each corner. Equipped with the latest generation 6.6L Duramax—the V8 diesel that turns out 470 hp and 975 lb-ft of torque—max towing checks in at a stout 18,500 pounds.
Building On The AT4X—The GMC Sierra 2500 HD AT4X AEV Edition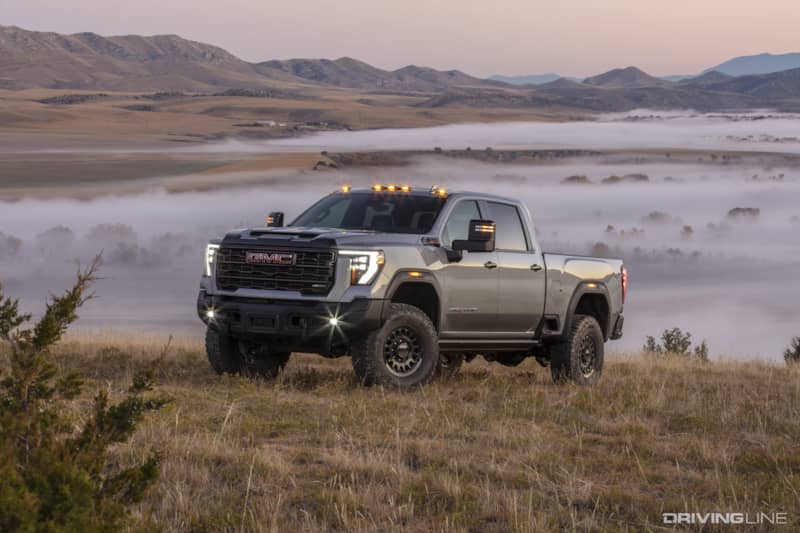 AEV stands for American Expedition Vehicles—a world-renowned OEM supplier of aftermarket products for vehicles designed for recreational driving and overlanding adventures. In partnering with GMC, the '24 Sierra HD AT4X AEV Edition delivers 11.8-inches of ground clearance, better approach and departure angles than AT4, stamped steel skid plates throughout the underbody and powder coated bumpers (with integrated, cast-in recovery points and provisions to add a winch). The AEV Edition also includes exclusive, racing-inspired, 18-inch Salta wheels. Max towing for the rugged GMC Sierra HD AT4X AEV Edition checks in at 18,400 pounds.
Chevrolet Silverado 1500 ZR2: Off-Road Agility & 30-MPG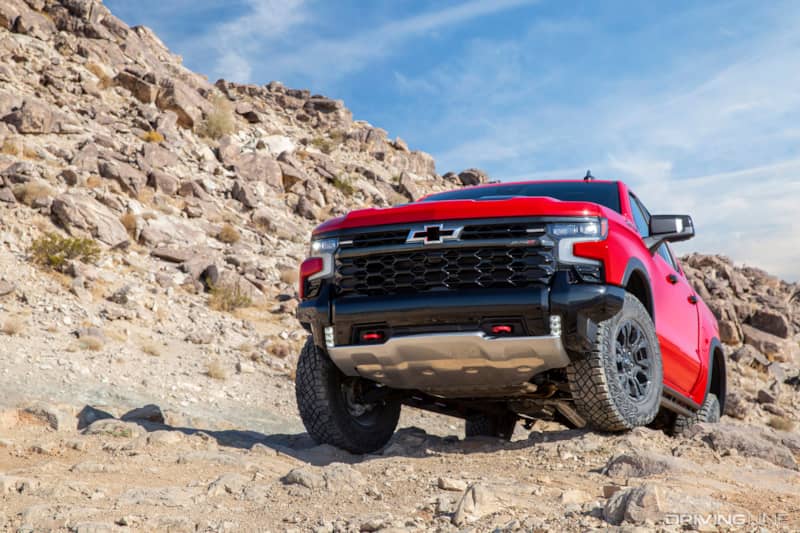 A fuel-sipping half-ton that can hold its own off the beaten path? Count us in! For 2024, GM added the 3.0L Duramax inline-six diesel engine as an option on the Chevrolet Silverado 1500 ZR2. In other trims with the 3.0L Duramax, seeing 30-mpg on the highway is not unheard of. The ZR2 package boasts front and rear electronic locking differentials, a 2-speed transfer case with "Terrain" mode, 33-inch mud terrain tires mounted on 18-inch aluminum wheels and a Multimatic DSSV spool-valve damper at each corner. Sizeable aluminum skid plates protect the truck's underbody and an exclusive, cut steel front bumper provides for an impressive, 33.5-degree approach angle.
Ram 2500 Rebel—Not A Power Wagon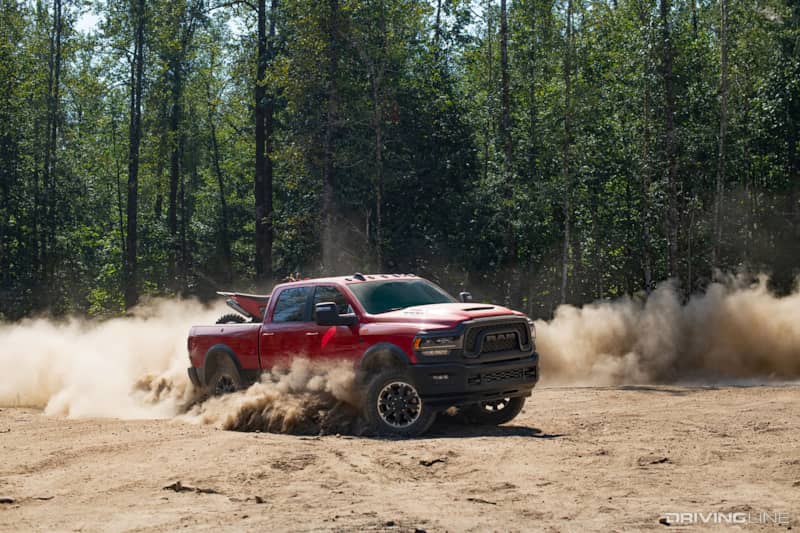 Although it may share some of the limelight with the Power Wagon, the Ram 2500 Rebel is anything but. For starters, it's available with the 6.7L Cummins (the Power Wagon is not), the 370 hp, 850 lb-ft of torque diesel being the option you get (not the 1,075 lb-ft H.O. version offered in 3500's). Unlike the Power Wagon, the Rebel package gives you stiffer coil springs for towing, but also no front sway bar disconnect or front locker (it does use the electronic rear lock, however). Simply put, it's built more for work than the Power Wagon. Still, the Rebel 2500 package boasts a competitive 11.1-inches of ground clearance, 33-inch all terrain tires on 20-inch black diamond cut aluminum wheels (with 18-inch wheels also available) and gas-charged, monotube Bilstein shocks with a 5-link rear coil suspension for a smooth ride whether you're navigating trails or are out on the open road.
Rugged, Off-Road-Friendly Parts, Right From The Factory
With nearly all of these options, you're given the kind of burly, large ring gear axles that would be the envy of most off-roaders right from the factory (think of GM and Ram's 11.5-inch AAM axles and Ford's Dana M275). Of course, all of today's ¾-ton and bigger trucks are based on fully boxed frames made from high-strength steel as well, which means frame flex is a non-issue off-road and certainly not a problem when the truck is put to work on the pavement. And then there are the heavy-duty, diesel-specific transmissions each truck is gifted with, namely the 10R140 TorqShift in Ford's Super Duty and the Allison 10L1000 in GM's HD's.
Work Trucks, With A Twist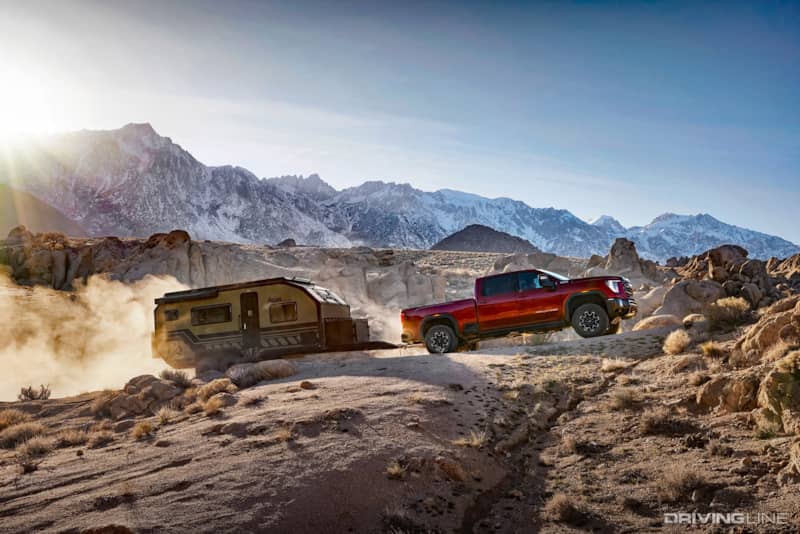 At the end of the day, these trucks aren't full-blown trail rigs, they're pickup trucks. This is why they retain their heavy-duty DNA (frames, suspension and powertrain). But they do exhibit a valid attempt by The Big Three to give you the best of both worlds: a vehicle that can venture off-road without getting in over its head, but that can also hook on to a 15,000-pound trailer and pull it from here to Alabama. And speaking of towing, the latest driver-assist technology available from Ford and GM is top-tier. Ford's Pro Trailer Backup Assist, Trailer Navigation assist and Smart Hitch system help make its trucks the kings of the segment. And GM's Surround Vision and Bed View, Transparent Trailer and Trailer Side Blind Zone Alert features represent some of the finest towing-aid technologies we've ever seen.
More From

Driving Line
Need further proof that diesel will weather the EV storm? You can take a sneak-peek at what the future of diesel looks like right here.