Inside GM's 3.0L Duramax
These are exciting times for GM fans who're partial to diesels. Not only is the ever-dependable 6.6L Duramax V8 still available in the 2500 and larger HD trucks and the 2.8L I4 available in the mid-size Colorado and Canyon, but now the General's hot-selling half-ton line is being graced with a compression ignition option. The latest power plant to don the Duramax name displaces 3.0 liters from six cylinders—but unlike Ford and Ram those cylinders aren't arranged in a V. That's right, the brand-new, all-aluminum Duramax is an I6 and it turns out an impressive 460 lb-ft of torque at 1,500 rpm. Horsepower checks in at a class-leading 277 hp.
But that's not all. A host of cutting-edge technology and advancements can be found in this new oil-burner. From sleeved cylinders to an electronically variable intake manifold to a water-to-air intercooler, it's a groundbreaking engine to say the least—and is arguably the most unique in its segment. Beyond that, the 3.0L Duramax's low and high-pressure EGR system, electronic throttle valve, ball-bearing variable geometry turbocharger and 36,250 psi-capable common-rail injection system help make it one of the cleanest and most powerful diesels (for its size) ever produced. As the diesel-powered 2020 Chevrolet and GMC half-tons begin to arrive at dealerships, here's what you can expect from the all-new, inline-six Duramax under the hood.
Torque for Days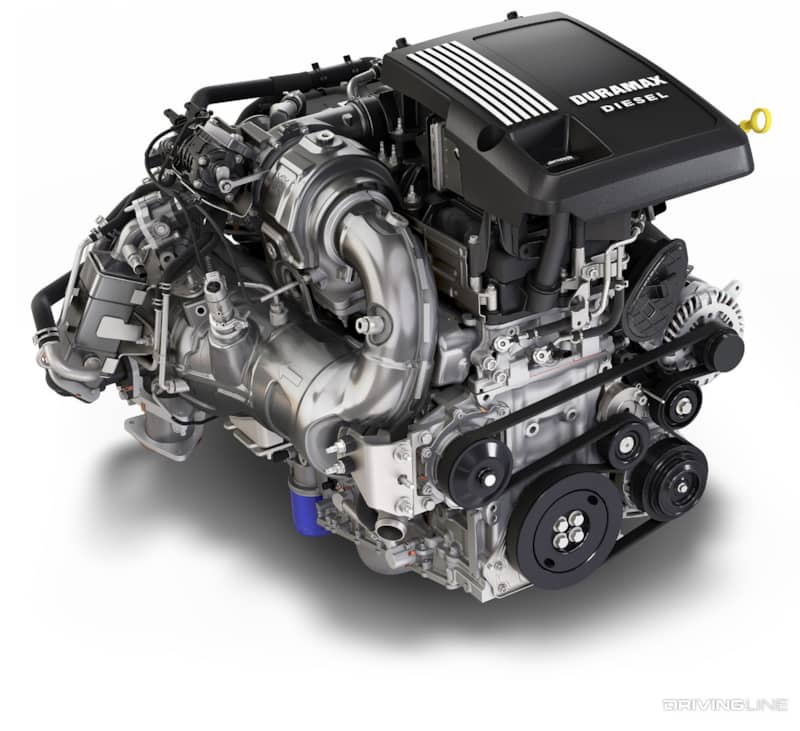 GM might be the last domestic truck manufacturer to offer a diesel in its half-ton line in the modern age, but with inline-six architecture, iron cylinder sleeves, a block stiffener and forged-steel connecting rods they seem to have done it the best in terms of overbuilding an engine. In addition to durability, there is no denying the immense low-rpm grunt that only an inline power plant can provide, and the 3.0L Duramax boasts 460 lb-ft of torque—available from 1,500 rpm all the way through 3,000 rpm. It's also worth mentioning that 95-percent of that peak torque number comes on line at 1,250 rpm.
State of the Art VGT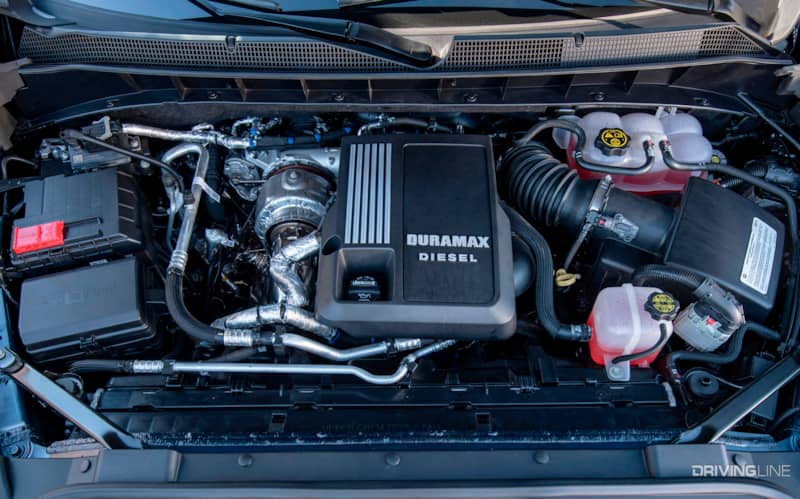 The turbocharger, a liquid-cooled variable geometry unit that sits on the passenger side of the cylinder head, is deliberately packaged near the engine's exhaust manifold for quicker spool-up and quicker lighting off of the exhaust catalyst. The turbo is also equipped with a ball-bearing center section, which with its low-friction design adds durability and further aids responsiveness. VGT functionality is fast-reacting thanks to being both controlled and actuated electronically.
Routing Airflow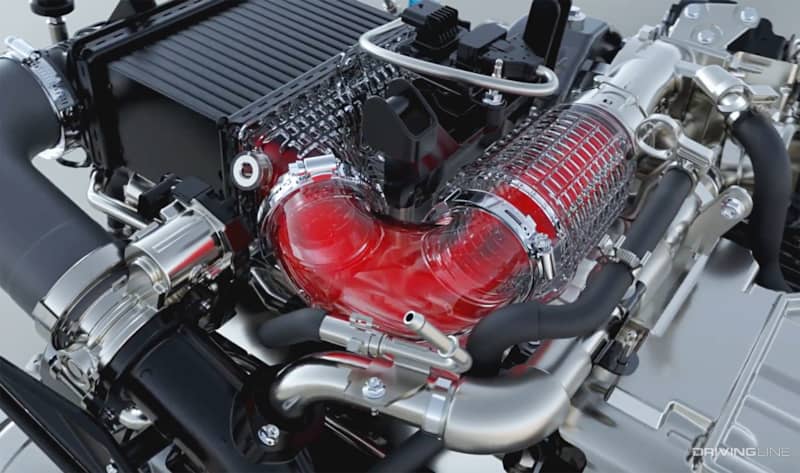 Under full load, the turbocharger will produce approximately 29 psi of boost in stock form. Once compressed, the VGT forces incoming air through a composite intake pipe that's roughly a foot long. At the end of the composite tube, a bend sharper than 90-degrees routes air into a water-to-air intercooler, which is tightly packaged on top of the engine.
Water-to-Air Intercooling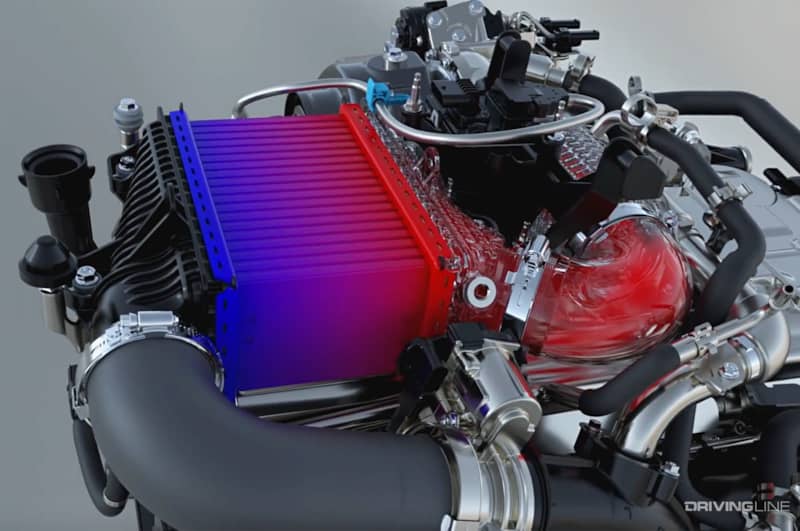 Similar to Ford's 6.7L Power Stroke, GM's 3.0L Duramax makes use of a water-to-air intercooler. Water-to-air units provide a higher density intake charge for improved efficiency and (ultimately) power over traditional air-to-air intercoolers, not to mention they free up space in the cooling stack area. In aftermarket arrangements, a water-to-air intercooler can drop intake temperatures from several hundred degrees F leaving the compressor outlet to under 100 degrees before entering the cylinder head(s).
Variable Intake Manifold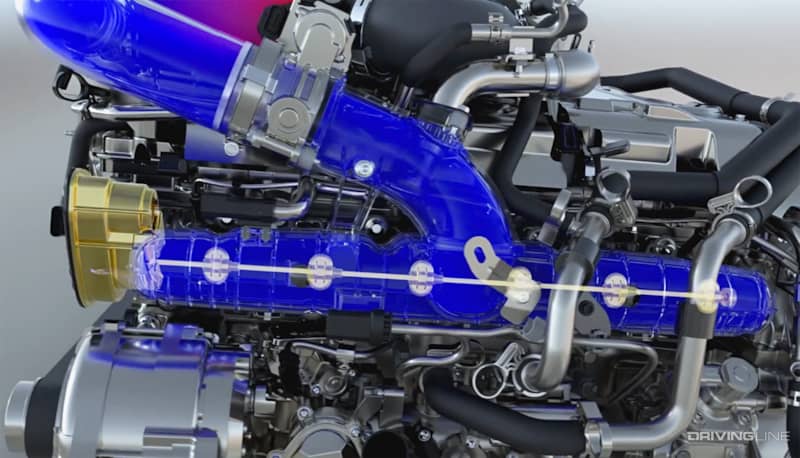 The intake manifold is located on the driver side of engine and it conceals an advancement unique to the segment. In order to help meet emissions and maximize efficiency while delivering optimum performance, a variable intake manifold features internal, electronically controlled flaps that can reduce or increase the amount of airflow feeding into each cylinder. This technology offers precise airflow control, which facilitates peak performance and responsiveness across the entire rpm range and especially at lower engine speeds.
Chain-Driven High-Pressure Fuel Pump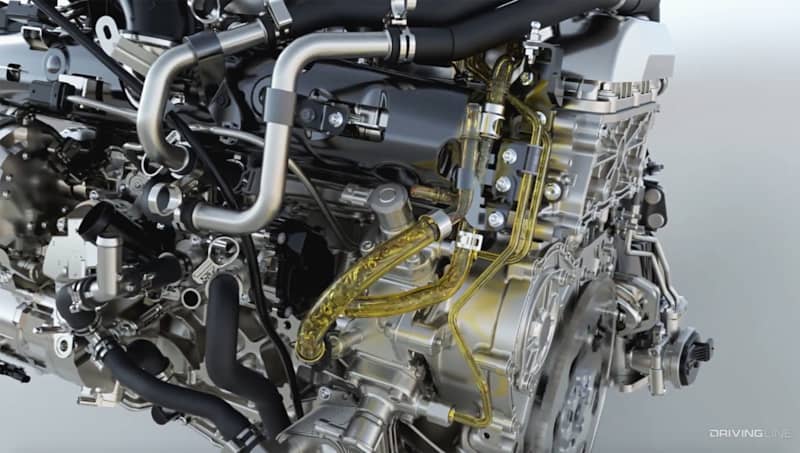 Like its 2.8L I4 and the 6.6L V8 Duramax kin, the 3.0L Duramax features a high-pressure common-rail injection system. We're not sure if the twin-piston high-pressure fuel pump (HPFP) is a CP4.2 unit from Bosch or a Denso pump similar to the HP3, but we do know it's located at the driver side rear of the engine. The injection pump is driven off of the crankshaft via chain, while a chain driven by the pump drives the overhead intake and exhaust camshafts.
36,250 PSI Rail Pressure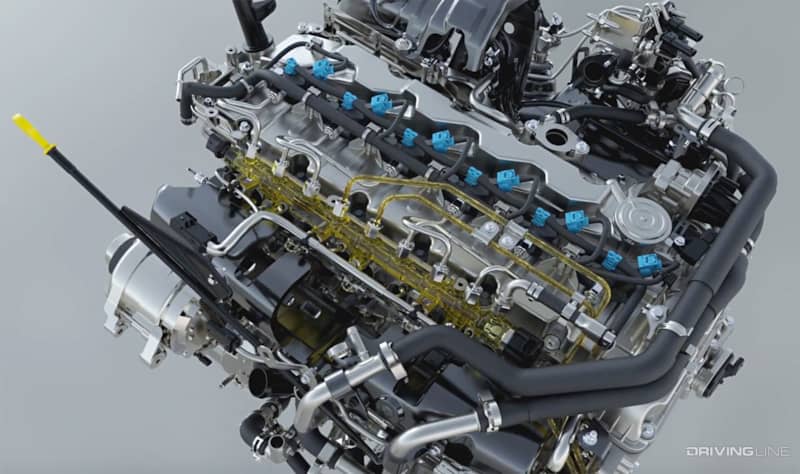 After pressurizing fuel as high as 36,250 psi (2,500 bar), the high-pressure fuel pump routes fuel here: the rail that sits above the intake manifold. When common-rail injection first debuted in the American truck segment (on the 6.6L LB7 Duramax, no less), 23,000 psi was the norm. The current capability to create pressure in excess of 36,000 psi allows GM to meet modern, stringent particulate matter emission standards while also offering class-leading horsepower.
Fast-Firing Injectors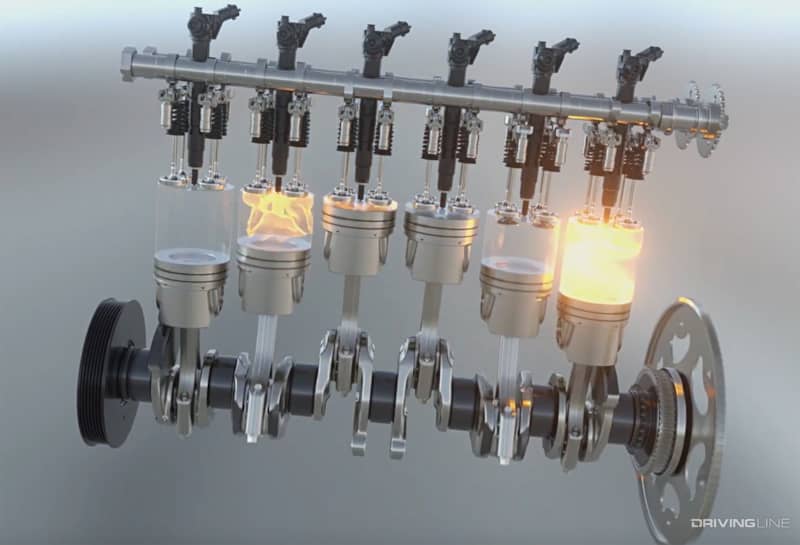 Electronic, solenoid-activated injectors equipped with 9-hole nozzles take care of in-cylinder fuel delivery. Like the HPFP, we don't yet know if the injectors are Bosch or Denso units, but we do know they're capable of carrying out as many as 10 injection events per combustion cycle. This precise metering of fuel delivery means that multiple pilot and post injection events will likely be utilized in addition to the main injection(s), which is to say that—in addition to being extremely powerful given its size—the 3.0L Duramax will be very quiet.
Hypereutectic Pistons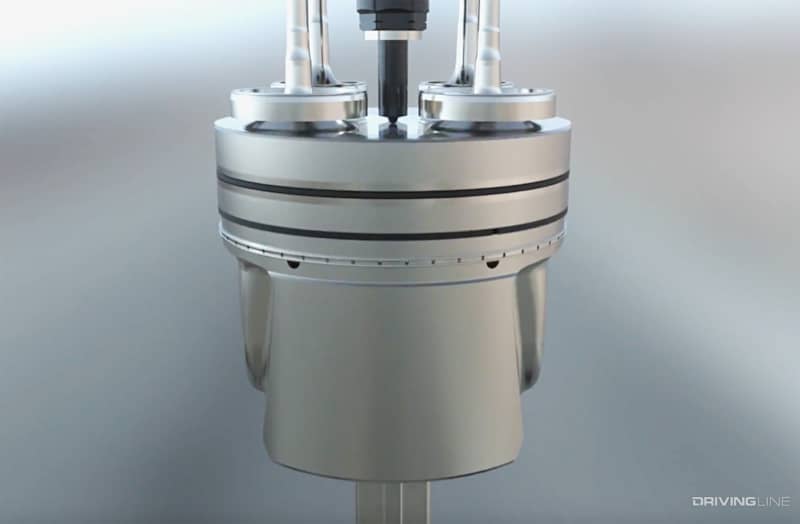 Within the deep-skirt aluminum block, a forged-steel crankshaft slings forged-steel connecting rods up and down within their respective (and sleeved) cylinder bores. At the top of the rotating assembly, GM employs hypereutectic cast-aluminum pistons. The use of hypereutectic alloy pistons allowed engineers to reduce weight, employ a heat-resistant piston and run tighter tolerances. The piston's design entails a notably thick crown and the incorporation of a reinforced top compression ring for handling the high cylinder pressures the engine will produce. Compression checks in at 15.0:1.
At Home at Work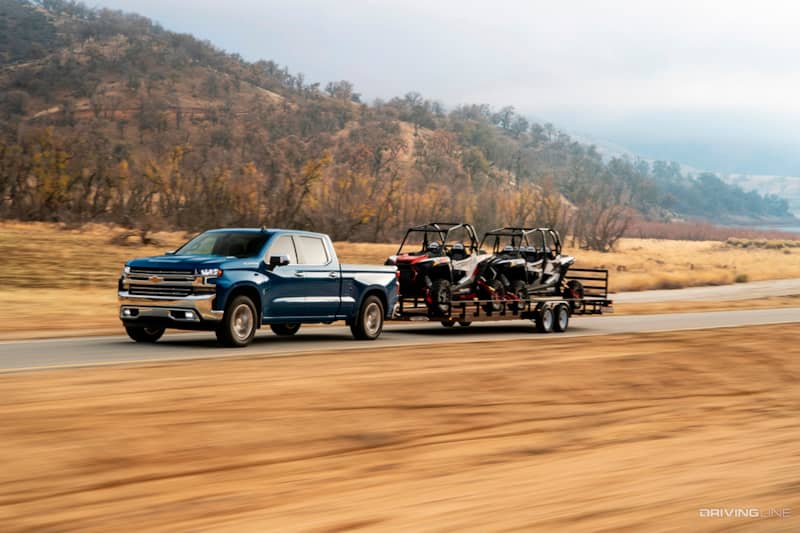 It's in an inline engine's nature to produce gobs of low-end grunt, but the electronically controlled and actuated VGT, variable intake manifold and highly-advanced common-rail fuel system will only enhance the drivability of the 3.0L Duramax. With 9,300 pounds of max towing capacity, the 2020 diesel-powered Silverado (or Sierra) 1500 isn't a class-leader by any stretch of the imagination, but when saddled with enough weight to meet their respective gross combined weight ratings, we'd be willing to bet the Chevy (or the GMC) is more pleasurable to drive than the Ford F-150 Power Stroke or Ram 1500 EcoDiesel.
Back in June, we compared Ford's F-150 Power Stroke and Ram's EcoDiesel to GM's new 3.0L Duramax to see how each of the Big Three half-ton diesels stack up. For all the cold-hard facts on that comparison, click here.