Heaven On Earth: A '15 GMC Sierra 2500 HD Denali Duramax Packing Luxury And 725 HP
If you're passionate enough about a vehicle, it can literally change your life. When Brady Bartholomew purchased this '15 GMC Sierra 2500 HD Denali from the local dealership it soon became part of who he is. From paint-matching to doubling the Duramax diesel V-8's horsepower to extensive lighting upgrades, Brady's Denali has been much more than a project, but rather a way of life throughout the past six years. And in addition to his diesel addiction, he even runs a 20,000-member group called the North Dakota Diesel Crew, which hosts three sizable truck events each year.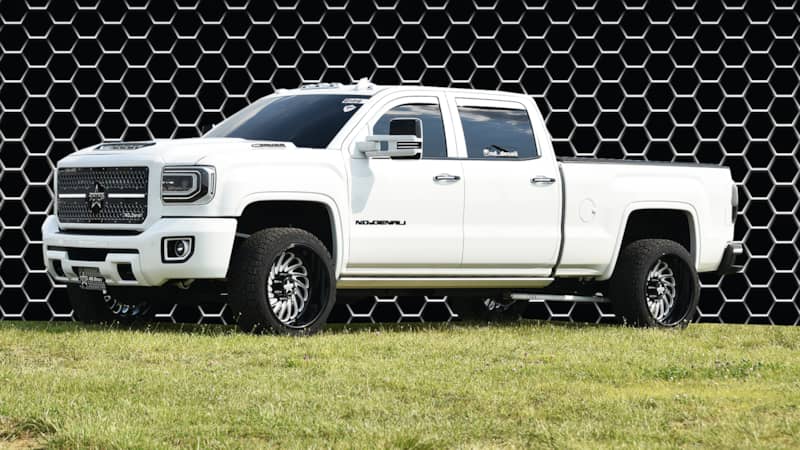 After coming across his Summit White GMC, we learned it packed much more than showy looks. The LML Duramax sends 725 hp and 1,275 lb-ft of torque to the pavement thanks to a common-rail injection system on steroids, compound turbo arrangement under the hood and a BD Allison 1000. Suspension and steering mods, combined with a set of Nitto Recon Grapplers mounted on KG1 Forged wheels, ensure more than 700 ponies are planted with ample traction. The customization even continues as you enter the cab. Keep reading for the full tour of Brady's one-of-a-kind Denali.
Big Boost, Stock Bottom End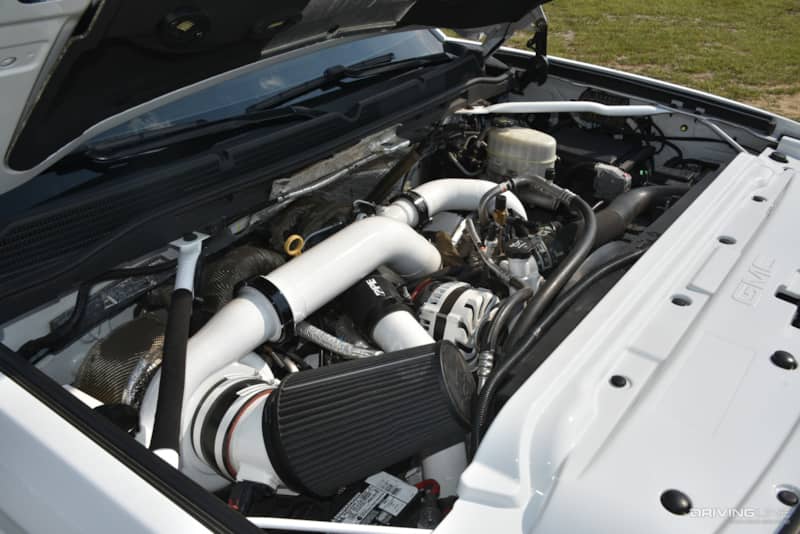 A well-spec'd billet S480 over 63mm Fleece Cheetah VGT comprise the compound turbo system that sends 77-psi of boost through a Mishimoto intercooler. Beneath that piping sits a bone-stock LML Duramax V-8 short block with 67,000 miles on the clock. A 12mm stroker CP3 replaced the factory high-pressure fuel pump, Industrial Injection 100-percent over injectors replace the stockers and a 150-gph FASS lift pump system kick-starts the big fuel party. In 2018, and in preparation for the nearly 80-psi of boost he was about to throw at the stock bottom end, Brady upgraded pushrods and had his friends at 701 Diesel Performance install ARP head studs.
One-Off & High-Flow Exhaust Parts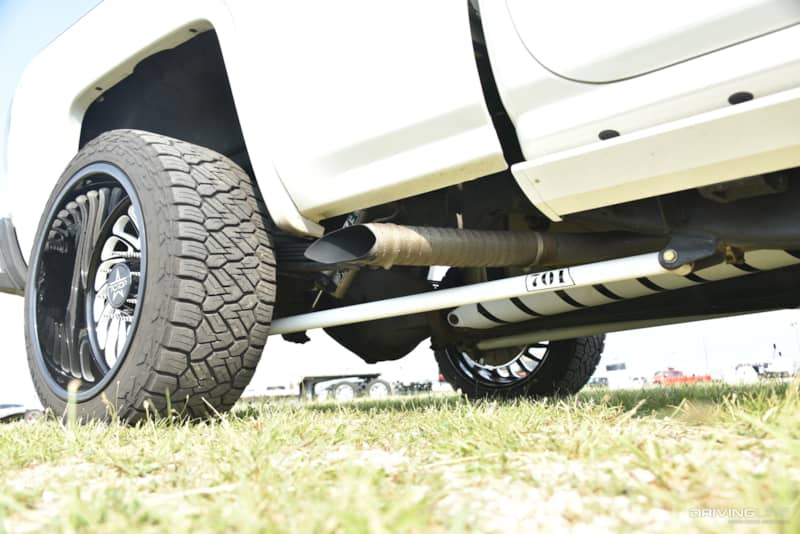 One of the more subtle yet eye-catching features of Brady's Denali is its exhaust. Side exit systems are rare in the diesel realm, but it seems to work quite well in this case—much better (in our opinion) than the 10 and 12-inch tips you sometimes see. Upstream of the custom, side-exit exhaust system, a high-flow exhaust manifold and up-pipe kit from PPE is employed. The cast, high-sil moly exhaust manifolds and larger inner diameter up-pipes aid spool up, namely helping the big T6 S480 roar to life.
Custom Grille & Paint-Matching
Not only does the GMC's one-off grille look the part, but it also pays well-deserved homage to the shop that performed a lot of the work on the truck. After all, Brady's friends at 701 Diesel Performance are responsible for getting the truck over the 700rwhp mark while still sporting the factory short block (the factory LML Duramax pistons start to become worrisome around 650rwhp). Cutting Edge Offroad made the grille, Supreme Retroz did the headlights, taillights, door handles, and mirrors, and After Hours Paint & Customs in Bismarck, North Dakota handled all the paint-match work. Also notice the Morimoto fog lights…
Never-Ending Interior Mods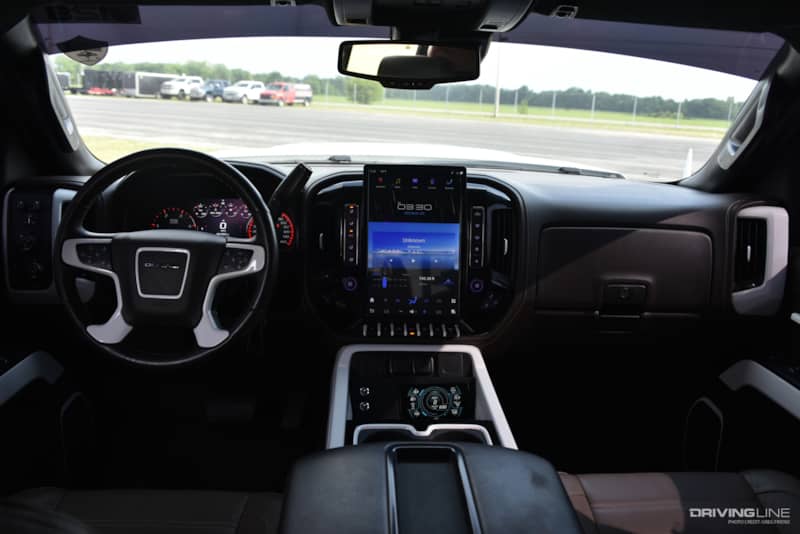 In the GMC's cockpit you get the full Denali experience and then some. A 14.4-inch Tesla style screen, a Lock'er Down center console safe and an Edge Products Insight CTS3 were added. Out of view, a Starlight headliner and a custom, JL Audio sound system—complete with C7 door speakers and tweeters, a one-off sub box and three 10-inch subs—sum up the biggest interior upgrades Brady has performed. But that's not all. Since our photo shoot back in June he's already completely reworked the interior, adding all-new seats and a custom, suede-wrapped steering wheel.
Traction & Steering Improvements
Once through the BD-built Allison 1000, horsepower makes its way to the AAM 1150—and without these babies in place the rear axle would never be tamable. They're traction bars and they tie the axle in with the frame to combat axle wrap and leaf spring twist, a major problem on high-torque diesel pickup trucks. Up front, the violent toe-in, toe-out scenarios many IFS-equipped GM's experience in four-wheel drive is eliminated thanks to Kryptonite tie-rods, an idler arm (as well as a Moog pitman arm) and center link upgrade. Kryptonite wheel bearings, upper control arms and upper and lower ball joints are also along for the ride, as well as Fox 2.0 reservoir shocks.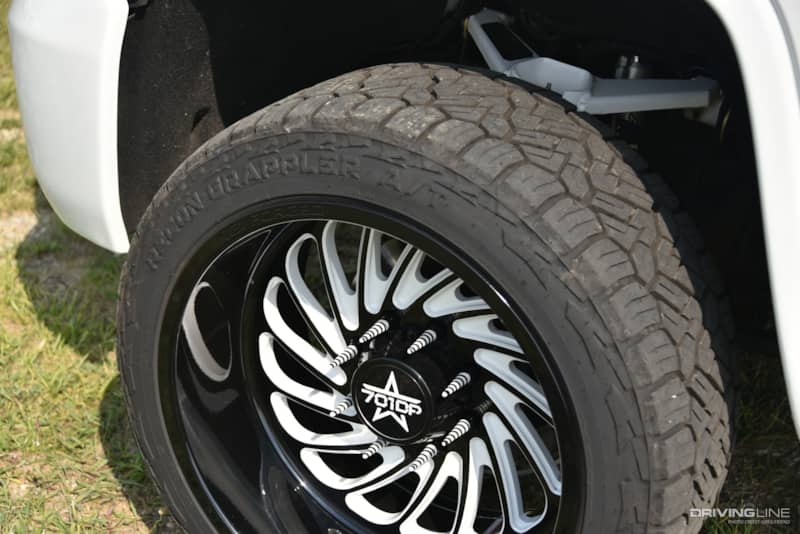 Brady picked out the 22x12-inch forged-aluminum KG1 Bender wheels for his Denali and then paid good money to have custom center caps made by Kap King. But believe it or not, it was his local tire dealer that recommended he go with Nitto Recon Grapplers for rubber. "At the time, I wasn't seeing Recons everywhere as they were still pretty new," Brady tells us. "So it made the truck more unique and stand out a bit more." So far, Brady says he's impressed with the ride quality of the 305/40R22 Recon Grapplers, but that he's even more blown away by how quiet they are at highway speed.
Reverse-Leveled And Plans For Air-Ride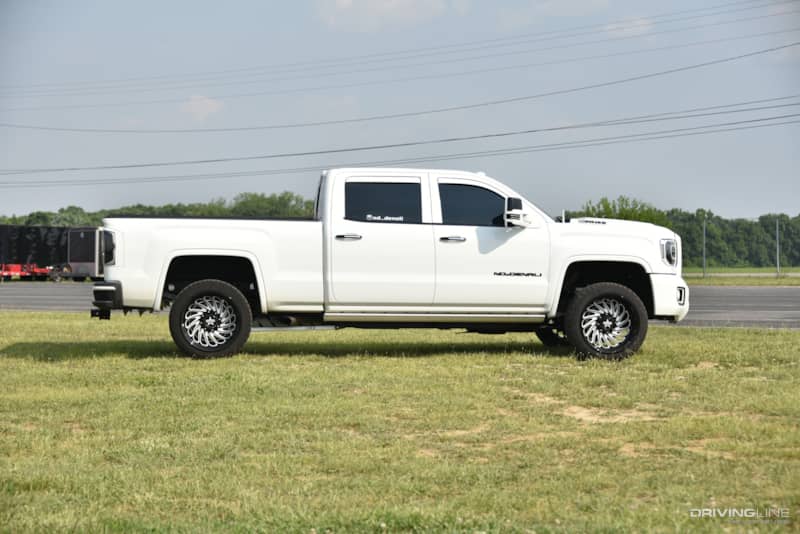 Installing drop shackles in the rear gave Brady the reverse-leveled look he was after. The drop shackles lowered the truck's rear ride height by more than two inches. To drop the truck further, as well as have the ability to infinitely adjust ride height, he's considering switching to air springs over the winter. Like any other automotive obsession, Brady has caught the diesel bug in a big, big way. From interior to exterior appearance and suspension to performance, no corner of his Denali has gone untouched—or left modified in the same exact manner for very long.
Just Getting Started
Speaking of winter plans, Brady is already lining up a massive undertaking when the cold, North Dakota winter sets in. The bed will be pulled and repainted, with unique touches added in several areas.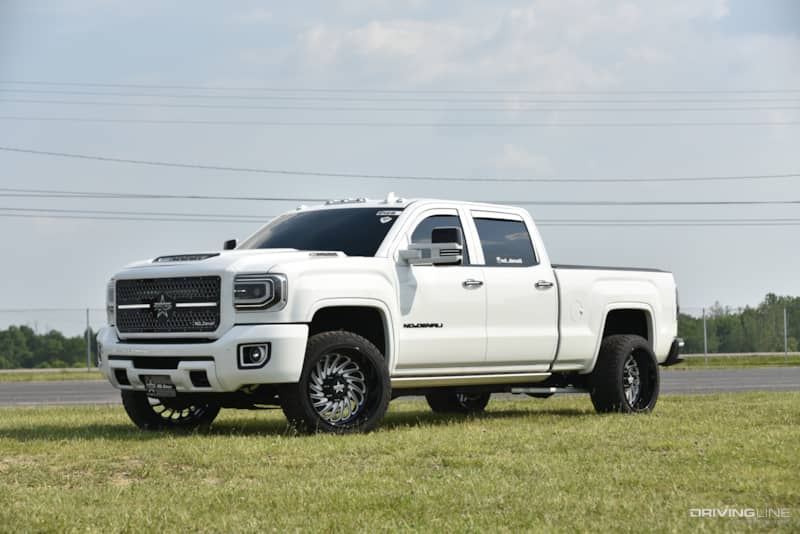 Then, Brady plans to weld in a roll pan and repaint the axles and suspension, front and rear. We're sure the frame will get some attention while he's at it. When Brady's one-of-a-kind GMC hits the show truck circuit next spring it'll look and feel brand-new all over again—just the way he wants it.