High Yellow '56: An All Female-Built Classic Truck Crushing Gender Diversity in the Automotive World
Spotting a fully built classic on the road has become somewhat of an art form over the years, with patinaed rides, primered customs, and pro-touring beasts all having their day in the sun. But when it comes to the latest build from Girl Gang Garage and TV host Bogi Lateiner, you'll be able to spot it from a mile away.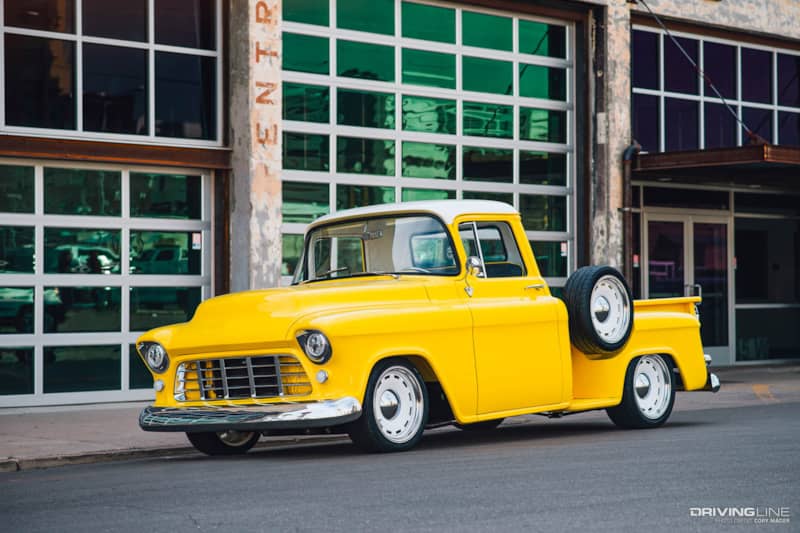 Girl Gang Garage 
Based in Phoenix, Arizona, Girl Gang Garage is the brain-child of long-time All Girls Garage host Bogi Lateiner and co-owned by her friend and fellow automotive enthusiast Shawnda Williams. Founded in 2016 as a place for women of all experience levels in automotive restoration to come together to build, learn, and grow as a community, Girl Gang Garage has done two complete builds, both of which have debuted at the SEMA Show in Las Vegas.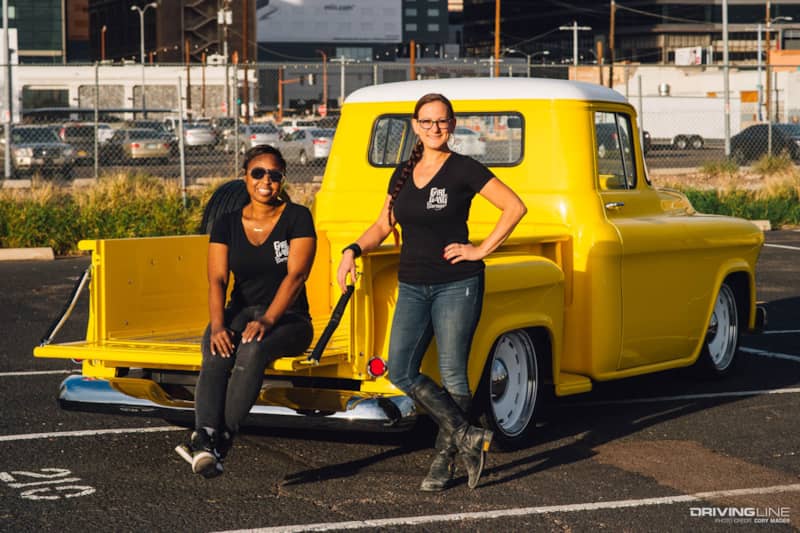 High Yellow 56 is the second of these two builds, having been led by Latenier, designed by Williams, and worked on by 60 women leading up to its reveal at the 2019 SEMA Show, where the truck was proudly featured in the BluePrint Engines booth.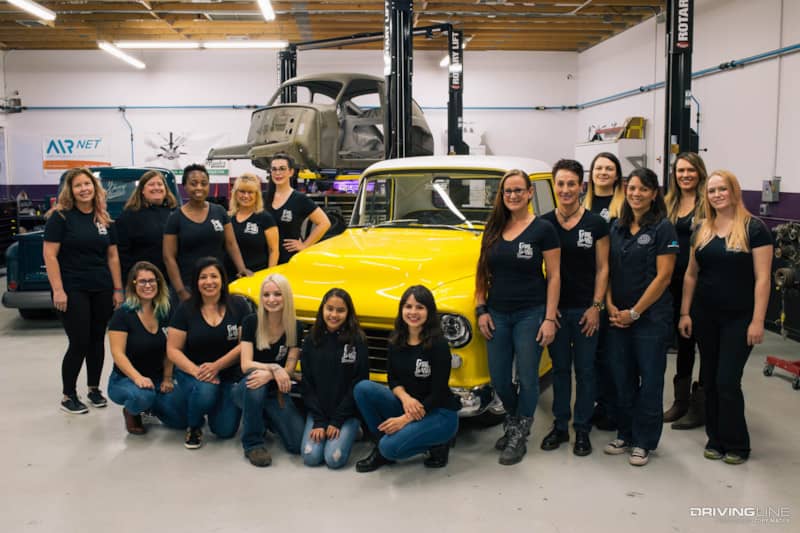 Built with Purpose
Girl Gang Garage is much more than a custom car shop run by females. It's a place where women can come together to build amazing vehicles, learn new skills and express their automotive passions without judgment. And their all-female builds? Well, those have more meaning as well!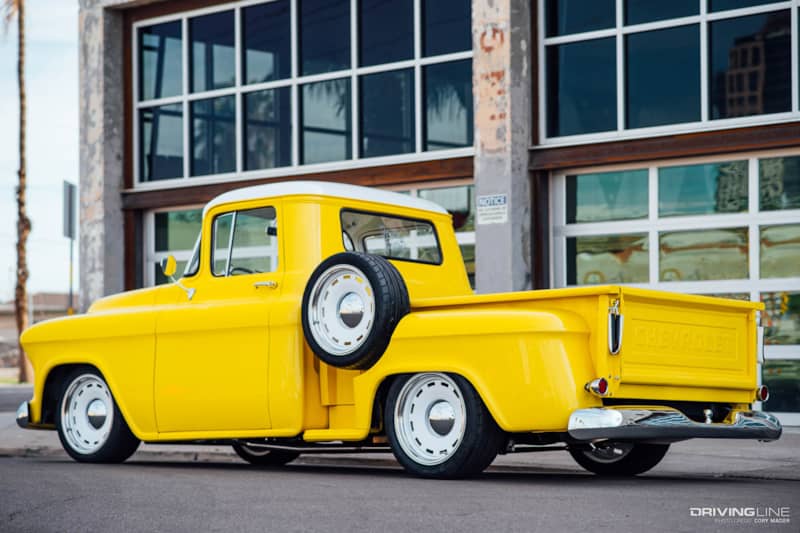 Each build the Girl Gang Garage takes on is meant to bring awareness to gender diversity issues in the automotive world, inspire new women to get involved in the industry by providing free access to hands-on automotive restoration experience, and foster connections among females in the industry. And the results are quite impressive, as you can see here with this amazing classic truck!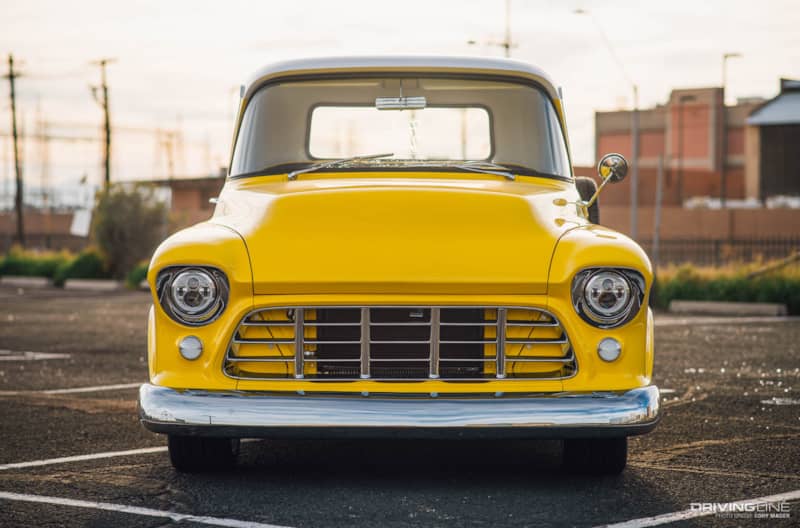 Designed by Williams, High Yellow 56 took cues from the Girl Gang Garage's first build, a 1957 Chevy Pickup dubbed Chevy Montage, and went a step further. This time around, it was about performance, perfecting those classic body lines, and showing just what kind of ride can come out of an all-female shop!
That Classic Look 
There's nothing quite like a mid 1950s Chevy and this 3100 pickup was the perfect platform to show off that vintage flair. With a bit of love and talent, the truck's original cab, hood, fenders, tailgate, and even bumpers were able to be utilized in the build, while the truck's bed was sourced from Mar-K Manufacturing Bedsides and Bedwood.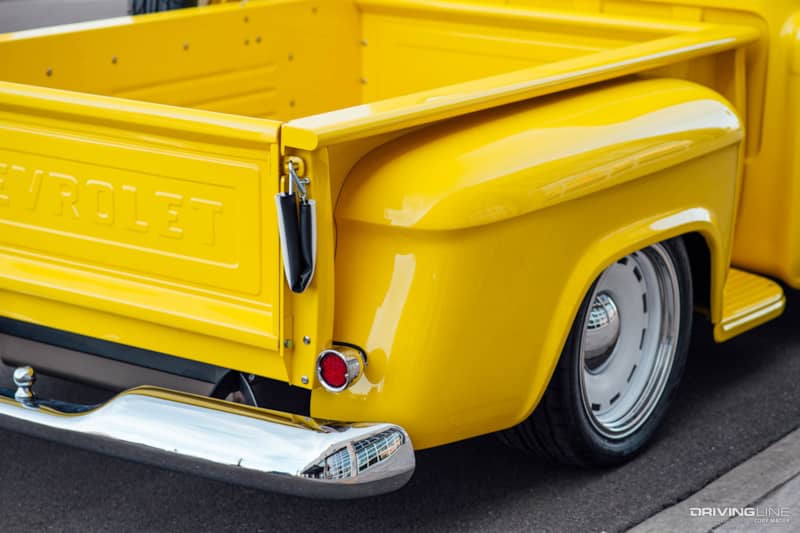 Giving the truck it's high visibility sheen and its namesake is BASF Diamont 1S1 P3 Yellow paint. This is complimented by BASF SA054.02 white and House of Kolors Ice Pearls Ice White II.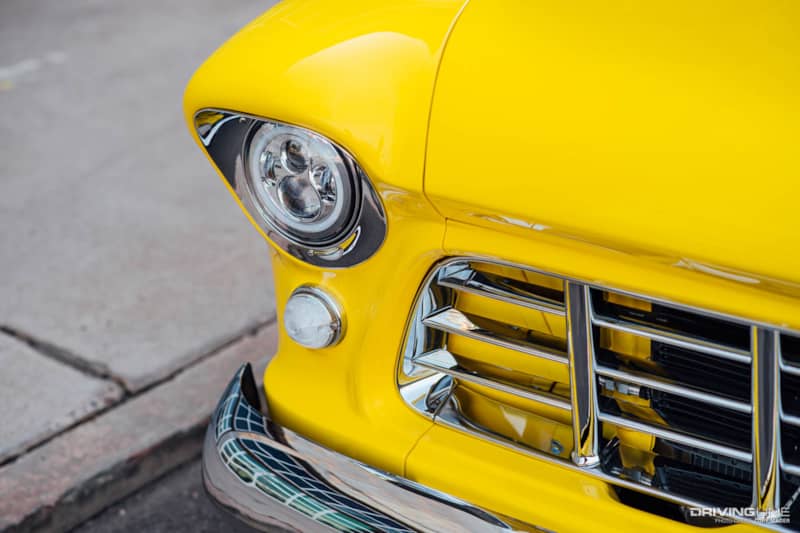 Inside, you'll find a completely custom-designed interior that continues the exterior colors within. Features include custom designed diamond-stitched seats by Williams with upholstery from B62 Upholstery, a Grant Banjo-style steering wheel atop an ididit steering column, and a Dakota Digital instrument cluster.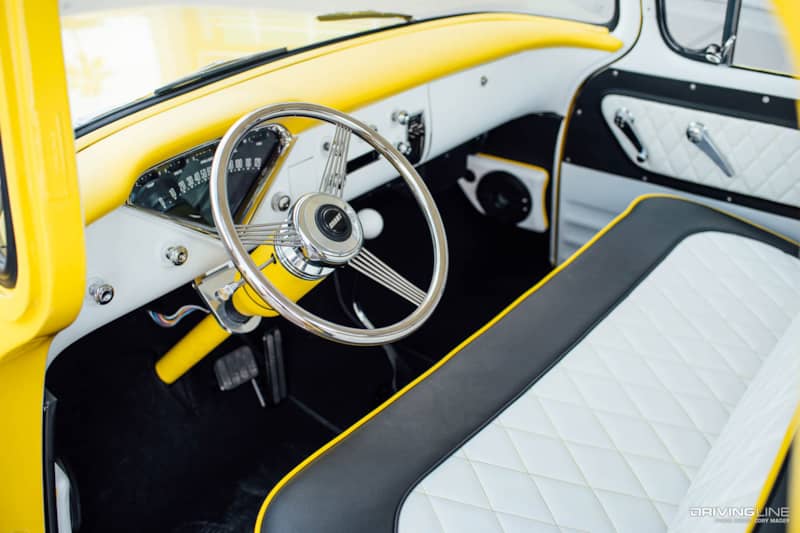 Finishing touches like LED Halo headlights, a Vintage Air air conditioning unit, and that classic side-mounted spare wheel and tire carrier take this build from well done to top-notch. Talk about turning heads!
Heart of the Build
Wanting to push some serious power through the '56, a BluePrint Engines BP3502CTC1 engine was chosen as the heart of the build. Based on the GM 5.7L 350ci platform, this engine is bored .060 inches and stroked 3.480 inches, and boasts a compression ratio of 9.5:1. With Hypereutectic pistons, a hydraulic roller cam, aluminum heads, and a Holley intake manifold, the BluePrint engine produces 406hp and 393ft-lbs of torque.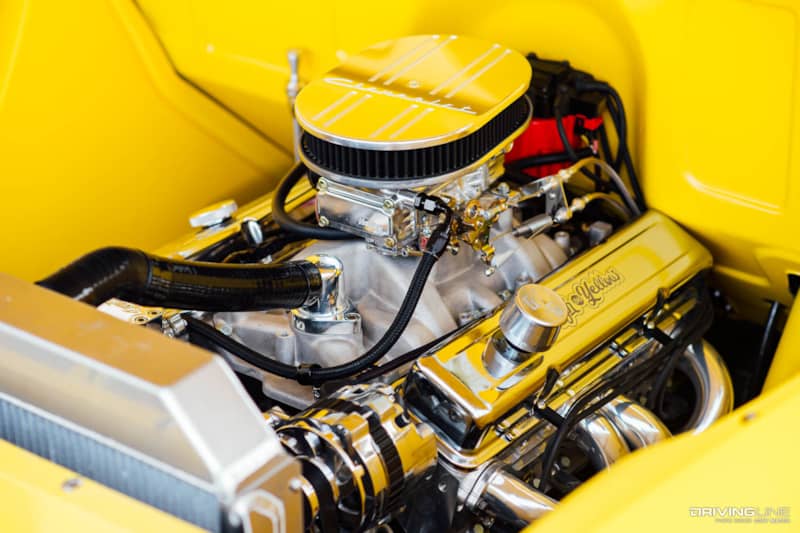 Other features of the truck's heart include American Auto Wire wires and ignition, a Ron Davis Racing Products custom radiator, TCI small block Chevy headers, a Magnaflow exhaust system, and a Rick's Tanks gas tank, which boasts an electric fuel pump.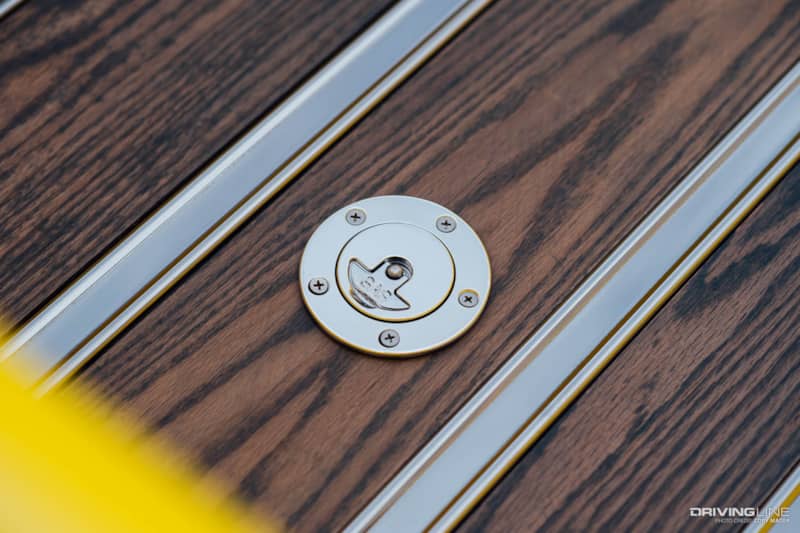 Power Meets Pavement
Built atop a TCI Engineering 55-59 Chevy Pickup chassis, High Yellow 56 features a TCI custom independent front suspension system and a 4-link rear, outfitted with RideTech adjustable coilover shocks on all four corners.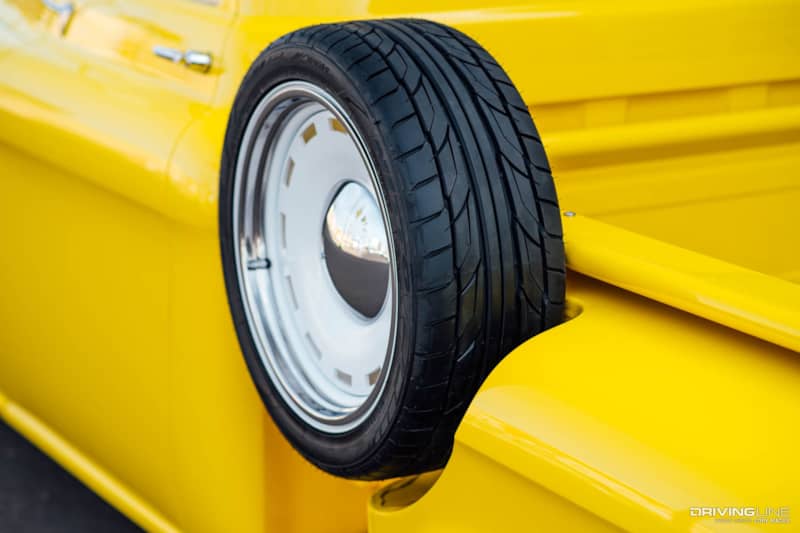 A custom built Monster 700R4 transmission tied to a Lokar Shifter pushes the truck's over 400hp to a Currie 9-inch rearend. Planting the truck to the ground are custom painted 18-inch Delrey wheels from Detroit Steel Wheel Co. wrapped in Nitto NT555 G2 rubber. And braking for the truck comes in the form of Wilwood discs all the way around.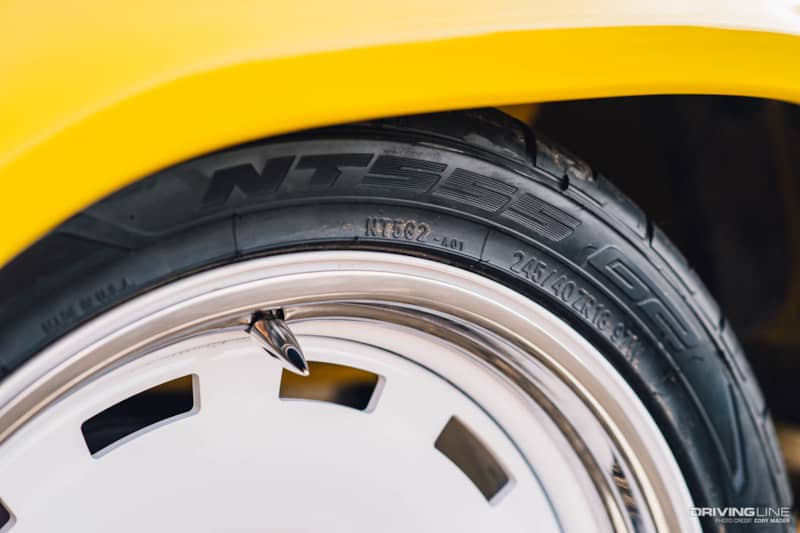 There are a lot of classic trucks running around out there, but few are as well thought out and put together as High Yellow 56. With a build this caliber, we can't wait to see what comes out of Girl Gang Garage in the future!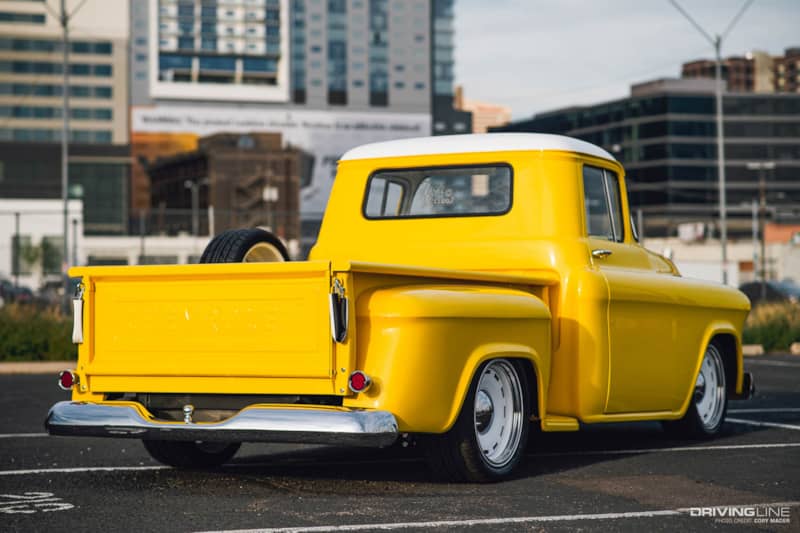 The Nitty Gritty of High Yellow
| | |
| --- | --- |
| Vehicle: | 1956 Chevy 3100 Pickup "High Yellow 56" |
| Owner/Builder: | Bogi Latenier, Shawndra Williams and the Girl Gang Garage |
| Engine: | BluePrint Engines 5.7L GM 350 bored .060 inches and stroked 3.480 inches; Hypereutectic pistons with a 9.5:1 compression ratio; hydraulic roller cam; aluminum heads; TCI small block Chevy heads; Magnaflow exhaust; custom Ron Davis Racing Products radiator;Rick's Tanks gas tank |
| Output: | 406hp and 393ft-lbs of torque |
| Transmission: | Monster 700R4 with Lokar Shifter |
| Suspension: | TCI chassis with custom ifs and rear 4-link; Ridetech adjustable coilovers |
| Rearend: | Currie 9-inch |
| Wheels & Tires: | 18-inch Detroit Steel Wheel Co. Delrey wheels; Nitto NT555 G2 tires |
| Brakes: | Wilwood Discs |
| Exterior: | Original cab, hood, fenders, and bumpers; Mar-K Manufacturing Bedsides and Bedwood bed; LED Halo headlights; BASF Diamont 1S1 P3 Yellow/ BASF SA054.02 white/House of Kolors Ice Pearls Ice White II paint. |
| Interior: |   Custom design with B62 upholstery; Dakota Digital gauge cluster; Grant banjo-style steering wheel; ididit steering column; Vintage Air system |