History Of The 1994-1998 HD Dodge Ram Pickup Trucks: Improved Design, New Engines And Coil Spring Front Suspension
Perhaps the biggest move in the history of Dodge pickups occurred for the 1994 model year. Not only did Chrysler completely redesign its Ram trucks inside and out, but it debuted the first 4x4 coil spring front suspension in the ¾-ton and larger segment, the first V-10 engine ever offered in a pickup and ranked first in payload and towing. In time, the '94-'98 version of the 5.9L Cummins would go down as the holy grail of diesel engines in pickup trucks—with a vibrant aftermarket still continuing to support it today.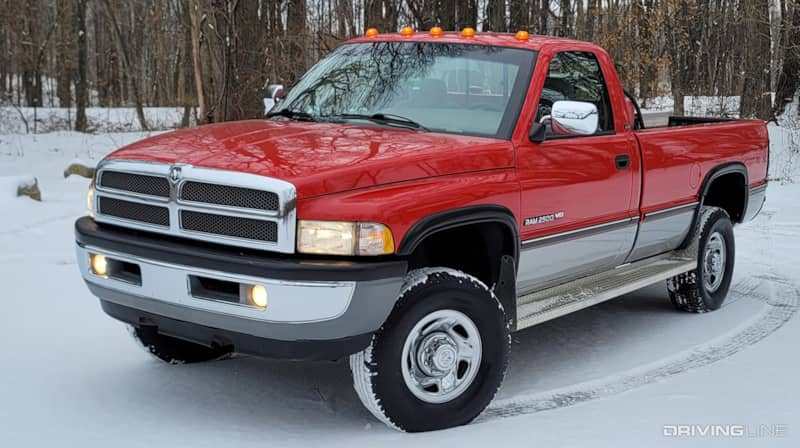 Little remained of the '94 Ram's predecessor aside from the name. The Class 8-inspired front grille made Dodge trucks stand apart from the crowd, its body lines broke away from the squared off designs of the past (and the non-aerodynamic bodies still being offered by Ford and GM at the time), it boasted a modern interior with more room than any other competitor and it was all laid on top of the strongest frame in its class. It's no wonder Dodge even overtook Chevrolet and GMC in overall sales for a time.
While the Cummins-powered '89-'93 trucks helped revive the Dodge truck brand, the '94 version solidified Ram as a rival that was here to stay.
P-Pumped 5.9L Cummins
With Dodge able to keep up with customer demand for its 5.9L Cummins option—thanks to Cummins opening its Midrange Engine Plant in 1992 to exclusively build them for the auto maker—plenty of diesel-equipped Ram 2500 and 3500's began circulating the country immediately. For '94, the 5.9L Cummins—still a 12-valve all-iron, direct injection inline-six with a single turbocharger and an air-to-air intercooler—was fitted with a Bosch P7100 inline injection pump rather than the previous Bosch VE rotary pump. The change provided for an increase in both horsepower and torque output, so long as it was all bolted to the manual transmission option. With the latter combination, peak horsepower checked in at 175 hp at 2,500 rpm and 420 lb-ft of torque at 1,500 rpm. Beginning in '96, the Cummins/manual option offered a 215 hp and 440 lb-ft package.
Magnum V-10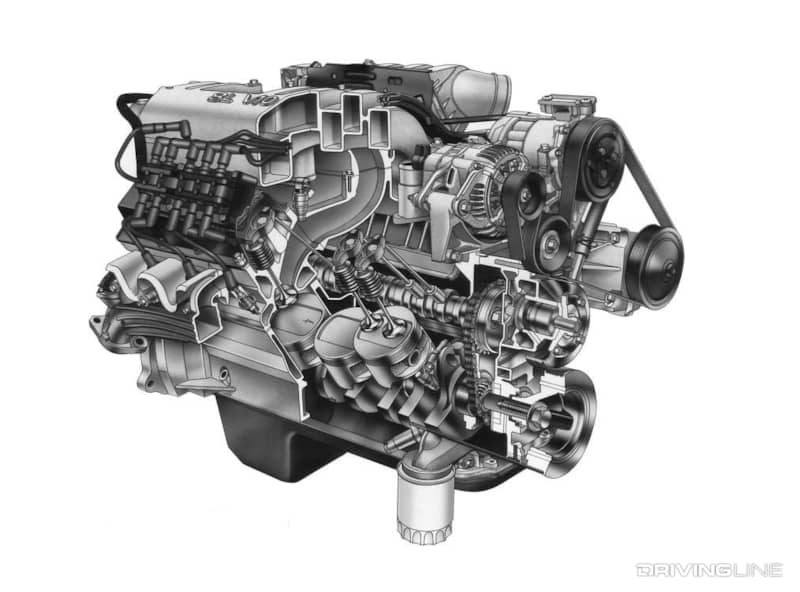 The biggest news in the '94 Ram's extensive powertrain lineup was the all-new Magnum gasoline V-10. Thanks to its 4.00-inch bore and 3.88-inch stroke, the 90-degree overhead valve V-10 displaced 488 cubic inches, or 8.0L. It sported a cast-iron (deep "Y") block and heads, an 8.4:1 compression ratio and was billed as being "more fuel efficient than the Ford 460 or Chevy 454 V8s." Its 300 hp at 4,000 rpm and 450 lb-ft of torque produced at 2,400 rpm led all pickup truck engines in America in both horsepower and torque production.
Strongest Frame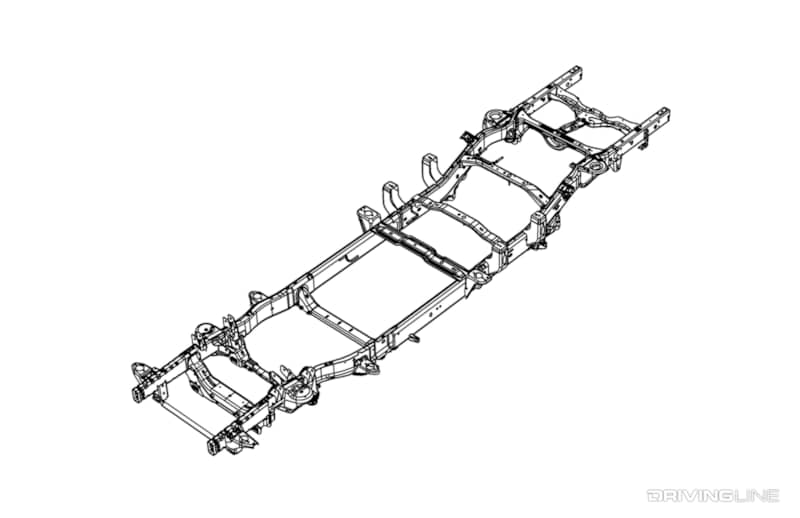 It was clear that Dodge planned to own the ¾-ton and larger segment with its '94 trucks. The new, 36,000-psi steel frame featured the deepest rails of any pickup at the time and its boxed front section provided additional rigidity where it was needed. The C-channel (center) and straight channel (rear) sections of the frame were considerably thick for sufficient strength. A unique, H-shaped main rear crossmember also helped to resist bending and twisting under heavy loads.
Coil Spring Front Suspension
On 4x4 models, leaf spring front solid axles became a thing of the past for Dodge beginning in 1994. The Ram's coil spring front suspension marked a first for the segment and Dodge wasted little time advertising it. "The new Dodge-exclusive Ram 4x4's unique solid axle link-coil suspension with stabilizer bar provides a new standard of off-road ride, handling, travel and traction." The Dana 60 solid front axle remained, although the differential was now located on the driver side of the beam, and Ram boasted the widest front track width of any truck in '94.
Rear Dana 80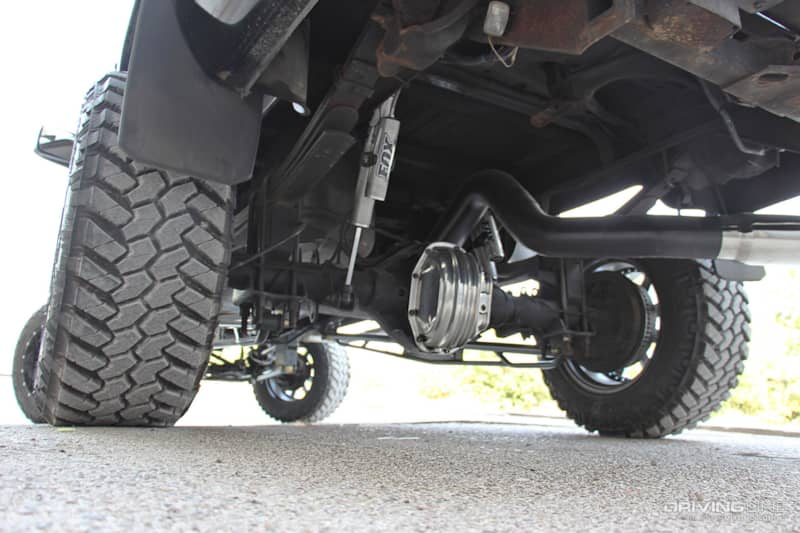 Quietly, one of the toughest rear axles ever offered in a pickup truck infiltrated the Ram line in 1994. The Dana 80 housed an 11.25-inch ring gear and came standard on all 3500 model trucks. It was also used in 2500 models that were equipped with the Cummins or V-10 and backed by the manual transmission. The Dana 70 remained the standard rear axle option for 2500 models. Atop either rear axle, Dodge employed 60-inch leaf spring suspension systems, which worked to reduce spring stress for heavy hauling ability while also providing improved ride quality.
47RH, NV4500, And NP241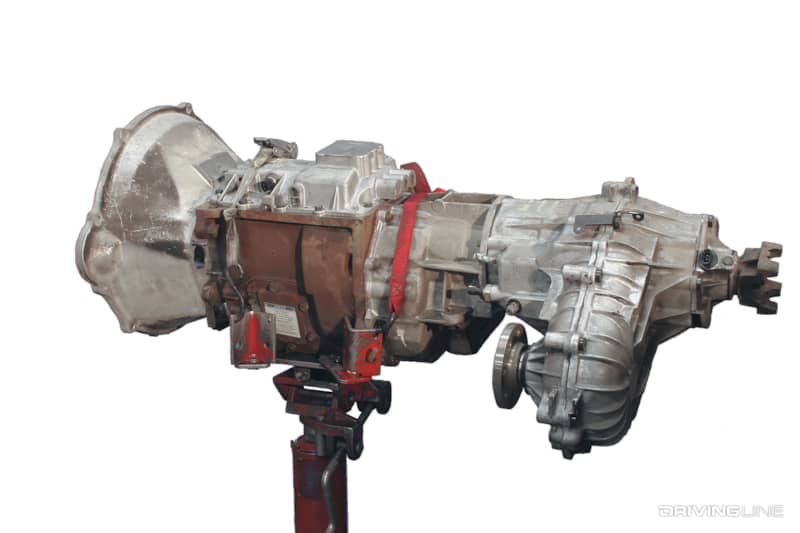 Completing the powertrain package for '94, Dodge offered the 47RH automatic transmission, a four-speed with overdrive that had morphed out of the 46RH (A518) and the venerable NV4500 manual transmission. An electronically controlled lockup converter, which effectively coupled the engine to the transmission in fourth gear, was used in the 47RH while a 12.3-inch diameter clutch was employed with the NV4500 five-speed manual. On 4x4 models, the New Process NP241 transfer case was used, a unit with a low gear ratio of 2.72:1 and that could be engaged on the fly.
How Did It Stack Up?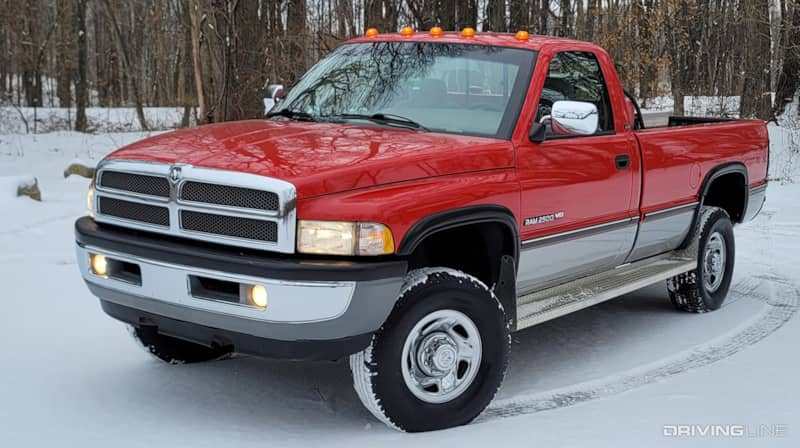 On top of rewriting the book on styling and strength, the '94 Ram claimed top honors for towing, payload, horsepower and torque ratings. Ford wouldn't be able to answer the challenge until the Super Duty arrived in 1998 and GM wouldn't until its new HD line debuted in 2000. Upon its arrival, a regular cab 2500 or 3500 configuration Ram spec'd with the V-10 boasted a best-in-class 19,000-pound gross combined weight rating (GCWR). Max payload tipped the scales at 5,290 pounds for 4x2 regular cab 3500s. By 1997, Cummins-powered 4x2 versions of the 2500 and 3500 models featured a 20,000-pound GCWR, which still handily held the lead over Ford and GM.
Perpetual Popularity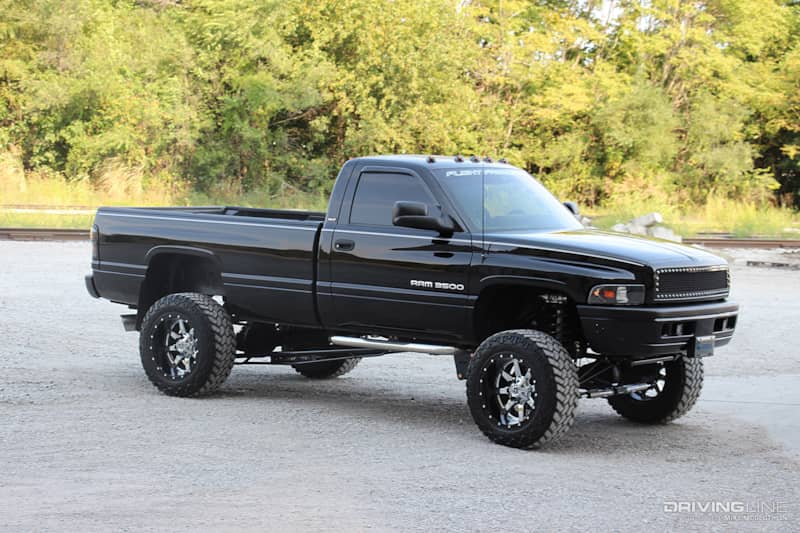 In terms of sales the '94 Ram was an instant hit, outselling the '93 truck by roughly 137,000 units. By 1995, Dodge was selling more than 400,000 Rams a year. With this many Rams on the road (and also off of it…), the aftermarket rallied in support of the new platform. Cummins-powered versions of the '94-'98 Ram 2500 and 3500's are still coveted by tens of thousands of enthusiasts today, and it enjoys strong aftermarket support for performance and suspension upgrades.
More From

Driving Line
While Dodge's rules-changing '94 Ram landed a direct hit on the Ford and GM competition, it was the Cummins-powered 

'89-'93 trucks

 

that truly saved the brand.