History of the Ford Super Duty, Part 4
The world of North American pickup trucks is a fast-moving one. If you don't reinvent yourself every few years, chances are pretty good that you'll get left behind. Perhaps that was part of Ford's thinking when it revamped the Super Duty for the 2011 model year, something it'd just done only four years before. This time, its ¾-ton and larger lineup received a new face, some notable interior upgrades, a stronger rear axle option with an electronic locker and laid claim to even higher maximum towing and hauling capacities. However, the biggest news was the diesel engine option...
For the first time since the automaker began offering a diesel in its trucks (1983), its compression-ignition offering wasn't sourced from Navistar International. Instead, the all-new 6.7L Power Stroke was designed, built and torture-tested completely in-house at Ford—and it delivered. Backed by an all-new six-speed automatic, the 6R140 TorqShift, the new powertrain was so well received that Ford sold 500,000 of them by the summer of 2013. More importantly, with the aforementioned improvements Ford put even more distance between itself and the GM and Ram competition. The 2011 Super Duty could out-tow, out-haul and out-work either of its crosstown rivals in dominant fashion. Keep scrolling to find out how Ford made it possible.
6.7L Power Stroke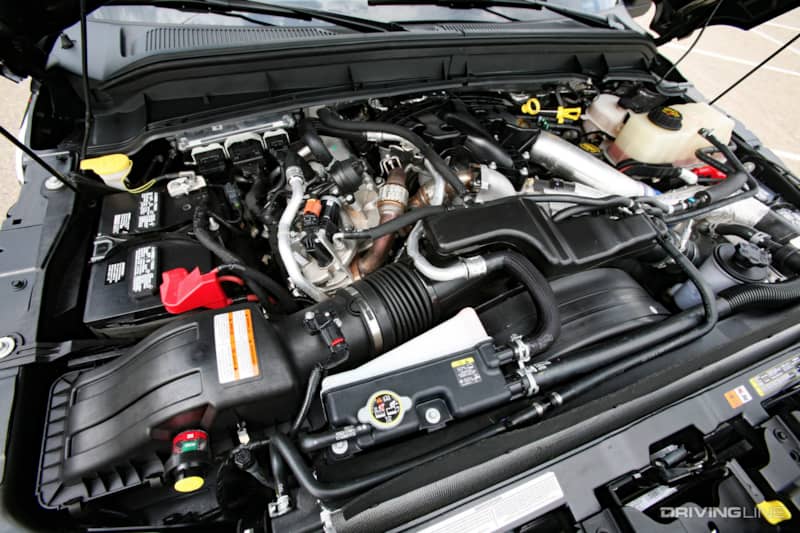 In terms of diesel power plants found in the domestic truck market, the 6.7L Power Stroke all but reinvented the wheel. The groundbreaking common-rail V-8 featured a deep-skirt block cast from compacted graphite iron (CGI), reverse-flow cast-aluminum cylinder heads, four valves, rockers and pushrods per cylinder, and a water-to-air intercooler. All of these were firsts in the segment. At its introduction, the 6.7L Power Stroke boasted 390 hp and 735 lb-ft of torque, but was boosted to 400 hp and 800 lb-ft shortly after its release. The combination of the CGI block and aluminum heads made the 6.7L Power Stroke 160 pounds lighter than the 6.4L that preceded it, while the reverse-flow head design, unique valvetrain and water-to-air intercooler yielded vastly improved efficiency.
Restoring Fuel Economy With SCR Technology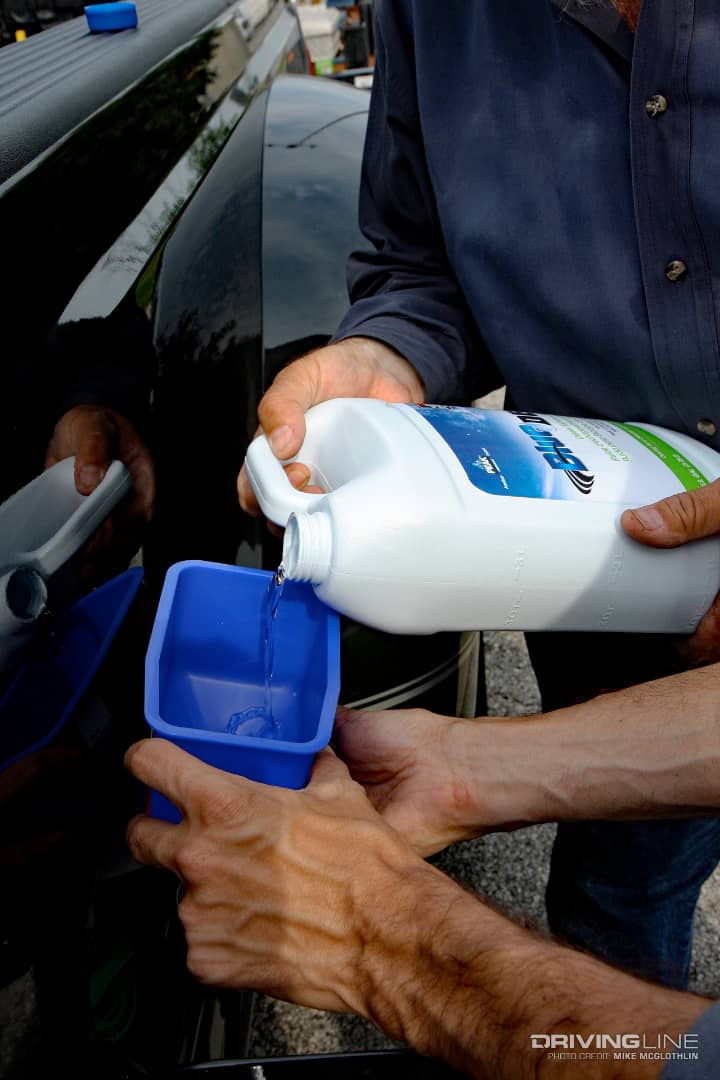 Like the 6.4L Power Stroke that came before it, the 6.7L would require a diesel particulate filter (DPF), diesel oxidation catalyst (DOC), periodic regeneration (DPF cleaning) cycles and exhaust gas recirculation (EGR). However, the 6.7L brought selective catalytic reduction (SCR) into the equation, a system that uses urea (also known as diesel exhaust fluid or DEF) to curb NOx emissions beyond what the EGR system can. While the use of SCR meant the end-user was responsible for keeping urea in the DEF tank, it led to fewer regeneration intervals, which yielded significantly improved fuel economy over what the 6.4L had provided.
6R140 TorqShift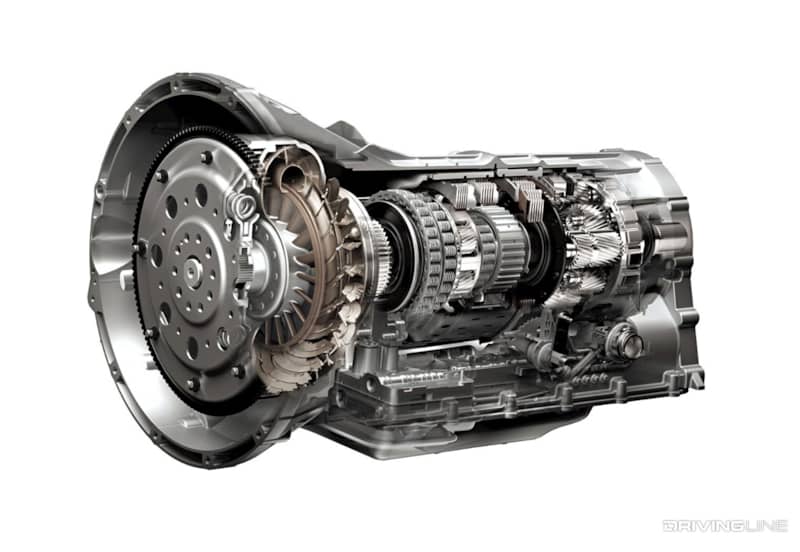 Although the TorqShift name remained, the 6R140 introduced in 2011 had nothing in common with the outgoing 5R110W. The all-new six-speed automatic transferred power efficiently, smoothly and durably to the wheels and rivaled the Allison 1000 in GM's HD trucks in virtually every way. The 6R140 featured an ultra-low First gear ratio (3.97:1), no direct gear (fourth is 1.15:1, fifth is 0.86:1) and double overdrive. In Tow/Haul mode, an engine exhaust brake worked in conjunction with the TorqShift's aggressive yet smooth downshifting strategy to keep loads under control. A Live-Drive PTO was also available on cab-and-chassis trucks, which was linked to the engine's crankshaft by way of the torque converter and allowed for auxiliary equipment to be run any time the engine was running.
6.2L Gasoline V-8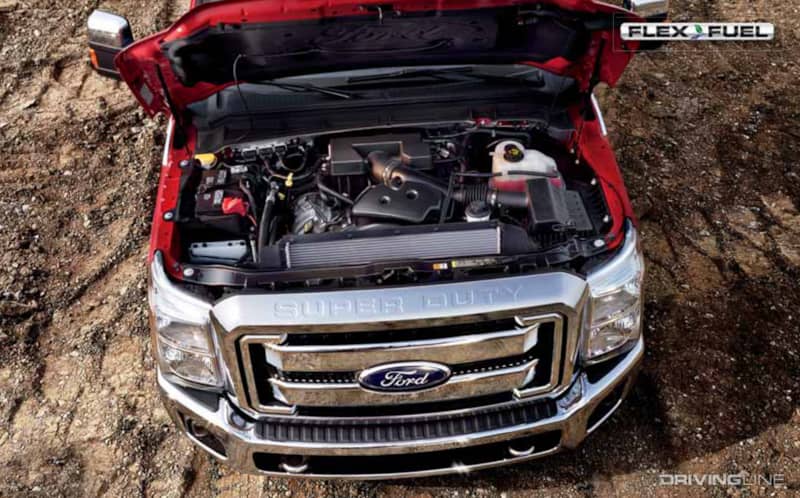 Bidding farewell to the Triton engines that had been available since the Super Duty first appeared, both the 5.4L V-8 and 6.8L V-10 gasoline mills were replaced by the 6.2L V-8 in 2011. The naturally aspirated, SOHC V-8 featured a cast-iron block, 2-valve aluminum heads, variable camshaft timing and two spark plugs per cylinder. It produced a best-in-class 385 hp at 5,750 rpm and 405 lb-ft at 4,500 rpm in Super Duty trim, although a higher output version was available in '10-'16 SVT Raptor F-150's and '11-'14 F-150's (411 hp and 434 lb-ft).
Facelift and Subtle Exterior Changes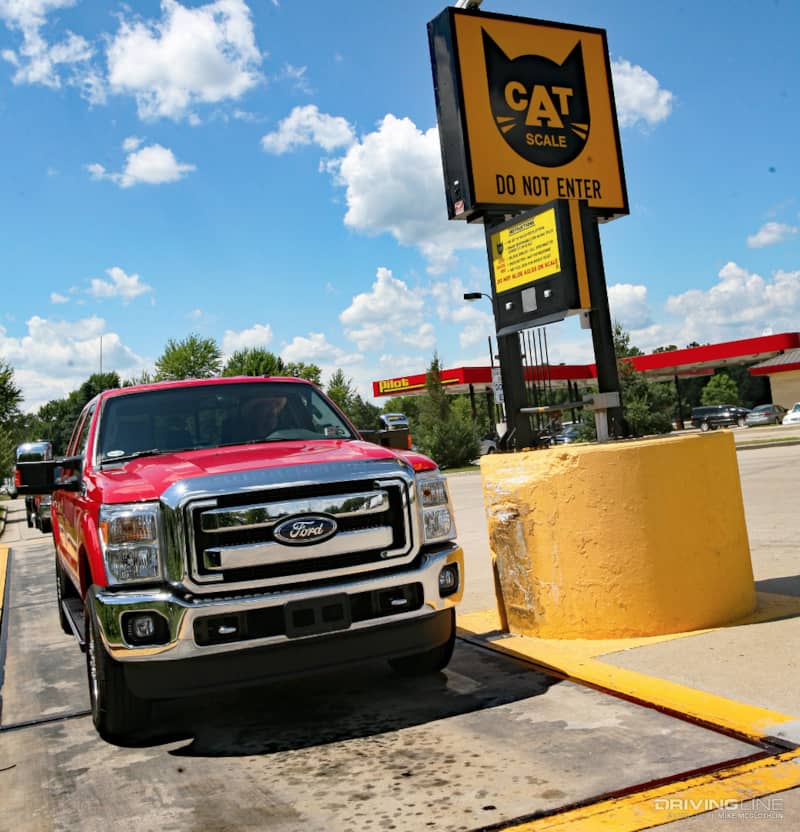 The same basic sheet metal was retained for the 2011 Super Duty, but a new, two-bar grille, a taller, clamshell-style hood and different headlight assemblies (larger and positioned at the corners) provided a fresh face for America's best-selling heavy-duty pickup. The fenders were reworked as well, but the bed sizes and cab configurations remained unchanged. A larger, in-your-face blue oval, dead-center in the new grille, was comparable to a size 10 men's shoe.
Axle Changes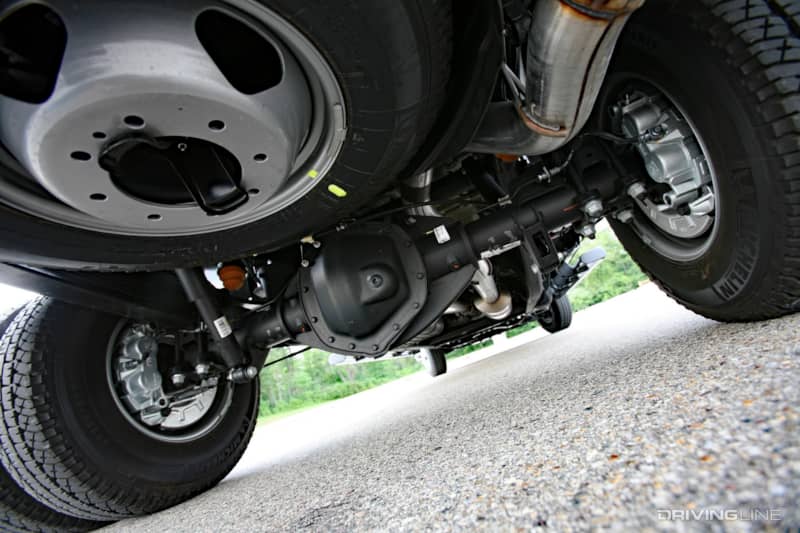 Although the same axles were retained for 2011, the rear Dana S110 was no longer available in F-450 pickups (it was only available in F-450/F-550 cab-and-chassis models). That meant the Dana 80 got the call in dual rear wheel F-350 and F-450 pickup applications (shown). Similarly, the front Dana Super 60 could only be had in F-450/F-550 cab-and-chassis models equipped with four-wheel drive. As for the Ford 10.5 employed in F-250 and single rear wheel F-350's, it was treated to larger pinion bearings for added strength, along with a selectable electronic locker.
More Luxury Invades The Interior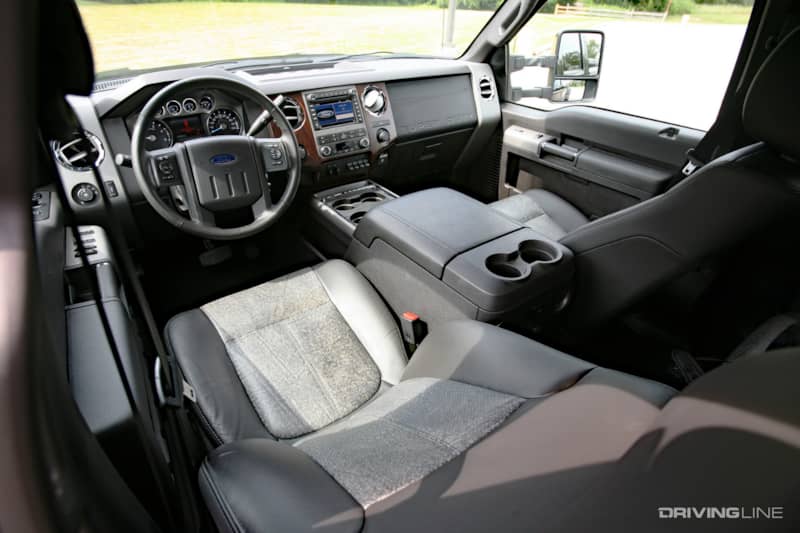 Extensive updating was performed in the 2011 Super Duty's interior, the most noticeable change being the 4.2-inch LCD display (Ford called it the "Productivity Screen") in the gauge cluster. New, more comfortable seats were robbed from the best-selling F-150, a new center console was added and additional, lockable storage became available under the rear seats. For near-instantaneous heat, Ford's rapid-heat supplemental cab heater option was available and an optional voice-activated navigation system was introduced to promote hands-free navigation.
Staying On Top Of The Numbers Game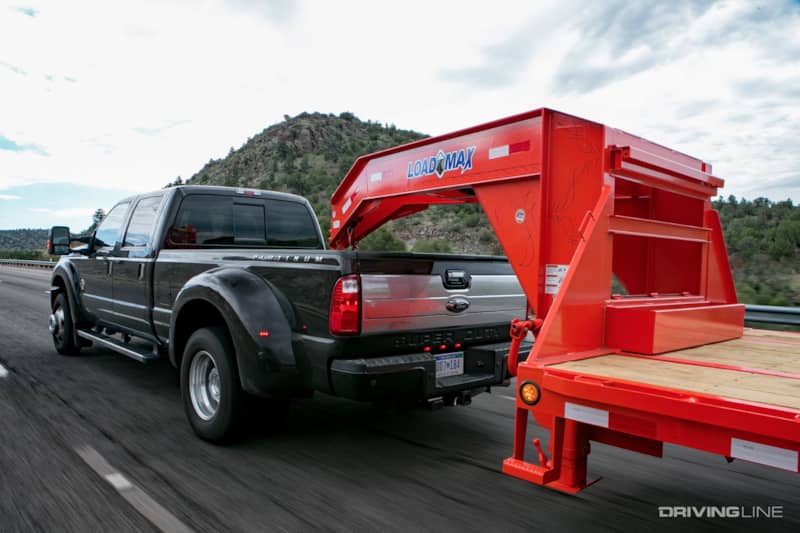 Surprise, surprise, Ford increased the Super Duty's towing and hauling capabilities for 2011, too. F-250 models were rated to conventionally tow up to 14,000 pounds, while dual rear wheel, crew cab 4x4 F-350 models offered a best-in-class maximum of 16,000 pounds (up from 15,000 pounds on '10 models). The F-450 continued to offer best-in-class fifth-wheel towing (33,000-pound GCWR), which was well beyond anything GM and Ram could bring to the table at the time. Ford's factory fifth-wheel and gooseneck Tow-Prep package also made towing at its trucks' maximum ratings easy, not to mention the fact that it took aftermarket up-fitting out of the equation and was fully covered under the manufacturer's warranty.
More From

Driving Line
Curious why Ford increased the horsepower and torque of the 6.7L Power Stroke immediately after releasing it? Get the whole backstory here.