History of the Ford Super Duty, Part 6
Looking to reaffirm dominance in the torque and towing war, Ford dropped a bomb on September 26, 2019: Its 2020 Super Duty would feature a 6.7L Power Stroke packing a segment-best 475 hp and 1,050 lb-ft of torque, and its F-450 would be capable of towing an unearthly 37,000 pounds when properly equipped. On top of that news, Ford announced the return of the 7.3L—as a gasoline V-8. Both engines would be backed by the all-new 10-speed TorqShift automatic transmission. The face of the Super Duty was refreshed, too, though primarily for reasons of improved cooling capacity. And finally, the Tremor package brought a taste of off-road prowess to the Super Duty lineup.
As cool as all of that sounds, the 2020 Super Duty is already history, at least in the eyes of some. On December 1, Ram formally announced its 2021 dual rear wheel 3500 model would be capable of towing a class-leading, 37,100 pounds and that its 6.7L Cummins would turn out a segment-best 1,075 lb-ft of torque. How will Ford answer? Stay tuned to Driving Line to find out. In the meantime, here's what the latest generation of Super Duty has to offer.
1,050 LB-FT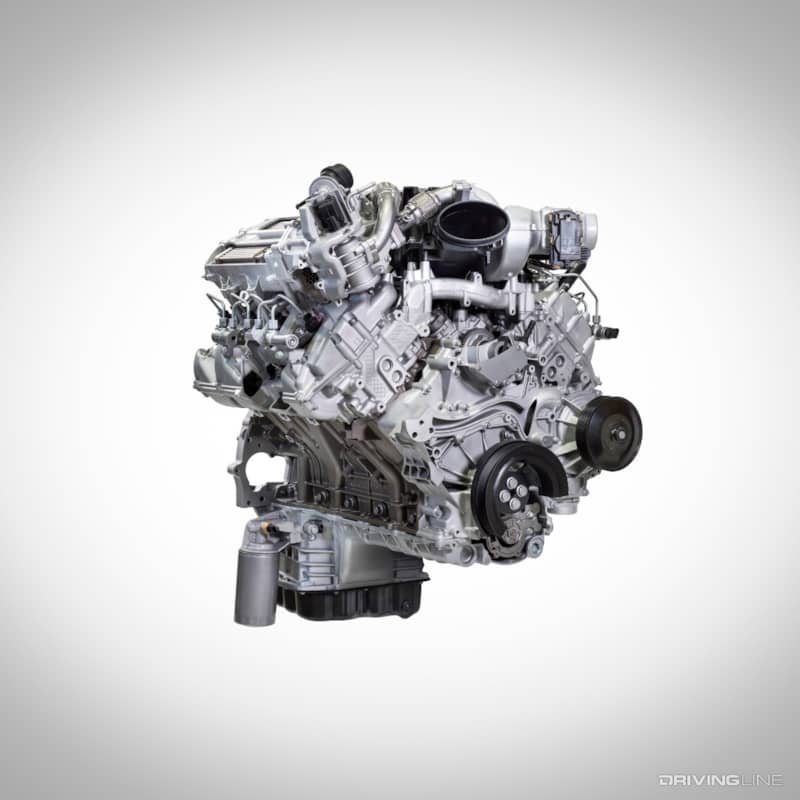 Still a 90-degree V-8 based on a compacted graphite iron block, Ford's third generation of the 6.7L Power Stroke was updated to handle its higher horsepower and torque rating. Stronger connecting rods, upgraded bearings, new pistons and a lower 15.8:1 compression ratio highlight some of the major hard-part and operational changes, along with the aluminum reverse-flow heads also receiving a few revisions. To achieve its best-in-class 475 hp at 2,800 rpm and 1,050 lb-ft of torque at 1,600 rpm, peak rail pressure within the Bosch high-pressure common-rail injection system was increased to 36,000 psi (up from 30,000 psi in 2019). For even quicker turbo response, an all-new, electronically controlled and electronically actuated VGT was introduced.
10-Speed TorqShift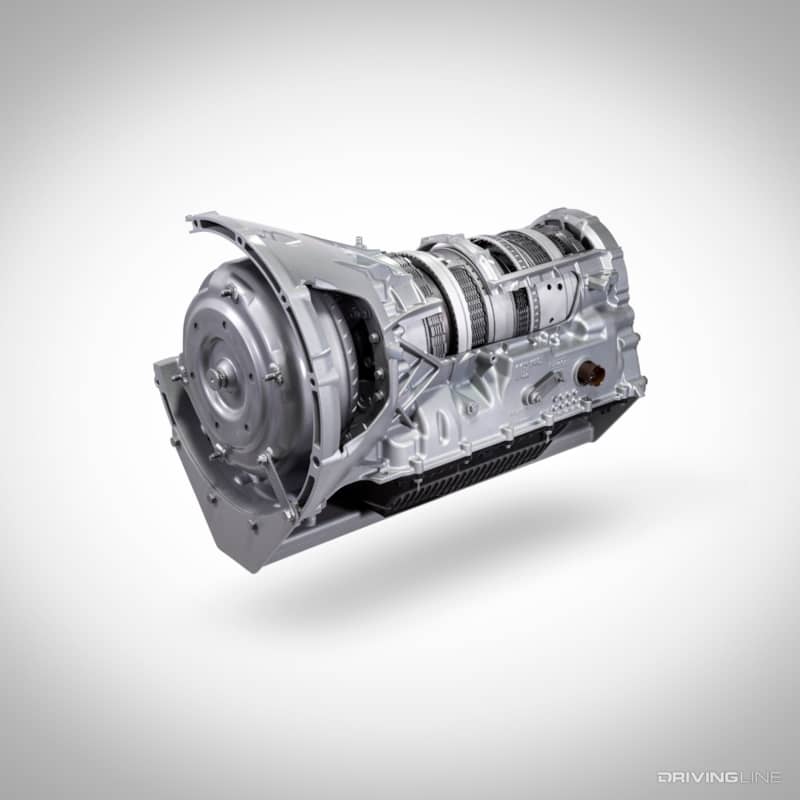 To keep the engine in the meat of its power band at all times (along with helping to meet emissions), Ford's 10-speed TorqShift automatic transmission replaced the six-speed 6R140 on F-250, F-350, F-450 and F-550 models, with the exception of F-250's powered by the 6.2L gasoline V-8 (they're still paired with the 6R140). The 10R140 features adaptive learning, whereby the TCM constantly monitors the transmission's operation and varies the shift strategy to produce the smoothest gear transitions possible. Surprisingly, the 10-speed TorqShift is only 3.5 pounds heavier than the 6R140. Eighth, ninth and tenth gear make up the transmission's triple overdrive (0.851:1, 0.687:1, and 0.632:1 respectively) while seventh gear serves as direct.
Best-In-Class Gas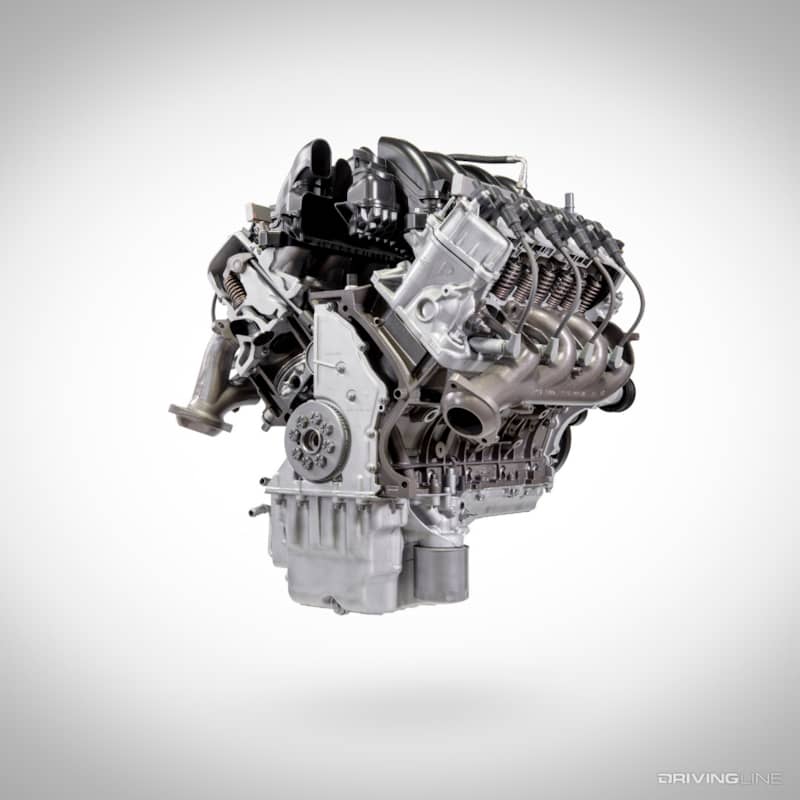 When dominating the diesel side of the heavy-duty pickup segment isn't enough, you design a big cube V-8 to take over the gasoline side of the market, too. That's exactly what Ford did with the 7.3L, a 90-degree cast-iron block V-8 with a 4.22-inch bore and a 3.98-inch stroke. Setting its love for overhead cams aside, Ford developed the 7.3L with a traditional single cam in block, overhead valve design. The aluminum heads utilize two valves per cylinder, with variable valve timing and hydraulic roller lifters also being employed. The 7.3L packs a segment best 430 hp at 5,500 rpm and 475 lb-ft of torque at 4,000 rpm, and (like the diesel) has also been matched to Ford's 10R140 TorqShift.
Front-End Redesign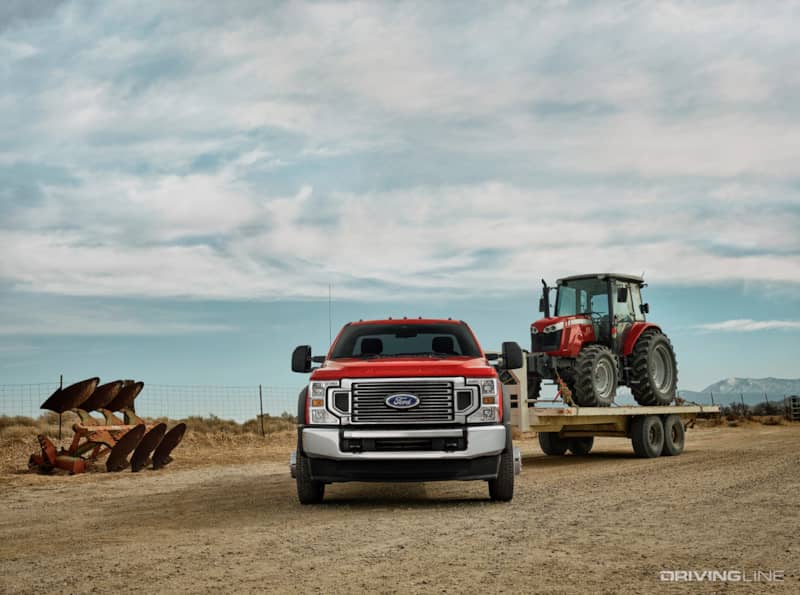 Increased workloads require increased cooling capacity and for 2020 Ford specifically redesigned the front end of the Super Duty to ensure each heat exchanger sees its fair share of airflow. An improved front bumper and air dam optimizes aerodynamics and cooling, while (for the first time) all dual rear wheel models feature a uniquely-designed, high-airflow grille. In addition to being redesigned, lighting performance of the LED headlights was enhanced.
Tremor Off-Road Package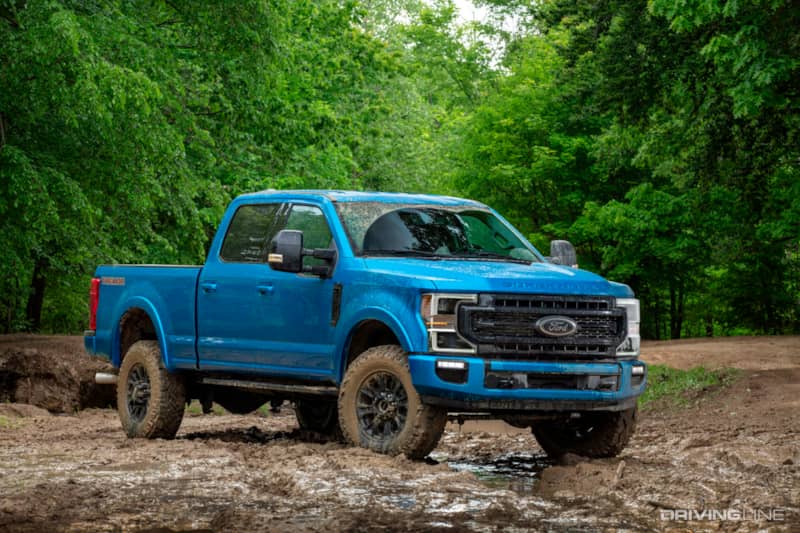 Appealing to the off-road savvy buyer, Ford added the Tremor off-road package to the Super Duty line in 2020. The package entails a front suspension lift courtesy of progressive rate coil springs, custom 1.7-inch piston twin-tube dampers to control body motion and 35-inch diameter tires mounted on 18-inch matte black wheels. To better navigate obstacles at low speed, Ford's Trail Control can be used to handle throttle and brake inputs, allowing the driver to concentrate solely on steering. The Tremor package is offered on F-250 or single rear wheel F-350 models, and with either the 6.7L Power Stroke or 7.3L gas.
$100,000 Interior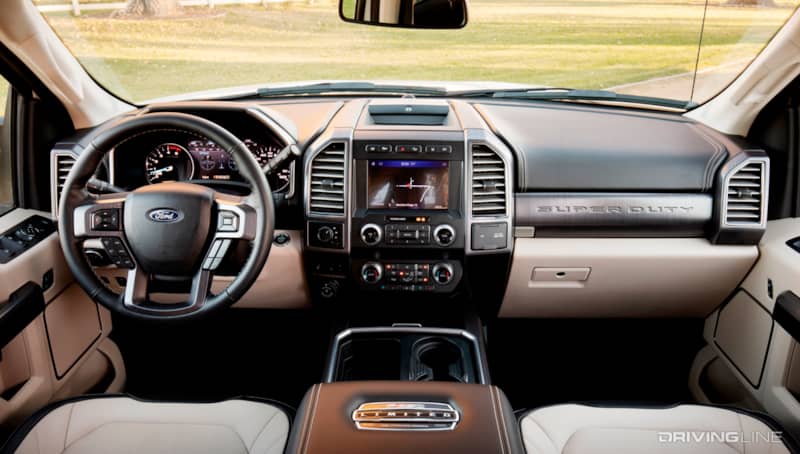 Ford's high-end, Limited trim was significantly revamped for 2020 models. Its interior colors were updated to Ebony and Highland Tan for a more modern feel, along with brushed aluminum trim. Other enhancements included genuine leather, coarse ash wood in black, decorative stitching on the leather-wrapped instrument panel topper and leather-wrapped armrests, seating and center console lid. Sitting in the cab of a Limited-outfitted F-450 Super Duty, you definitely feel like the truck's six-digit price tag was worth it.
Pro Trailer Backup Assist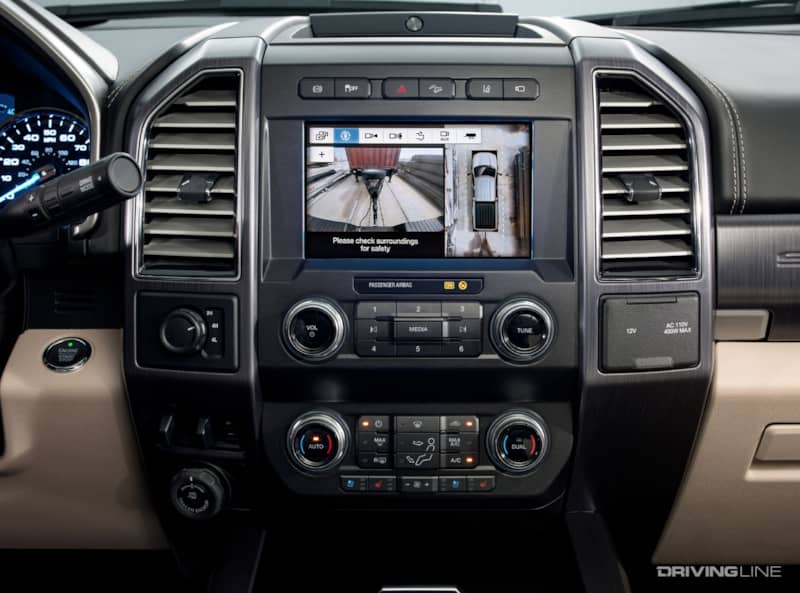 Before long, your truck will be backing your 40-foot trailer into place for you. Ford's brand-new Pro Trailer Backup Assist has brought us that much closer to this reality. Released for the 2020 Super Duty, the brand-new trailer towing technology allows you remove your hands from the steering wheel and use the Pro Trailer Backup Assist knob to steer the trailer via the truck's reverse camera. Further help comes in the form of Ford's Trailer Reverse Guidance system, which shows the trailer's angle and direction while also providing suggestions for backing the trailer in the most efficient manner possible.
Best-In-Class Towing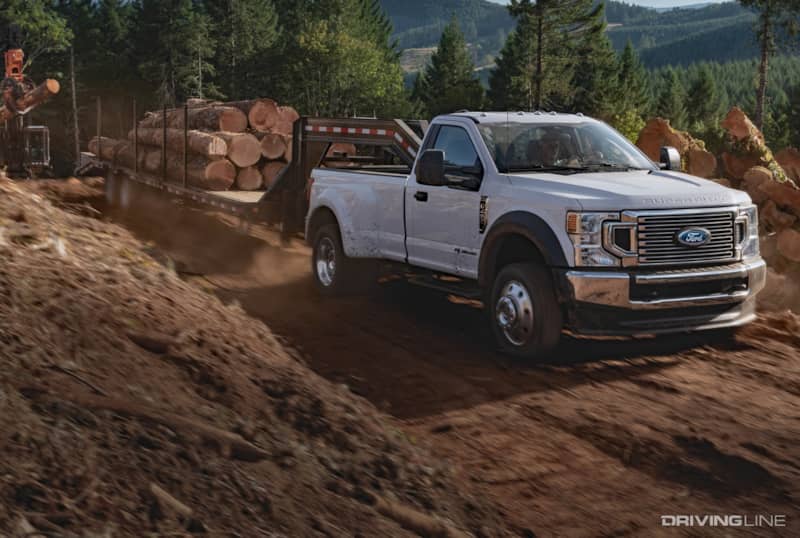 Maximum gooseneck towing for the F-450 ballooned to 37,000 pounds in 2020, while the dual rear wheel F-350 topped out at 35,750 pounds and the F-250's capacity rose to 22,800 pounds. As for conventional, bumper towing, the F-450 was rated for 24,200 pounds, the DRW F-350 for 21,200 pounds and the F-250 for 20,000 pounds. While peak towing figures represent obvious bragging rights for truck fans, the way the vehicle performs with that load in tow matters a whole lot more. In our experience, out of the Big Three the Super Duty feels the most at-home when loaded to its GCWR.
More From

Driving Line
If you missed Part 5, you missed the arrival of the aluminum body, the second-generation 6.7L Power Stroke and Ford's new Dana axle offerings. Bring yourself up to speed here.