History of the Ford Super Duty, Part 5
Since debuting in 1999, Ford's Super Duty was the yardstick by which all other heavy-duty pickups were measured. Naturally, the Blue Oval was the target the other two major players were gunning for. When Ram stepped into the ring in 2013 with its 37,600-pound gross combined weight rating (and beat out the F-450 in the process), the gloves came off—and they came off in a hurry. Ford responded for the 2015 model year, with a significantly more powerful, second-generation 6.7L Power Stroke and a 40,000-pound GCWR for its F-450 tow king.
More, and arguably bigger, changes occurred in 2017 when the Super Duty underwent its first complete redesign. The head-to-toe makeover entailed an aluminum alloy body, the F-150's cab (along with some high-tech interior gadgetry), a fully-boxed frame, two new rear axle options and yet another power increase for the 6.7L Power Stroke. By this time, the F-450's GCWR figure had jumped to 41,800 pounds and would climb to 42,800 for 2018 models. The Super Duty has come a long, long way since just five years ago. Below, we'll highlight the major changes that allowed Ford to stay on top of the truck game.
Second Generation 6.7L Power Stroke
When the 6.7L Power Stroke diesel V-8 debuted for the '11 model year with a CGI block and reverse-flow aluminum cylinder heads, everyone knew it was a foundation that would provide the automaker room for further growth. For '15, Ford put the 6.7L Power Stroke platform to the test by increasing its output to 440 hp at 2,800 rpm (up from 400 hp) and 860 lb-ft of torque at 1,600 rpm (up from 800 lb-ft). The gains were possible thanks to the use of a Bosch CP4.2 high-pressure fuel pump with a longer stroke and piezo injectors with revised nozzles. For added bottom end durability, the lower main bearings were also treated to IROX polymer coating.
GT37-Based Garrett Turbo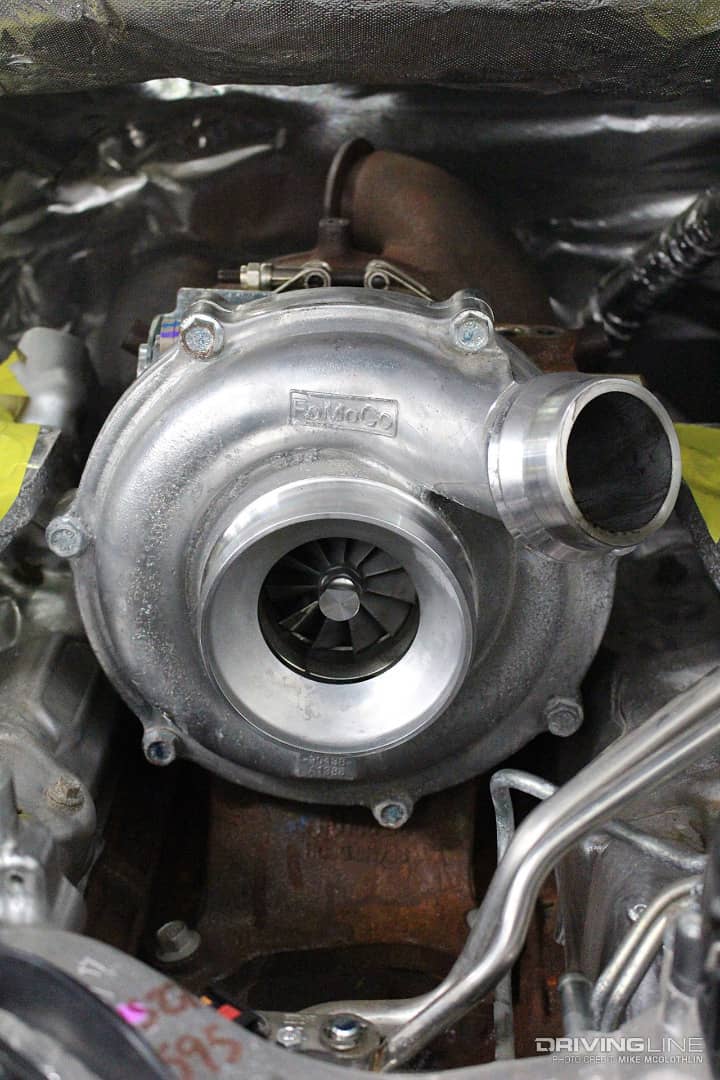 One of the biggest improvements on the '15 Power Stroke was its updated turbocharger (Ford's warranty department might even agree). A variable geometry turbocharger based on the Garrett GT37 platform replaced the restrictive and problematic GT32 SST found on '11-'14 engines. Simplified in nearly every way over what the GT32 SST brought to the table, the GT37 utilized a single 61mm compressor wheel (vs. the dual 46mm wheels on the GT32), employed journal bearings (vs. the GT32's ball bearing center section) and came void of a wastegate. The GT37 VGT also used a larger 72.5mm turbine wheel (vs. 64mm), which lowered the amount of drive pressure the charger saw, reduced turbine shaft speed and allowed for more aggressive exhaust braking.
Supporting A Heavier Workload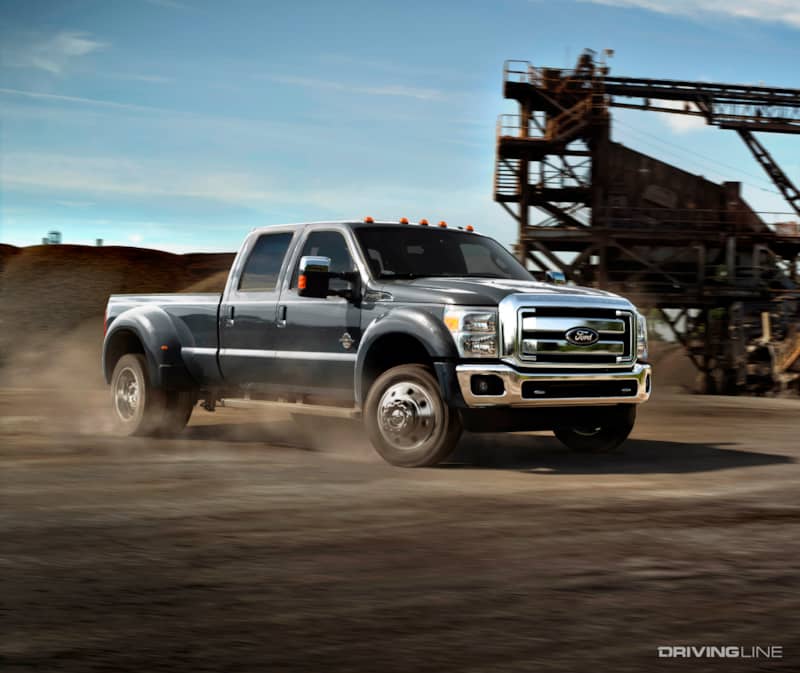 To support its increased towing and payload capacities on '15 models, Ford changed the spring rate on the front coil springs, brought a wide-track front axle to the F-350 and updated the rear leaf spring packs. On the F-450, and in an effort to control and stabilize loads given its best-in-class 40,000-pound GCWR, it was equipped with upgraded rear U-joints, new rear leaf packs, larger brakes and upgraded front and rear shocks and stabilizer bars.
2015: Back On Top Of The Towing Game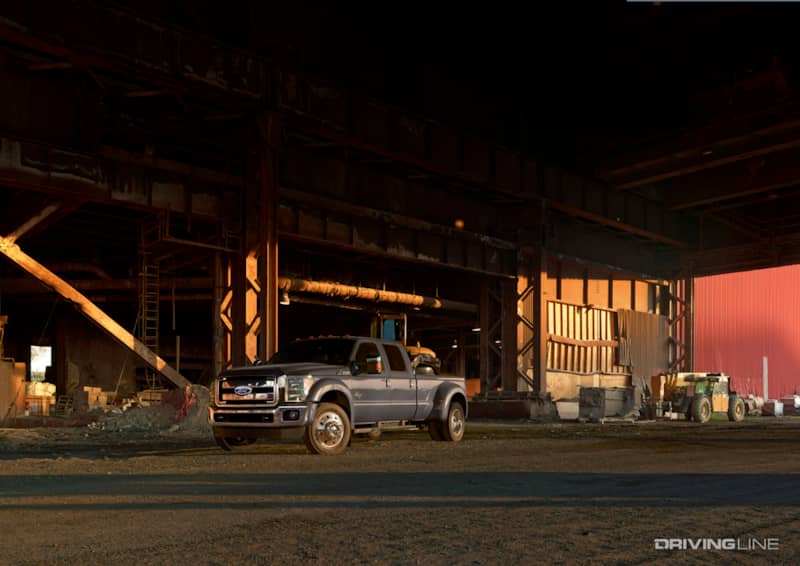 For the 2015 model year, the F-450 owned Detroit's towing segment, with a maximum gooseneck tow rating of 31,200 pounds (a 6,500-pound improvement) and a 26,500-pound fifth-wheel capacity. On dual rear wheel F-350 models, maximum fifth-wheel and gooseneck towing checked in at 26,500 pounds, while the max GCWR came in at an even 35,000 pounds.
2017's Complete Redesign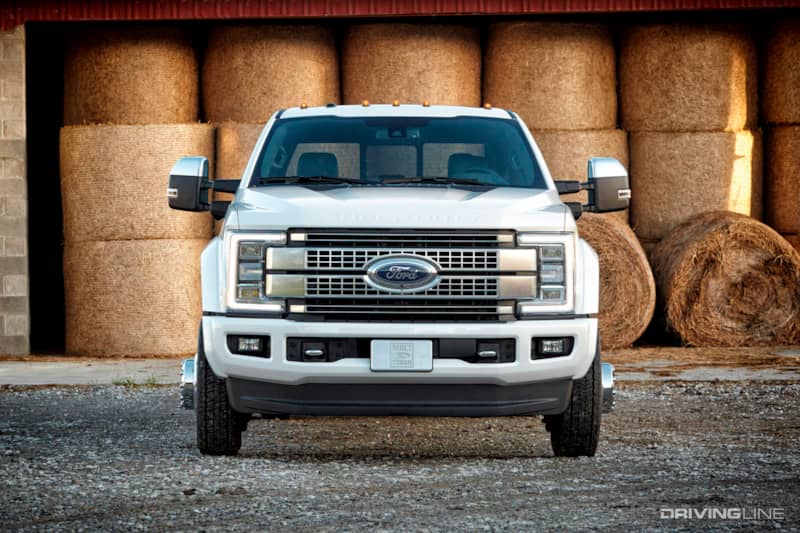 For 2017, the Super Duty underwent its biggest makeover since being introduced in 1999. A fully boxed frame, 1.5-inches taller in the mid-ship sections and sporting 10 beefy crossmembers, served as the new foundation (only the front sections were boxed previously). Use of an aluminum alloy body and the cab from the F-150 shaved 350 pounds off of the truck's curb weight, which Ford reinvested in the frame, chassis and axles. A fresh, three-dimensional grille, complete with C-shaped headlights, took a cue from the F-150 also. New sideview mirrors, an available 48-gallon fuel tank, larger front stabilizer bars and collars and about a million other changes showed up on the '17 workhorses.
All-New Interior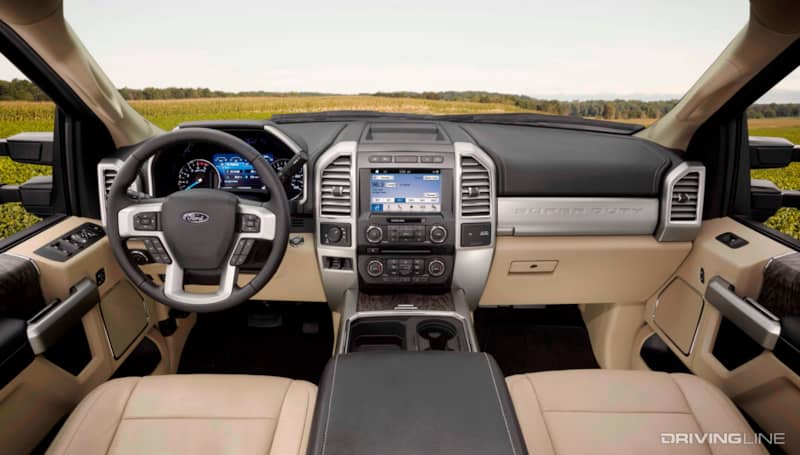 Like the exterior, a comprehensive redesign took place in the interior for '17s. Much of this was due to the Super Duty sharing the overall architecture of its cab with the best-selling F-150. The F-250 and larger trucks shared the same cab width, but Ford increased the depth of the cab considerably. Interior trinkets included an 8-inch wide, easy-to-use navigation screen, cameras galore (side-view, top, grille, tailgate, etc.), adaptive steering and Ford's state-of-the-art Trailer Reverse Guidance system. Stepping up the 6.7L Power Stroke's exhaust braking game (thanks in large part due to the aforementioned GT37 turbo, added in '15), Ford introduced three selectable exhaust brake options: Normal, Auto and Full-on.
Towing And Payload Numbers Swell Again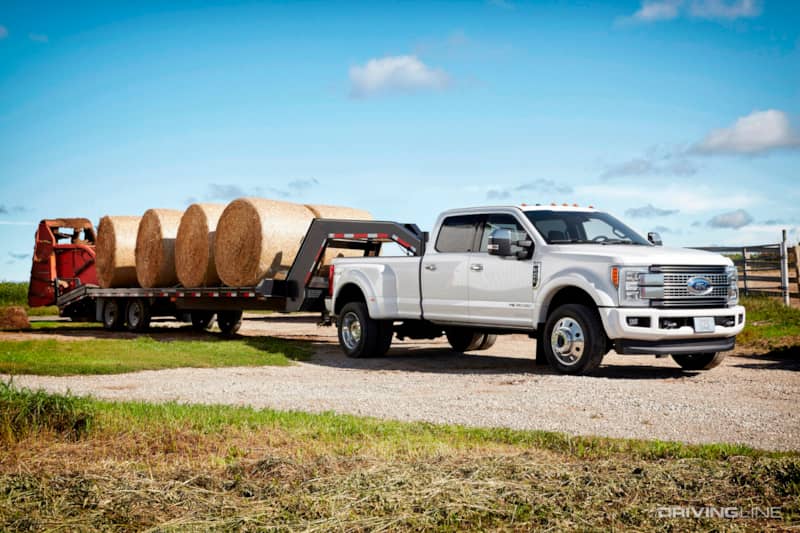 In true Super Duty fashion, the 2017 redesign was much more than simply improving the trucks looks. Ford upped the towing and payload ante once again. This time, the F-450's GCWR was increased from 40,000 pounds to 41,800 pounds, which entailed best-in-class 32,500-pound gooseneck, 27,500-pound fifth-wheel and a 21,000-pound conventional tow ratings. A segment-leading, 7,630 pounds of payload capacity was also available. Conventional towing of up to 18,000 pounds was available on both F-250 and F-350 models, also a best-in class figure.
Dana M275 and M300 Axles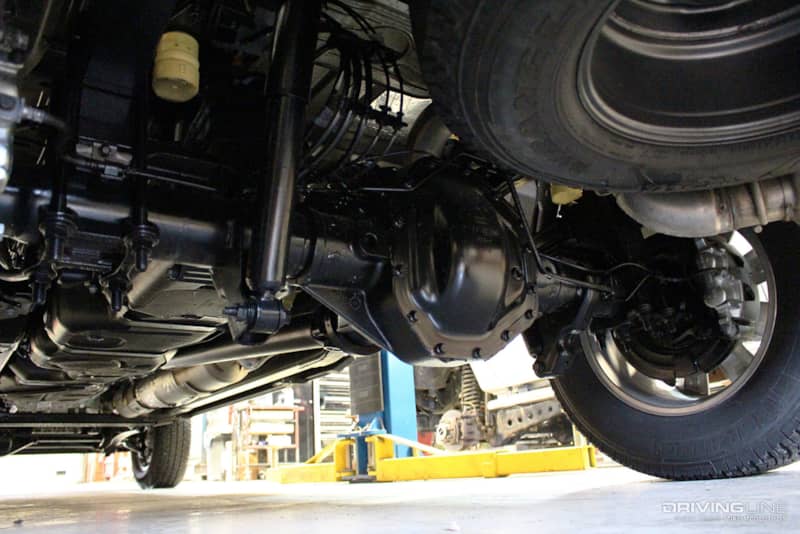 A pair of fresh rear axle options arrived for 2017 as well. The Dana M275 (pictured above) was standard under all single rear wheel F-350 trucks, with the carry-over Sterling 10.5 used on F-250 models (unless ordered with Ford's HD tow package). The M275 featured 36-spline axleshafts, 4-inch diameter axle tubes and a 10.8-inch ring gear diameter. On dual rear wheel F-350 and all F-450 models, the Dana M300 was employed. Its 37-spline axleshafts, 11.8-inch diameter ring gear and optional Ford Trac-Lok limited slip differential made for one of the stoutest rear axles ever offered in a pickup.
More From

Driving Line
Believe it or not, on-the-fly four-wheel drive and 500 lb-ft of torque were once considered groundbreaking achievements in the heavy-duty pickup segment. Don't believe us? Check out Part 1 of our History of the Ford Super Duty series to see for yourself.