Honda Motor Company's First Cars, Bikes & Coffee Event
Honda Motor Co.'s inaugural "Cars, Bikes & Coffee" event was a resounding success, held at their sprawling new facility in Southern California. They created the event to celebrate the grand opening of their new, 20,000-sq/ft American Honda Collection Hall (think something along the lines of a Honda-themed Petersen Museum exhibit, but in Torrance, Calif.), as well as a bit of their 64-year history as the first Honda branch operating outside of Japan. The good folks of Honda opened their doors to all, and invited owners of every make/model modified vehicle onto their parking lots for a morning of coffee, cars, bikes, and camaraderie.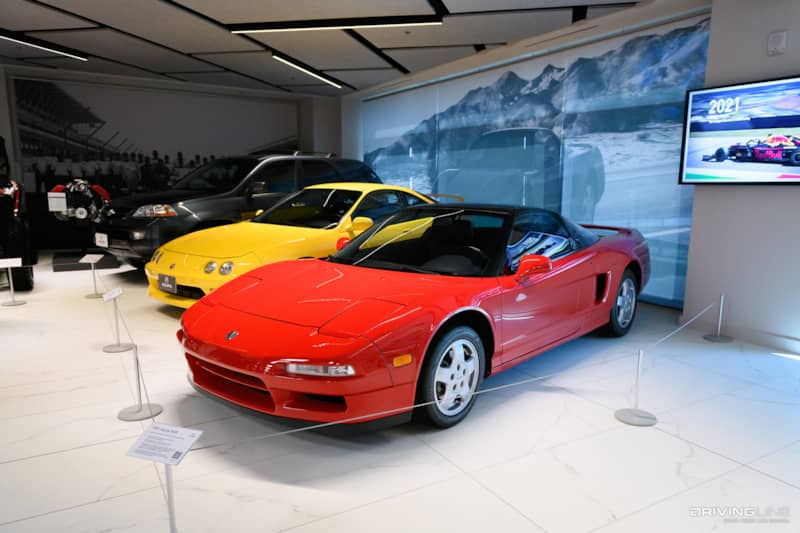 And boy, did the Honda community heed the call.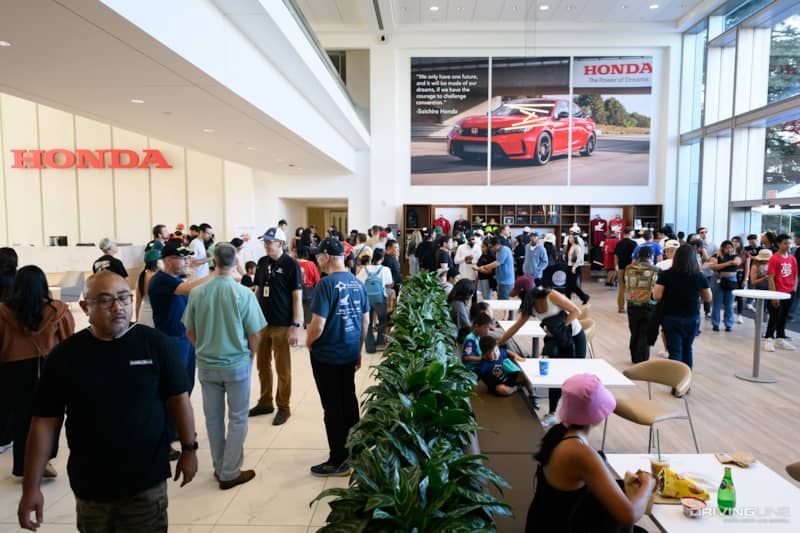 All paved roads surrounding the American Honda North American headquarters at 1919 Torrance Blvd. (known internal as "The Campus") lit up red on map apps with at least a 20-minute wait to enter all morning. Once inside, hundreds of vehicles occupied the vast main parking lots closest to the Collection building, with hundreds more filling adjacent lots to capacity.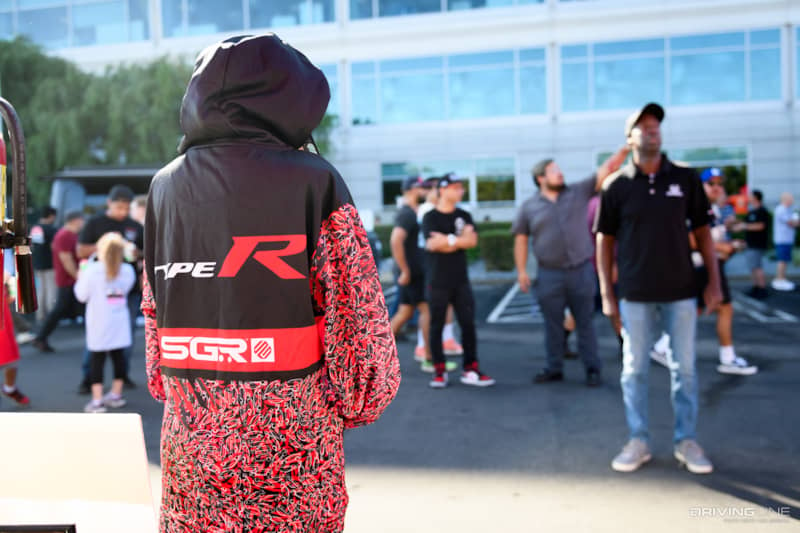 Notable examples ranged from caged and gutted Honda track machines on Nitto NT01s, quarter-mile draggers on Nitto NT555 RII drag radials, 4x4s and off-road rigs on every Grappler tire imaginable.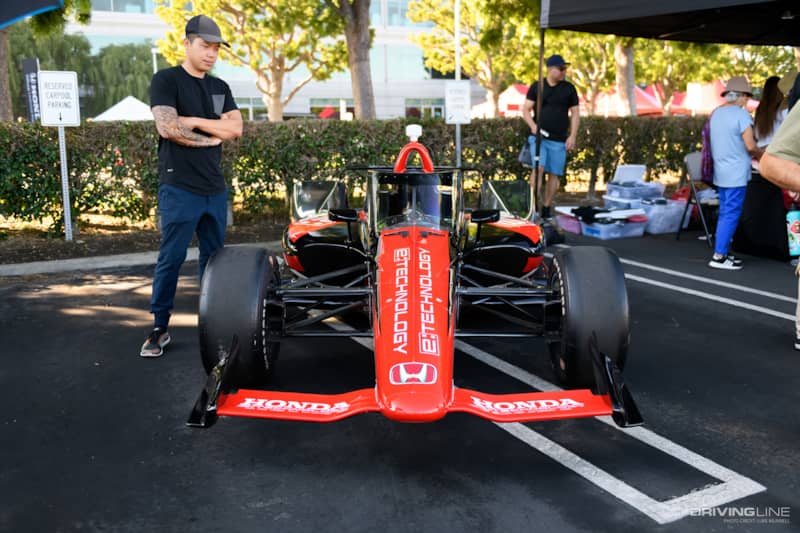 Lots of vintage and renegade, never-sold-here (officially, at least) JDM goodness braved SoCal traffic and varying street legality to attend.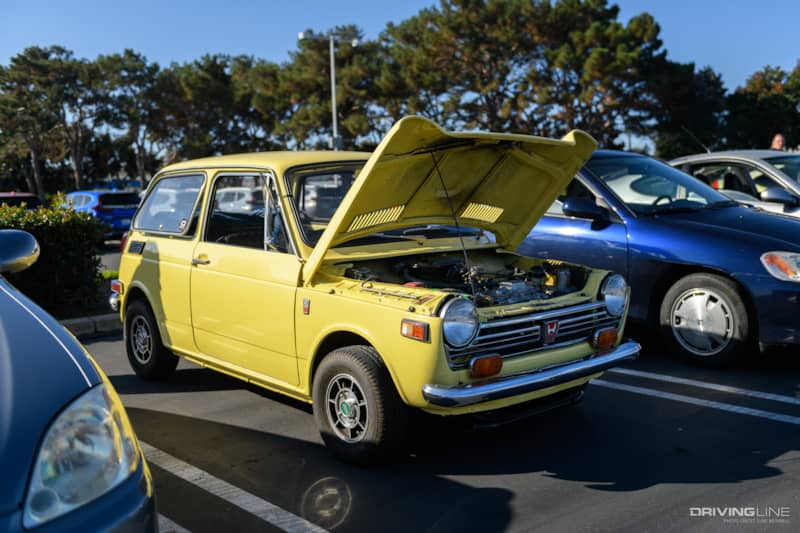 Plenty of Honda engine swaps in various non-Honda models were on hand as well, testament to the far-reaching appeal of some of the best four-cylinder engines ever made.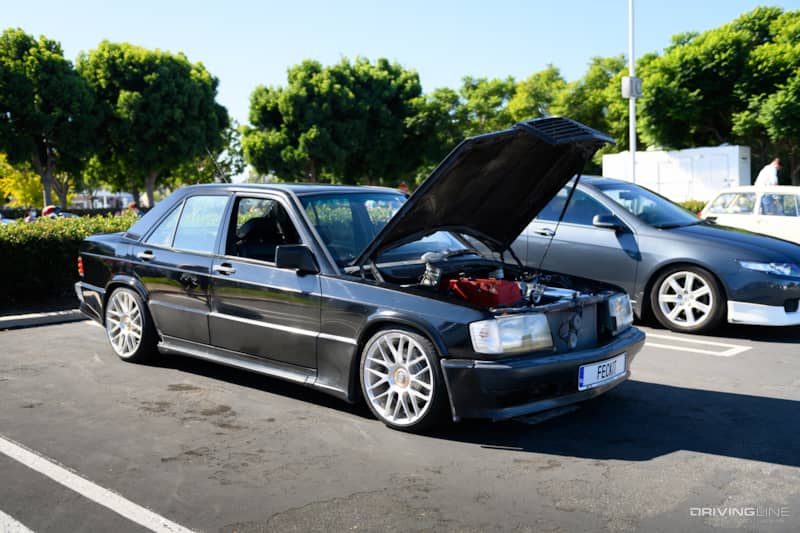 There were even plenty of non-Honda cars offering support, from vintage Jaguars to popular V8 domestic muscle, both past and present.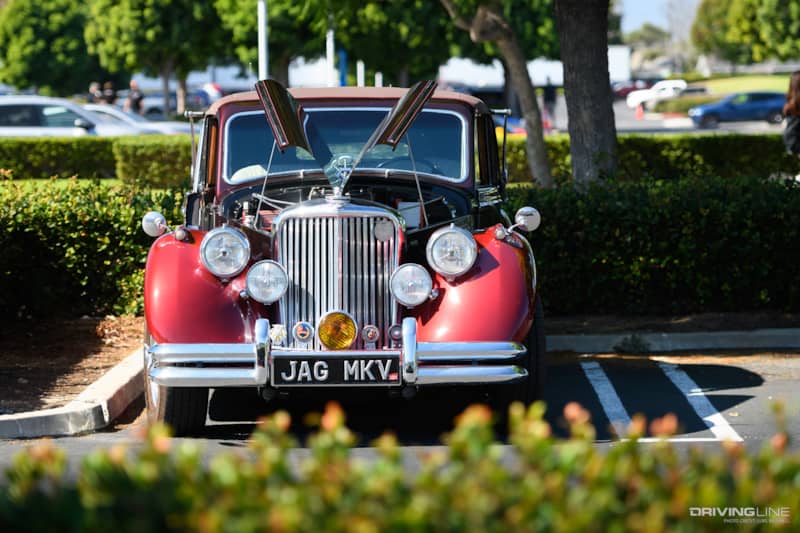 Moving closer to the main collection building, vendors representing both the aftermarket and Honda's official HPD (Honda Performance Development) race effort offered attendees merch and apparel that aren't easily found elsewhere. Dennis Caco, from Autocannon and Max Boost fame, came out in force with some new products his team are working on, including a "Honda Box" subscription service that's in the works.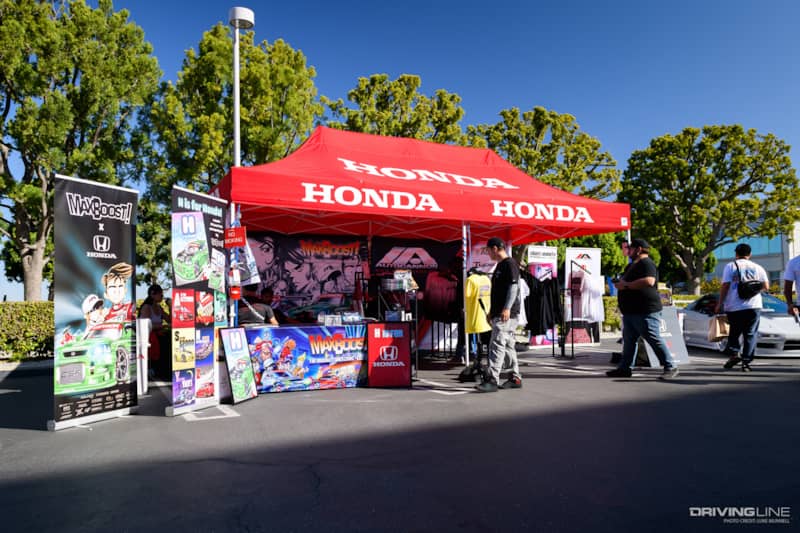 Leen Customs were on hand with a van loaded with custom Leen pins neighboring the one and only Big Mike's venerable Prelude.
Inside the main show, the fruits of Honda Motor Co's recent and past decades of labor were on full display. From some of the newest Honda and Acura SUVs, to some of the earliest Honda vehicles and bikes, engines (and even appliances) Honda produced, it was all there for all to admire.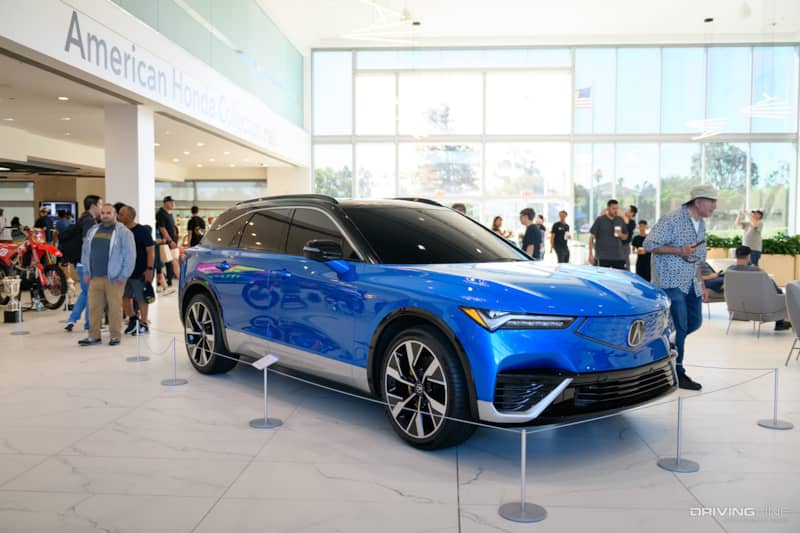 But our favorite part had to be the cars and engines of the Honda Performance Development display. Ever seen a Honda Indy car with a V8 up close? Two were on display, next to the number 12 Target/Chip Ganassi Racing Indycar and number 49 Acura/Comptech GTP racing prototype. Above that sat one of the legendary Realtime Racing Acura DC2 Integras, and not far away from that was something really cool: the 1974 Bolus & Snopes Civic 1200 hatch that earned six SCCA GT5 championship titles from 1985 to 1990.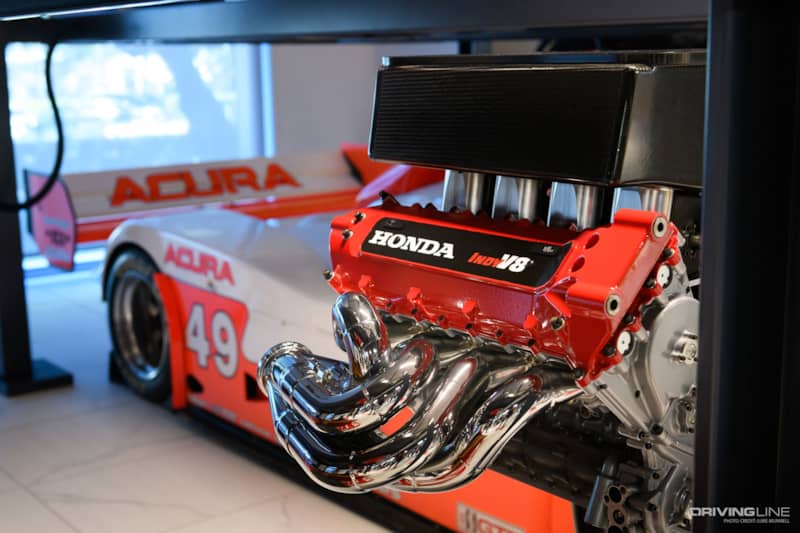 As for the coffee side of things, that was graciously provided by the baristas of Honda's "The Power of Dreams Cafe." While The Campus, the Collection and the Cafe are normally reserved for Honda employees and personnel, the company is planning to continue the momentum of this first "Cars, Bikes & Coffee" event by hosting future events the third Saturday morning of every other month.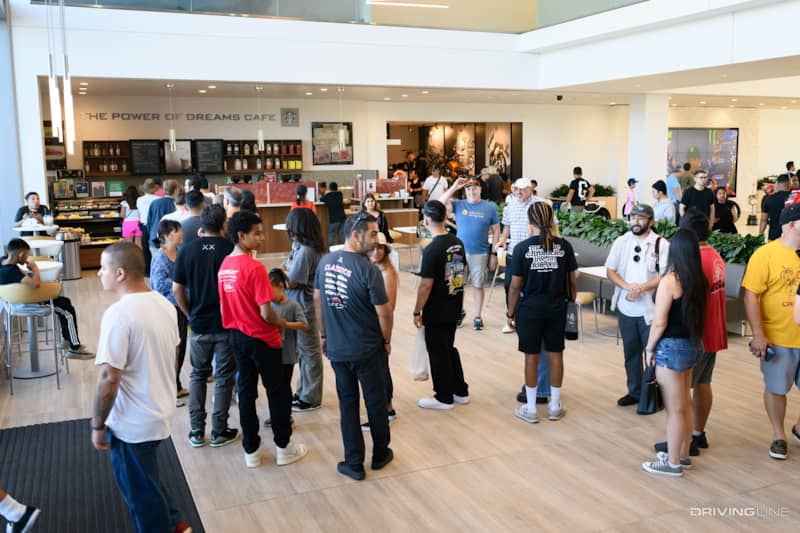 Mark your calendars, Honda fans:
Saturday, Dec. 16, 2023
Saturday, Feb. 17, 2024
Saturday, April 20, 2024
Saturday, June 15, 2024
Saturday, Aug. 17, 2024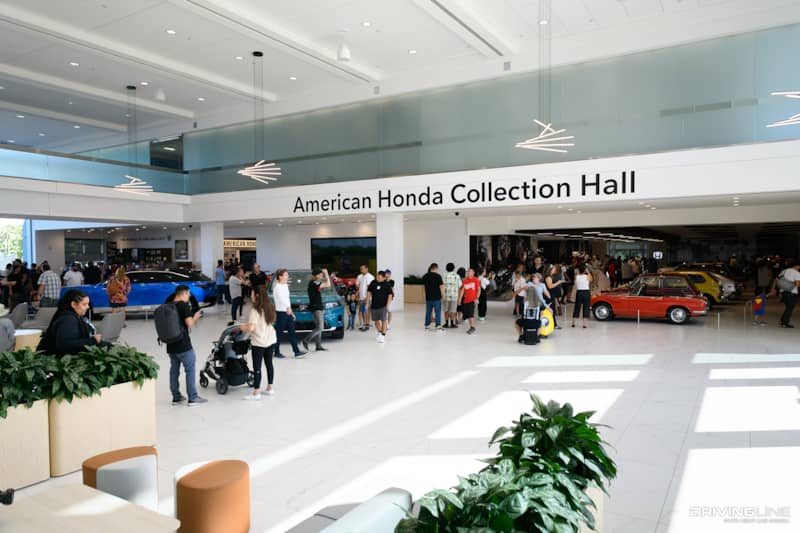 So, whether you'll be in the area, or you need to take a flight or two to attend, Honda's "Cars, Bikes & Coffee" is an amazing opportunity for any automotive enthusiast, built on the vast and inspiring successes of decades of Honda in America.