How to Win Baja 1000 with Just 1 Week Prep
Most people who know much of anything about the Baja 1000, or have ever tried to race it themselves, know that the struggle to win, or even finish, is all in the preparation. So deciding to race it with just one week to get the car and team prepped? It sounds a little like a disaster waiting to happen… at least for the average Joe. But Shannon Campbell isn't your average guy. He's a force to be reckoned within off-road racing – he's won two King of The Hammers, among many other things, and was just awarded with a place in the Off-Road Motorsports Hall of Fame during their yearly induction ceremony at SEMA.
In fact, it was on his drive home from SEMA when Shannon made the decision to run the 48th Bud Light SCORE Baja 1000. Maybe it was hob-nobbing with all the other off-road hall of famers that did it, or perhaps it was chatting with all the others at SEMA planning to head down to Mexico the next week which pushed Shannon over the edge and, in his words, "Made me feel like an irresponsible kid again." When you've been successfully racing for decades, plus heading up a Campbell Racing crew which now includes his son and daughter, I guess you've got the background that makes racing Baja with only a week of prep significantly less reckless.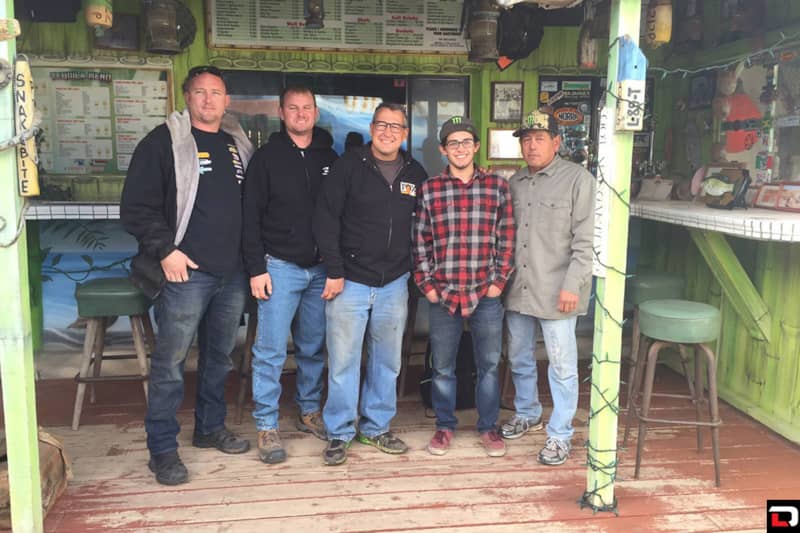 Rebuilding its drivetrain and readying the desert racing version of his Ultra4 car running on Nitto Trail Grapplers (not his most recent "Dragon Slayer" build,) in a week gave Shannon the time to get down to Mexico with a few days to pre-run. His intentions weren't to win Baja – it was a reconnaissance trip to prep for next year. It was the few days of pre-running that held the most adventure for Shannon – experiencing the Baja terrain for the first time and finding food and fuel along the way. Of course, he couldn't have done it without the help of friends.
When race day came, it was Shannon Campbell with co-driver Brian Kirby starting the 821-mile race off. Beginning behind Class 1 cars meant significant traffic to get through, but Shannon did his best to keep it easy in order to ensure a chance for son, Wayland Campbell, to get seat time in the second half.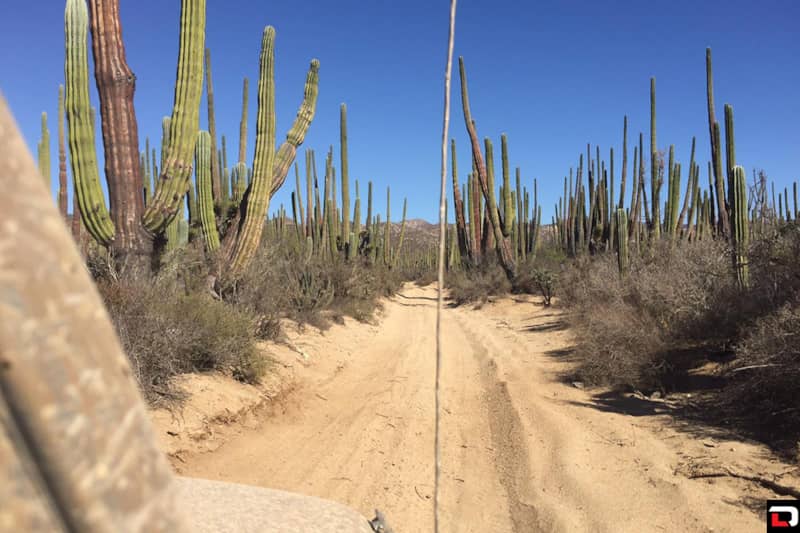 Things went smoothly, barring a slight vibration - and only a guy with as much seat time as Shannon would describe driving the Baja 1000 as "almost boring". Soon enough it was Wayland's turn, he and co-driver Terry Madden jumped in for the second leg and on through the finish line.
They rolled through the finish line first in the 4400 class after 20 hours, 41 minutes. While Shannon humbly points out that they were 20th overall and only running against one other in their class, in a race with 239 starters and just 124 finishers most people would be thrilled to just be getting a checkered flag!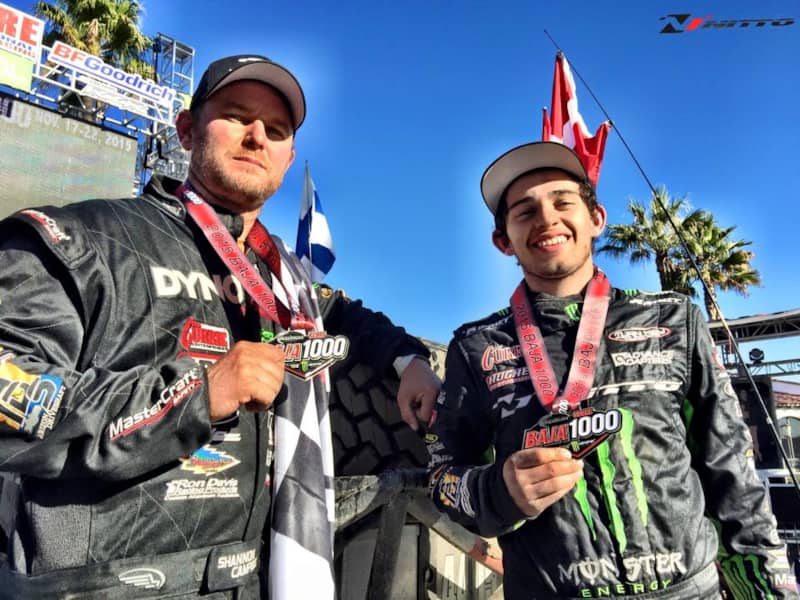 No sooner had Shannon arrived home when he was already ordering parts to make a few changes to the same car for next year. He plans for Campbell Racing to compete in both the 2016 Baja 500 and 1000 with sights set on an overall win - he's got plenty of fans and fellow rock crawlers cheering him on!
Continue reading below for a full Baja 1000 recap from Campbell Racing: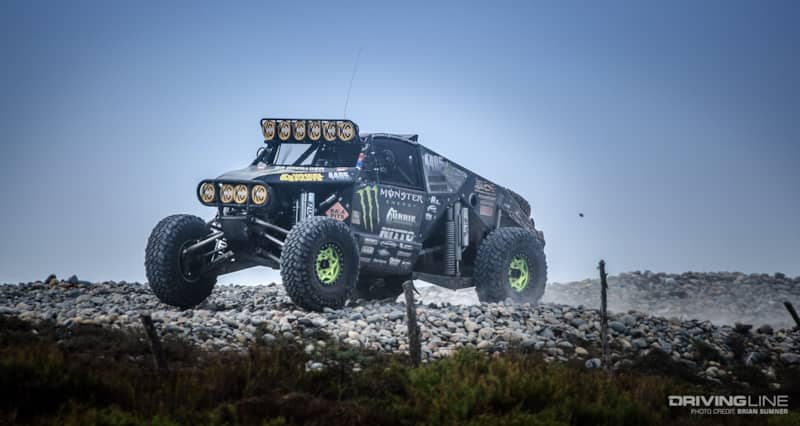 Shannon's Last Adventure of the Year.... We think!....
Winning. "It sounds good," although this isn't something Shannon would boast about.  His intentions  were to go down and make it to the finish, get the experience, see where he ended up for the overall, learn what changes he needs to make if he decides to go back, figure out budgets, places to stay and people he needs to know.  Thanks to good friends, family and sponsors that is exactly what went down.  Pretty badass for a last minute trip. He said it makes him feel like an irresponsible kid again… and that's winning.  

The first part of the week was crazy. Shannon had to drive to California and Las Vegas to have the engine, transmission, transfer case, steering, CV's and diffs all rebuilt, knowing he needed to leave by Friday if he wanted to pre-run and still didn't have a co-driver or anything to pre-run with.  Shannon got a hold of Danny Ebert and he said he would give Brian Kirby a call.  Kirby called Shannon and said he could help out with the Pit crew and Shannon asked him if he could read a GPS & co-drive instead.  A little while later Kirby called and said Greg Adler of 4Wheel Parts offered for us to pre-run in his brand new 4 seat razor, Ron Romero of S/W Ground Control loaned us his new JK, and it seemed as if everything was slowly falling into place.  Leaving a little later than planned, crossing the border Sunday morning, heading straight to Hacienda Los Arcos Ranch to meet up with long-time friend Mike Palmer and his 30-man crew. Mike offered his crew up to help fuel and pit the car.  These guys prepare all year for this race and are very organized.  Shannon didn't want to take advantage of their hard work and preparation and double their work load, but Palmer insisted.  This was the final decision maker that made Shannon decide to go.  In the beginning, knowing he would never have an opportunity or budget to do this again.  

Day 1 - Shannon, Kirby, Mike, Wayland and Terry started their pre-run to Santo Tomas where they stopped to get fuel and food.  Shannon went to the "banos" to clean up and there was what appeared to be a big stainless sink with a weird spigot.  He turned it on and water came out, so he washed his hands.  As he was walking out, he told Kirby about this weird sink and Kirby started laughing and told him that it was a urinal and that the sink was outside.  LOL!  Needless to say he re-washed his hands and they all sat down for a steak and an ice cold beer.  It was a long day of pre-running, they ended up at Coyote Cals hostel in Erendira, which they highly recommend - 25.00 per person includes bunk bed, beers and breakfast.  

Day 2 - The guys made it to race mile 350, were almost out of gas and found out there were no vacancies in town.  Some friends of Kirby's from the Green Army were staying at the Pink Hotel in Catavina and offered them a place to throw down and shower.  

Day 3 - Started with a killer breakfast at the Desert Inn Catavina. The ladies made them some "to die" for sack lunches and they hit the road.  Knowing they didn't have enough fuel to make the loop to the southern tip, the guys were told that Baja Pits would be at RM 420 which Kirby had signed them up for "Thank God".  Talk about "dedication"- it took Manuel 8hrs from Baja Pits to get to that location to be able to get food, water, and fuel in the middle of nowhere was awesome.  They finally passed through some of the most beautiful country. In the middle of nowhere they came up on a spring and were able to clean up and hang out for a little while.  They made it to the southern tip needing fuel again in order to make it to Gonzaga.  A Class 10 racer, Todd Starks, was able to help them out.  The next stop was Coco's Corner where they ran into one of Shannon's closest friends, Randy Ellis, and the one responsible for getting him into the crazy life as we know – Off-roading. Leaving Coco's, they headed up to Gonzaga Bay for a beer with Bob Roggy and crew.  The final destination for the day would be San Felipe for a good dinner at Baja Mar then the Blue Iguana for some entertainment.

Day 4 - The final day of pre-running was through the Valle de Trinidad, up the goat trail and on to Ojos Negros and to the finish.  Finally, back to the Hacienda Los Arcos for some rest and a little pit planning with Palmer and the gang.

Day 5 - According to Shannon, Contingency and Tech was one of the busiest, craziest and fun days of Baja. After Tech they decided to pre-run the start, which didn't go so good.  Currie had built a spare diff that they strapped to the spare tire thinking it would stay put, but after the pre-run they stopped and the McMillan boys pulled up and asked if they had lost a rearend. They were really confused when Shannon said he thought everyone carried a spare diff on their cars.  He was only joking.  Thank you for picking it up!  The car had a bad vibration, so the guys took the whole car apart trying to figure it out.  The day went by too fast and they finally gave up and figured they had better get some sleep-it is what it is.  The plan was to race easy till something vibrates apart, hoping it would make it to Terry and Wayland so that they would be able to drive their half.  

Day 6, Race Day - Shannon said he drove like a little school girl hoping to get the car to Wayland in one piece.  At race mile 468 Wayland and Terry jumped in and ran a perfect race. The #4405 of Campbell Racing crossed the finish line just over 20hrs. That's "WINNING"!

It was a long week hanging out and pre-running.  Shannon couldn't have asked for a better group to be teamed up with.  Brian Kirby has some big time skills, navigating and keeping Shannon in-line.  Shannon said, "He thinks like me and I probably should have just let him drive because he's not blind like me."  Right after SEMA and a few late nights talking about going to Baja, Terry Madden said you can count me in.  The next week Terry was on a plane and at the shop.  Terry rode shot gun with Wayland the second half of the race and helped prep the car.  Another longtime friend that went with them was Mike Flores. Flores was drinking beer the night before we left at the shop, Shannon asked him if he wanted to be his translator for a week, he said sure. I would like to say thank you to Jose and his family for extending their hospitality by letting us stay at the Hacienda Los Arcos and Mike Palmer and the gang for all their help, "It was definitely an experience of a lifetime."

So just when you think Shannon's a badass you're wrong, it's all these friends and family that make him a badass. THANK YOU ALL SO MUCH. 

Thank you to our sponsors: Nitto Tire, Monster Energy, Currie Enterprises, ARB USA (ARB Air Locker), WARN, Dynomax Performance Exhaust, FOX, Ron Davis Racing Products, Pro Am, Walker Evans Racing, Arizona Driveshaft, TurnKey Engine Supply, Rugged Radios, Advance Adapters Inc., ArrowLane, Hughes Performance, Mastercraft Safety, Impact Racing, The Tire Ball Company (TireBalls) , DirtSkins, Grizzly Coolers, Justice Brothers @gearworks,  KC HiLiTES, Inc., Motive Gear, PAC Racing Springs, PowerTANK - High Performance Air Systems, Howe Performance Power Steering , 4Wheel Parts, Southwest Ground Control, Custom Coaters of Mesa Allstart Electric, @crossfire racing Super Duty HQ.