Inside the '21 U.C.C. Champion's 2,500HP Cummins-Powered 2006 Ram Pickup
The Ultimate Callout Challenge is fittingly named. In the diesel performance world, it is the biggest head-to-head competition in the industry and literally every truck that shows up lives on the ragged edge for the three-day torture test. So what does it take to win an event of this magnitude? It takes more than simply making huge horsepower and gobs of torque, although that is a prerequisite if you want to have a shot at victory (especially on the dyno). It takes an engine that can survive tons of abuse and a transmission that can live while shifting under the stress of a 5,000 pound vehicle and 3,000 lb-ft of twist. It means a strategy that consists of calling it a day after a solid effort on Day 1 at the drag strip, even though you know the truck has a quicker pass in it. It also calls for a dedicated team to back you up in the pits, helping to fix whatever breaks or prepping the truck for the next event.
U.C.C. champion Justin Zeigler had all of the above working in his favor this year. His '06 Dodge earned a Second Place finish at the drag strip (running a 5.30-second eighth-mile), won the dyno competition with a 2,443hp/3,282 lb-ft effort and sewed up the overall win by traveling 290 feet during the sled pull. Below, we'll take a look inside Justin's winning setup—a best-of-everything build that survived the war at U.C.C. 2021.
Built To Survive Triple-Digit Boost & 3,000-Plus LB-FT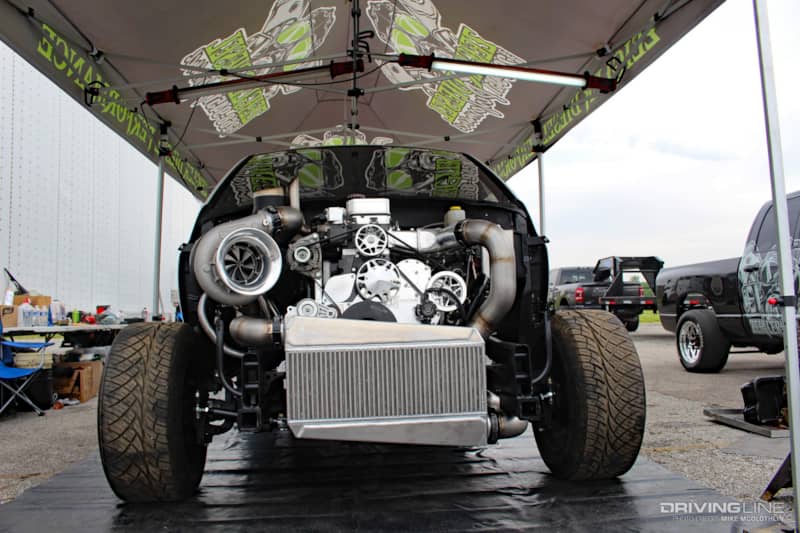 At the heart of Justin Zeigler's U.C.C.-winning parts combination you'll find an Enforcer series Cummins from D&J Precision Machine. An OEM, cast-iron block was machined to accept cylinder sleeves and a 1-inch deck-plate, while both the block and cylinder head were cut to accommodate fire-rings. A factory-based 6.7L Cummins crankshaft is anchored in place via girdle and billet main caps, and swings six D&J billet X-beam connecting rods, which are topped off with D&J forged-steel ring (FSR) land pistons. If you thought the water jackets were filled with concrete you're wrong. Not only is it a wet-block engine, but thanks to his 2,443 hp dyno number, it's the highest horsepower wet-block Cummins in existence. Incredibly, Justin's Enforcer is also still sporting a wet sump oil system, albeit with a modified factory oil pump.
Big Compounds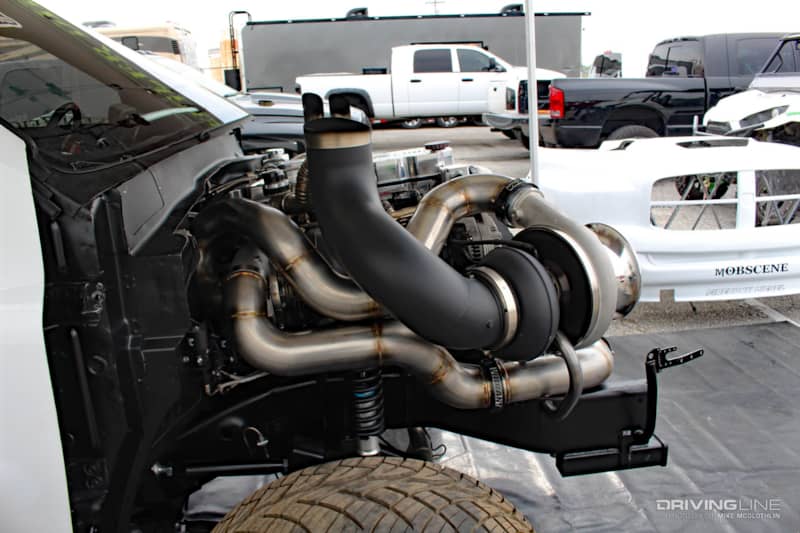 Firepunk Diesel's Cody Fisher fabricated the compound turbo system that hangs off the passenger side of the Cummins, while Garrett provided the high-pressure 88mm GT55 and Wimer Fuel Injection & Turbo supplied the low-pressure unit. The sizeable yet well-spec'd duo of snails produces 135 psi of boost, but with peak drive pressure checking in at an incredible 112 psi. Having a drive-to-boost ratio lower than 1:1 definitely makes life easier for the engine, as well as the turbochargers.
Tractor Technology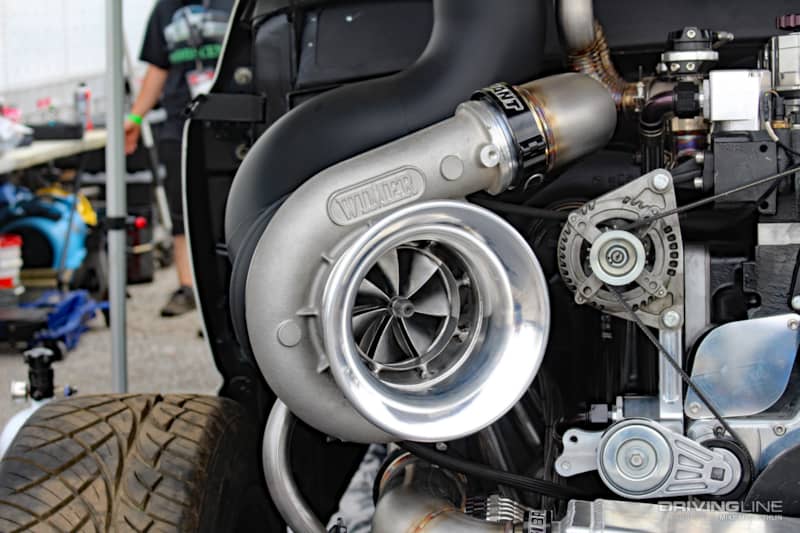 The first charger to grab a bite of air in Justin's compound setup is one that's usually reserved for tractor pullers…4,000hp Pro Stock class tractor pullers! Wimer's massive atmosphere turbo packs a 5.3-inch (135mm) inducer compressor wheel, utilizes a T6 turbine inlet flange and routes exhaust out a 6-inch hood stack.
Turbo Insurance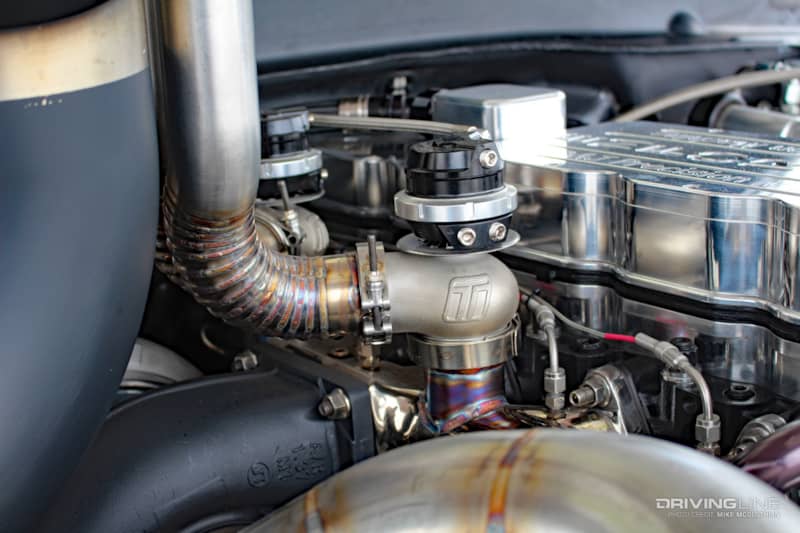 Not that it's been an issue, but dual external Tial wastegates are in place to keep the turbos from ever over-speeding. The 45mm gates are incorporated into a polished Competition T6 24-valve exhaust manifold from Stainless Diesel. The manifold, high-flow cylinder head, spool stage of nitrous and the high-stall quad disc DPC converter within the Comp 3 Firepunk 48RE transmission all combine to bring the massive compound turbo arrangement to life quickly when staging the truck.
Billet Intake, Dual CP3's, Coil Overs and Factory-Based Axles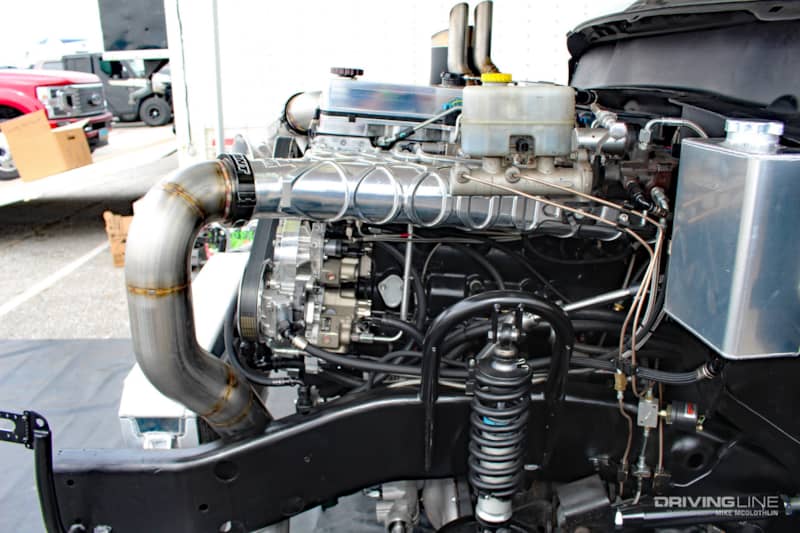 Speaking of the cylinder head, it's a ported unit from D&J that flows 300 cfm per cylinder. Like the block, it's been fire-ringed, and is anchored to the block via 9/16-inch diameter head studs. One of D&J's 5-axis, CNC machined aluminum intake manifolds opens up airflow into the head. Also notice the Menscer Motorsports coil over shock. The factory coil springs are long gone from up front and the rear leafs have been missing for quite some time, too. The factory AAM axles remain, although the front AAM 925 has been fitted with Yukon chromoly axle shafts and the AAM 1150 was treated to a Yukon spool and 38-spline axles.
Exergy Fueling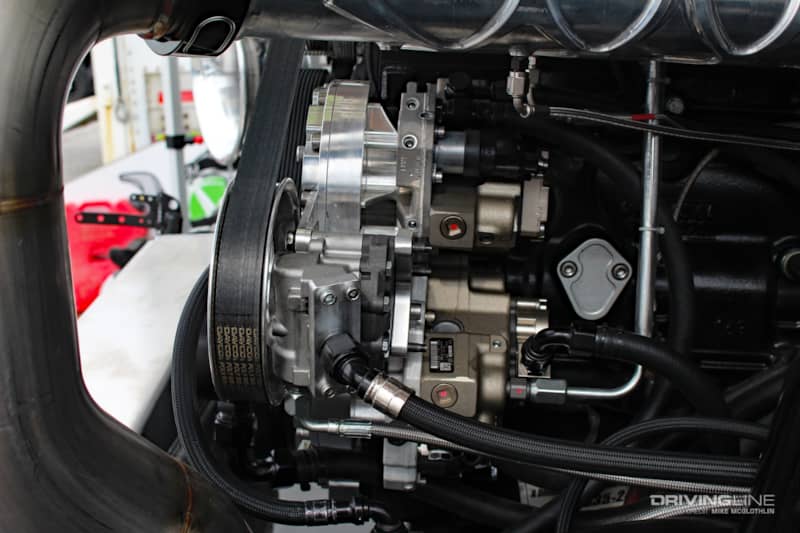 Calling on the common-rail experts at Exergy Performance, Justin's Cummins makes its horsepower cleanly and almost effortlessly. A set of Exergy fuel injectors equipped with 400-percent over nozzles are supported by the company's billet, dual-feed rail and two CP3 pumps, a 14mm and a 12mm stroker. The compact twin CP3 configuration is made possible thanks to D&J Precision Machine's dual pump timing cover.
Low 5's At 5,200 Pounds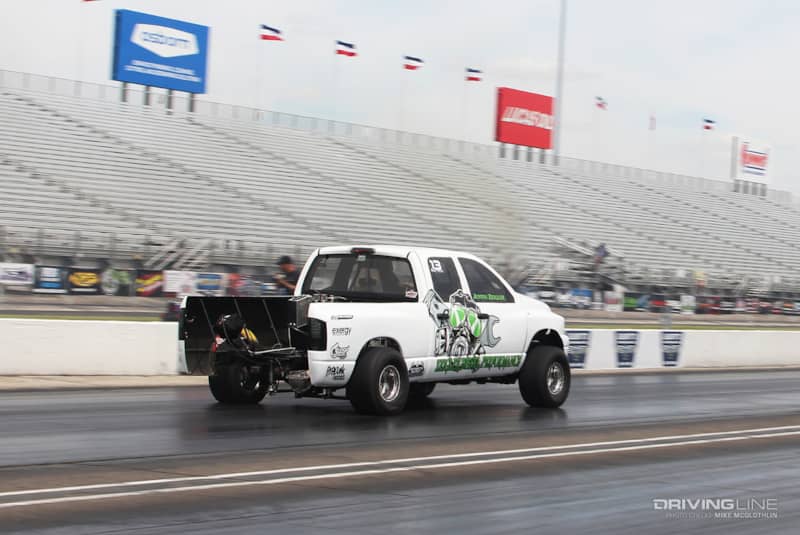 Justin credits Firepunk Diesel's Lyn Miller for making his Dodge "stick" at the Ultimate Callout Challenge. Miller's chassis adjustments helped the truck hook hard enough to pull off a 5.30-second eighth-mile pass at more than 140 mph. At a race weight of 5,200 pounds, that's pretty impressive, and says that the 2,400-plus horsepower Justin made on the dyno wasn't just for show. On the drag strip, well north of 2,000 hp was being applied to the track. According to Justin, his 5.30 pass was conducted on just the second tune in his arsenal. Tune 1 yields 5.6 and 5.7-second eighth-miles. Needless to say, there is a lot more left on the table. His biggest predicament going forward, as it pertains to racing in the Outlaw Diesel Super Series, is to either find a way to slow down enough to run 5.90 Index or go all-out on each pass and sign up in the Pro Street category.
More From

Driving Line
To follow Justin's progress from competition-to-competition at this year's Ultimate Callout Challenge, check out our U.C.C. coverage, starting here.