Ultimate Callout Challenge 2021: Diesel Drag Racing From Indy
Following a forced cancellation due to Covid-19 in 2020, the Ultimate Callout Challenge returned to Indiana's Lucas Oil Raceway the weekend of May 21-23, 2021. Perhaps better known simply as U.C.C., it's an event centered around what makes the diesel performance industry tick: making big horsepower and putting that power to good use. This time around, the 3-day competition brought 19 of the country's wildest trucks to Indianapolis to find which one could collect the quickest timeslip, who could make the most horsepower (and torque) and which truck could pull the iron sled the farthest.
Day 1 was drag strip day, and that's where our coverage begins. Below, we're highlighting the top seven eighth-mile elapsed times obtained at Lucas Oil Raceway—all of which were in the 5's. At least one of these trucks is capable of high 7's in the quarter-mile, while several others could go low-to-mid 8's under the right conditions. Trust us, for trucks that tip the scales between 4,500 and 5,500 pounds, that's saying something! Somewhere between 1,700 hp and 2,200 hp is being applied to the track in the following list. Stay tuned for our dyno coverage next…
First Place: Tony Burkhard
Elapsed Time: 5.11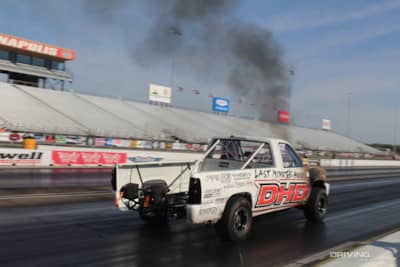 With this truck being campaigned in the Outlaw Diesel Super Series' Pro Street class this year, it was no surprise when driver Tyler Burkhard put a 5.11 at 148 mph on the board. The '06 classic body Chevrolet Silverado comes from the Dirty Hooker Diesel (DHD) stable in Harbor Beach, Michigan and has been involved in U.C.C. before (you might even remember the dicey runaway incident they faced back in '19). The lightweight and caged 4x4 Bow Tie relies on a Wagler Duramax with Exergy fueling, a big single Precision turbo and an air-to-water intercooler to help get them down the track while a Rossler TH400 handles the shifts.
Second Place: Justin Zeigler
Elapsed Time: 5.30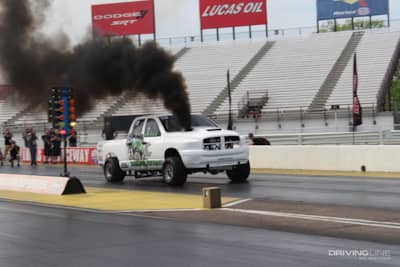 Justin Zeigler has been in the big horsepower game for a few years now and has competed in the King of the Street Challenge in the past. His '06 Dodge tips the scales at 5,200 pounds, which is a little on the heavy side in comparison with some of the other trucks at U.C.C. 2021—but in the end it didn't seem to matter (hint, hint). Thanks to an Enforcer series Cummins from D&J Precision Machine under the hood—a powerplant made up of a wet 6.7L block that's been fitted with sleeves and a one-inch deck-plate—engine reliability is the least of Zeigler's worries. A massive compound turbo arrangement features a 5.3-inch (135mm +/-) unit from Wimer Fuel Injection & Turbo and an 88mm GT55 on the manifold—a duo that produces more than 130-psi of boost. The well-built Cummins is Exergy fueled and backed up by a Comp 3 48RE transmission from Firepunk Diesel.
Third Place: Tom Borrell
Elapsed Time: 5.33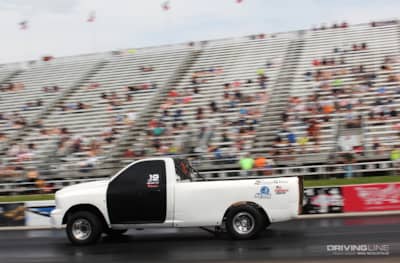 Unbeknownst to some, "Turba Tom" Borrell didn't come out of nowhere. He's had a strong and expanding following on YouTube for several years now, but recently went all-in on diesel drag racing. Like Burkhard, he is also campaigning his truck in the ODSS Pro Street class in 2021. Borrell's Dodge gets down the track thanks to a Cummins built by Freedom Racing Engines and that's graced with an 88mm GT55 turbo. However, on the dyno a G57 Garrett was added to the mix for more airflow. A 48RE four-speed from Muldoon's Diesel Performance handles power transfer efficiently.
Fourth Place: Wade Minter
Elapsed Time: 5.50
Wade Minter is no stranger to the Ultimate Callout Challenge, having already competed in the 2017, 2018 and 2019 events. Every year, his '06 Silverado 3500 is right in the thick of things at the drag strip and 2021 was no different. One of the first few drivers to hit the staging lanes, Minter started the day with a 5.65-second eighth-mile pass, followed later by the 5.50 that earned him Fourth Place for the day. The triple-turbo Duramax that powers this mean Bow Tie is a 7.1L stroker built by SoCal Diesel and is looked after and tuned by Truck Source Diesel.
Fifth Place: Chris Buhidar
Elapsed Time: 5.51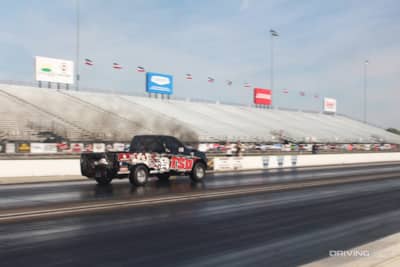 Another nasty-running, triple-turbo truck in the running was the Cummins-converted F-350 driven by Truck Source Diesel's Chris Buhidar. Formerly a 6,000-pound Super Street truck in the late NHRDA, it still sports leaf springs and is anything but a featherweight. However, it does benefit from a host of suspension improvements from One Up Offroad. The Cummins is a 6.8L piece out of Freedom Racing Engines and is backed up by a Ford 4R100 from Brian's Truck Shop. Buhidar also handles all the tuning on this triple-turbo, common-rail beast, so he has more control over his setup than most.
Sixth Place: Evan Moser
Elapsed Time: 5.53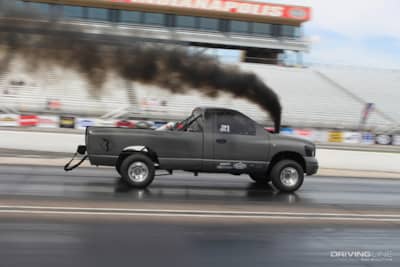 After throwing a fresh transmission under his third-gen Dodge a few days before U.C.C., Evan Moser clicked off a 5.53-second pass while testing at his home track, Mason Dixon Dragway in Maryland. One week later, Moser replicated that elapsed time and landed himself in Sixth Place heading into Day 2 of the biggest event he'd ever been a part of. Diesel performance is already addicting enough, but running with some of the biggest names and the fastest trucks in the country at your first national event might just hook him for life!
Seventh Place: Kenny Bruner
Elapsed Time: 5.56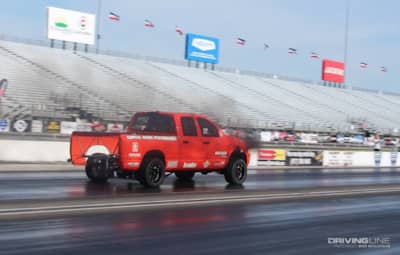 Kenny Bruner and his team traveled more than 2,200 miles from California to be a part of U.C.C. 2021. But despite having the longest haul to Indy, Bruner wasted no time behind the wheel. He brought the compound turbocharged 6.5L Cummins up on boost quickly and let things rip with a 5.56-second pass at 128 mph. Our first impression was that the four-linked Dodge looked like it had a lot more in it. Unfortunately, later on, a hard launch and a hop was followed by one of the most catastrophic transfer case failures we've ever seen. Back to the pits they went to survey and fix the damage—and then get prepped to go to war with the chassis dyno on Day 2. Stay tuned…
More From

Driving Line
Curious what the fastest diesel in existence is? We caught up with Firepunk Diesel and the company's 3-second Pro Mod recently. Check it out!