Invested In Diesel: The Big Three Are Still All-In On Compression-Ignition in HD Pickups
The automotive world is changing. We see it every day. The 100-year dominance of the internal combustion engine (ICE) is being challenged on a daily basis, especially in the commuter segment, but more recently in the sports car arena. The ICE is even being threatened in the popular half-ton pickup category. However, one bastion of hope for the ICE—and namely the diesel engine—is the ¾-ton and larger truck segment. In this zip code of the pickup world, where diesel-powered workhorses are capable of towing in excess of 35,000 pounds while still returning respectable fuel economy, Detroit's Big Three continue to invest, heavily, in internal combustion.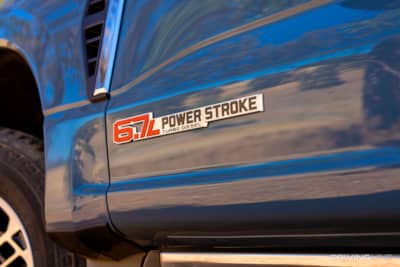 Over the course of the past five years, GM, Ford and Ram have poured millions into diesel engine production, be it for new engines, improved engine longevity or torque supremacy. The Big Three have even arguably designed their new trucks around the use of diesel powertrains. This time, we're taking a look at Ford's recent push to offer a 1,200 lb-ft pickup, GM's increased spending for its new 3.0L and 6.6L Duramax engines and Ram's recent investment in ensuring the 6.7L Cummins continues to offer the million-mile durability its customers have come to expect. Is the ¾-ton and larger diesel truck segment the last bastion of hope for ICE? It just might be. Here's why.
A Rock-Solid Reliable, 1,200 LB-FT Power Stroke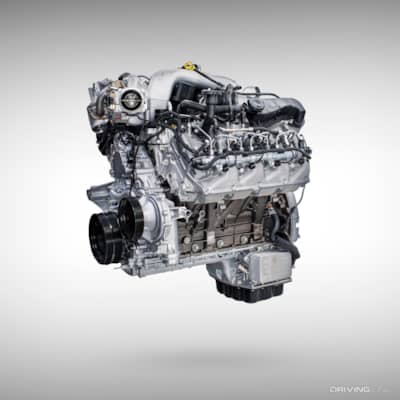 The battle for class-leading torque numbers has fueled a fiery war between Ford and Ram through the last decade and as of last fall Ford had the upper hand. A high output version of its 6.7L V8 Power Stroke diesel will produce class-leading horsepower (500 hp) and a gargantuan, class-leading 1,200 lb-ft of torque. This will be the third time Ford has revamped the 6.7L Power Stroke platform to support more horsepower and torque. The investment here isn't just to lay claim to bigger numbers, it's to make sure these engines continue to last hundreds of thousands of miles at exorbitant power levels. When the H.O. Power Stroke announcement came (in conjunction with order banks opening for the '23 Super Duty), Ford received 50,000 orders in the first five days.
Higher Tow Ratings Are Often Exclusive To The Diesel Option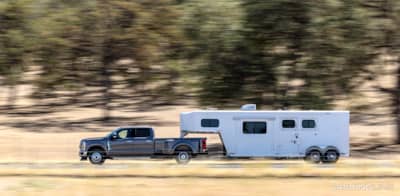 In order to own the top towing figures in the heavy-duty pickup world, a stout diesel powerplant is mandatory. Not only does it need to be powerful, but its torque curve has to build quickly and hold strong throughout much of the rpm range in order to both get loads moving and keep them moving. For '23, Power Stroke-equipped Super Duty trucks will lay claim to the following best-in-class honors: gooseneck towing of 40,000 pounds with F-450, gooseneck towing in the F-350/3500 dual rear wheel subsegment of 38,000 pounds, fifth-wheel towing of 35,000 pounds with F-450, conventional towing capacity of 30,000 pounds with F-450 crew cab and conventional towing capacity of 28,000 pounds in the F-350/3500 dual rear wheel subsegment.
Even The Off-Road Savvy Tremor Can Get A Lot Of Work Done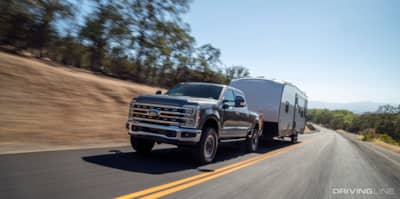 Thanks to the popularity and great drivability that stems from having a highly powerful diesel under the hood, Ford will continue to offer the Power Stroke in its Tremor optioned Super Duty trucks. The low-rpm torque of the 6.7L Power Stroke coupled with the electronic-locking rear differential and available Rock Crawl drive mode makes for an 8,000-pound truck that's surprisingly capable off road. But it's not just the Tremor package's off-road prowess that impresses, as F-350 versions will be capable of towing 23,000 pounds via gooseneck hitch.
GM's New 6.6L Duramax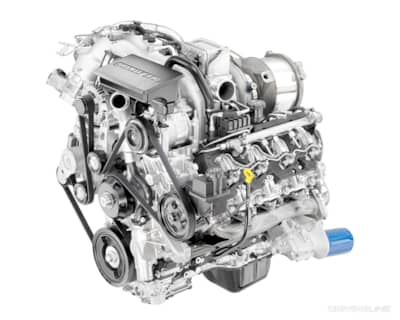 Keeping pace with Ford and Ram, General Motors poured countless dollars into making its 6.6L diesel V8 more formidable for the '24 HDs, which are set to arrive in the first quarter this year. The new cast-iron block, aluminum headed V8 has been graced with a stronger VGT actuator on the BorgWarner turbocharger, which is rumored to have been done to improve exhaust braking performance. Higher injection pressure is also on the menu (think 36,000 psi) for the common-rail system, along with a new piston design for improved combustion. Finally, a new engine control system in onboard. The result of all those investments is an engine that belts out 470 hp at 2,800 rpm and 975 lb-ft of torque at just 1,600 rpm.
$175 Million To Streamline 6.6L Duramax Production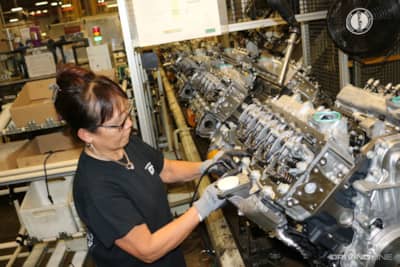 Back in 2019, GM broke ground on a new, $175 million facility in Brookville, Ohio to help support the production efforts of the 6.6L Duramax plant (DMAX Ltd.) in nearby Moraine. Today the Brookville location supplies Moraine with the vital machined engine components required to assemble the 6.6L diesel. While $175 million might seem like chump change in the world of billion-dollar OEM investments, keep in mind this allotment of funds was provided strictly to make sure production of the popular 6.6L Duramax would remain streamlined as demand increased.
GM's Enhanced And More Powerful 3.0L Duramax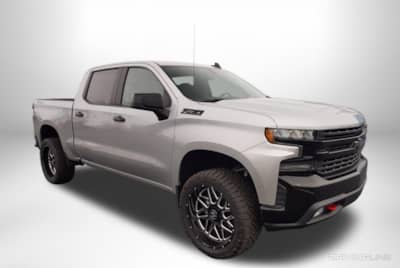 Even in the half-ton segment, where its EV option will go head-to-head with its internal combustion engines, GM is pumping R&D dollars into the betterment of its 3.0L Duramax diesel. Wearing RPO code LZ0, the latest version of the inline-six "baby Duramax" will produce 305hp and 495 lb-ft of torque (vs. 277hp and 460 lb-ft for the previous LM2 version). Improving the original 3.0L I-6's design, GM invested in a hard-part fix (which included a new crankshaft) to solve a long-crank, no-start issue that'd plagued some LM2 engines. Further, GM invested in a higher quality belt to drive the oil pump at the rear of the engine. The new belt allows for a 200,000-mile inspection interval as opposed to 150,000 miles on the LM2.
Ram's CGI Block Cummins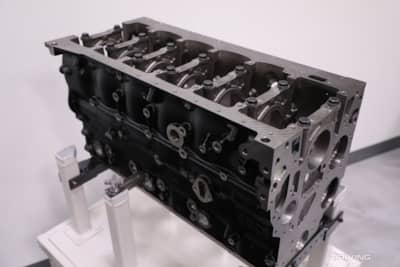 For its fifth-generation trucks, it was obvious Ram had invested big money with its diesel partner, Cummins. The all-new, compacted graphite iron (CGI) block Cummins, a revised version of the 6.7L, could now turn out 1,000 lb-ft of torque—a best-in-class figure when it debuted in January of 2019. More recently, Ram voluntarily recalled roughly 250,000 Cummins-powered HD Rams to retrofit them with a CP3 high-pressure fuel pump. Upon seeing worrisome failure rates with the CP4.2 pump it had switched to in '19, the automaker reverted back to the tried and true CP3—a pump that (due to its extensive internal machining required for production) costs the automaker considerably more. In this case, Ram chose to invest in its image, and that image is that a Cummins is a symbol for utmost reliability in the ¾-ton and larger truck segment.
Taking Stock—For Now…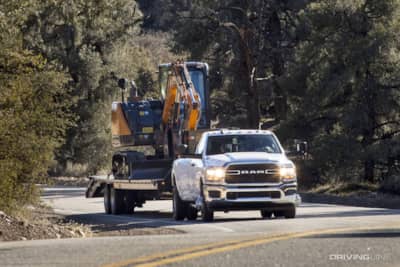 With Ford's new high output, 1,200 lb-ft Power Stroke rocketing past Ram's 1,075 lb-ft number (currently available with its H.O. 6.7L Cummins), the ball is now in Ram's court. Rest assured, the Auburn Hills company won't sit idle long. Look for them to challenge that monumental 1,200 lb-ft figure within the next two to three years. Beyond that, don't be surprised to see Ram develop a 3500 model truck capable of out-towing Ford's F-450. If the past has taught us anything, it's that owning the rights to best-in-class torque and towing numbers are worth investing in.
More From

Driving Line
Ram's 1,000 lb-ft 6.7L Cummins announcement was the shot heard 'round the world back in 2019. Check out our inside scoop to see what makes the truck maker's new I-6 tick.