Inside the 1,000 LB-FT 6.7L Cummins
So now that the cat's officially out of the bag and we know the new high output 6.7L Cummins produces 1,000 lb-ft of torque—the most ever offered from an OE engine slated for a pickup truck—it's time to find out what measures Cummins has taken to ensure this power plant remains as durable as its predecessors. Is the iconic I6 still capable of going a million miles with four-digit torque on tap? While the million-mile question will have to be answered at a later date (we're told they won't be available until May anyway), we can tell you that virtually every area that's vital to this engine's long-term survival has been beefed up or improved upon with better parts.
From the compacted graphite iron block to the forged-steel connecting rods to a revised cylinder head with larger head bolts—and all the supporting components that go along with it—it's clear Cummins engineered plenty of durability into this engine. In fact, there's room to grow in the future. As a bonus, a bigger variable geometry Holset turbocharger (with a forged-milled compressor wheel) produces more than 30 psi of boost, hydraulic lifters rule out the need for periodic valve adjustments and a higher pressure Bosch common-rail injection system yields the cleanest emissions to date. For an inside look at all the parts and pieces that make the 2019 6.7L Cummins the king of torque, keep scrolling.
2019 H.O. 6.7L Cummins Hard Facts
| | | | |
| --- | --- | --- | --- |
| Production: | 2019-Present | Valvetrain: | OHV, four valves per cylinder, single cam, hydraulic lifters |
| Bore: | 4.21 inches | Injection System: | Bosch high-pressure common-rail, direct injection |
| Stroke: | 4.88 inches | Injectors: | Bosch high-pressure common-rail |
| Displacement: | 408 ci | Injection Pump: | Bosch CP4.2 high-pressure fuel pump (29,000 psi) |
| Compression Ratio: | 16.2:1 | Turbocharger: | Variable geometry Holset |
| Block: | Compacted graphite iron (CGI), deep-skirt | Intercooler: | Air-to-air |
| Rods: | Forged-steel | Emissions: | Exhaust gas recirculation (EGR), diesel oxidation catalyst (DOC), diesel particulate filter (DPF), selective catalytic reduction (SCR) |
| Pistons: | Cast-aluminum | Horsepower: | 400hp at 2,800 rpm |
| Head: | Cast-iron with six head bolts per cylinder (with sharing) | Torque: | 1,000 lb-ft at 1,800 rpm |
Ram's 3500 HD Is Back on Top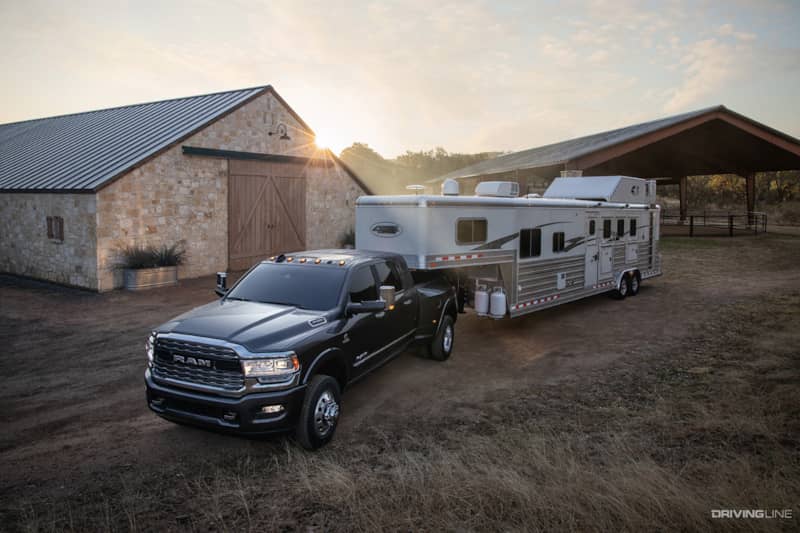 With the release of the all-new, high output 6.7L Cummins, Ram has officially won the race to 1,000 lb-ft among the Big Three. But not only that, 2019 3500 models can tow a class-leading 35,100 pounds when properly equipped.
Stronger Block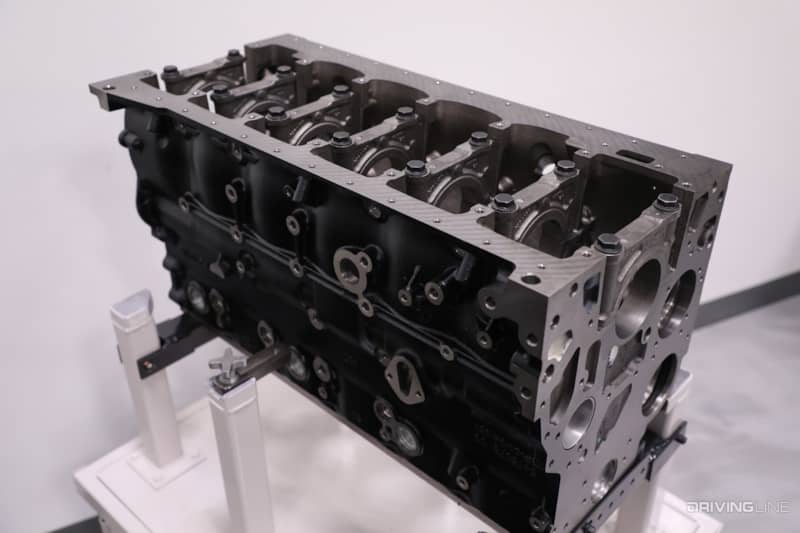 Getting away from gray cast-iron for the first time in this engine's history, the high output 6.7L Cummins now sports a compacted graphite iron (CGI) crankcase from Tupy, which is perfect for the higher cylinder pressure this engine likely sees over previous versions. Added hardness and fatigue strength, better ductility and improved tensile strength, and substantial weight savings are all benefits of casting a block from CGI (this block is 60 pounds lighter). We don't know the exact stats on the Cummins' crankcase, but we do know that CGI can be as much as 75-percent stronger than conventional gray iron. A new, stronger alloy crankshaft with a 10-bolt crank flange is secured inside the deep-skirt block via four-bolt main caps.
Lighter, Lower Compression Pistons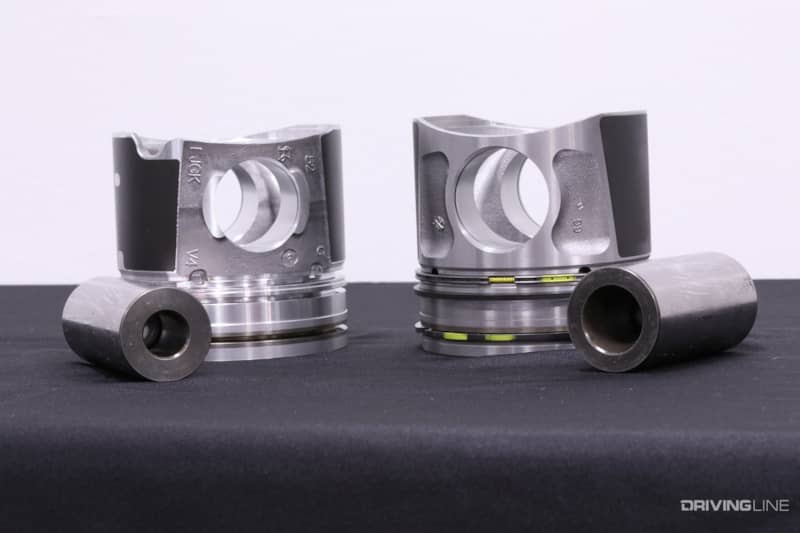 New cast-aluminum pistons (right) with low-friction rings and larger diameter wrist pins improve durability while lightening up the rotating assembly. The H.O. mill's compression ratio also checks in at 16.2:1, versus 17.3:1 previously. Beneath the pistons, you'll find that Cummins has gone back to forged-steel connecting rods (rather than powdered metal), which further justifies our theory that this new engine was designed with plenty of room for future growth in terms of both horsepower and torque.
Oiling and Cooling Improvements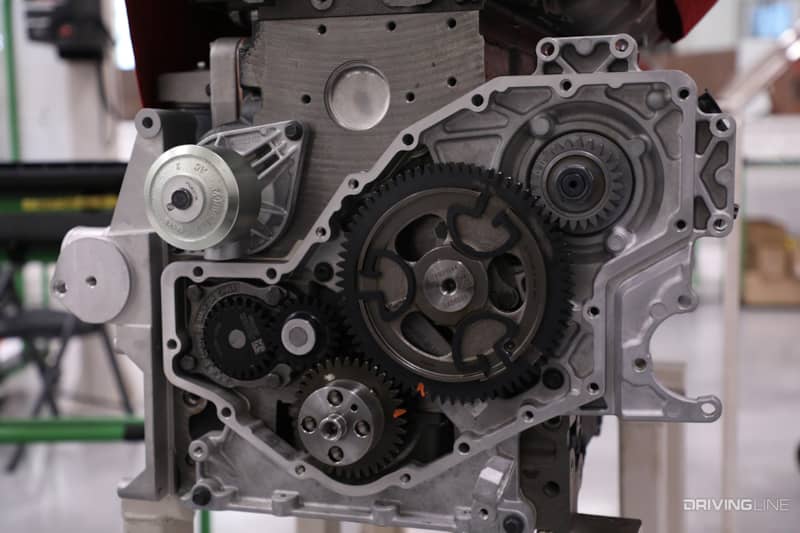 To keep operating temps and lubrication in check with 17-plus tons in tow and four-digit-torque on tap, both the oiling and cooling systems have been upgraded. A higher volume oil pump and water pump made the cut, and are most likely accompanied by a larger radiator and higher capacity engine fan. For additional weight savings (as requested by Ram), both the oil and water pumps sit in aluminum housings.
Larger Head Bolts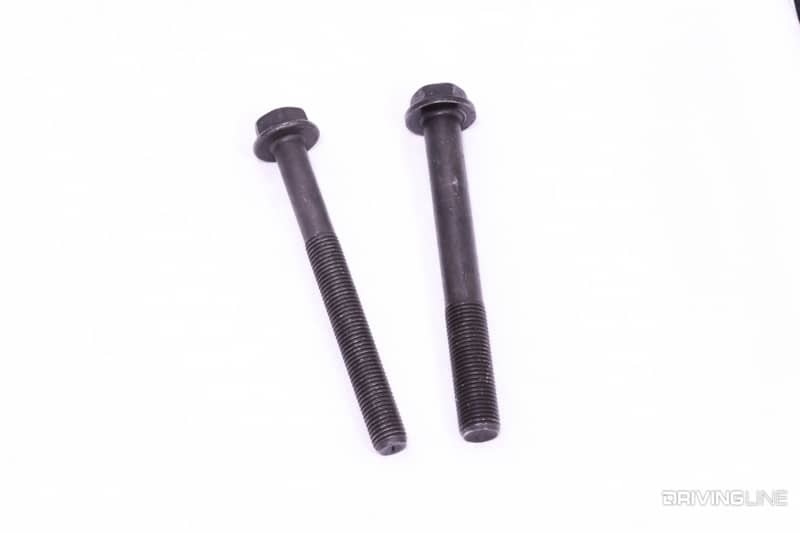 While we don't have the exact measurements at our disposal, we can deduce that the diameter of the head bolts holding the new cylinder head to the CGI block are larger in diameter. Our educated guess is that Cummins increased the head bolt diameter from 12mm (left) to 14mm (right). The larger diameter fasteners will be vital in keeping the head gasket alive for hundreds of thousands of miles with more cylinder pressure in the mix.
Hydraulic Roller Lifters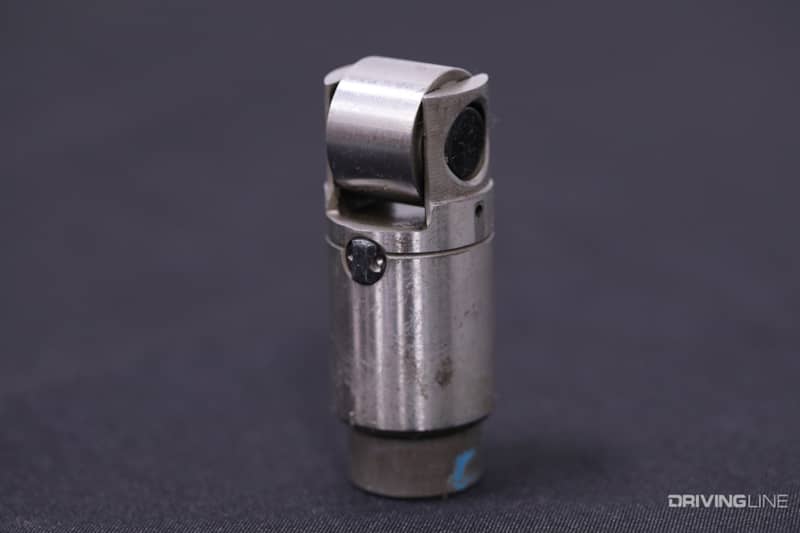 Within the valvetrain, the biggest news is this engine's use of hydraulic lifters—a first for the 6.7L Cummins. The elimination of solid roller lifters equates to quieter valvetrain operation, a longer life for both the valvetrain and the cam, and their self-adjusting nature means no longer will you have to run the valves every 150,000 miles.
New Rockers and Head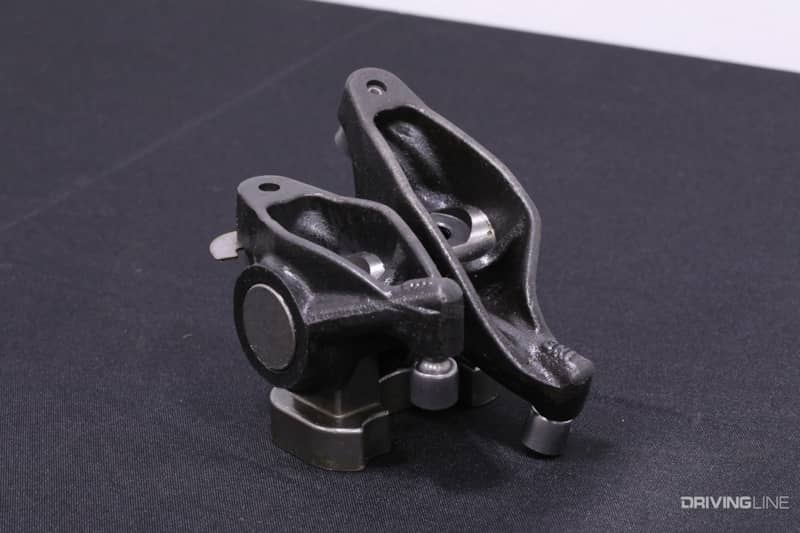 Under the valve cover, and as you might've imagined with hydraulic lifters in the mix, the rocker arms have no provision for valve adjustment. The head itself is all-new, still features a cast-iron construction and 24-valves per cylinder, but is equipped with upgraded exhaust valves to better cope with additional heat, along with stiffer valve springs.
Higher Flowing Turbo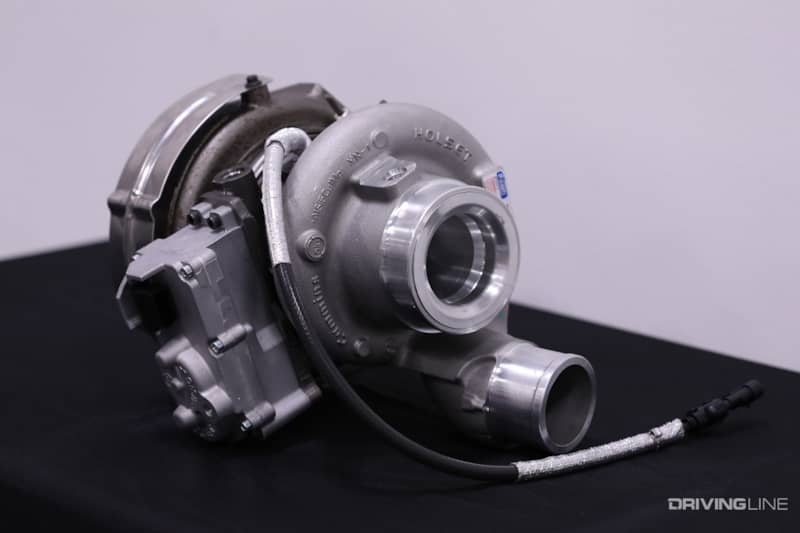 To achieve 1,000 lb-ft of torque at just 1,800 rpm, a Holset variable geometry turbocharger is used—but this one's a bit different from the same HE351VE bolted to previous engines. For improved exhaust flow, taller turbine vanes are utilized in the exhaust housing, while the center section benefits from heavier duty bearings. For added efficiency on the compressor side, a forged-milled compressor wheel (rumored to measure the same 60mm at the inducer) is employed. At full tilt, the new Holset can produce 33 psi of boost right off the showroom floor.
Different Exhaust Manifold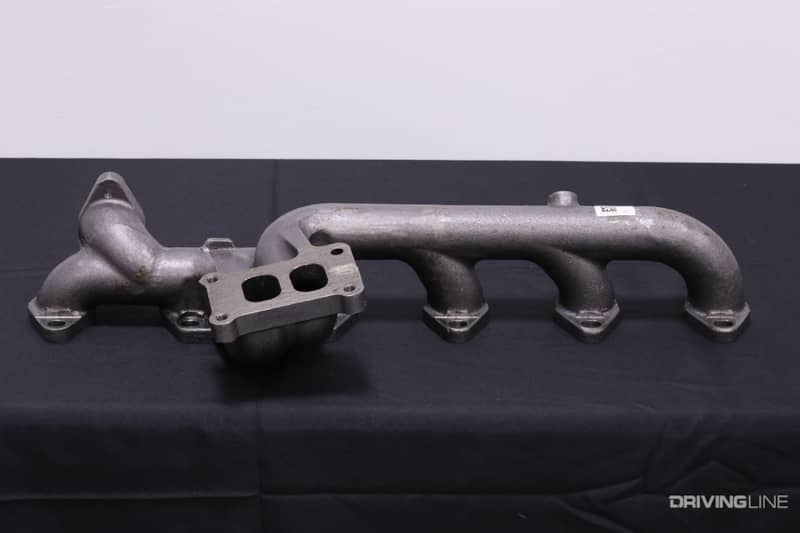 Accommodating the new variable geometry turbo is a fresh exhaust manifold. One of the more unique-appearing units we've seen aboard a Cummins, it mounts the turbocharger in a position that's clocked (or tilted) downward, toward the passenger side of the firewall by way of what looks to be a T3 divided flange. As you can see, the turbo will also be bolted between cylinder numbers 4 and 5, rather than centrally-located between 3 and 4.
More Pressure, Higher Efficiency, Cleaner Emissions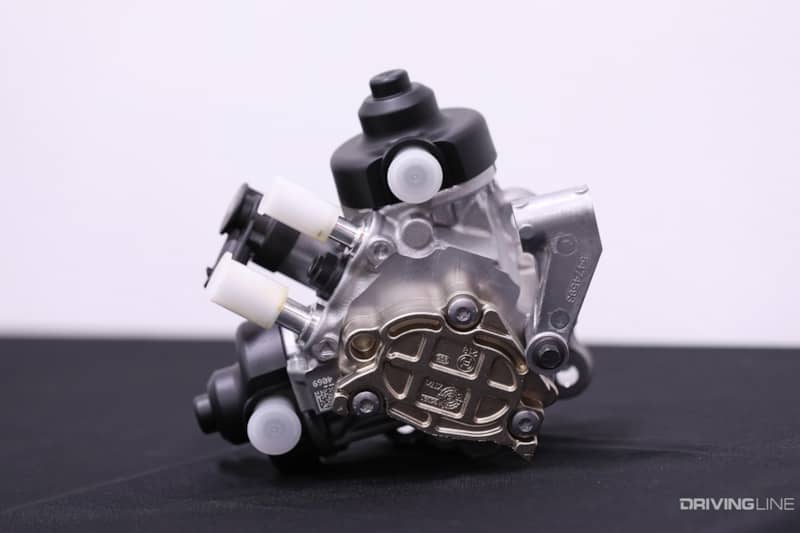 Modernizing the common-rail fuel system, the entire arrangement is still supplied by Bosch, but now the CP4.2 high-pressure fuel pump is used as opposed to the age-old CP3. Though this twin-piston pump is capable of producing 39,000 psi, Cummins and Ram have stated that peak injection pressure will check in around 29,000 psi in this application. Again, and just as is the case with the CGI block, forged-steel rods and larger head bolts, utilization of the CP4.2 allows room for future growth. Whether or not the injectors are of piezo or solenoid style remains to be seen (but we're leaning toward piezo).
Missed the reveal of the Ram 3500? It looks to be a beast.