It's Part Dodge, Part 'Deere—And The Workmanship Is Off The Charts
Every project needs a theme. Having a motif or a dominant feature often becomes the driving force behind the endeavor and ultimately allows the build to take on a life of its own. For Jody Mollett, a southern Illinois farmer who happens to love John Deere tractors and old Dodge trucks, the motivation behind this masterpiece was easy. It's a '52 Pilothouse Dodge pickup packing a John Deere PowerTech engine under the hood. With well-placed and authentic green and yellow accents scattered throughout, it pays homage to the coveted 20 series John Deere line introduced back in the mid-1950s.
The seats, dash and steering wheel are all from a 20 series John Deere—and that's only the beginning. Walking around the classic Dodge you'll find John Deere steps on the bed, repurposed fenders as arm rests, recycle grab bars used for door handles and even a well-worn drawbar hitch. Beyond the genuine John Deere components, a custom frame, four-link rear suspension, front and rear air-ride and four-wheel disc brakes help modernize the classic B-series Dodge—and the auto body work and PPG paint are next-level, too. And then of course, there is the 4.5L diesel engine... with a high-fueling rotary injection pump and compound turbos. We'll elaborate on that and much more below.
A Rare Classic Dodge With An Even Rarer Diesel Engine Swap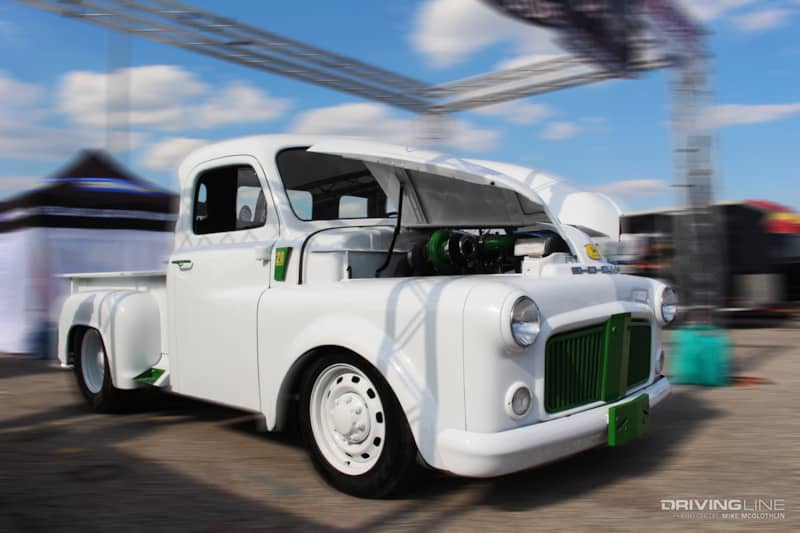 Not bad for a farmer! Plowboy Diesel's Jody Mollett has been building Dodge trucks for more than 30 years and piloting John Deere tractors much longer than that. And like many hands-on, keepers of the land, Jody has varying skillsets, which range from wrenching and fabricating to wiring and auto body work. His '52 Dodge's body sits on a custom frame, rides on airbags, makes use of a four-link rear suspension and benefits from 4-wheel disc brakes. While some may ask why the body wasn't coated in John Deere green, we believe it might've been a bit over-the-top. After all, a glimpse of John Deere green is present any time the butterfly hood is open—and its various exterior accents are what draw passersby in for a closer look…
The I-4, All-Iron, 2-Valve Tractor Engine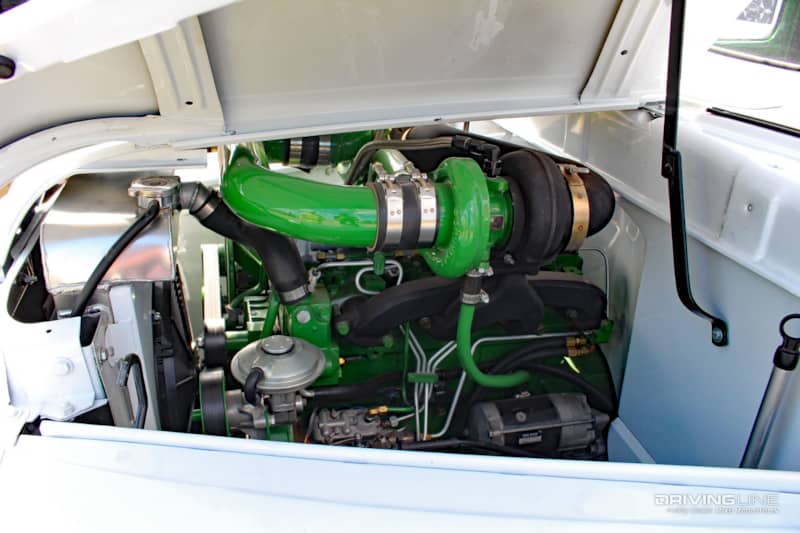 Displacing 275 cubic inches, the 4.5L PowerTech (also known as the 4045) is one of the smallest diesel engines John Deere produces, but its 34 x 24 x 40-inch dimensions make it swap-friendly for tinkerers like Jody. For optimum weight distribution, Jody set the engine back 4-inches. The iron I-4 utilizes a simple, 2-valve cylinder head, forged-steel connecting rods and replaceable wet cylinder sleeves, so it's a pretty safe bet that stacking a little horsepower on top of it won't alter its longevity. The little tractor engine possesses a bore of 4.17-inches and a long, 5.00-inch stroke, which means it can definitely turn out some torque.
Double The Boost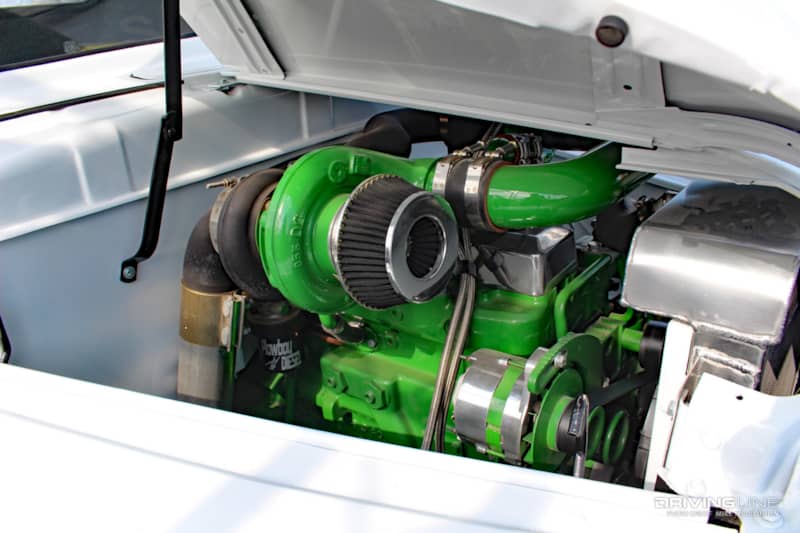 Both because it's his style and because two is always better than one, Jody built a compound turbo system for the 4.5L John Deere. The factory BorgWarner turbo was retained and left on the exhaust manifold, but up ahead of it sits a 60mm S300 BorgWarner (shown above) sourced through Area Diesel Service, which acts as the atmosphere charger in the two-stage combination. With the compounds in the mix, Jody estimates the truck makes roughly 200 to 250 hp. Not pictured but bolted up behind the PowerTech power plant is a six-speed Allison 1000 automatic, which was made to work thanks to its SAE #3 bellhousing and a custom flex plate.
High-Flow Rotary Pump & Injectors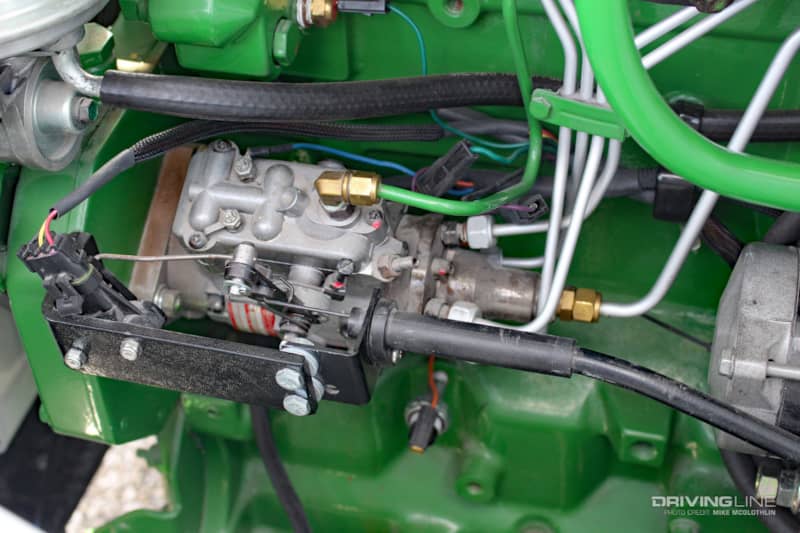 Thanks to being an older, simpler version of the 4.5L PowerTech, the engine is free of failure-prone emissions systems such as EGR, a DPF or SCR, and it's also equipped with an old-school rotary injection pump. The distributor style pump was tweaked by Area Diesel Service and is capable of flowing 45-percent more fuel than stock. Area also performed work on the injectors to complement the higher flow of the injection pump.
The Interior Is All Tractor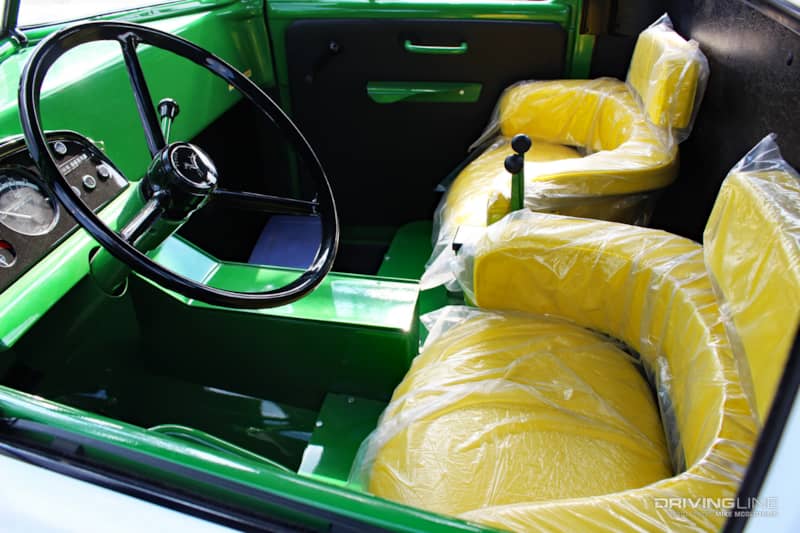 Peering into the truck's cab you can see the John Deere theme in full swing, with a host of 20 series tractor pieces. The seats, which Jody still keeps covered in plastic, the dash and the steering wheel are all intended for a 20 series. The battery box parked in the middle of the floorboard serves as the truck's fuse box and air-ride regulator access point, while the arm rests on the doors were made from 20 series rear fenders.
Dodge, 'Deere And Even Chevy Pieces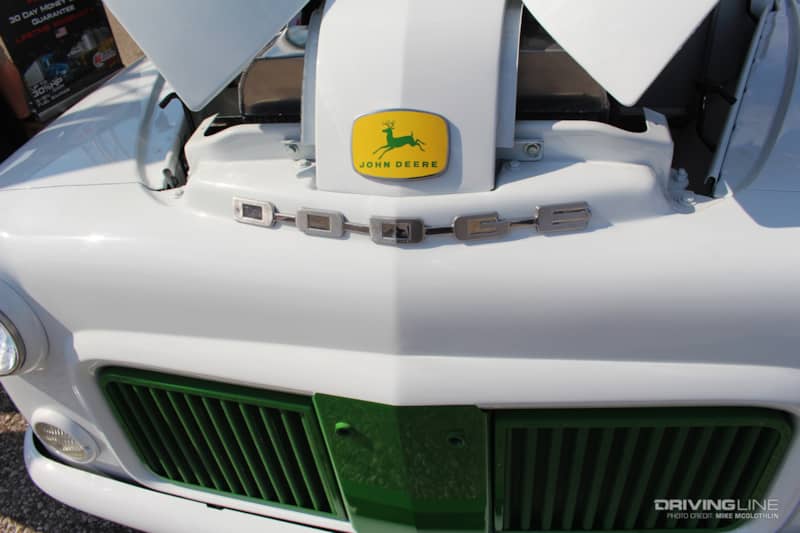 More John Deere touches can be found on the front-end (badge and green grille), rear-end (a well-used drawbar hitch) and bed (20 series steps) and Jody told us he was ecstatic when he was able to clean up the original Dodge badge. Parts for a Dodge of this vintage are nowhere near as easy to get your hands on as they are for a Chevrolet, although replacements are still being manufactured. Speaking of Chevrolet, the front and rear bumpers are Chevy pieces, as is the bed, but almost everything else is either Dodge, 'Deere or custom-made.
A Small Shop Doing BIG Things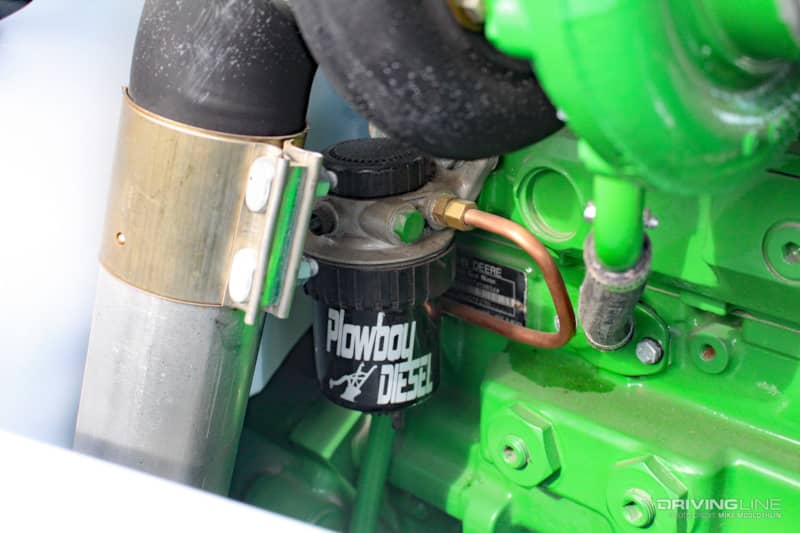 Only on the final (fuel) filter by the turbo downpipe will you find a plug for the builder of the truck. Plowboy Diesel is a small operation, but its projects never lack ingenuity and are just about as well-executed as you'll find in the diesel industry. It's the same place that not only fitted two compound turbo'd 5.9L Cummins engines under the hood of a 1970 Dodge Sweptline, but made it 100-percent drivable, too. In addition to breaking the Internet, that build drove the Cummins faithful absolutely bonkers. This little 'Deere creation has had a noticeable effect on folks that bleed green, people that love rare old Dodge trucks and those that enjoy both.
More From

Driving Line
Want to see the wild project that put Plowboy Diesel on the map? Check out their '70 Dodge Sweptline with 

twin 5.9L Cummins diesels

 

under the hood!