Jeep Gladiator Winch Bumper Upgrade | Inside Line
When I first picked up my 2020 Jeep Gladiator Rubicon, I knew that the stock front bumper would eventually have to go. This was for two particularly important reasons. The first being that it did not have a spot for me to bolt up a winch. Given I frequently go off-road solo, having a winch is an incredibly important asset. The second reason was that the full-width style front bumper was a bit of a hinderance off-road. This is primarily due to so much of the bumper sticking in front of my 35x11.50 Nitto Trail Grapplers.
By moving to a stubbier winch-capable bumper, I could not only solve my recovery tool challenge, but increase my approach angle drastically. While there are plenty of aftermarket bumper options available, I had a few specific attributes I was looking for. Obviously, it needed to be able to hold a winch, but where it held the winch was equally important. Given that Jeep did a great job with the Gladiator in creating a wide opening at the front of the frame for a winch to sit down low, I wanted a bumper that would allow me to take advantage of this design.
Additionally, I was looking for something that would have multiple recovery point options (i.e. a hook and shackle mount). I'm a bit old-school in that I like the convenience and rapid recovery that a tow hook provides. Since I'm still running the factory halogen lights, being able to move over my stock fog lights or at least have a place for a set of aftermarket ones was also very important to me. Couple all this with the fact that I am doing my best to be weight conscious with all of my upgrades, and my options quickly narrowed.
What I landed on was an Arcus series bumper from Rugged Ridge. While Rugged Ridge offers a huge array of accessories for the Wrangler, CJ and Gladiator platform, they also have some very well-crafted front bumpers. Unlike most plate-cut bumper in the aftermarket, the Arcus uses a 11-gage stamped-steel design. This gives it an almost factory look, which makes it match up nicely with the stock rear bumper that I plan on keeping in place. Given it is reasonably priced and checked all of the aforementioned boxes on my list, I decided it was a great fit for my build.  
In the article below, I'm breaking down many of the standout features and unique properties of this bumper upgrade. For those of you into moving pictures, you can watch my entire install and review video over on our YouTube channel.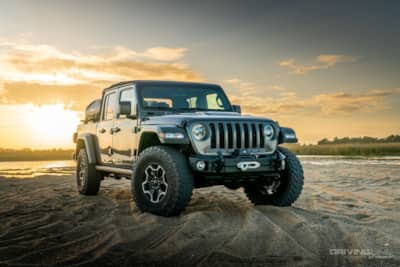 Starting Point
I purchased my Gladiator off the lot at Big O Dodge in Greenville, South Carolina. As is the case with the majority of the Gladiators on the road, mine was fixed with the less expensive full-width plastic front bumper. While it does have two excellent tow hooks up front, unlike the optional factory steel bumper group, you can't simply upgrade this one with a winch. The other downfall of this bumper from an off-road perspective is that the outer portions are blocking the path of my 35x11.50 Nitto Trail Grapplers.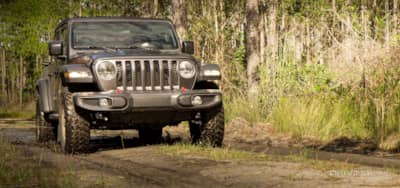 Overkill Is OK
The standard formula for buying a winch is to take the curb weight of the vehicle and multiply it by 1.5. This will be the minimum number your vehicle will need. I opted for a Trekker 12,500 pound winch from Rugged Ridge. It's way overkill using a conventional formula, but given it wasn't much heavier or significantly more expensive that the 9k and 10K capacity winches I was looking at, it was a no brainer. Since the Arcus bumper places the winch tray low within the framerails, I don't have to worry about the winch blocking airflow.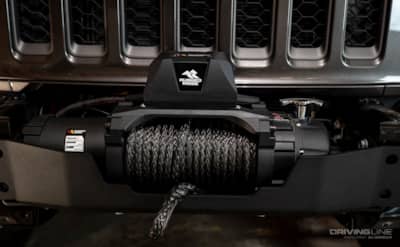 Wireless Control
When you opt for the Trekker with the synthetic rope, you get a wireless winch controller. This is super handy for the trail as it takes up a fraction of the room of a conventional controller and you can simply activate it by holding down both buttons for 5 seconds. You will still need to get out to manually free-spool the winch, but the top-mounted lever makes that easy work.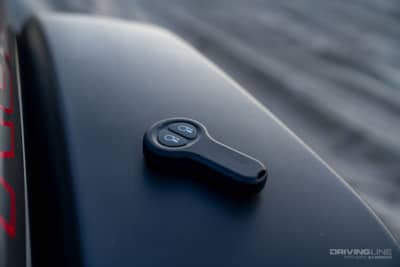 All About Approach
Going with a stubby style bumper opens up line choices off-road by increasing the approach angle of the Jeep. Even with the added height and traction my Trail Grapplers provide, being stock height with this wheelbase requires some creative line choices on the trail. I was also excited to retain the factory fog lights as the stock Halogen lights could be better.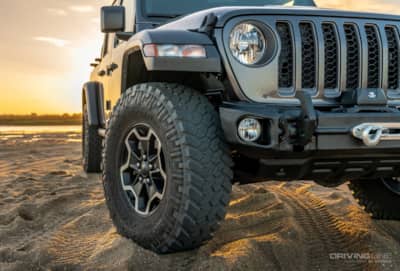 Light Recovery
I love the fact that I have two actual tow hooks, not just shackle mounts. Sometimes, recovery time is critical off-road and attaching a strap to a hook it always going to be faster than unscrewing a shackle. There's also a spot for a Hi-Lift Jack under the 1-inch-thick steel hooks as well.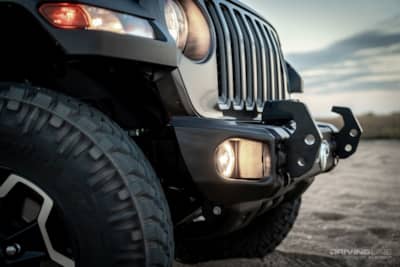 Spooling
It's worth mentioning that you will need to completely unspool and respool your winch under load before you plan on using it. The Trekker series is weather sealed, fit with a 3-stage planetary, with a 216:1 ratio and 6.6hp motor. We found it to be plenty fast so far and will report back as we get more use with the setup.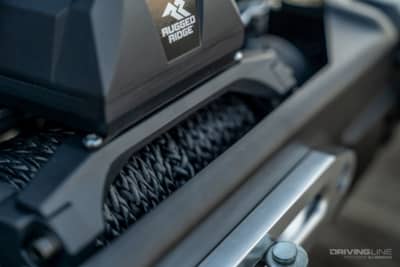 Finishing Touches
The Arcus bumper does not come with a lower skidplate. Thankfully, the stock bumper had a steel lower skidplate from the factory, which matches up great with the 11-gage stamped steel Arcus front bumper. Given that this style of bumper focuses on adding strength in key areas (tow hooks and winch tray) it can get away with having a lightweight exterior shell. I don't see a reason to add a front spacer to the front as there wasn't much of a front end drop with the newfound bumper and winch combo. I do however have a suspension upgrade that will be coming very soon, so keep your eyes peeled for that.