Jeep Gladiator Rubicon Review: The Good, Bad, and What I Changed Immediately
It's the truck just about every Jeep enthusiast has been waiting for, myself included. While I've done reviews on the 2020 Jeep Gladiator Rubicon in the past, I finally pulled the trigger on a Gator Green Gladiator Rubicon to call my own. Selling off my 2018 Chevy Colorado ZR2 to get this truck was a big decision as that midsized pickup did just about everything extremely well. While you can watch my entire video review HERE, in the article below, I'm diving into what I like, what I don't like, and all of the things I changed immediately.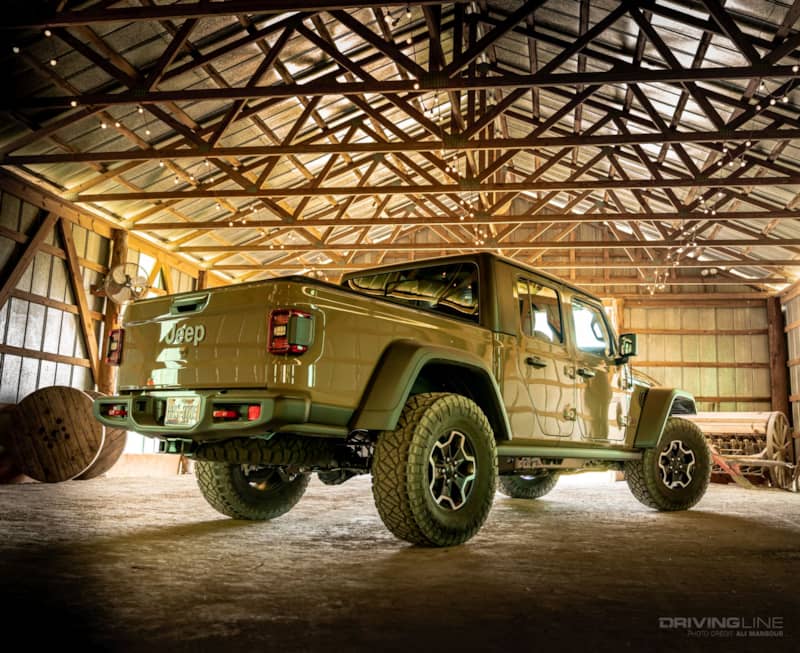 The Truck
So, let's start with the basics. First off, I had been hunting for a Gator Green or Gobi Tan Gladiator platform for a little while. My original plan was to nab a Sport S version fit with the Max Tow package. Max Tow would mean I would get the wider Dana 44 axles and 4.10 gears from the factory. Among other things, my goal was to run a 35-inch-tall tire. I knew from previous experience with the platform that 4.10s with the eight-speed automatic could handle a 35s with no problem.
Unfortunately, I couldn't locate a Sport S outfitted the way I wanted on a dealer lot. This led me to build and price one online, which quickly got more expensive as I couldn't resist adding on a few "necessary" options. At the end of the day, I wasn't that far off from a base Rubicon. So, I did a little research and found a great deal on one at Big O Dodge in Greenville, South Carolina. While I wasn't able to option everything I wanted buying one off of a dealer lot, it still got me 90% of what I was looking for.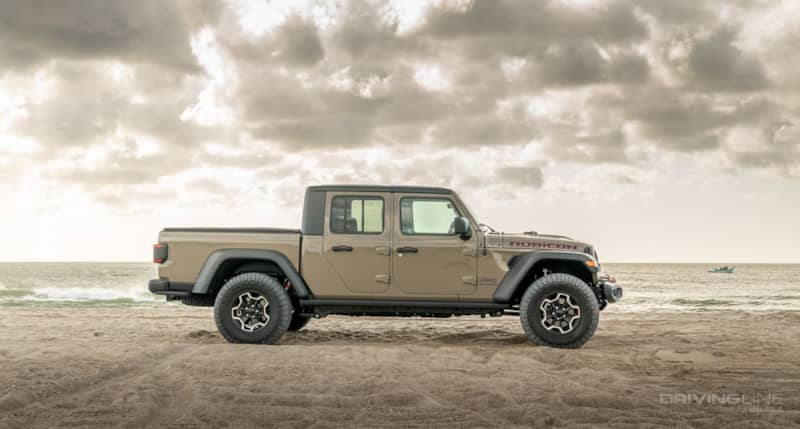 Gator Green
I don't think I have ever owned a truck color that translated so poorly from real life to the computer screen. If you haven't seen a Gator Green Gladiator in person, I highly recommend you do so. It doesn't look the same as what you see online. I love the color. It's sort of an OD Green meets basic brown. It hides dirt extremely well and just seems fitting with all of the black accents.

DeeZee Liner
I think all trucks should come with a Line-X bedliner from the factory. It's typically a $400 to $500 option when ordering it at the dealer but can cost you a bit more after the fact. Mine did not come with one. While there's a good chance I will eventually break down and have it sprayed, for now, I ordered a DeeZee drop mat to protect the bed floor. This thick rubber mat is designed specifically for the Gladiator, so there's not extra trimming to make it work. It does a fine job of protecting the bed and keeping items from sliding around. My only complaint are the white spots that are sporadically on the mat. I'm guessing it was some sort of manufacturing process.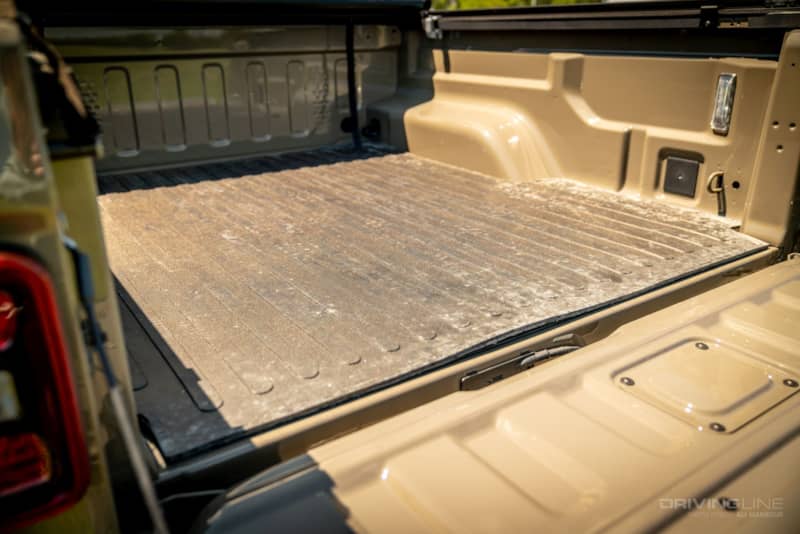 35s No Lift
No matter what Gladiator model (Sport, Overland, or Rubicon), my plan was to put 35s under it. To me, it's the perfect size for those wanting a bigger footprint, but not looking to zap the power and practicality out of the truck. The big difference with going with the Rubicon was that I wasn't going to need a lift to make that happen. I opted to go with the 35x12.50R17 Nitto Ridge Grappler as it's become my favorite hybrid tire on the market. It looks better than a traditional all-terrain tire and works better off-road as well. I get the big lugs like you'd find on a mud-terrain, but still retain sipes for increased grip on wet roads. I'm very happy with how they ride and though they are a little heavier than the OE tires, I would argue that they make less noise.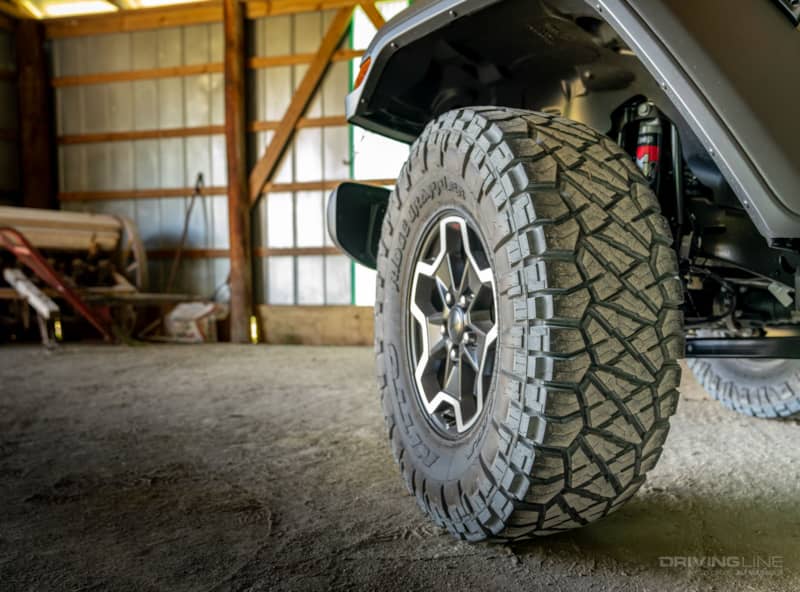 By The Numbers
One thing worth mentioning is that my 35x12.50 Ridge Grappler is a little wide for the Rubicon's stock 17x7.5 wheel. While I am well aware that the Nitto 35x11.50R17 Trail Grappler is the better technical fit, I wanted the Ridge for the aforementioned attributes. There's a good chance I will eventually swap over to a slightly wider wheel to get more into the recommend specs. For now, I happily (and easily) accomplished my goal of moving to a 35.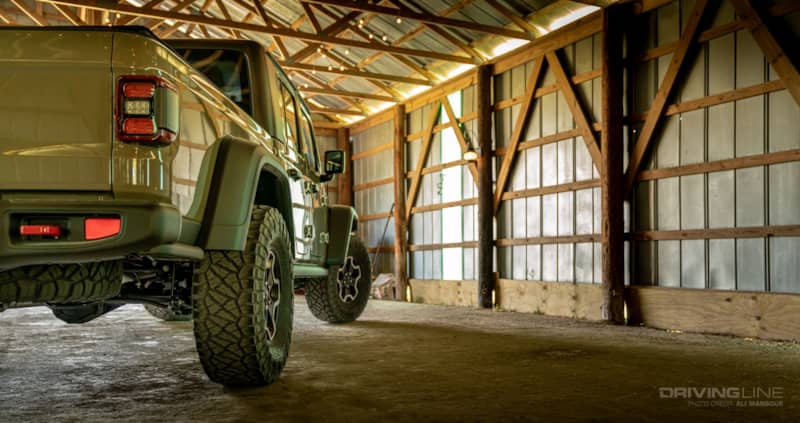 Power Up
As I am writing this, the only engine option for the Gladiator is the 3.6L V6. Mine is paired with the eight-speed automatic. This is the same powertrain I have in my Jeep Wrangler JL, which I enjoy immensely. Even moving to a larger 35-inch-tall tire, the Gladiator has no trouble holding eighth gear on the highway. The computer was recalibrated with a Tazer Mini (I talk about that more in the video) and hand calculated I am finding that on average I am getting 16 mpg. Sure, that's not great by car standards, but my 2018 Colorado ZR2 was only getting 15.7 mpg with 32s and the V6 engine. In terms of what it's competing against, it's not terrible.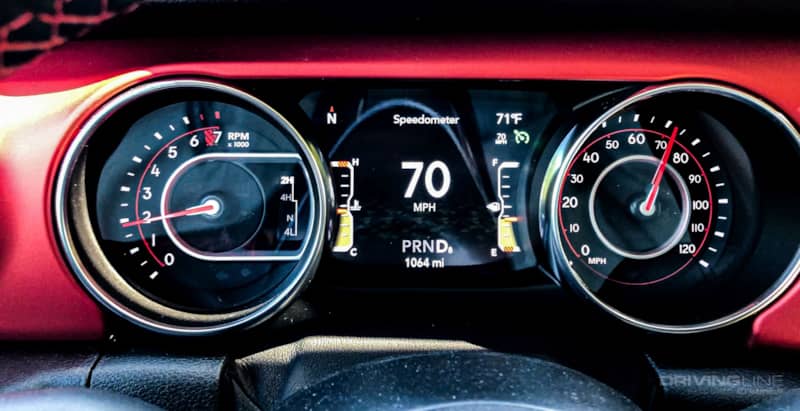 Interior Comfort
One thing I knew I wanted was cloth seats. My JL has leather and so did my Colorado ZR2. I typically enjoy leather, but over the past few years, I've become more accustom to having cloth. It's not as hot in the summer and doesn't feel as cold in the winter. The Gladiator cloth is genuinely nice. The seats offer plenty of support and I would give them a notch above in terms of comfort over the Colorado. I do wish there was a power option, but that's not a big deal breaker for me. The best part for those with kiddos is that the rear portion of the Jeep is extremely accommodating for car seats. Overall, I like the fit and finish at this trim level and find the few options that I do have (8.4 Nav for example) to be easy to use.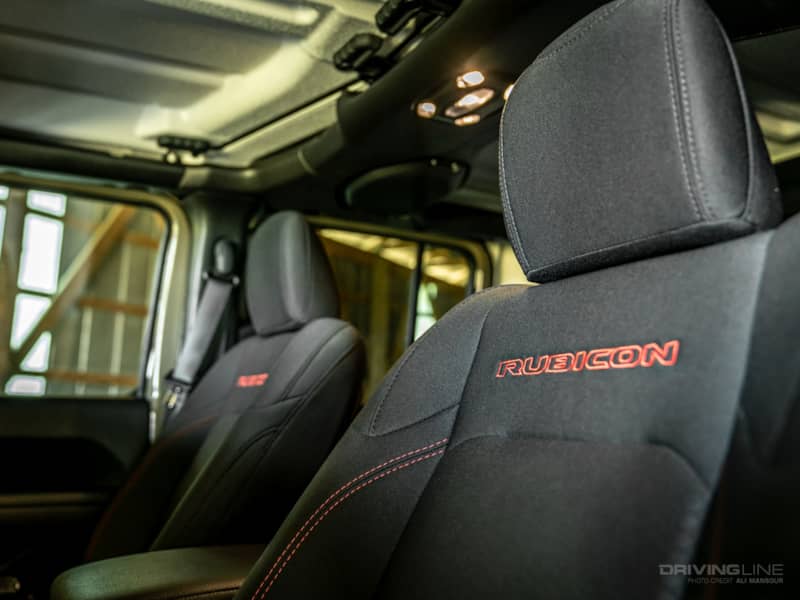 Small Mods
As I go over in the video, some of the more subtle modifications include a stubby antenna and an upgrade from the stock halogen taillights to LED ones. Jeep got a lot of things right on this platform, which is one of the reasons I was willing to step away from my Colorado into a new truck. The fact that I can run a 35-inch-tall tire with no lift is pretty amazing. The only other truck I've been able to do with in the past was my 2012 Ford Raptor. The big difference here is I wouldn't dare take the Raptor on any rock trails. Not to mention I typically only got 11 mpg (on premium fuel) with my old 6.2L V-8 truck.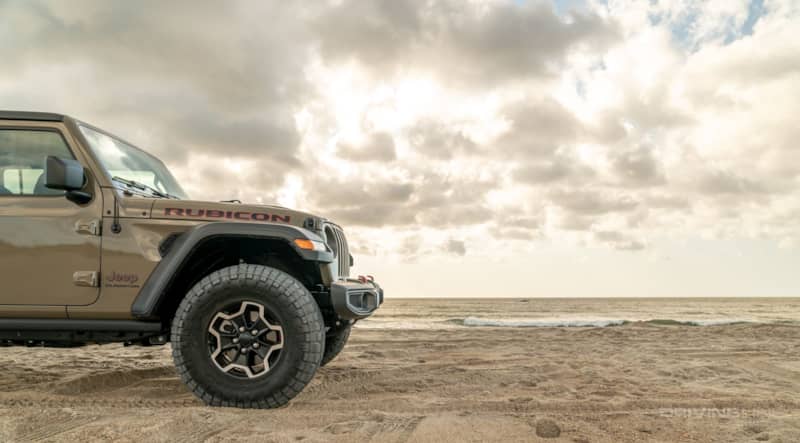 Truck Stuff
I wrote a full review (and crafted a video) on my Bestop EZroll tonneau cover, so I will skip the full recap here. However, it's worth mentioning some of the usability features of the bed. Even with the bigger treads, I can still reach the bed floor from outside of the truck. At 60 inches, it's not the biggest bed in the midsized group, but I haven't found a scenario yet where that has been a problem.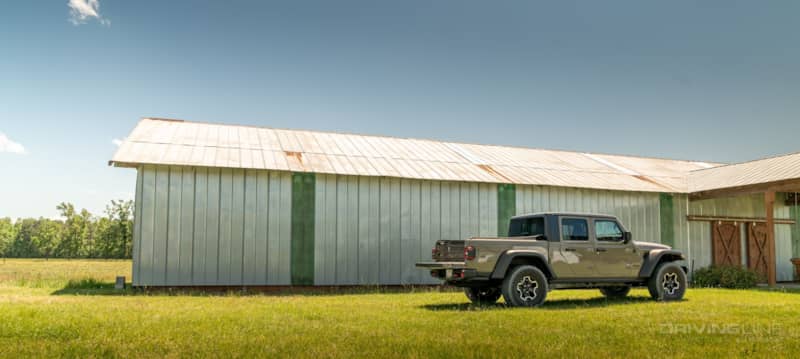 Shocking Features
My absolute biggest gripe with the truck has to do with the shock valving. Out back, it feels as though the shocks are extremely under valved. I have felt the rear suspension completely bottom out on the highway, which is a bit spooky feeling at speed. Off-road, it doesn't take much to get the rear end cycling way too fast. I think a set of dual-speed compression adjuster Fox shocks (shown here) would be an ideal fix for the suspension problem. I just hope you can get them for a stock length application as there's really no need for me at this point to lift the truck. I know the aftermarket has better spring and shock combos available, but I might have to get creative to problem solve this valving issue on my own. Maybe I will get lucky and the new Mojave rear shocks will be a simple solution.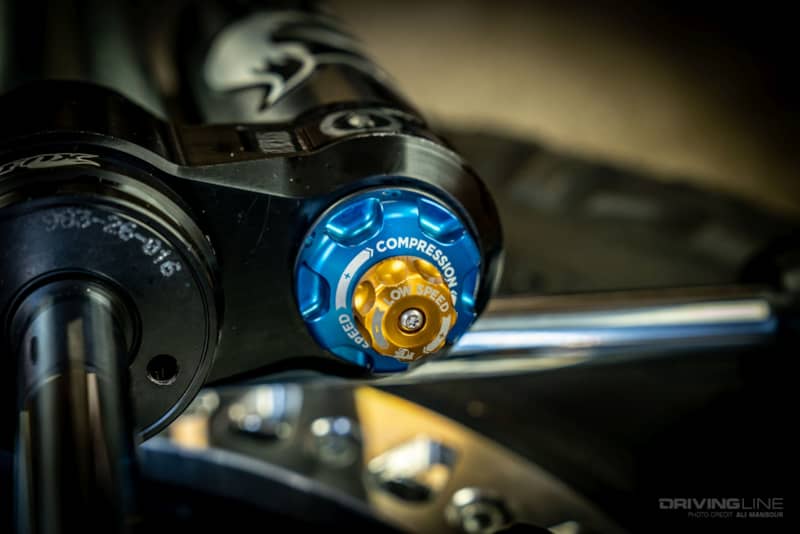 Off-Road
While some people may hark that the wheelbase is too long, for most off-road scenarios it's fine. Compared to every other midsized truck, the Gladiator's wheelbase and overall length isn't extreme. Given it's the only midsized truck with a solid front axle, rear departure protection, and the ability to run 35s in stock form, I'd say it's by far the most capable in the category. For my experience, aside from the aforementioned shock valving, I am incredibly happy with the comfort and dirt performance. Being able to disconnect the sway bar with the push of a button is great, as is the off-road plus feature that's currently Gladiator specific. Of course, front and rear lockers to help my Ridge Grapplers bite is by far the most important off-road-related feature on the truck.

Parting Thoughts
I'm very excited at the potential of this vehicle. It combines two of my favorite vehicles (midsized trucks and Wranglers) into one awesome package. There's not much more I need out of it, but I have a few more mods that I'd like to do. While this Gladiator build might not be on the extreme side, I will be providing more long-term updates to let you know just how this platform is aging.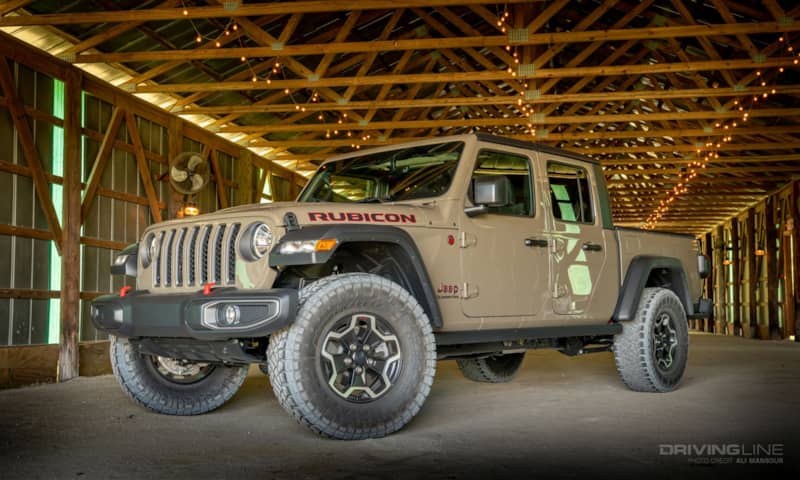 Is the ultimate Overland Gladiator on the way? Here's what we know.