JKS 2.5 Jeep Wrangler Suspension Review [Video]
Jeep got plenty of things right when it moved to the Wrangler JK platform in 2007. With better steering, axles and suspension, both the two- and four-door Unlimited models make for an extremely easy-to-build and versatile platform. Recently, we shoehorned on a set of 35x12.50R17 Nitto Ridge Grapplers under our '13 Jeep Wrangler Unlimited Rubicon. Given the relatively small budget boost it was running, we experienced a fair amount of rubbing from the tires off-road.
We prefer to keep our Jeeps with a low amount of lift for the benefit of maintaining a low center of gravity. The challenge with the JK is often how to balance the ride quality and performance at such a low lift height. Looking to give our 35's more breathing room and enhance the ride quality, we decided to install a 2.5-inch JKS Suspension System. The JSEPC suspension is ideal for our application, where a modest lift height is sought, but on- and off-road ride quality is extremely important.
To get our JK lifted and trail-ready, we took it to the Jeep gurus at Low Range 4x4 in Wilmington, North Carolina. There, the team knocked out the lift in just a few hours. In addition to the video above, we've highlighted parts of the install below.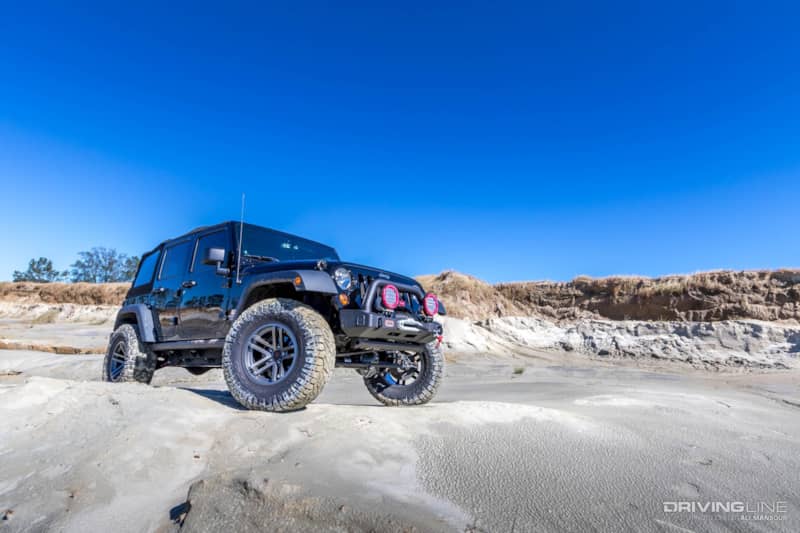 The JKS 2.5-inch Suspension System gives you everything you need to properly lift the '07-'16 Wrangler. Depending on how you plan to use your Jeep, JKS has an assortment of upgrades and options you can choose from. Items such as a the J-Link lower control arms (pictured) and even remote-reservoir Fox shocks can all be added on at the time or upgraded to later.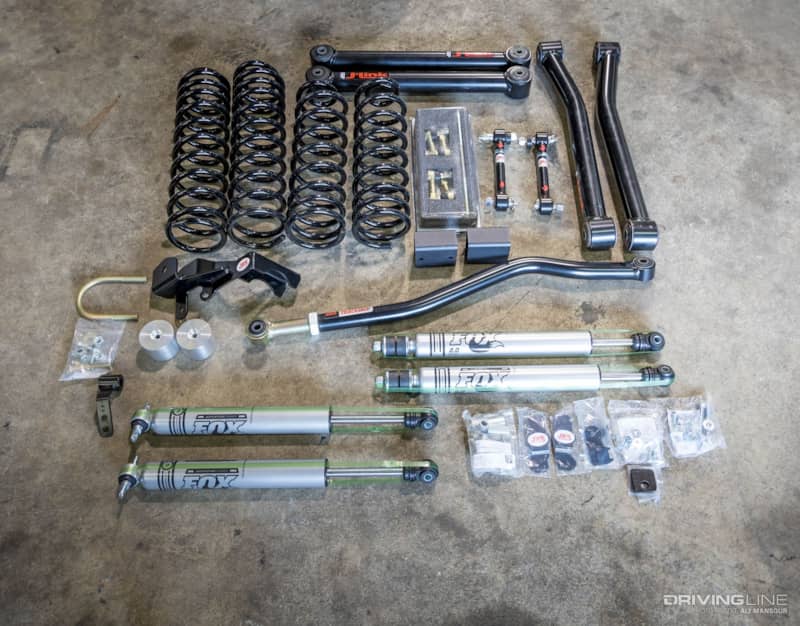 Handling the front lift are JKS dual-rate coil springs, which are designed to balance on-road comfort and off-road performance. Working with the coils are JSPEC series Fox 2.0 shocks, which were specifically valved for the JK. Moderating the front suspension is a bumpstop extension that bolts at the base of the coil bucket.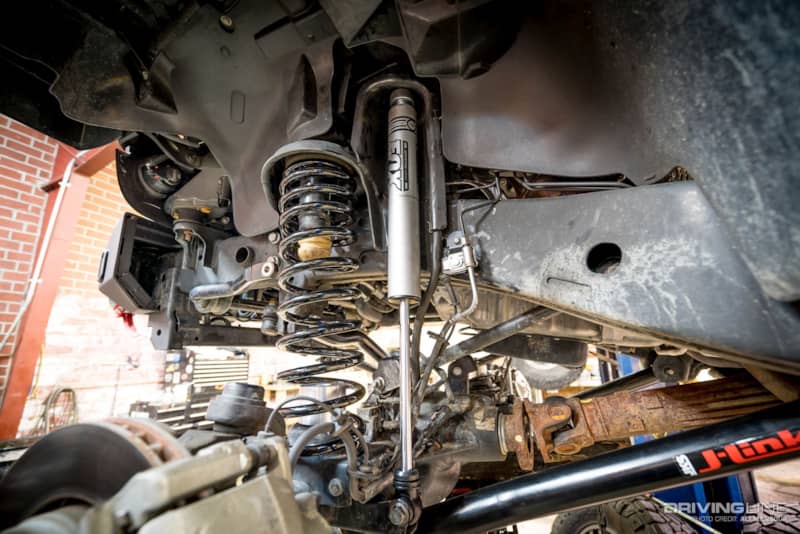 To ensure the front axle is properly centered, JKS provides an adjustable front track bar. Comprised of 1½-inch, 3/8-inch-wall DOM tubing, the CNC formed track bar is fit with rubber bushings at each end for secure and clank-free action.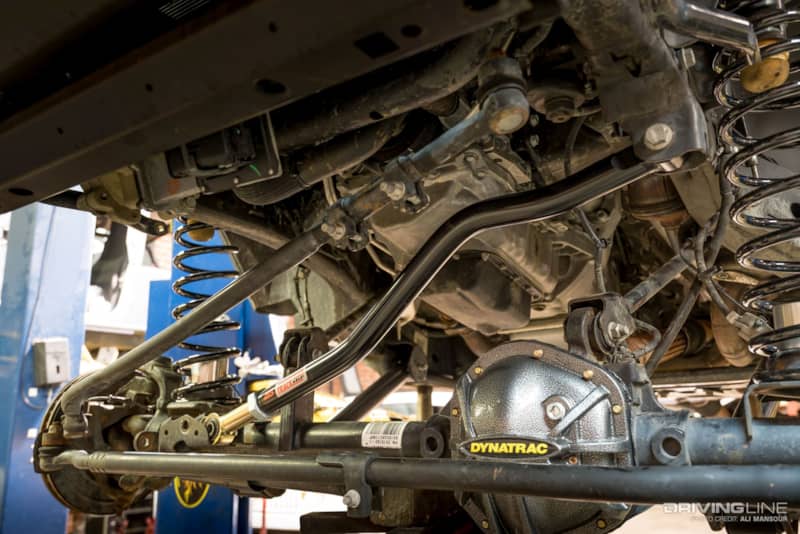 JKS is probably best known for its Quicker sway bar disconnects. This setup uses quick-release pins to allow you to easily remove the links when you are ready to hit the trail. Even though our Rubicon is equipped with an electronic sway bar disconnect from the factory, the bar is speed limited, which means it will automatically reconnect above a given mile-per-hour. Since there are times when we want to go fast off-road without the sway bar connected, the JKS Quicker Disconnects gives us the freedom to choose.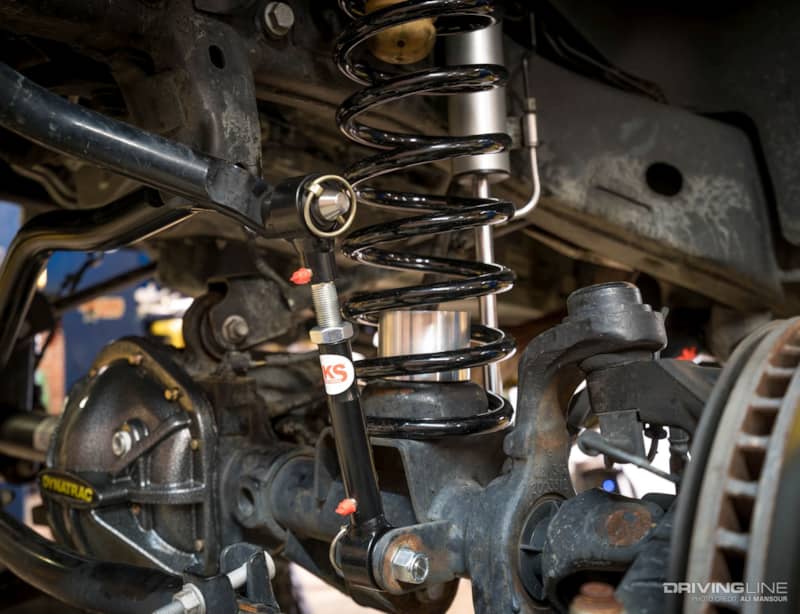 One option we highly recommend if you plan on routinely 'wheeling your JK is JKS's rear track bar reinforcement bracket. The weld-on steel bracket is ideal for making sure this known trouble spot won't be an issue when you're traveling far beyond the blacktop.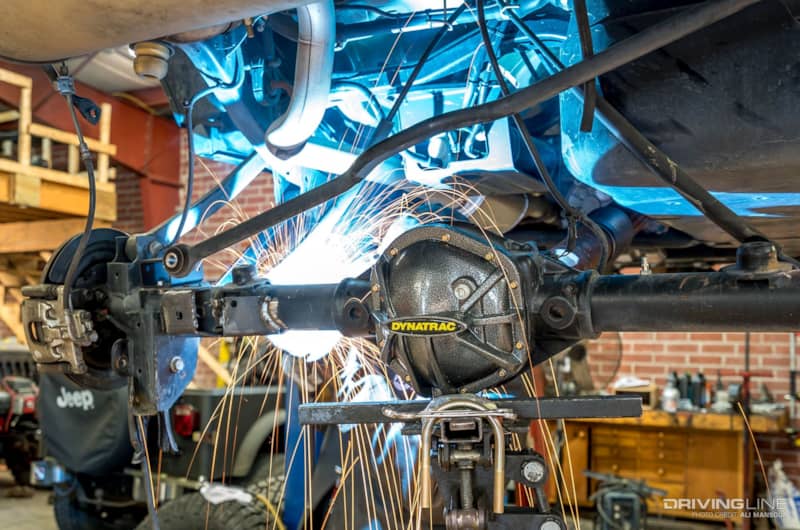 The JKS rear track bar bracket uses a U-bolt in addition to multiple tie-in points to attach to the axle. We especially like this style of bracket as it raises the track bar at the axle side. The advantage of doing this is that it increases the roll-center of the vehicle. While that might sound like a bad thing, it isn't. By raising the rear track bar, you are effectively increasing the stability both on-road and off.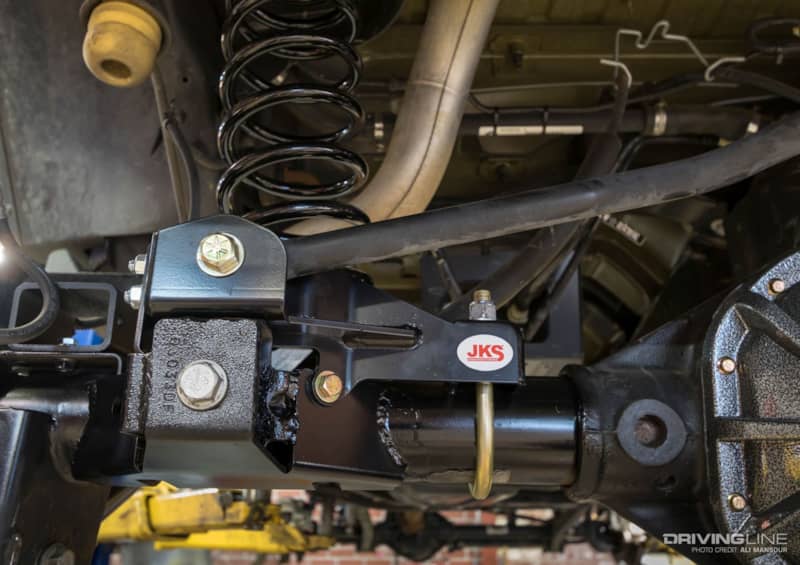 Wrapping up the lift out back are dual-rate lift coils and Fox 2.0 JSPEC series shocks. A bumpstop bracket on the rear axle ensures that our 35's won't travel too far north, while new HD sway bar links allow us to retain stability with the stock rear sway bar.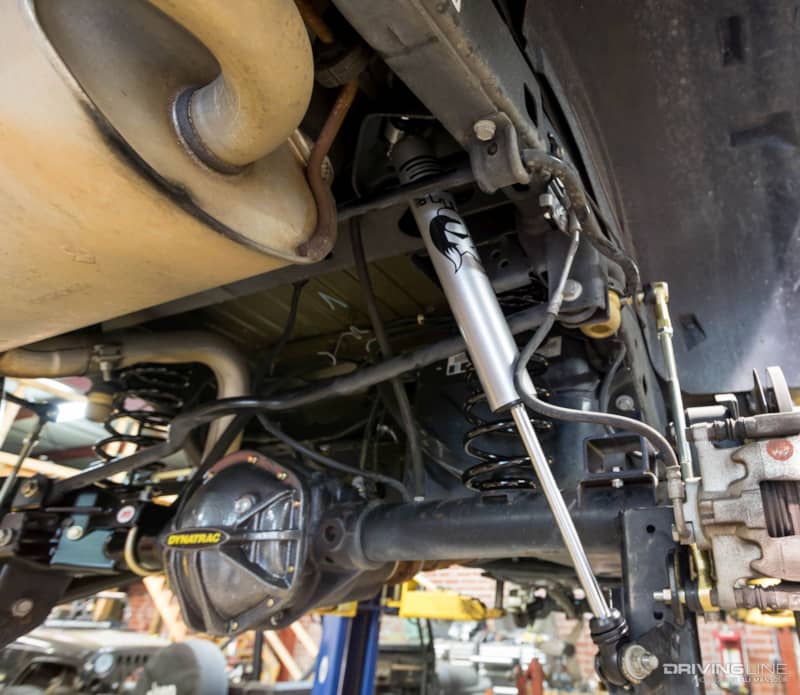 Another point of failure we've seen on the JK are the stock lower control arms. Since we're sure our setup will encounter rocky trails, we wanted an arm that could take the abuse. Both the JKS J-Link lower arms are built from 2-inch, 0.250-wall DOM and paired with premium Clevite bushings at each end. To keep front axle's caster in check, the fixed-length J-Link front lowers are 3/8-inch longer than stock.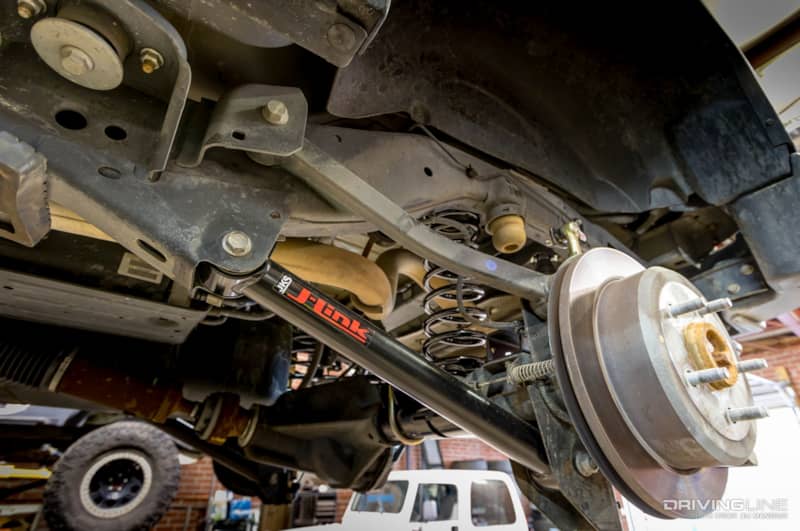 If your JK is a 2012 or newer model, you'll likely need the JKS Exhaust Extension Kit (SKU: 8150). This is necessary to create additional clearance between the front driveshaft and the passenger side exhaust crossover tube.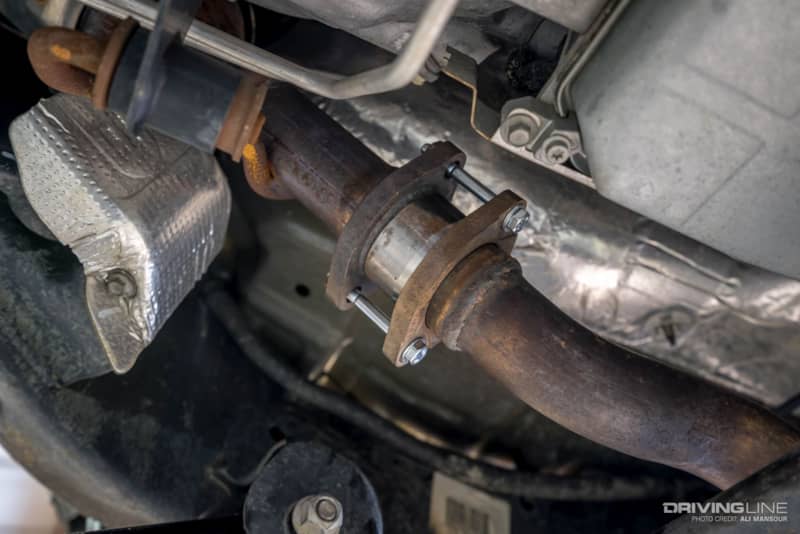 Ridge Grapplers
We're running 35x12.50R17 Nitto Ridge Grapplers on 17x9 Jesse Spade wheels from Rugged Ridge. This setup fits JKS's recommendations for clearance as well as the needs of our Jeep. As we roll on the miles on our new Grapplers, the tires continue to impress. We spent most of our time breaking in our new suspension in muddy conditions and were extremely impressed how well the Ridge's cleaned out.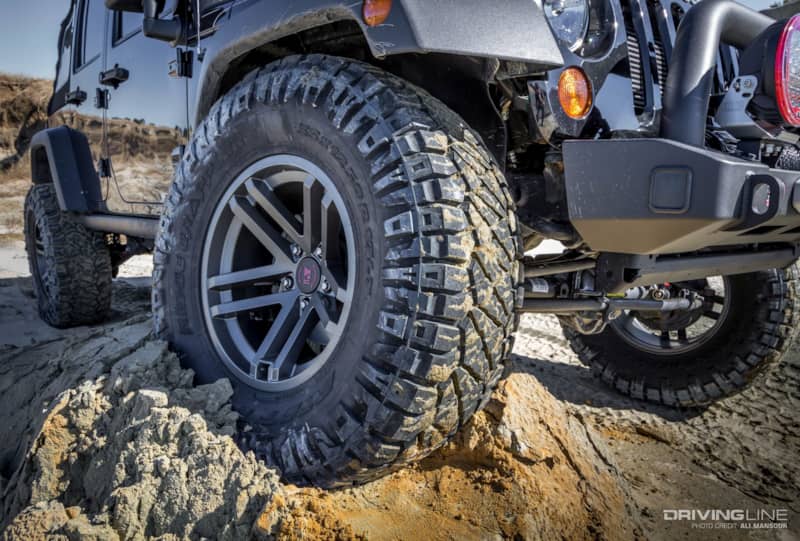 Another area of note for Rubicon owners: If your Rubicon still has the stock rock sliders, we recommend you trim about 1½-inch of the back of the rail. This will prevent the rear tire from contacting the slider.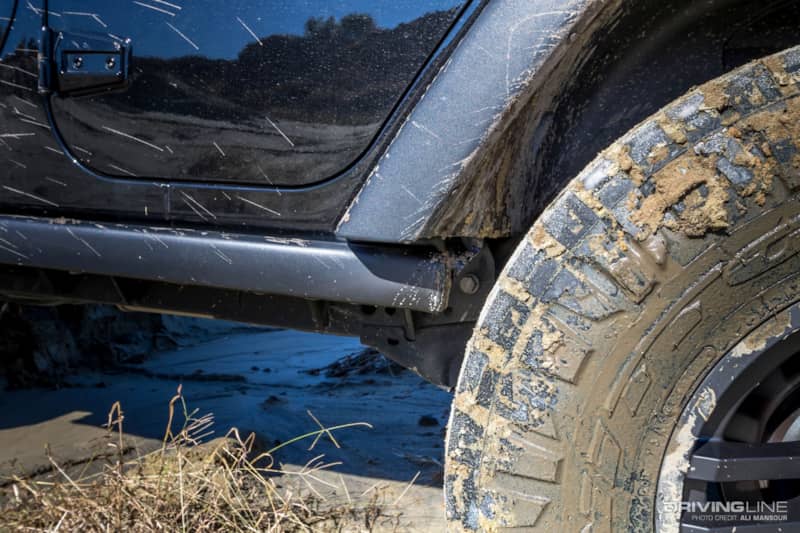 Overall, we're extremely pleased with our new setup. While we have some exciting adventures ahead, we are enjoying the increased ride quality and comfort over the stock setup. Be sure to check back soon as we put our build against some more unforgiving terrain.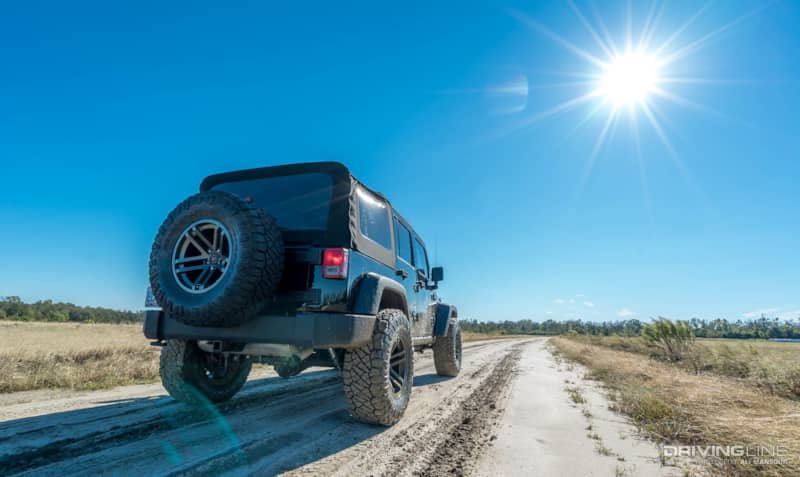 Learn more about our JK's Nitto Ridge Grapplers and be sure to check out more photos in the gallery below.