Keep on Truckin': The Top 10 Trucks of the Grand National Roadster Show 2023
Long known as the "Grand Daddy of Them All," the Grand National Roadster Show (GNRS) is the world's longest running indoor car show. On top of that feat, this event is also known for its prestige and high caliber builds that attend year after year. Originally held in Oakland, CA, the show has since moved to the Pomona Fairplex, this year it was held on February 3rd-5th 2023.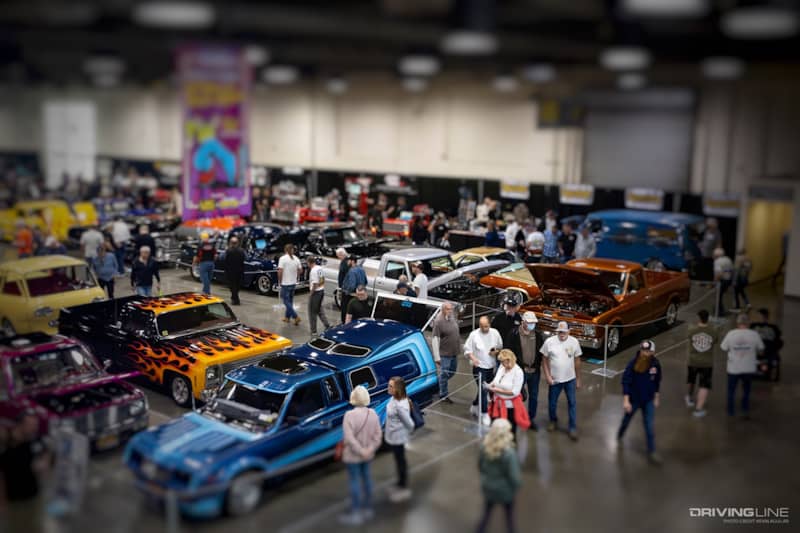 One of the highlights of the show is the competition for the America's Most Beautiful Roadster (AMBR) award. With previous winners like George Barris and Boyd Coddington, the battle for the title is always strong. Winning the award also comes with some prizes like getting your name engraved on the coveted 9-foot-tall trophy and a cash award of $12,500. Though only US-built vehicles '37 and older are eligible for entry, it does include pickups of that era.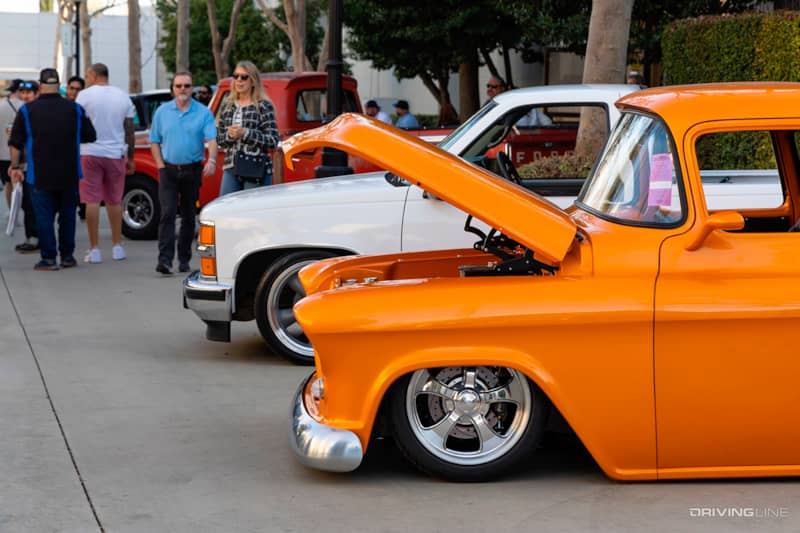 No trucks were entered into the AMBR exhibit, but there definitely was no shortage of amazing haulers because they had a "Keep on Truckin': 50 Years of Classic Haulers" special section. Over 100 hand-picked trucks were on display and included many historical builds from the past as well as a few influential modern builds.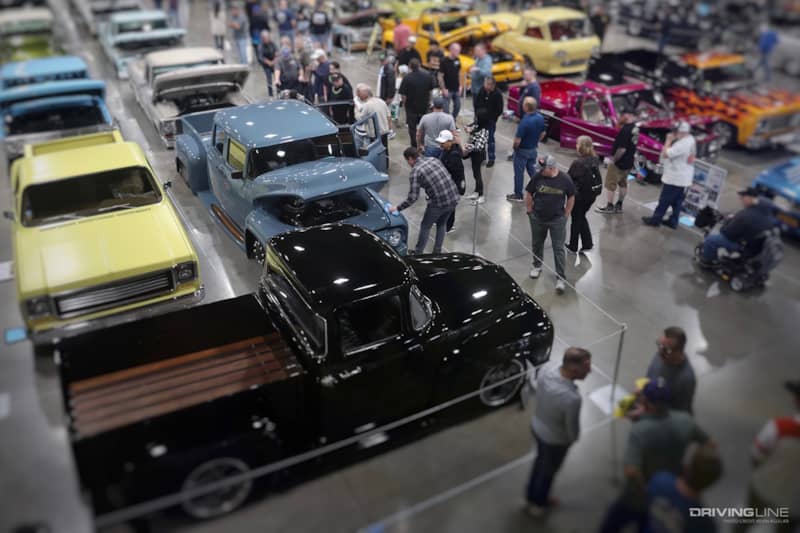 On Saturday and Sunday, the outdoor Drive-in took place and had several hundred vehicles show up in order to be a part of the action as well. This outdoor area featured vehicles from all generations including lowered C-10s to the early style Task Force GM trucks. Here's our list of trucks that caught our attention:
10. Yada Yellow
Alan Budnik, owner of Budnik Wheels purchased this '94 Chevy C1500 back in the day as shop truck that could play double duty in displaying his custom billet rollers. Along the way, he went down the custom truck rabbit hole and completely changed the look of this truck.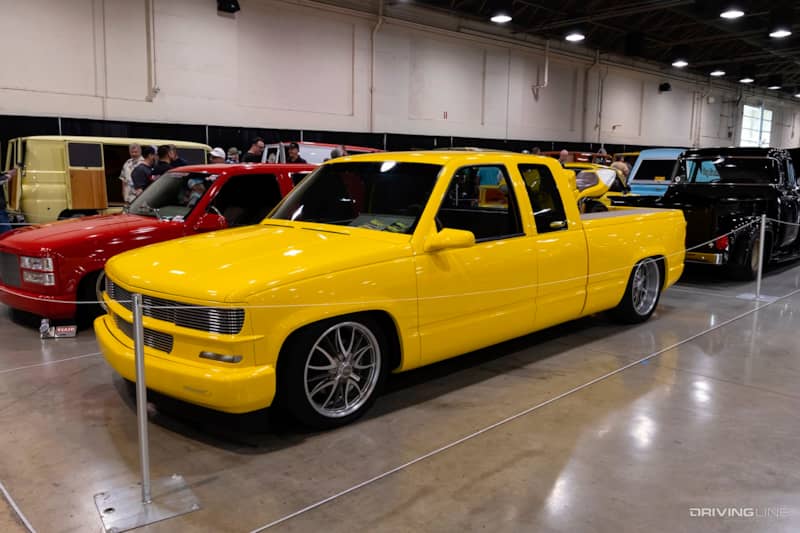 Obviously, it has a lowered stance to help the 18-inch billets with Nitto INVO rubber full up the wheel wells. It also has many body mods to make it distinctive, including the custom "phantom grille," which was a popular look three decades ago when this Chevy was built.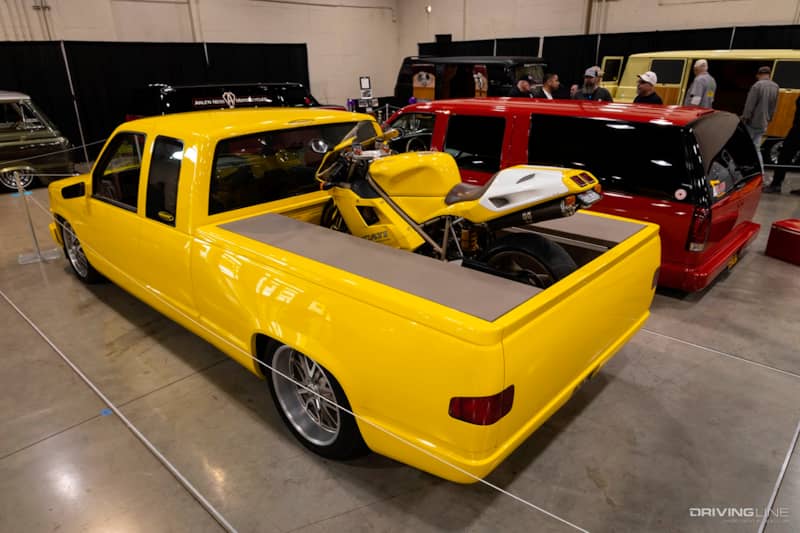 9. Rat Hugger
Gary Kinion's '69 Chevy C10 proves that a great classic truck build can stand the test of time. This Chevy has a lot of the original exterior styling cues along with a big block engine under the hood and 20-inch Intro billet wheels with Nitto NT555 G2 tires for the ultimate in street performance.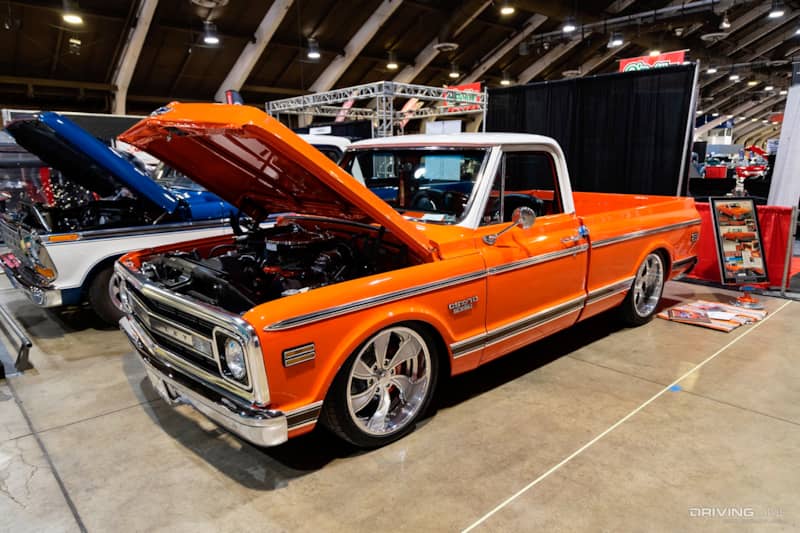 8. C10 Wish
When life hands you lemons, you build a kickass trucks! Cody Garling is a three-time cancer survivor and was gifted a build of this truck through the Make-a-Wish Foundation.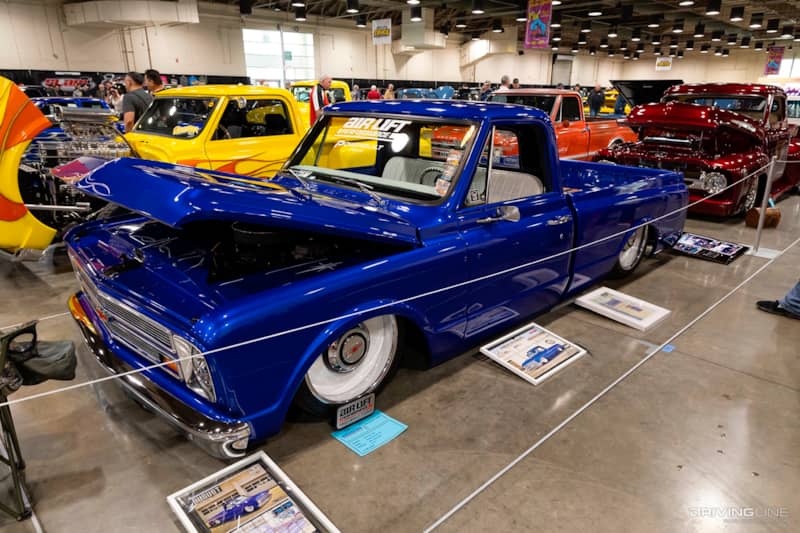 It's powered by a 383ci small block Chevy engine and has a GSI 'bagged suspension system to slam it on the pavement. It also gleams with a House of Kolor Strato Blue paintjob that is accented with 20-inch Budnik Smoothie wheels with NOS hubcaps and Nitto NT555 G2 tires.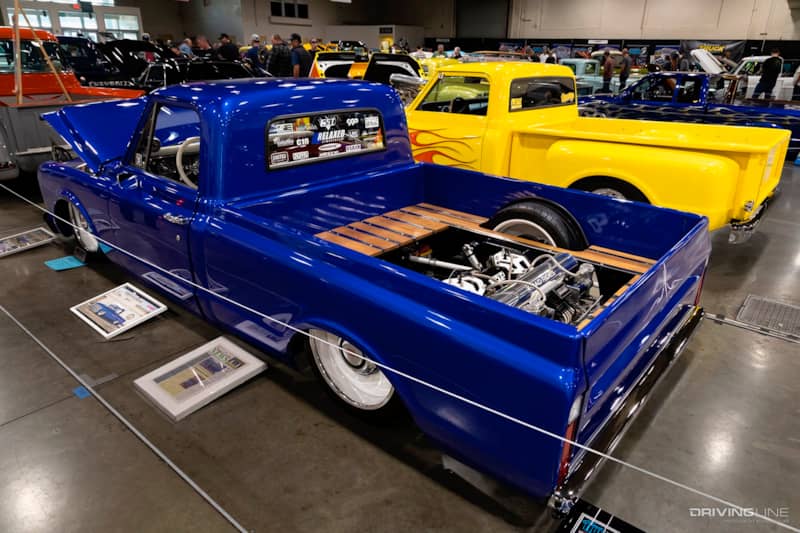 7. Dblmint
In a world of Chevy C10's it's really nice to see a classic GMC done to a high level. Rick Bryce seized the opportunity to build his '72 hauler by having Jason Bowman of Big 10 Garage give it a refresh.
Starting from the ground up, it sits on a Scott's Hotrods coil-over chassis with Raceline 20-inch wheels and Nitto NT05 tires. Helping to move this old truck is a Magnuson supercharged 454 LSX engine. Dressing it up in style is a Sgueeg's Kustom paintjob and full custom interior by Bryan Cline Interiors.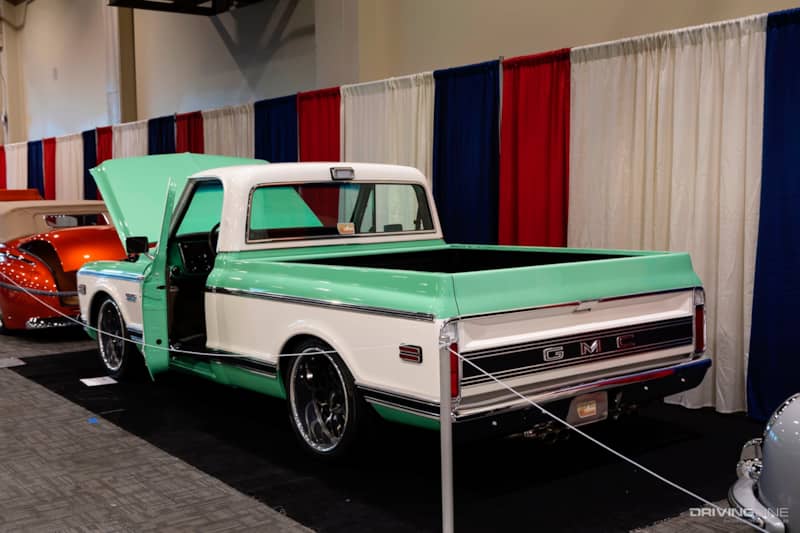 6. Steel Flame
About 20-years ago, Steve Platt made history by having the first custom truck made into a miniature Hot Wheels. Built by Jay Larossa of Sport Truck Specialties, this was a revolutionary '99 GMC Sonoma that featured 20-inch Colorado Custom billet wheels with Nitto rubber. Making those tires work hard is the original 4.3L V6 engine that was supercharged.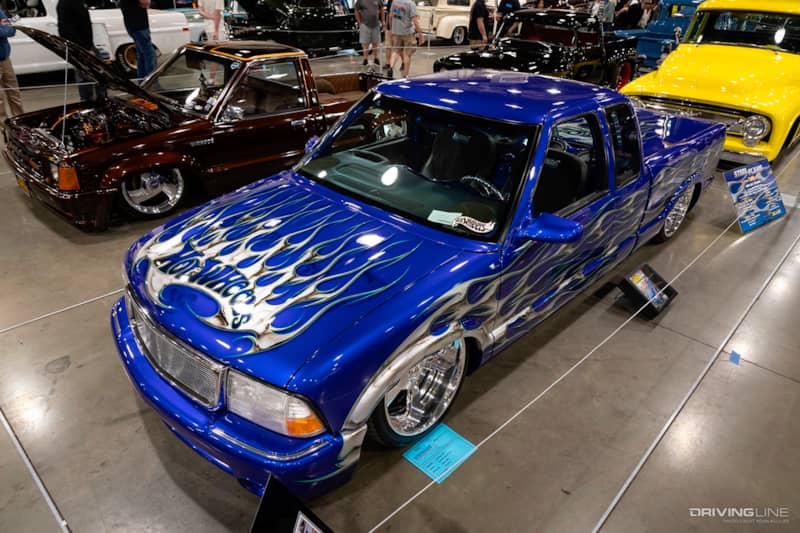 The suspension was airbagged with KP Components suspension products, which was a feat back then. What really makes this truck distinctive is the custom paint by Ryan Evans of Kaotic Kustoms. It features the iconic "Steel Flame" graphics and even a real $100 bill on the tailgate. Now owned by Don Garling, this truck is looking just as good as it did decades ago.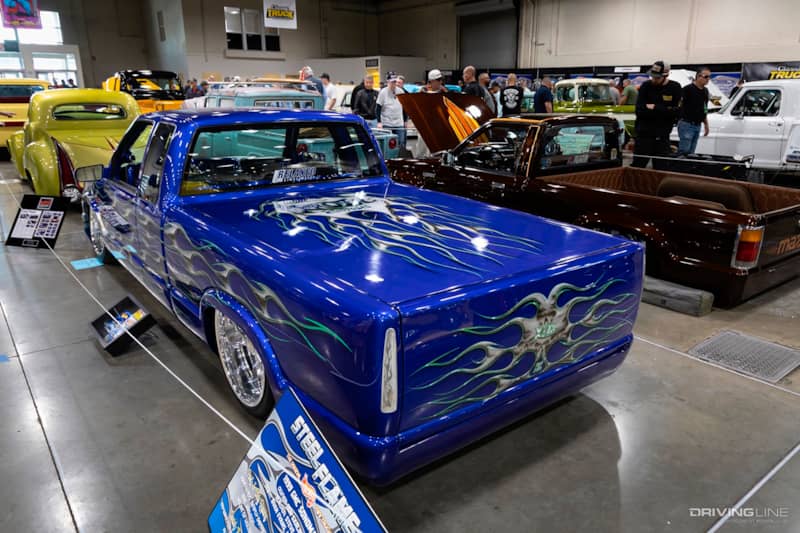 5. Black Betty
You don't see many diesel-powered diesel trucks on the ground and to our knowledge, this '74 Chevy is the only C30 of its kind. Making it all happed, a turbocharged Duramax engine was rebuilt and stuffed between the front fenders. Then it was given a full custom chassis and the old paint was buffed out before the 22-inch semi-truck wheels with Nitto NT420V tires were attached.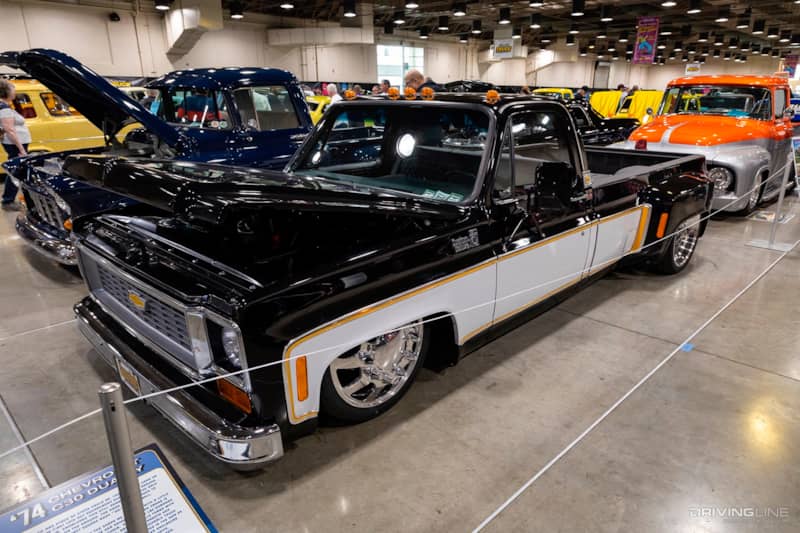 4. Slammedelette
Tony Leal is known for breaking barriers with his unique custom trucks. His latest is this '67 international Travelette that was built by Old Anvil Speed Shop. This was to be a simple cruiser that snow balled with an Air Lift airbag equipped custom chassis with Weld wheels.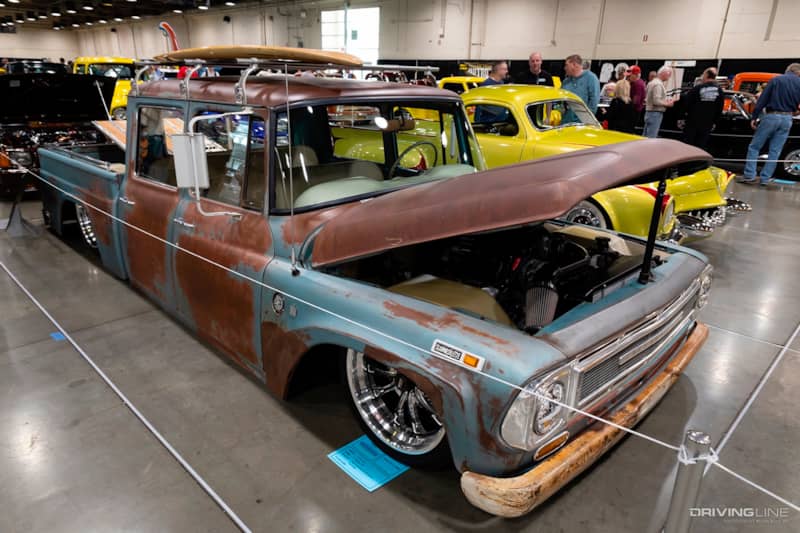 It's powered by a modern Chevy L83 V8 engine with a 9-inch rearend to lay down the pushing force. Our favorite part is the patina styling with a pair of surf boards mounted in the roof.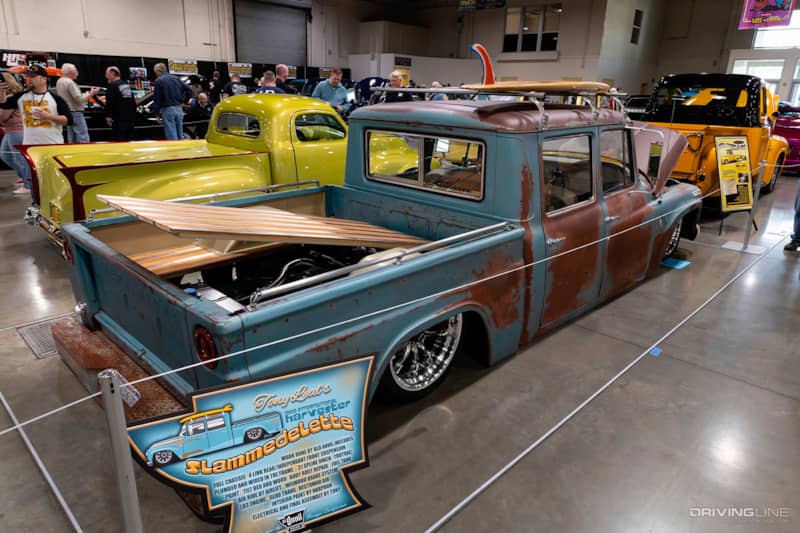 3. "Twisted" '76 GMC Jimmy
Classic SUV's have been hot as of late, and Terry Rose's Jimmy sure does add gasoline to that fire. Build by Chris England Concepts, this GMC has all the things you would expect like a modern Chevy engine, mirror-finish paint and air ride. One top of that it has a one-off interior to put this Jimmy on the next level.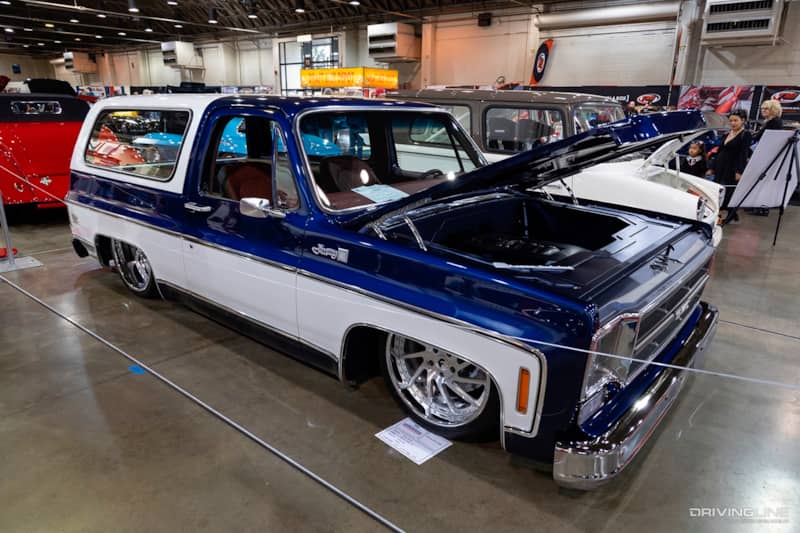 2. Matt DelosCobos' '72 Blazer
We've a number of Chevy Blazer's in the show circuit and it's hard to stand out from the rest. At a glance this one has a similar look, but a keen eye will spot the crispness of this one. Of course, it does have the usual mods like an LS3 engine, tuned coil-overs chassis, and 20-inch Hot Rods by Boyd wheels with Nitto NT555 G2 tires.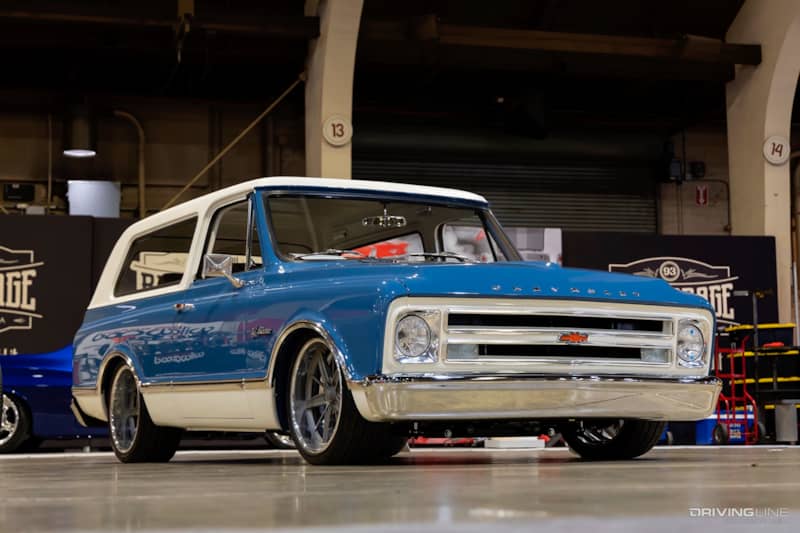 However, on the inside is stunning leather and plaid interior by old town upholstery. On top of that, the body was worked super smooth and painted PPG Envirobase Calvary Blue and white by Hot Rods and Custom Stuff. This one really caught our eyes.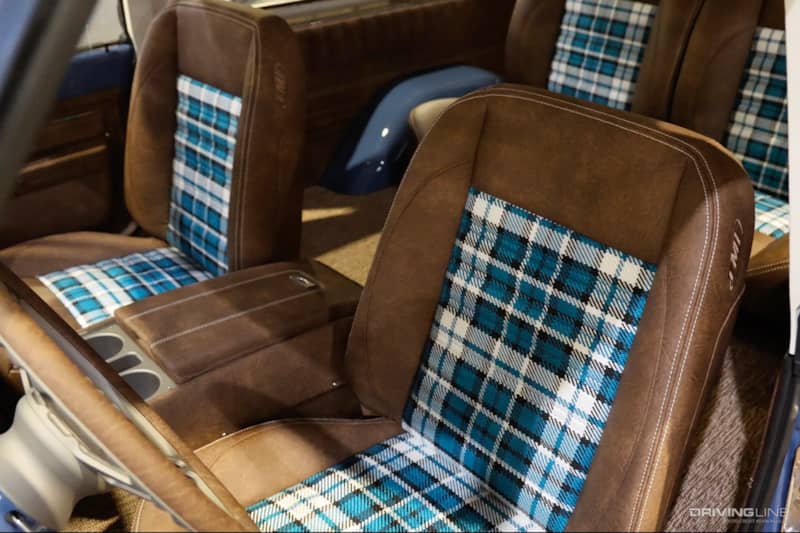 1. REDefined
If you want to have a truly custom vehicle that will leave a mark in the scene, you hit up Scott Laitinen at SIC Chops. That's exactly what Ken and Susan Fontes did when they were looking to make some something out of this '56 Chevy pickup.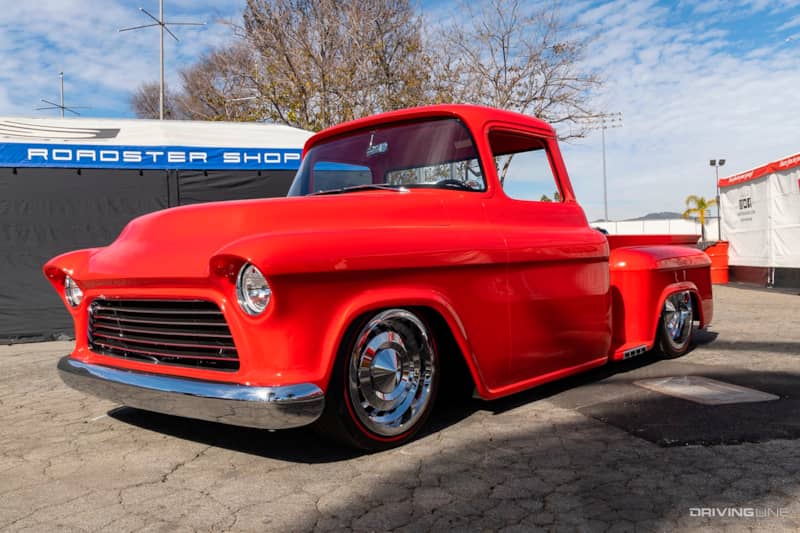 This truck had everything under the sun thrown at it but it all works together thanks to Scott's talent. As you can see this truck is far from stock as the red painted body was chopped, smoothed and even had a one-off bed for a distinctive look.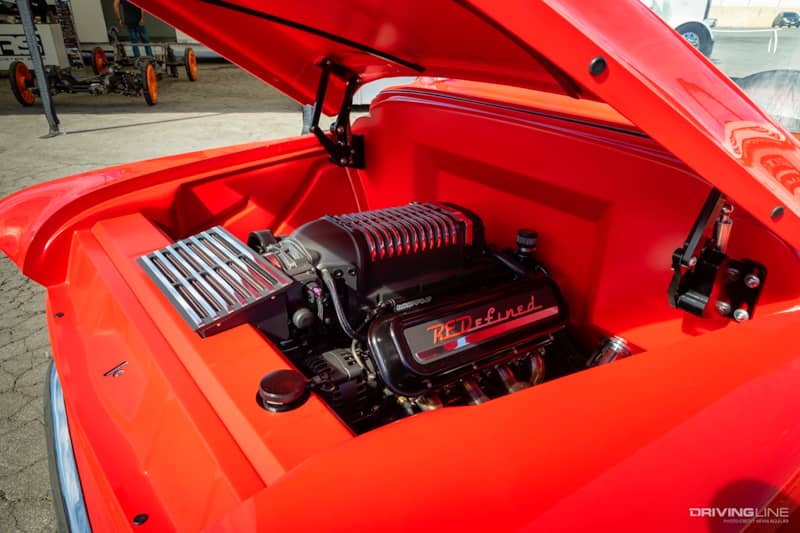 Topping it off is a Roadster Shop chassis with Don Hardy LSA engine. The one-off wheels have custom hub caps that accent the Nitto INVO tires that were treated with a custom redline. And with an interior by Ron Magnus, this one will go down in the history books. Seeing trucks like this at GNRS, keeps us coming back every year!