Top 5 Dead Trends for Lowered Trucks
The world of custom truck is ever evolving with styles that come and go. Though we are used to seeing highly modified trucks, it was not the norm in the early days of light-weight haulers. A century back, a trucks' sole purpose was to transport loads.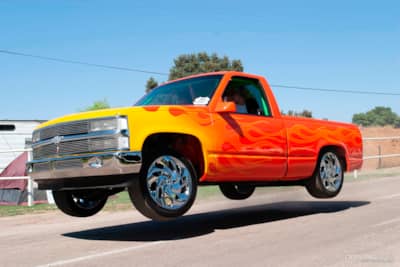 It wasn't until the '70s and '80s when people started tinkering with trucks for the sake of making them more stylish or adding performance. That's all when the modern era of going to extremes with these trucks all started and hasn't slowed down since.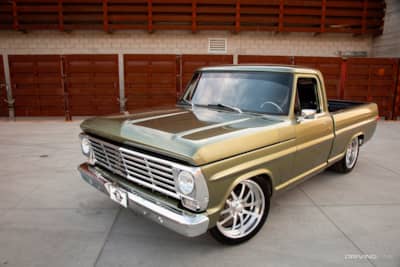 As you can imagine things have changed with the times and some trends that were common practice decades ago are no longer considered cool. This is partially due to better offerings of parts and shifts in style. To help you get a grasp on what is not so hot in scene, we have gathered a list of what we think are the top dead trends.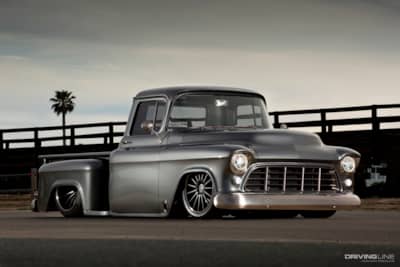 5. Tweed Interiors
Back in the day this fabric was used on a lot of custom vehicles as this material was an economical fabric that was easy to work with and could be customized to fit the themes of any build. There are many benefits of using tweed including the fact that it can be easily shaped to fit on top of just about anything without showing wrinkles. Another benefit is that the material breathes and prevents you from sweating profusely in during any hot weather.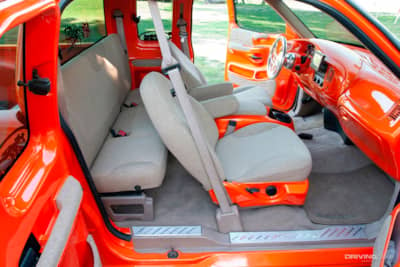 However, as things progressed with truck styles, people wanted to see more luxurious interiors that mimic high end vehicles. Now it has become the norm to use leather and for those on a budget, vinyl has the same look with at a lower cost. But what is more popular these days is finding other stylish fabric materials to help your back breath a bit. And the most popular thing is to use vintage or new old stock fabric as it has more street cred with the taste makers.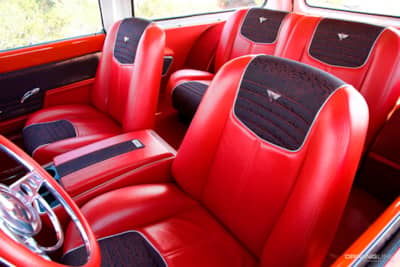 4. Body Kits
Before adjustable suspensions systems, if you wanted to make your truck appear a little lower or add some extra style, body kits got it done. Times have definitely changed as these were hot when wild paintjobs and static dropped trucks were the top of the mark.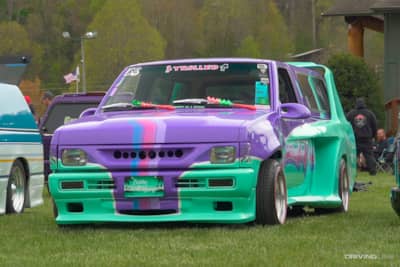 Body kits were so popular that even the automakers were offering trucks with kits on them. Most notable was the "Xtreme" package offered on the Chevy S10 and Blazer. At the time, these trucks were hot as they had style out of the box. As builders and fabricators were able to get these trucks lower with adjustable suspension systems like airbags, some felt that body kits were a cheap way to make a truck look lower.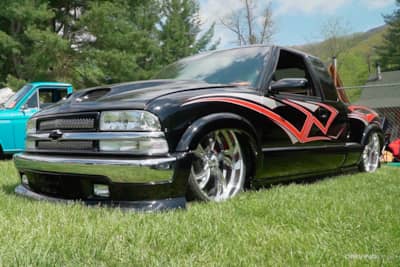 The general consensus of them now is that they just aren't cool anymore. Though these kits did complement the style of rides, trends have changed from the time they were popular. Nowadays, what's popular is to accentuate the original look of your truck by not straying away too far from the factory look. Because of this, builds have become more timeless and that has been a winning formula.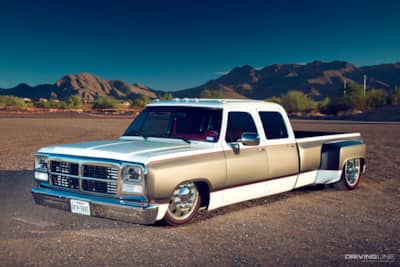 3. Hopping
A lot of trends for custom trucks originated from what the lowrider guys did back in the day and hopping is one of them. As enthusiasts wanted to go lower with their rides, they started adapting hydraulic parts from retired aircraft to set cars low and raise them up to drive. Along the way, they found out that these parts had the power to make cars hop.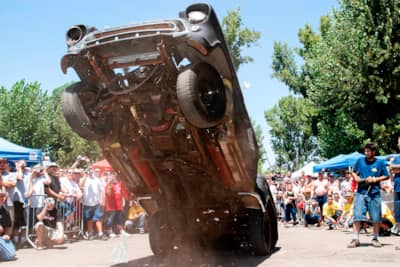 Truck builders shifted preference to use airbags for their smooth ride and also discovered that with the right equipment, a truck could also be launched into the air. Though this took more work as airbags have a lower tolerance for speedy operation. Meaning that 'bags could pop if too much air pressure was released into them just like when you over inflate a balloon.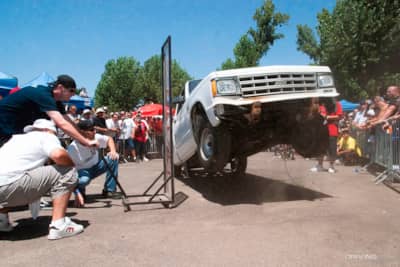 Though it was thrilling to witness and participate in, vehicles for hopping aren't good for driving. So, you certainly didn't want to hop your daily! On top of that, slamming your truck on the pavement absolutely destroys it. With those things combined, hopping, for the most part, has gone away.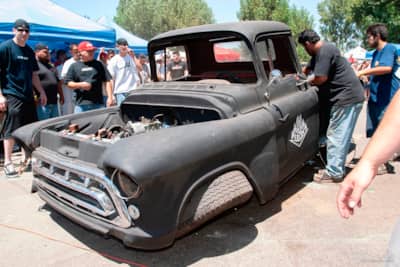 2. Dragging
This one is another thing that came along with adjustable suspension and caught a lot of attention back in the day. Someone somewhere probably accidentally aired-out their truck while driving and found out this could put on a good spark show. And this was a complete middle finger to conformity, which is what customizing a truck is all about.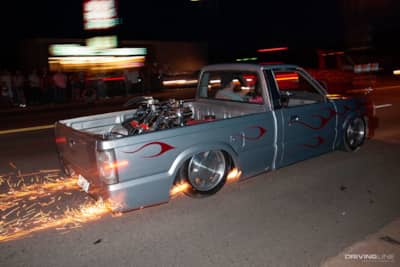 The reaction from anyone witnessing this for the first time is usually, "doesn't that ruin your truck?" And well, for the most part this is true. Yes, you can prep your truck to drag its frame to minimize damage, but chances are you will ultimately mess it up. As builders keep pushing each other to raise the quality on trucks, people are less likely to risk it all by putting on a short display of sparks on the road.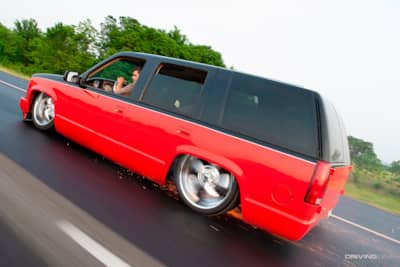 1. Mini Trucks
Though many may not agree with it, for the most part minitrucks are a dead trend. Now what we're talking about here is the typical compact truck (either domestic or import) that's slammed and has other outdated mods. Though, this style has been used on many other popular full-size and classic trucks that are trending these days, minitrucks themselves are unpopular on a large scale.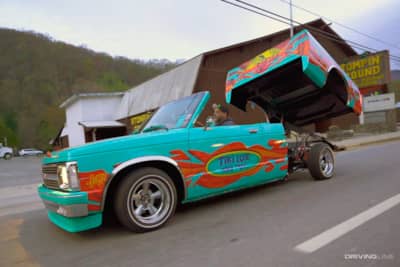 So why are minitrucks not cool anymore? Well, there are a few things like the fact that the style is not groundbreaking anymore and not old enough to be savored as classic. The other argument is that kids are not getting into it, which has led to the end of this style. The problem here is that they just don't make cheap compact trucks for kids to get into.
Take for example, the Chevy Colorado, which is the replacement to the S10. Not only is this truck about as large as full-size trucks of the past, the cost is dramatically higher than other economically priced cars. But, I do think there is a bit of hope as with time there could be more people that may get nostalgic enough about them to increase interest of these older trucks.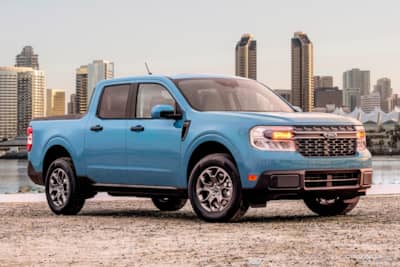 Another glimmer of hope with Ford's new Maverick pickup. We like this particular truck as it's dramatically smaller than other recent offerings and has an MSRP under $20K! Though this all sounds good, the current situation of supply shortages has made it hard to find one. Also, some dealerships are charging more for them because demand is high. Only time will tell on this trend and the others will stay dead or become popular once again.