Top 10 Trucks From Dino's Git Down 2022
If there was one word we could use to describe the 2022 Dino's Git Down held on 11/11-11/12, it would be "Madness." Now, before anyone takes that in a negative connotation, we mean it in the best possible way as it was simply insane to see thousands of people and trucks in one place. With the "Pandemic" just about over, we saw faces that we haven't seen in a long time as well as numerous new ones.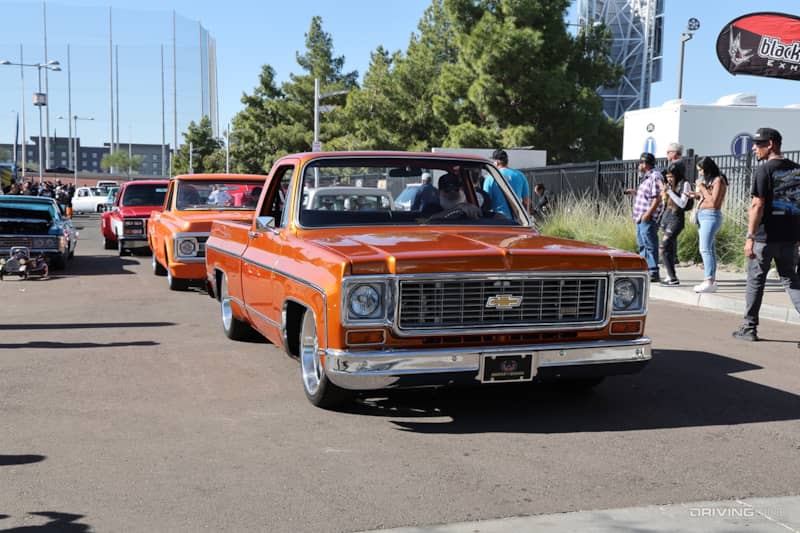 Although we have been surprised in the past with the growth of this "Chevy Only" event, this year seemed to have taken a giant leap. As we rolled into the parking lot of the State Farm Stadium in Glendale, AZ on the morning of the first day, we noticed a mass of vehicles waiting to roll in. It was surprising as this was a sight never seen before at this event and this year's venue was larger than it's ever been.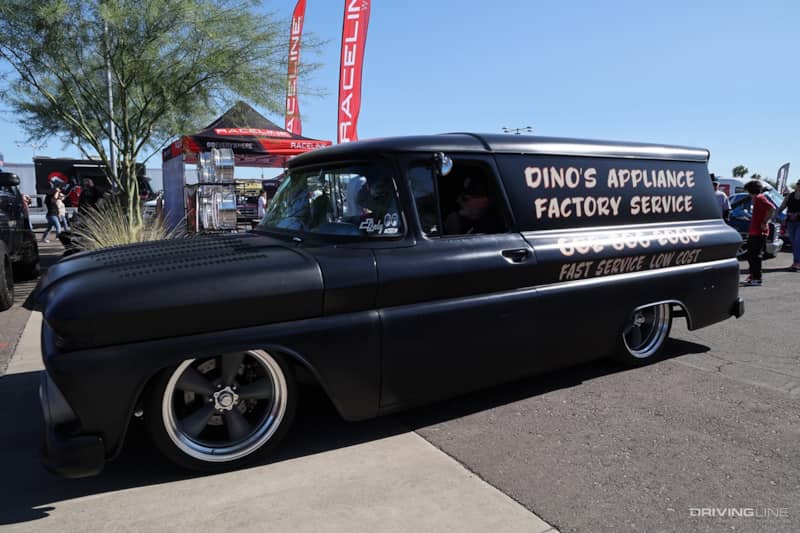 Upon walking inside, we were immediately taken back by the "Top 100" section with a super impressive lineup of high level of quality rides. Surrounding this was the vendor section that had 144 of the top supporting parts companies including Nitto Tires, LMC Truck, Premier Street Rod, AccuAir, Total Cost Involved, the Roadster Shop and even Chevrolet Performance. These booths were also lined with some of the best truck builds on the planet.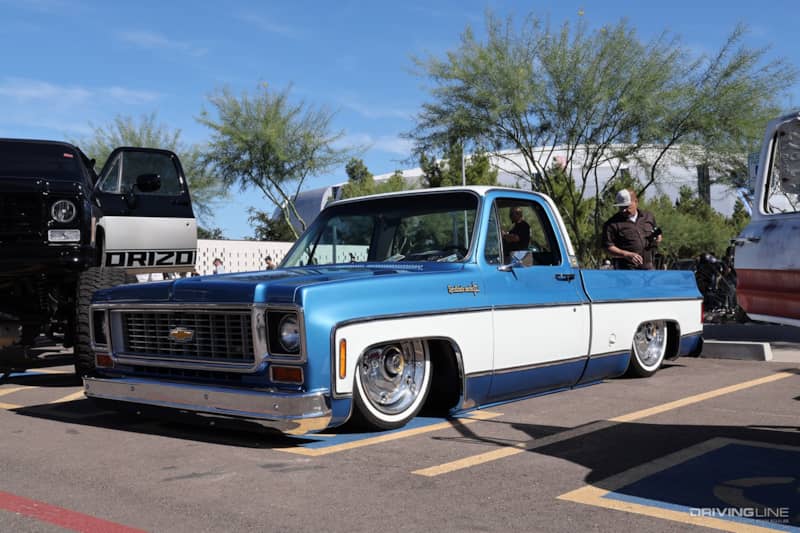 Dino's Git Down is a Different Kind of Show
Besides the size of the event, there are a few things that make it different from the rest. First of all, there are no awards, so don't expect to do any trophy collecting there. The other major deal is that the event is free to all show vehicles and spectators. We also noted that there were enough vehicles present to flood the 7,000-vehicle capacity parking lot. It was complete madness and here a few builds that were neck-snapping head-turners.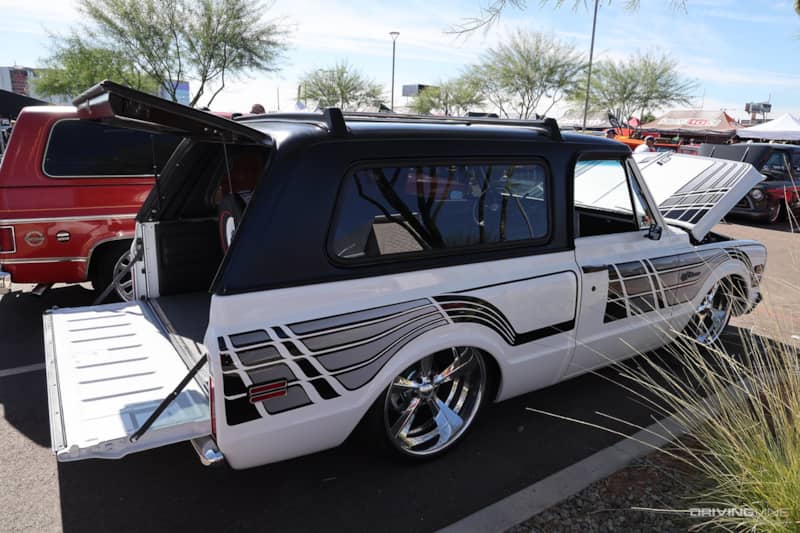 10. Ken Scott's '62 GMC
Anyone that is familiar with these trucks knows that they are difficult to slam on the pavement. In order to make this feat possible, Ken adapted a Corvette C4 suspension system and added airbags.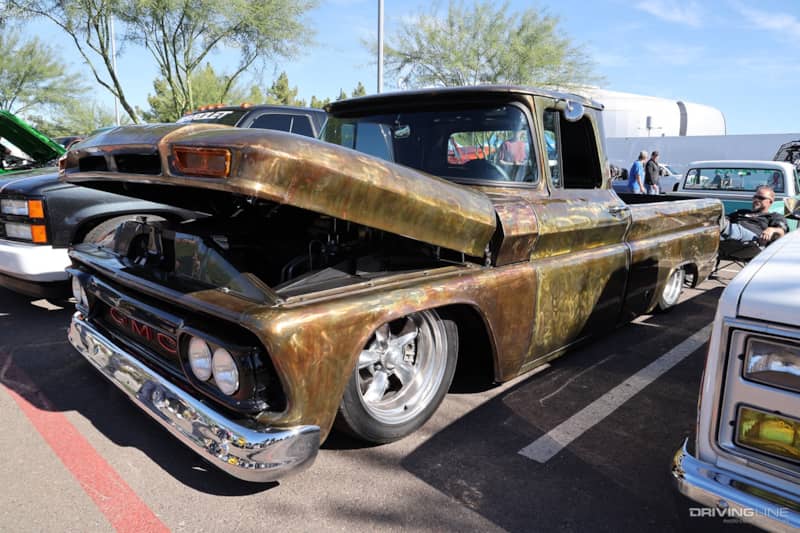 It also has a rough sanded metal body with a clear coat for a distinctive look.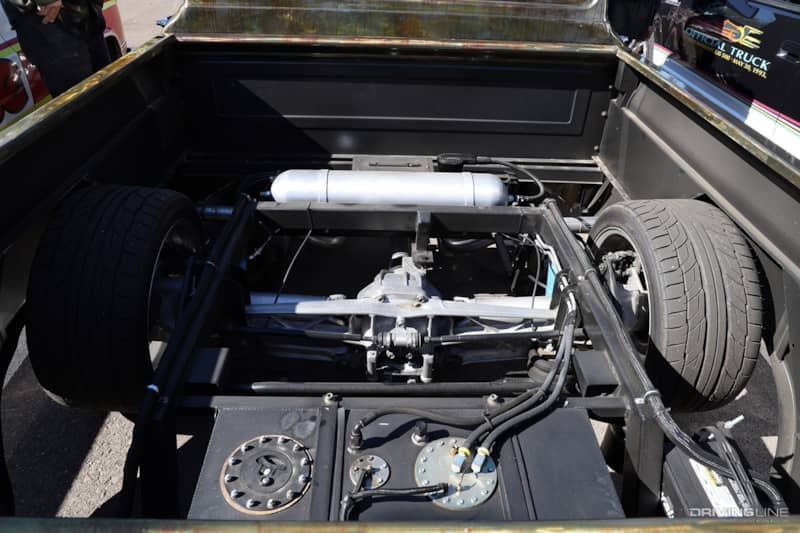 9. Mike Millan's '76 Stepside C10
Trucks with Fleetside beds are the preferred choice for customizers as stepsides are typically not as sleek. Well, in this case Mike Millan of Perfect Poise truck club took the opportunity to create a stunning bed by cutting down a fleetside version and adding stepside fenders for a unique look. This truck is also laid out over a set of 22-inc Avant Garde wheels wrapped in Nitto INVO tires.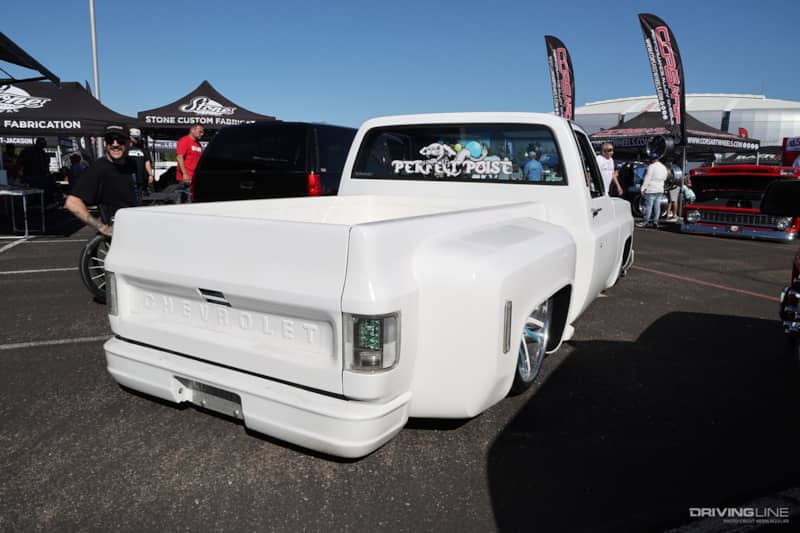 8. Evelyn "Kevin" Causor's '65 Chevy C10
We love it when women like to play with trucks and there's no question that Evelyn is a true enthusiast. Her family had a Chevy pickup like this when she grew up and she had to have one for herself. She even installed a Classic Performance Products air ride suspension system in her own garage.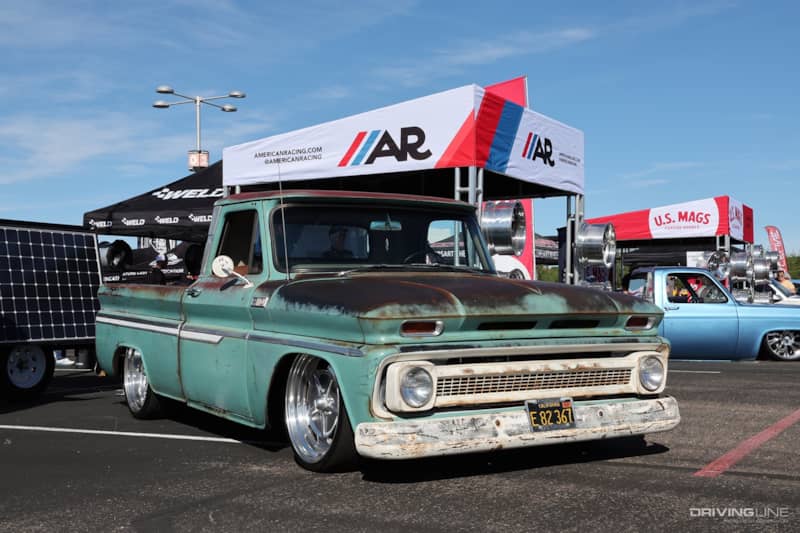 7. Rick Woolery's Suburban
Originally built by our buddies at Big Fish Garage, this '76 GMC Suburban is not your average family hauler. In fact, it was built to tackle the great outdoors with storage for fishing poles and even a canoe on top. Rick also loves this truck, purchased it and brought it to the show for all to see.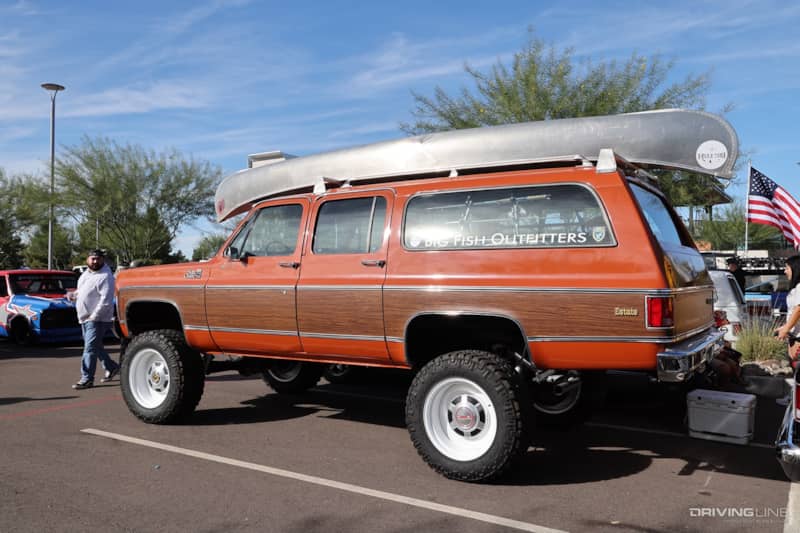 6. Rob and Becky Williams' "Beauty and the Beast"
Being off-road enthusiasts, the Williams had to have a set of lifted trucks to enjoy the Arizona desert. "The Beast" is a jet black '65 Chevy C10 that has a 6-inch lift to clear the 37x13.5R20LT Nitto Mud Grappler tires. "Beauty" is a bright white '56 Chevy that has a 4-inch lift to clear a set of 37x13.5R20LT Nitto trail grappler M/T tires. Both of these trucks are stunning and look like a blast to drive in the dirt.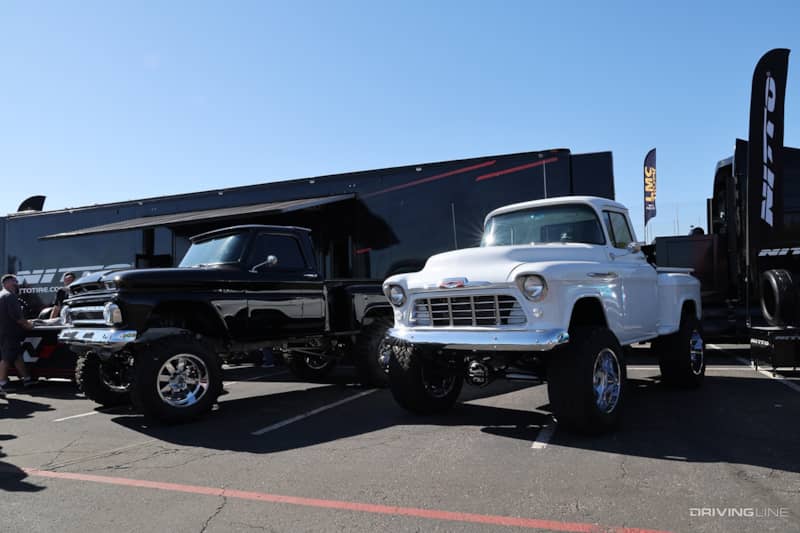 5. Kevin Clark's '66 Chevy C10
Built as a way to fulfill a lifelong dream of owning a clean classic truck, Kevin made it all possible. Though this one doesn't have any crazy out of the norm mods, it has a look that is just right for the time. It also has a special custom mixed paint that Kevin would not share the details on. Some things are best left unknown!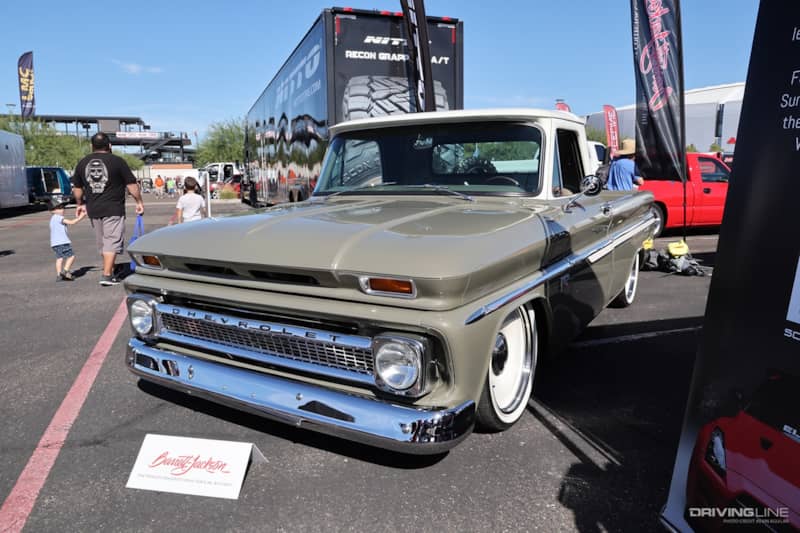 4. Brian Wojcik's "Big Smurf" '77 GMC G15 Van
Though Dino's typically brings out a mass of trucks, there are a few that bring other wildly built GM machines. Brian of Smokey Mountain Rod and Customs wanted to build a kickass van that could roast a set of Nitto NT555 G2 tires.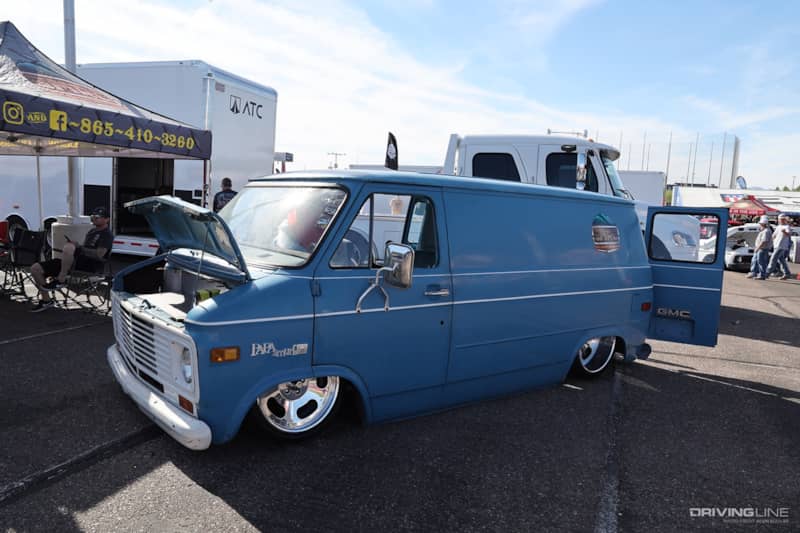 This vehicle is setup on a Scott's Hotrod's airbagged full chassis and has a mid-mounted 700hp 468ci LS3 with Hughes Performance 4L80e trans to get the job done.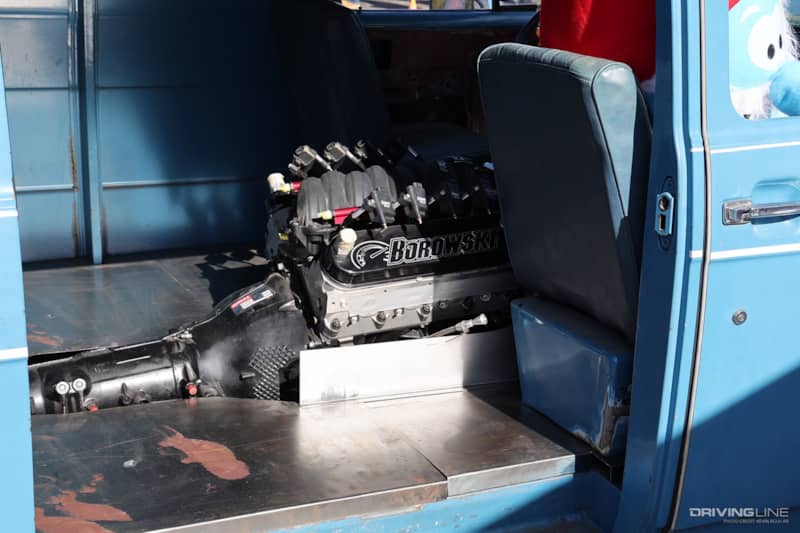 3. Goodguys / Roadster Shop '98 Chevy C1500
The nation's largest classic car show circuit, Goodguy's teamed up with the Roadster Shop to build one of the cleanest OBS Chevy trucks to help celebrate welcoming vehicles up to '97 to participate at their shows.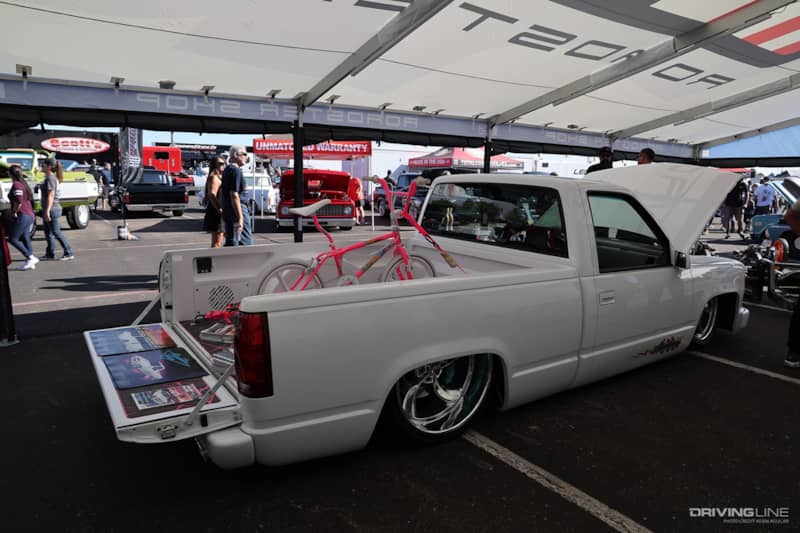 This truck has Roadster Shops' new LowPro chassis that had an independent rear suspension to maintain a stock bed floor. This is one of the highest level OBS truck builds we have ever seen!
2. Howie Kendrick's "Sweet Ruth" '65 Chevy C10
Former Major League Baseball player Howie Kendrick has caught the truck bug and contacted our pal Jason Noel of Fat Fender Garage to build one amazing ride.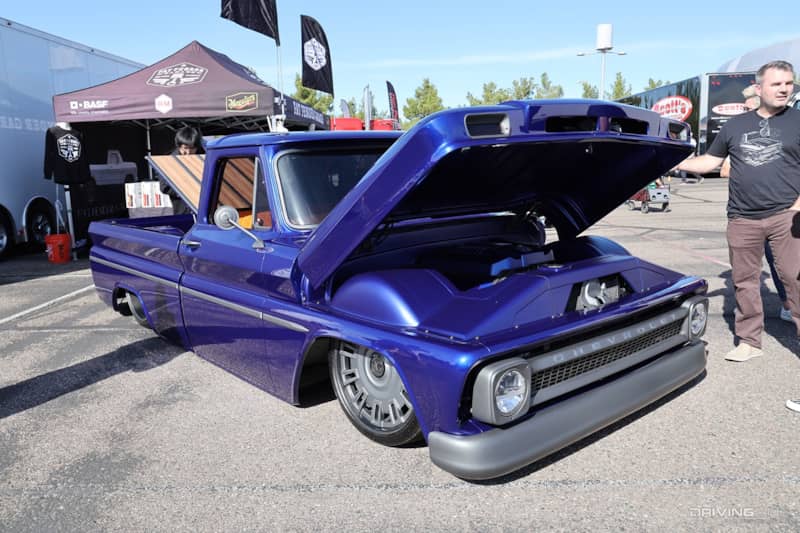 It has everything from a supercharged LSA engine, GSI 'bagged chassis and premium Hydes Leather upholstery. Topping this one off is a custom metallic blue paintjob and a set of carbon fiber AG Luxury AGL60 wheels.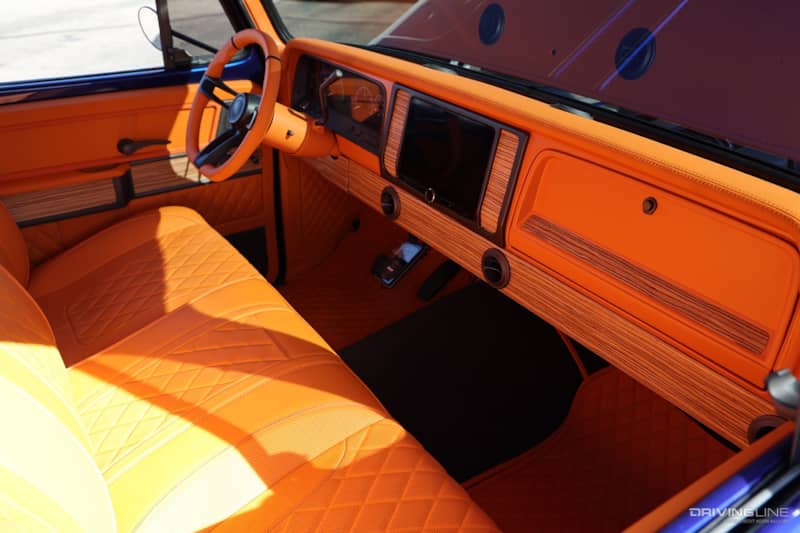 1. Bob Ward Jr.'s '67 Chevy C10 Crew Cab
First of all, GM never made these trucks with four doors and most of the ones you will see are Suburbans that are cut down and modified to look like this.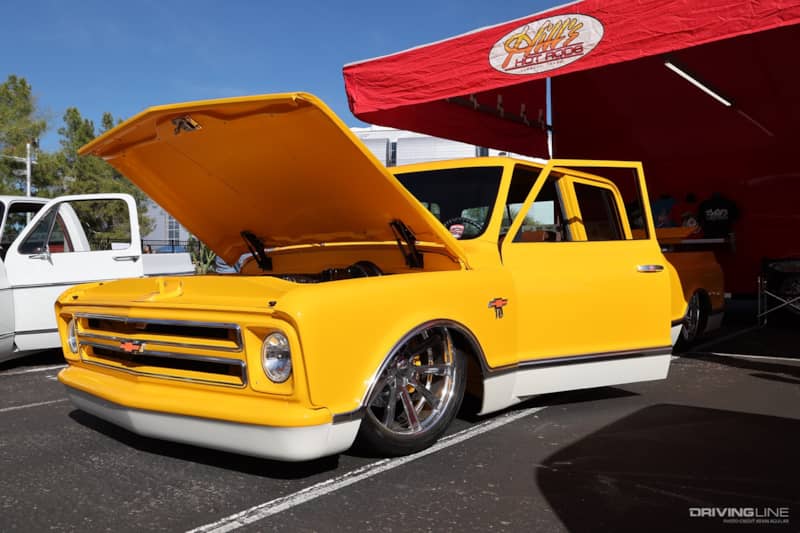 That's how this one known as "Geoffrey" started before the Hill's Hot Rods "Crüe" had their way with it and laid it out on a set of 22-inch Raceline billet wheels with Nitto NT420V tires. Finishing this one off is a yellow and white paintjob as well as a top-notch interior by JD Glassworks.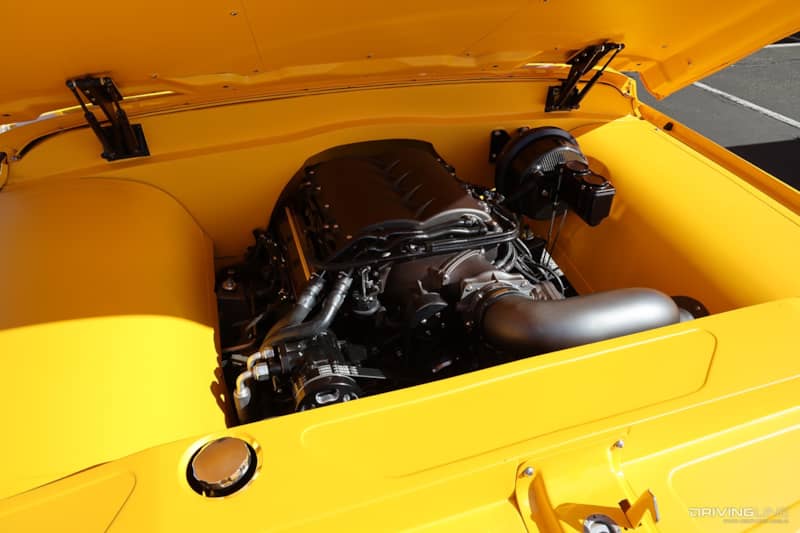 Seeing all these trucks was a real treat and we can't wait for next year!