Keeping Pace: Modern Power Upgrades Land This Old-School Ford in the 12's
As diesel pickups age, their depreciation gradually drops them down into the younger generation's price range, and eventually they can be had for cheap. Fortunately, most diesel engines tend to last a while, so with a little blood, sweat, and tears a motivated owner can build the truck of his or her dreams — and do so on a reasonable budget.
Luckily for the 7.3L Power Stroke crowd, performance parts have only gotten better with age, and the prices on go-fast parts have dropped. On top of that, these venerable V8s can be made rock-solid reliable even while making in excess of 600hp. As living proof of this example, we bring you Mike Satkowski and his '97 Ford F-250.
Don't get the wrong idea. While Mike's old-school Ford was put together affordably, he didn't cut any corners. Breaking away from so many of the budget-themed, stock-bottom-end 7.3L builds we see these days, he put good money into the areas of the truck that couldn't be left to chance. This meant the engine was torn down and the short block reassembled with stronger connecting rods (Carrillo forged-steel units), upgraded pistons (de-lipped and coated cast-aluminum versions from Riffraff Diesel Performance), the factory crankshaft and a fully balanced rotating assembly. The cast-iron heads were left stock, albeit fitted with competition valvesprings to hold up to higher rpm, boost and drive pressure, while ARP head studs clamp them to the block.
Air and Fuel
At the heart of the horsepower puzzle lies a set of Stage 3 hybrid injectors from Full Force Diesel. Effectively acting as syringes on steroids, the high-flow injectors move 300cc's worth of fuel through nozzles that measure 200 percent larger than stock. Ample oil volume is supplied to the hydraulically-activated (HEUI) injectors by way of an SRP1.1 high-pressure oil pump. Mike pieced together his own low-pressure fuel supply system, which relies on a Fuelab lift pump pulling diesel from a 16-gallon fuel cell in the bed. Custom PCM tuning files from Gearhead Automotive Performance offer great drivability, power output and are available through a TS Performance six-position chip.
Thanks to the T4 turbo mount kits produced by Irate Diesel Performance, S400 based BorgWarner turbochargers have become commonplace on modified 7.3Ls. No stranger to this trend, Mike's engine breathes courtesy of a 68 mm version from Stainless Diesel. The S468 features a billet, 5-blade compressor wheel, a .90 A/R exhaust housing and a T4 mounting flange. The S468 routes boosted air through a Hypermax intercooler before passing through the factory (2-inch diameter) intake plenums and into the heads.
BTS E4OD
Like the bottom end of his 7.3L, Mike knew money had to be invested in a built E4OD if it was going to hold up to 600-rwhp and 1,100 lb-ft of torque. This brought Brian's Truck Shop (BTS), one of the premiere E4OD/4R100 builders in the country, into the picture. While under BTS's care, Mike's four-speed automatic was treated to upgraded internals like 300M input, intermediate and output shafts, a custom valvebody and a triple disc Stallion torque converter from Precision Industries. At the track, converter lockup and shift points are handled through the use of a manual transmission controller built by 7.3L guru, Matt Maier.
Running 12's… On a Budget
It's hard to say whether Mike knew how serious his diesel addiction would become when he initially bought the truck (at the age of 15, no less), but over the course of the last eight years he's learned a lot about what it takes to make a 7.3L reliable, powerful and competitive.
Other than outsourcing the short block and transmission builds, Mike saved himself thousands by turning his own wrenches. Configuring the truck's fuel supply system, traction bars, performing the front solid axle swap and handling all the other odds and ends himself made it affordable to transform a beat up work truck into a 12-second powerhouse. It's not every day that you see a 7.3L Power Stroke running neck-and-neck with the latest and greatest diesels available, but Mike's 20-year-old Ford makes it look easy.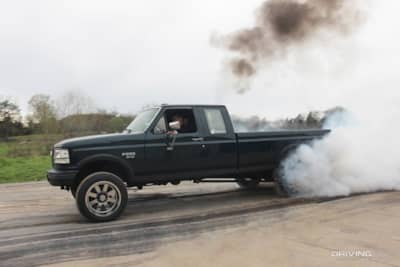 Not wanting to roll the dice on a factory forged rod engine, Mike bit the bullet and invested good money in his 7.3L Power Stroke's short block. The bottom end features the factory crank, Carrillo forged-steel connecting rods, and cast-aluminum, 0.020-inch over pistons from Riffraff Diesel Performance that have been de-lipped and coated to survive high EGT and cylinder pressure. The factory-based, cast-iron heads were treated to competition valvesprings from Irate Diesel Performance, Smith Brothers chromoly pushrods and bolt to the block via ARP head studs.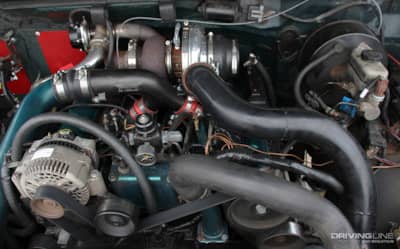 An S400 based BorgWarner turbocharger from Stainless Diesel produces 60 psi of boost at full tilt. It features the company's proprietary 5-blade, billet compressor wheel with a 68mm inducer. The S468 charger mounts at the rear of the lifter valley thanks to a T4 turbo mounting kit from Irate Diesel Performance. With the engine built to absorb the abuses of drag racing, Mike's original plan was to pick up some easy power via nitrous oxide, hence the TurboSmart wastegate shown here, but he recently decided to scrap the gate and instead upsize the turbo's exhaust housing should the need to run NO2 arise.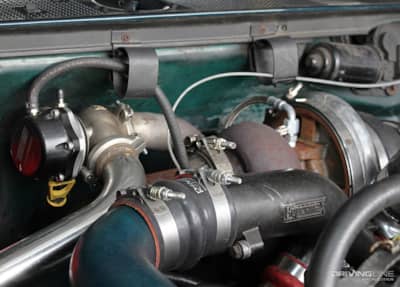 With a set of 300/200 hybrid injectors from Full Force Diesel feeding the cylinders, Mike knew his fuel supply system had to be up to snuff. And after sourcing all the right parts he built himself a quality system that makes use of a Fuelab lift pump and the Aeromotive adjustable fuel pressure regulator you see here (which Mike keeps set at 70 psi). Just beneath the fuel pressure regulator sits an SRP1.1 high-pressure oil pump, which has no problem keeping up with the injectors' high-pressure oil demands.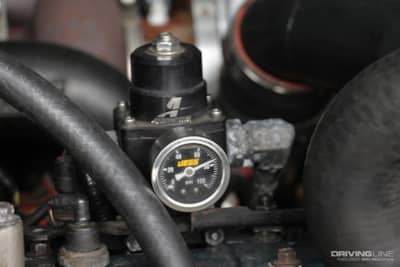 After discovering that the rear steel tank was beginning to rust out and leak (a very common problem on '94.5-'97 Fords), Mike decided to not only scrap it, but also get rid of the front tank. Their replacement would end up being this 16-gallon fuel cell from Summit Racing. The combination of the Polyurethane fuel cell and getting rid of the steel tanks helped lighten the truck by nearly 200 pounds — music to the ears of any drag racer.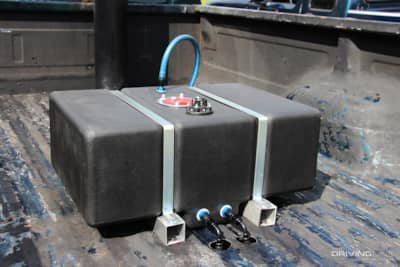 Taming the large injectors, optimizing the built E4OD's shift points, and making the truck extremely drivable was left in the hands of Gearhead Automotive Performance. Using the TS Performance six-position chip platform, half a dozen custom tuning files can be navigated by turning this knob, mounted on the dash.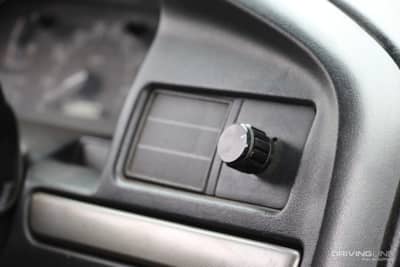 While the front, leaf sprung Dana 60 has no problem handling boosted, four-wheel drive launches, serious reinforcement was required to keep the rear axle from wrapping. To accomplish this, Mike purchased high-quality heim joints and 2x0.250-inch wall DOM tubing from RuffStuff Specialties, fabbed up brackets and bolted them onto the truck.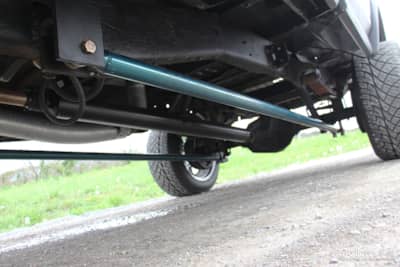 Adding modern looks and improved traction to the equation, the truck sports a set of 305/50R20 Nitto 420S tires mounted on 20x12-inch Moto Metal MO962 wheels. Thanks to the 420S tread, Mike catapults out of the hole, often cutting 1.7-second 60-foot times on his way to low 12-second quarter-mile passes.
The last traction enhancement boiled down to the 10.25 Sterling receiving a Grizzly locker from Yukon. Both the front and rear axles sport 3.55 gears, which help keep the engine under load (i.e. making big boost).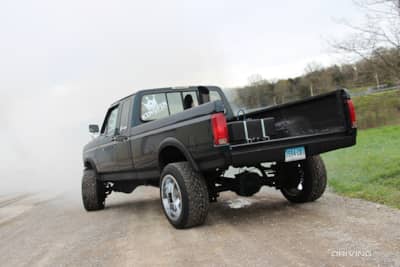 Believe it or not, with the truck weighing less than 7,000 pounds, it's considered a lightweight in the diesel world. Thanks to the older body style Fords possessing considerably less left than the Super Duty's that followed, they can be propelled down the drag strip much more quickly. To date, Mike's best pass took place in the eighth-mile and in the form of a 7.75-second blast at 89 mph (which equates to roughly a 12.1-second quarter-mile at approximately 111 mph).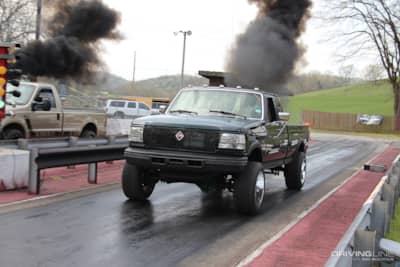 Light weight also pays big dividends in the dirt drag game, where Mike's F-250 can leave the starting line in a big hurry. In fact, Mike can surrender 100 hp or more to a newer, four-door diesel truck and still run side-by-side with them.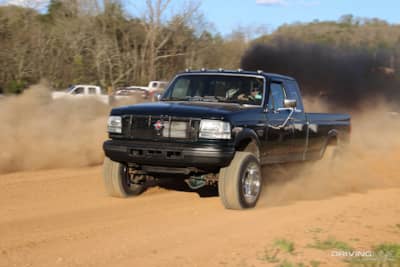 On race day, you'll find Mike's Ford void of a tailgate and any other item of considerable weight. Already having a truck capable of clicking off a low 12, we wouldn't be surprised to find this old-school head-turner flirting with 11's in the spring of 2017.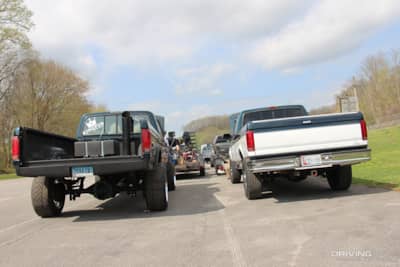 Power Specs
YEAR/MAKE/MODEL
1997 Ford F-250
OWNER
Mike Satkowski
ENGINE

7.3L Power Stroke with Carrillo forged-steel rods, Riffraff Diesel Performance 0.020-inch over, de-lipped and coated pistons,

Irate Diesel Performance

beehive competition valvesprings, Smith Brothers chromoly pushrods, ARP head studs

FUEL/OIL SYSTEMS

Full Force Diesel 300/200 hybrid injectors, homegrown fuel supply system with Fuelab lift pump, Summit Racing 16-gallon fuel cell, Stealth SRP1.1 high-pressure oil pump

AIRFLOW

Stainless Diesel billet 5-blade S468 turbo, Irate Diesel Performance T4 turbo mount,

Hypermax intercooler
EXHAUST SYSTEM

5-inch to 7-inch SoFlo Diesel stack

TRANSMISSION

Brian's Truck Shop E4OD with Precision Industries triple disc torque converter, 300M input, intermediate, and output shafts, Derale Performance transmission cooler, custom shift box

TUNING

TS Performance six-position chip with Gearhead Automotive Performance custom tuning

WHEELS

20x12-inch Moto Metal MO962

TIRES

305/50R20

Nitto 420S
AXLES/SUSPENSION

Front Dana 60 swap (from '93 F-350 donor truck), homemade traction bars