La Colorada: Clean Custom 2016 Ford F-150
In the late 80s to mid-2000s, the custom scene was rocked by the sport trucks done up similar to this 2016 F-150 owned by Jorge Sanchez. The movement first kicked off when gearheads discovered that pickups could be fast and competitive like their passenger car counterparts. The standard cab with a short bed configuration was the popular choice as these trucks are lighter in weight. Customizers would boost the power to these trucks and upgrade suspension systems so they could handle better as well.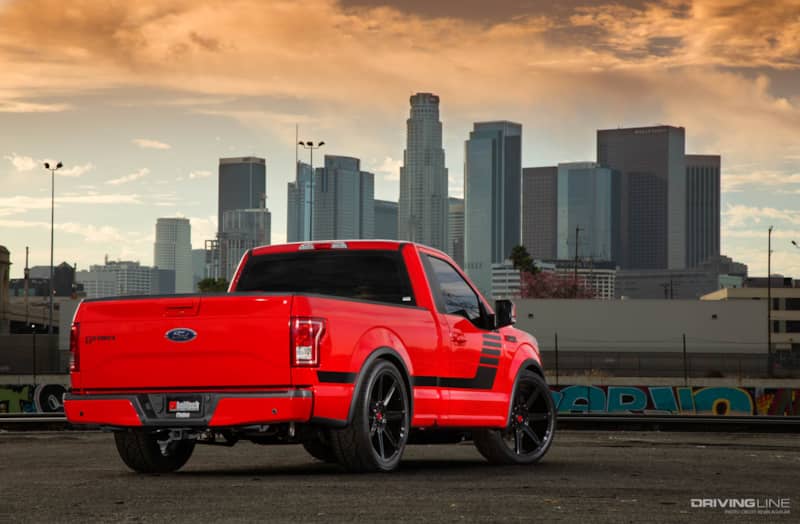 Manufacturers took notice as well and started offering hot rod pickups of their own. Trucks like the Ford Lightning, Chevy C1500 454 SS and the Dodge Ram SRT10 made for some of the sportiest pickups ever produced. The big appeal of these trucks is the fact that they can pull double duty hauling loads and attacking the streets like muscle cars. Over time, the market changed, and we haven't seen factory built standard cab pickups equipped with big firepower under the hood in a while. Though buyers still want powerful trucks, they also prefer more doors these days.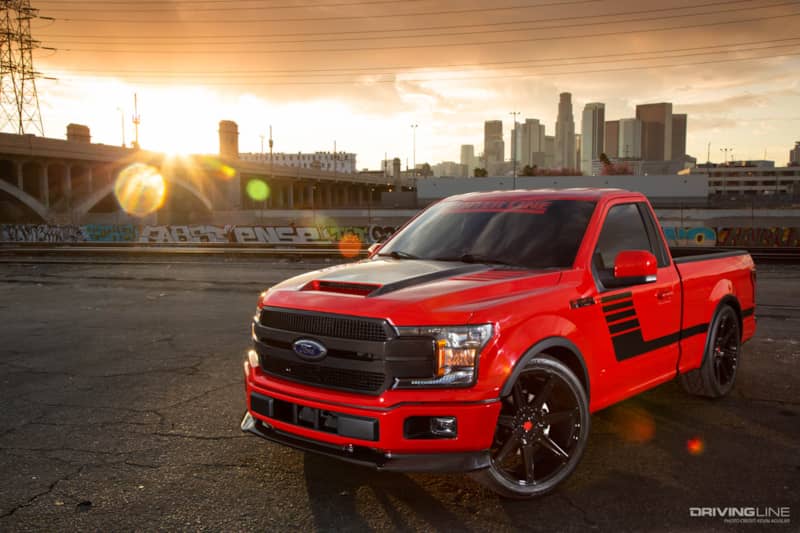 In 2014, Ford tested the waters again by offering the F-150 Tremor package, which included a twin-turbo EcoBoost V-6. The production numbers on this truck were low and many folks like Jorge were not able to get their hands on one. So, what does someone do when they can't snag one of those rare, hot-rod trucks? Build a clone.
Street Performance
Having trouble finding a regular cab (Ford's term for a two-door pickup) during the following year, Jorge waited a bit longer to get a 2016 model. Getting the biggest bang for the buck, Jorge opted for an F-150 with a 5.0L Coyote engine, which has the highest horsepower rating of 385@5,750-rpm. With a high power output, this naturally aspirated engine has been a huge hit and rejuvenated the brand for enthusiasts. Though it comes with plenty of power out of the box, customizers like Jorge always look for ways to squeeze out every bit of extra juice. Letting Jorge's truck breathe better is a cold-air intake by Airaid and a reprogrammed computer by OZ Tuning. On the other side of the engine's heads are a set of Kooks headers and a Corsa exhaust system to help spent gases flow out for improved power capabilities.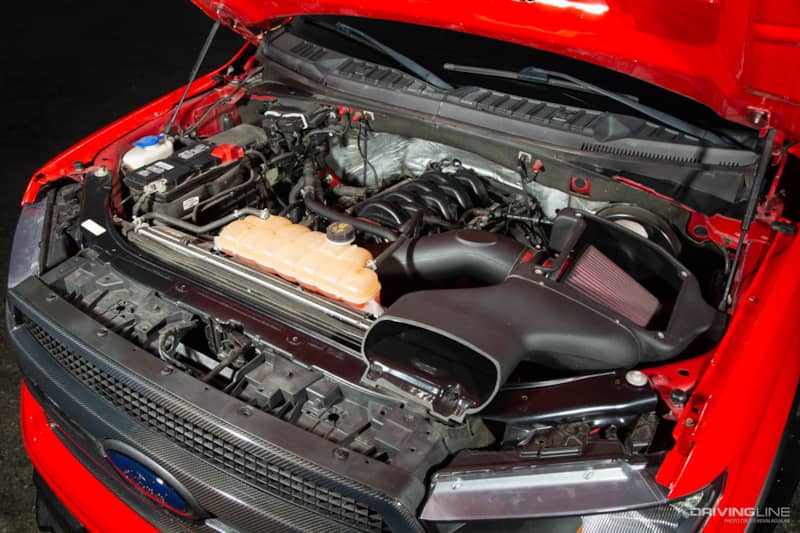 Stance and Handling
One of the most obvious ways to help the performance of a vehicle is to upgrade the suspension. Simply lowering the height is a great way to start, but premium components can help even more. Looking to get the most while keeping this truck comfortable for everyday driving, Jorge turned to the folks at BellTech. With a long history of providing lowered suspension systems, the team at BellTech have been able to develop products to maximize the handling of a truck, plus a set of adjustable front coil-overs which allow for precise tuning. In the rear is a BellTech flip and shackle kit, while the frame received a C-notch to allow for the axle to travel up further. Jorge then went a step further with things by relocating the rear shocks and adding a set of VA Specialties traction bars to prevent wheel hop during launches.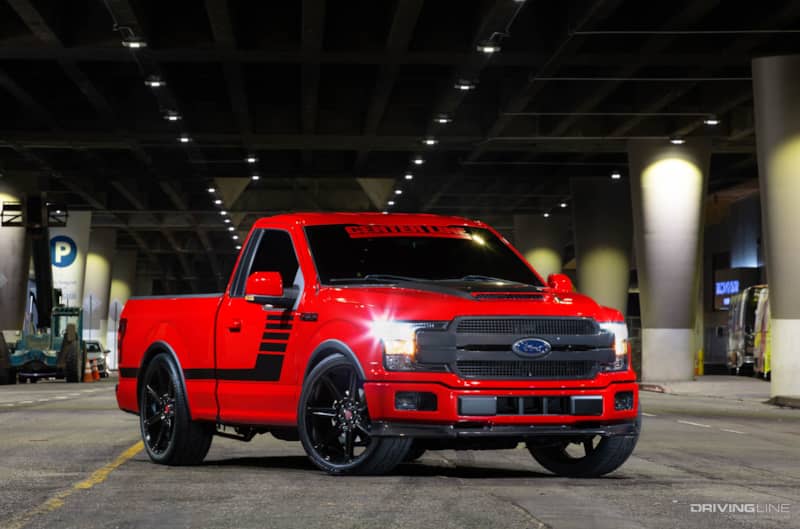 Grip in Style
Another area that can improve the performance of a vehicle is tire choice. For trucks that are driven often and expected to perform, Nitto's NT420V tires are one of the best choices for tackling multiple functions. These tires were designed with large block sections on the outer area for dry grip while the large channels and lateral inner grooves help disperse water for extra bite during wet conditions. Not only is the tread pattern stylish, but it is asymmetrical, which allows you to cross rotate them for a longer lifespan. With many size options, Jorge was able to utilize a set of NT420V 305/35R24 tires while upsizing his wheel package as well. Filling the void (and then some) is a set of Centerline Rev7/ST4B wheels. All-together, this combination adds better functioning with improved looks.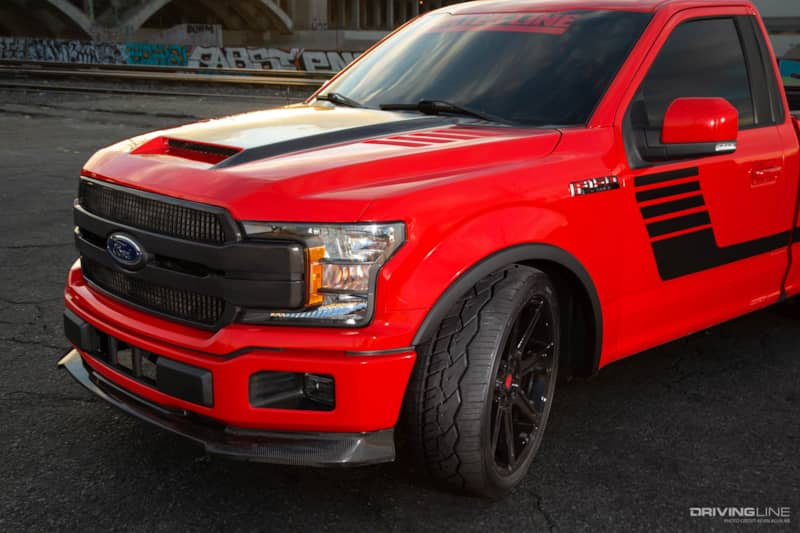 Worlds Collide
Unhappy with the factory options on these regular cab Ford trucks, Jorge decided to up the game in this department as well. For starters, he scavenged the junkyards to find a center console from a Ford Lariat trim package and bucket seats from a Platinum edition F-150.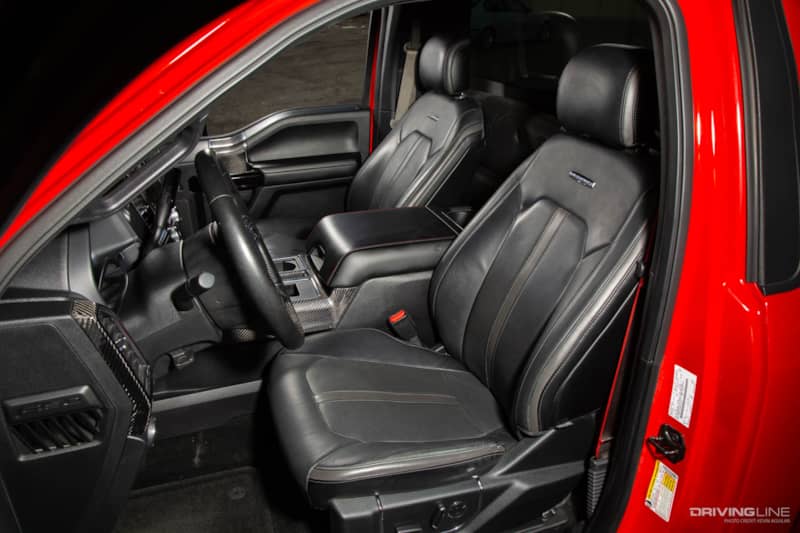 These seats come with better comfort along with the luxury of massaging capabilities and heating elements for cold days. In lieu of the boring old gauges, and Lariat Sport cluster was placed in the dash. Topping it all off, Jorge turned to Cal Pony to implement a sportier look with their real carbon fiber interior accents. All together, these pieces make for the ultimate combination of F-150 interior pieces.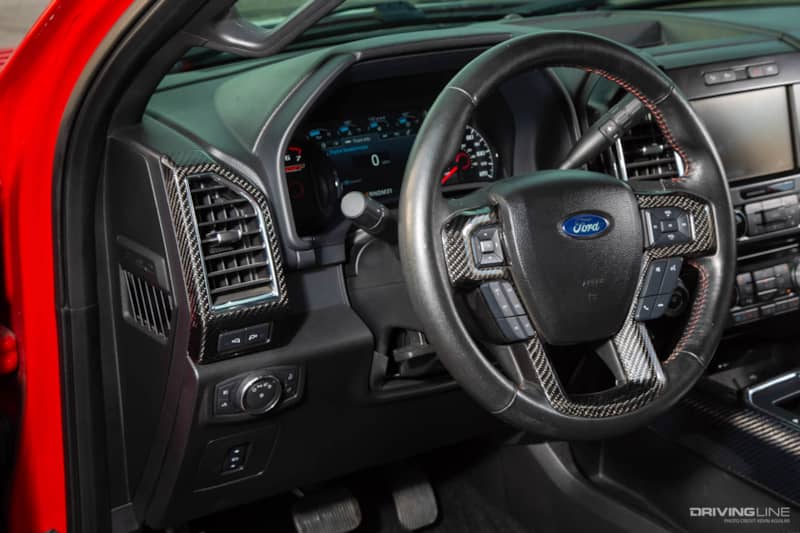 Looks that Kill
With all the improvements done to make this truck perform better on the streets, it was also important to make it more attractive as well. Giving the truck a more aggressive appearance is an RK Sport Ram Air hood, which is reminiscent of version found on old school muscle cars. While ordering parts from RK Sport, he then added a touch of modern sportiness, a carbon fiber grille was installed along with a splitter under the front bumper. Finishing this Tremor clone is a pair of "hockey stick" graphics that dress up the sides of this sport truck. Now that the La Colorada (Spanish for "the red one") is complete, Jorge has created a truly modern beast that pays homage to some the of the most historical trucks ever created.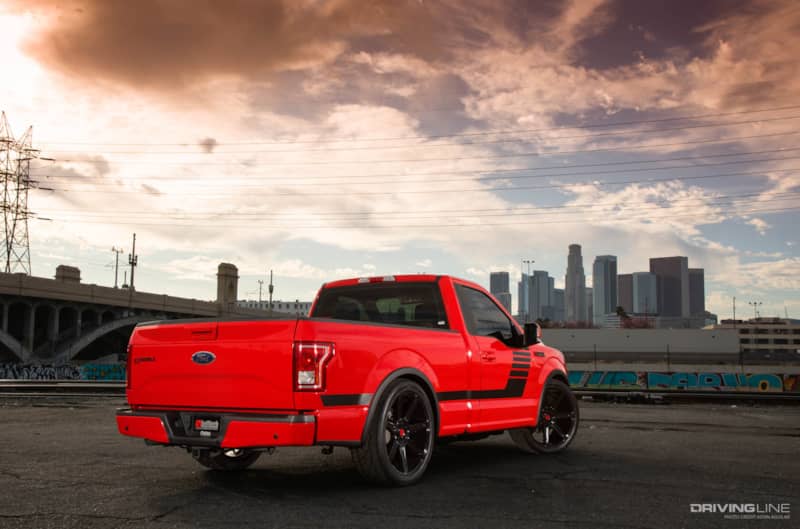 Click here to see the crazy custom slammed trucks from SEMA 2019.