Life with Ridge Grapplers: Part 4
It's been more than three months since we rotated the 285/75R16 Ridge Grapplers on our '97 Ford F-350 for the first time, but now our testing is about to get a lot busier. With warmer weather here, countless summer trips are on the calendar and the hybrid terrains are going to see much more use. This will especially be true on weekends, when we'll often be lugging a travel trailer all over the Midwest. Warmer temperatures also inevitably bring more off-road excursions, and we'll soon see what the Ridge Grapplers are capable of in light mud and sand. For a look at how Nitto's hottest new tire performs while towing, how its tread is wearing and why we're 100-percent satisfied with it so far, keep scrolling.
Tire Specs
| | |
| --- | --- |
| Size: | LT285/75R16 |
| Inflated Diameter: | 32.83 inches |
| Inflated Width: | 11.26 inches |
| Max Air Pressure: | 80 psi |
| Load Range: | E |
| Load Index: | 126 |
| Carrying Capacity: | 3,750 lbs/tire at 80 psi |
| Ply Rating: | 10 |
| Factory Tread Depth: | 16.4/32" |
| Current Tread Depth: | 13.5/32" |
| Miles Tested: | 6,039 |
Toy Hauling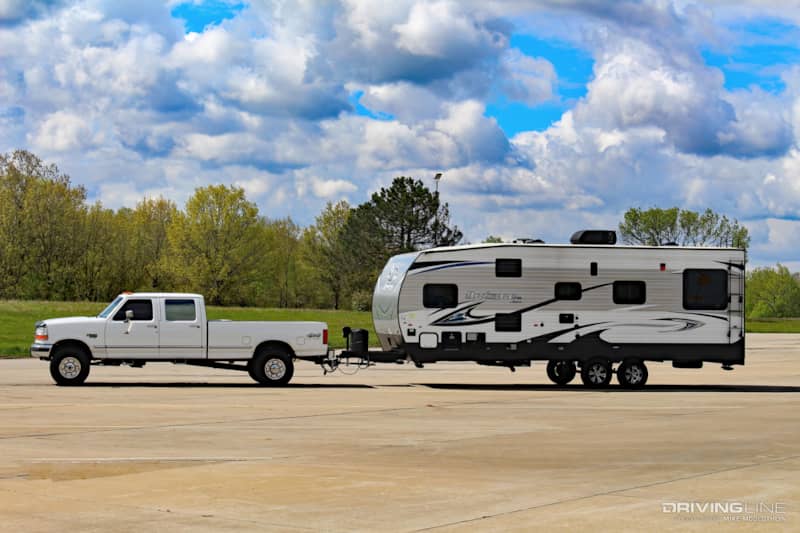 You're looking at the primary reason the Nitto Ridge Grappler was the right tire for our '97 F-350. The truck spends much of the summer months attached to a trailer, namely the 31-foot toy hauler shown here. The fact that our 10-ply, LT285/75R16 Ridge Grapplers carry an E load range and boast a 3,750-pound load carrying capacity at 80-psi offers the exact amount of overkill we like to have when hooked up to any moderately heavy load. In the colder months, the Ridge Grappler's 4.5/5 wet performance rating made the soggy, frozen Midwest fall and winter much more tolerable. So far, it appears as if the Ridge Grappler is an above-average performer, no matter the season.
Still Quiet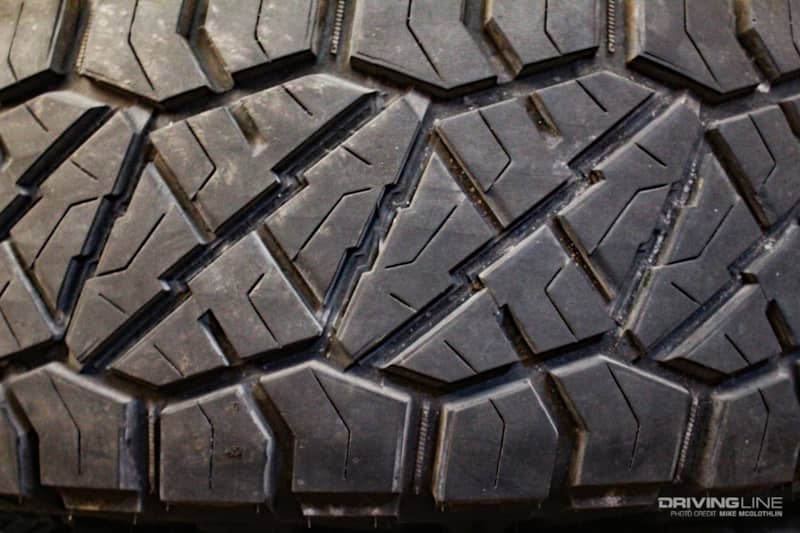 We know we only have a little more than 6,000 miles on the Ridge Grapplers, but we've yet to detect an uptick in road noise, thanks in large part to Nitto's use of variable pitch tread blocks. To date, they remain very audibly tame, even at highway speed. On the fuel economy front, the Ridge Grapplers continue to hold true to their 1-mpg improvement over the truck's previous tires (which were mud terrains).
Softening Up the Ride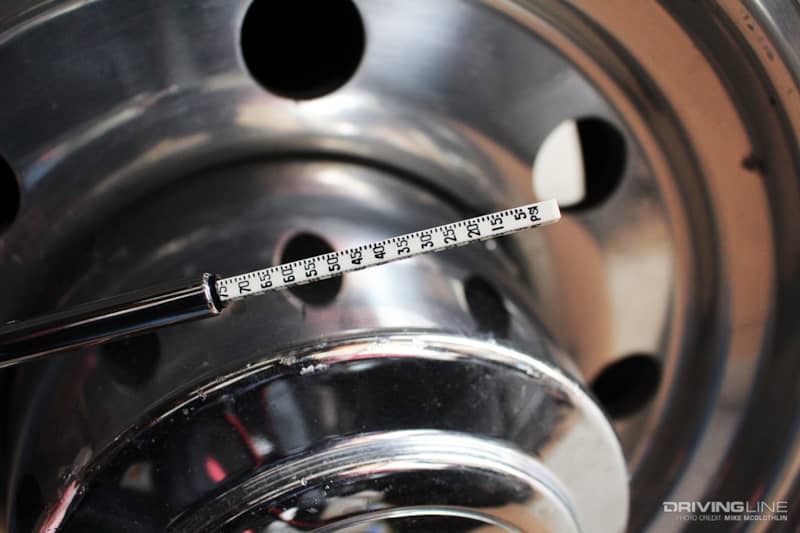 Because our 10,000-pound test trailer didn't necessarily call for us to run the Ridge Grapplers at their maximum inflation of 80-psi, we dropped pressure to 70-psi to see if any improvement in ride comfort came from it. We're in the habit of checking air pressure once a week, but we're also way more into tires than the average truck owner. If you give yours a monthly once-over, you'll be just fine.
Uneventful in the Cockpit—Just the Way We Like It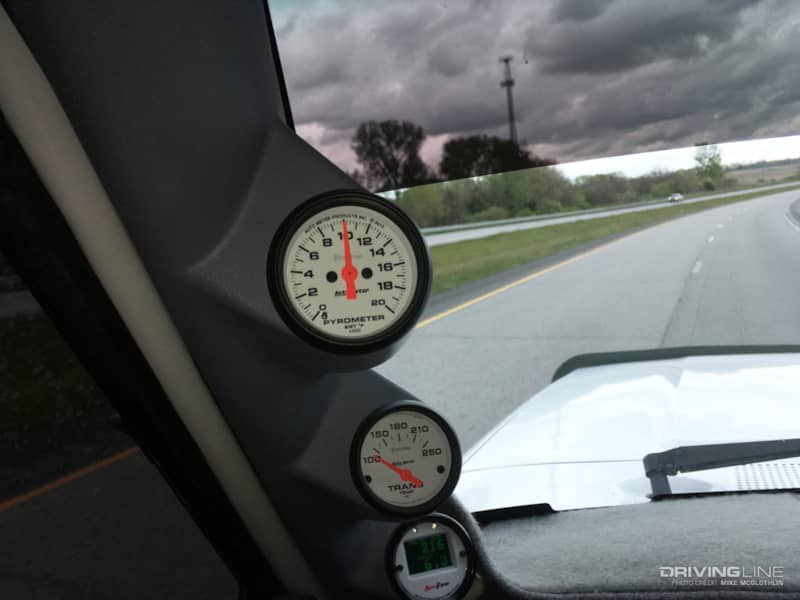 In the cab, the old Ford feels sure-footed with the 10,000-pound wind sail behind us, despite the fact that late spring travel days often come with a fair amount of wind. On the A-pillar-mounted pyrometer, flat-ground exhaust gas temperature (EGT) usually hovers around 1,000 degrees F. Brief peaks of 1,200 degrees are observed on the small grades we encounter, but all things considered most trips are uneventful—a good thing any time you're moving 19,000 pounds down the highway.
No Need For Fuel Stations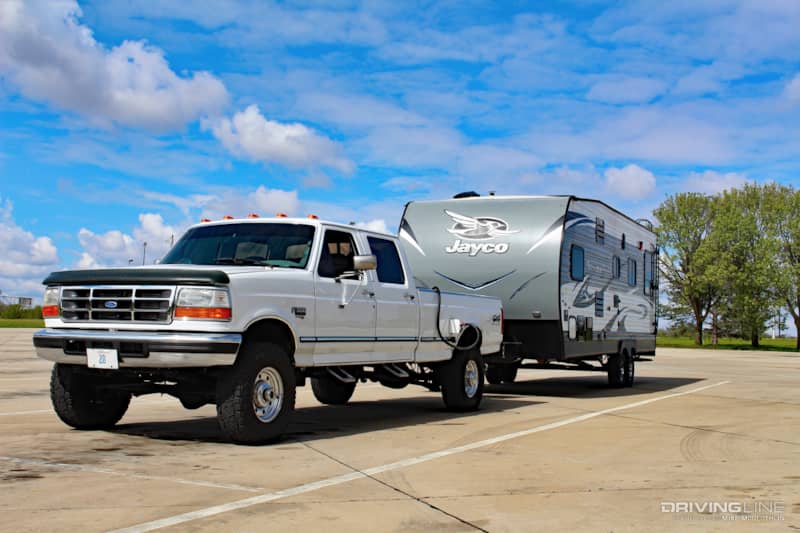 The biggest perk of owning an in-bed toolbox that doubles as an auxiliary fuel tank is that you can refuel when you want to, not necessarily when the fuel gauge says you have to. Our F-350 test mule is equipped with a diamond-plate, 30-gallon fuel tank/toolbox combo from Transfer Flow. Over the course of the past 11 years, its Great Plains Industries fuel pump has performed flawlessly and we've generally been pleased with the system as a whole.
No Need For Rest Stops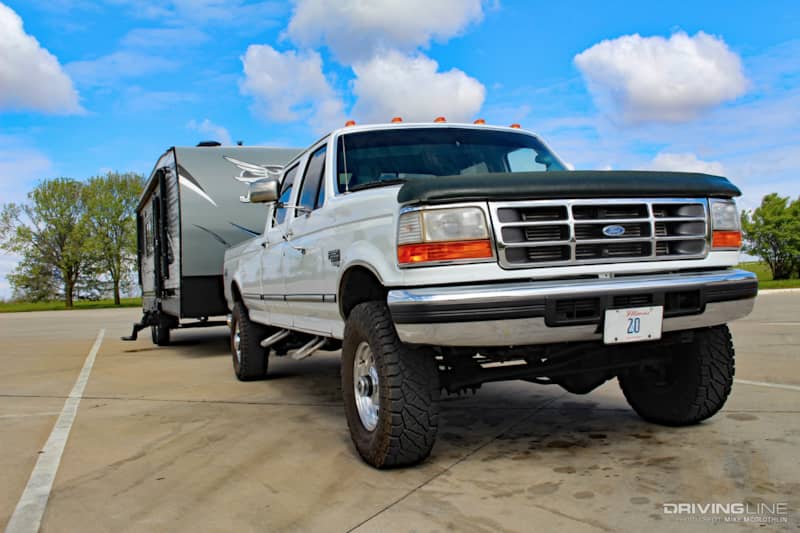 It goes without saying that toting a "fully-active" toy hauler behind you has its perks, too. Because we wanted to tow at the trailer's maximum capacity (10,000 pounds), both fresh water tanks were topped off, which meant the bathroom was open for business throughout the duration of this particular 380-mile road trip. Trust us, in the Covid-19 era this was probably the biggest advantage the test trailer afforded us.
Year-Round Peace of Mind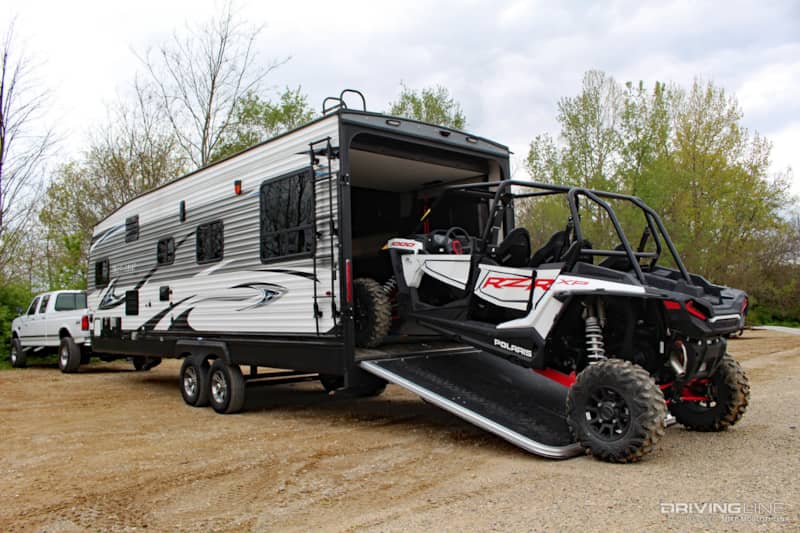 When it was finally time to play, roughly 1,800 pounds worth of cargo was unloaded and put to work in the trails. After getting us through the snow, ice and slush of winter without skipping a beat, we're looking forward to the Ridge Grapplers safely taking us to and from the trail head all summer long.
Curious how the Ridge Grapplers fared at their last checkup? Take a look at Part 3 for our 4,000-mile review.