Life with Ridge Grapplers: Part 3
Over the course of the last year, we've gradually been racking up miles on the 285/75R16 Nitto Ridge Grapplers aboard our F-350 test mule. Despite the truck being out of service for a three-month period while it was receiving a host of performance upgrades (make sure you check out our Project Paw-Paw series to read more on that), we've still managed to put more than 4,000 miles on our hybrid terrains. In fact, prior to the truck going under the knife the miles were slowly but steadily piling up. Since last February, the Ridge Grapplers have seen tow duty, they've shoveled snow and they've even done a little digging in the mud.
Out on the highway, the truck's mileage has gone up 1-mpg when compared to the mud terrains they replaced (hey, when the hand-calculated 15-mpg number your truck usually gets jumps up to 16-mpg, you notice!). Once summer blend diesel fuel returns to the central Illinois filling stations we frequent, we suspect that that 16-mpg figure may increase further. Throughout all of our testing thus far, the Ridge Grappler has held true to its hype: it's quiet, rides smooth and is just as at home off-road as it is on the pavement. For a quick review of how the Ridge Grapplers performed in various environments and a look at current tread wear, check out all the details below.
Tire Specs:
| | |
| --- | --- |
| Size: | LT285/75R16 |
| Inflated Diameter: | 32.83 inches |
| Inflated Width: | 11.26 inches |
| Max Air Pressure: | 80 psi |
| Load Range: | E |
| Load Index: | 126 |
| Carrying Capacity: | 3,750 lbs/tire at 80 psi |
| Factory Tread Depth: | 16.4/32" |
| Current Tread Depth: | 14/32" |
| Miles Tested: | 4,070 |
Effective Self-Cleaners in Mud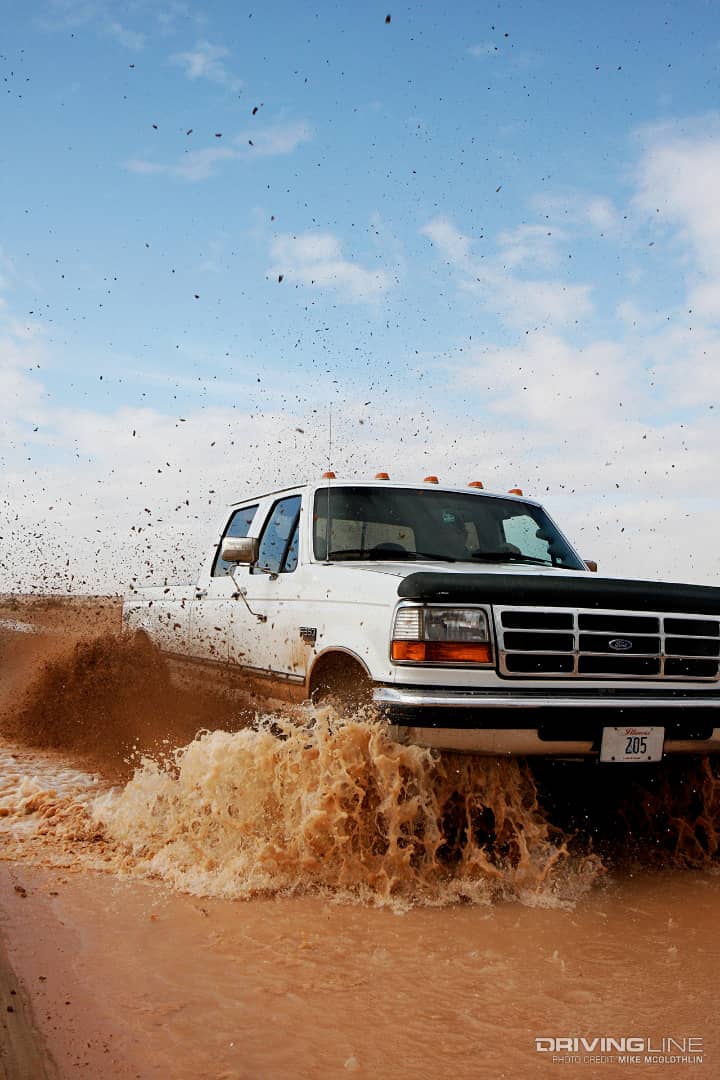 As promised, the Ridge Grappler blurs the line between all-terrain and mud terrain tread patterns. They had no problem dredging through a few sloppy mud holes we encountered (and couldn't leave well enough alone) on a weekend excursion. Not only were the Ridge Grapplers self-cleaning, but they were able to do it sufficiently with minimal wheel speed. Thanks to blasting through the last hole in our path (above), we're still finding mud on the Ford's underbody several months later.
Above Average Performance in Snow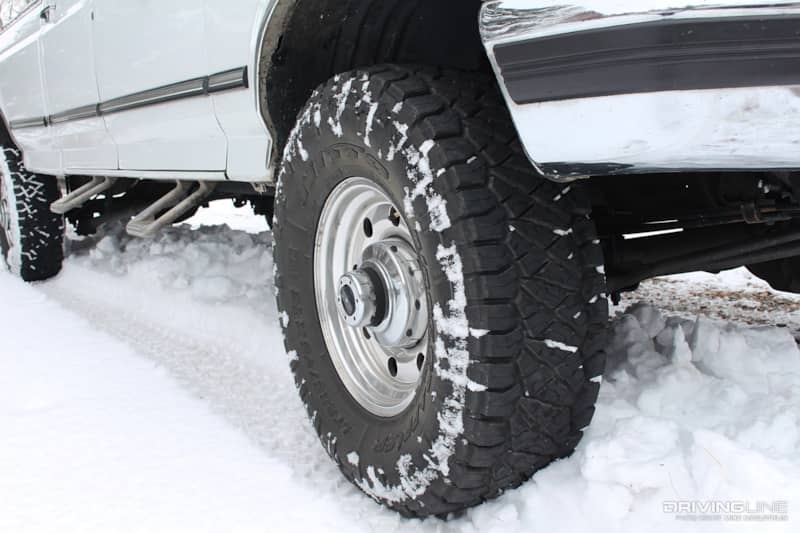 For the second winter in a row, we were glad we went with the Ridge Grappler, as once again it proved its worth in the snow. As you can see in the photo above, the tread channels remained mostly clear when traversing through the white stuff, with more accumulation occurring on the tires aggressive sidewalls than between the tread blocks. Just as we'd experienced a year prior, traction was easy to come by in two-wheel drive. In fact, during this dusting we didn't even call on four-wheel drive.
+1 MPG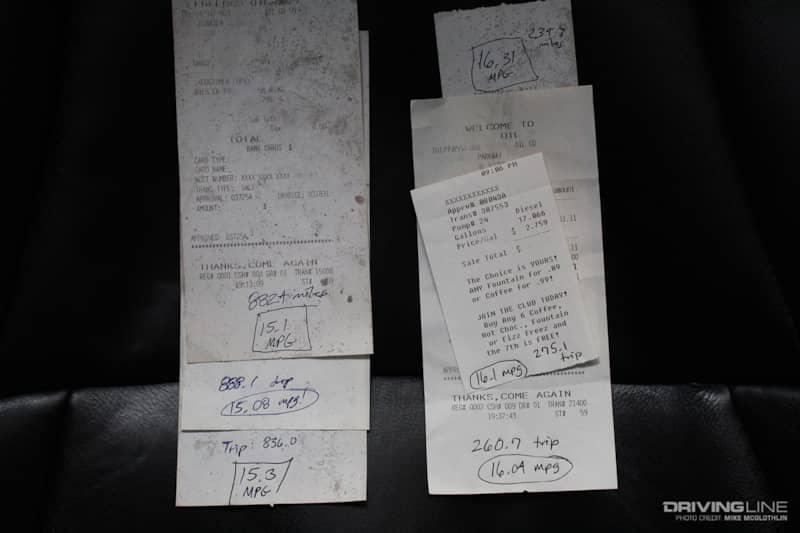 In switching from mud terrains to the Ridge Grapplers, we were hoping for some kind of uptick in fuel economy. Thanks to running the numbers on more than a dozen fill-ups, we've seen something very promising: mileage is up from 15.1-mpg to 16.1-mpg on average. Our best tank to date returned 16.9 mpg during a 1,000-mile road trip to Tennessee. Full disclosure: we're rocking a truck with a 0.71:1 overdrive gear and a 4.10:1 axle ratio, so we see plenty of rpm (and burn plenty of fuel) at highway speed.
Quiet, Comfort and Confident While Towing
Before our test mule went under the knife in late fall, we did a fair amount of towing. The F-350's normal workload entailed pulling a 10,000-pound toy hauler to the weekend getaway spot and the E load range Ridge Grapplers performed flawlessly. The lack of road noise this tire produces, given its relatively aggressive tread pattern, continues to impress us. Nitto's use of what it calls "variable-pitch tread blocks" is the primary reason this is possible.
Rigid, Long-lasting Construction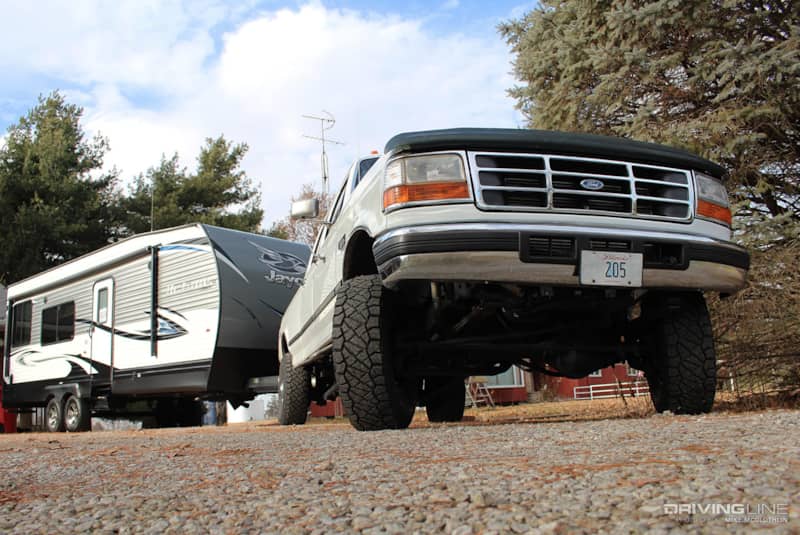 The unique makeup of the Ridge Grappler not only makes it highly capable off-road, but its E load range offering makes it downright overkill for what we use it for. However, when it comes to any vehicle that tows on a regular basis, erring on the side of overkill is always better than the alternative. Rigid tread blocks and a reinforced block foundation help make the Ridge Grappler a high-mile contender thanks to the reduced give or flex the tread blocks allow. Tires are a big investment, especially for a full-size truck, and so far we think the Ridge Grapplers were money well spent.
Checking Tread Wear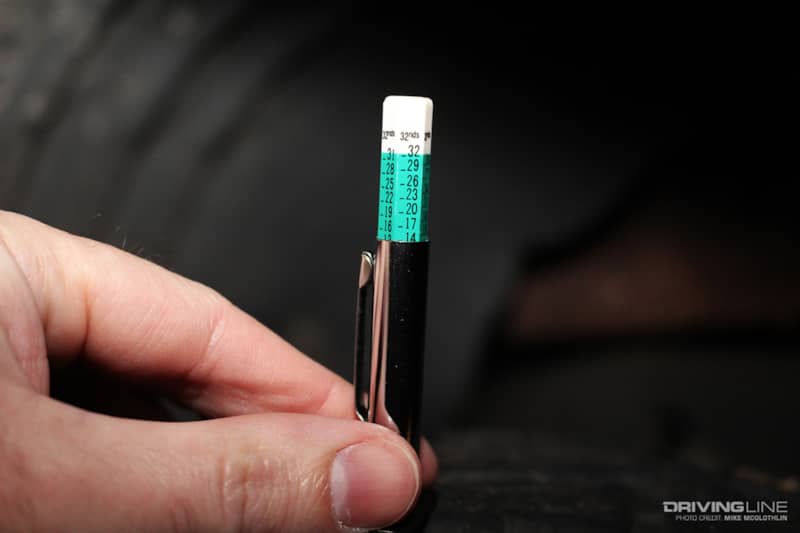 According to our color-coded tread depth gauge, 14/32 inches of tread remains. If you recall, we started with 16.4/32 inches when the tires were new, which is considerably more than most all-terrains feature yet slightly less tread depth than many mud terrains have. While we consider this wear rate to be average, we are happy with the fact that tread wear seems to be pretty uniform across the width of each tire.
First Tire Rotation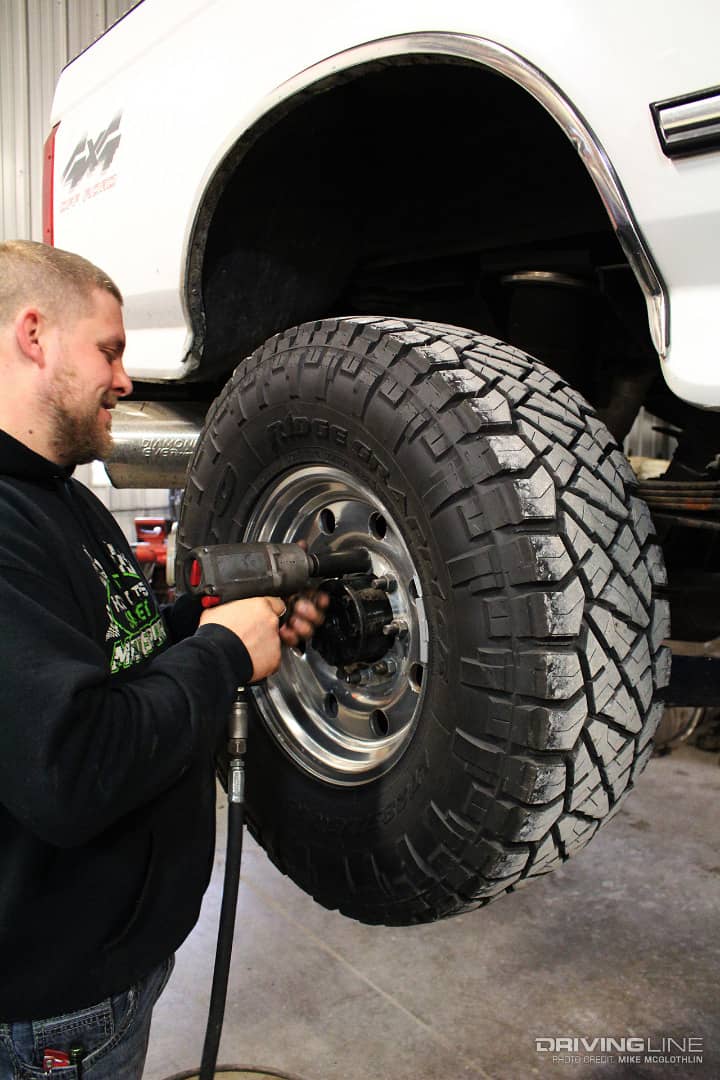 At 4,070 miles we performed our first tire rotation on the Ridge Grapplers, but that wasn't all we did. While the F-350 was receiving a plethora of performance upgrades, we took the time to check on the rear drum brakes. Knowing they hadn't been adjusted in years, we pulled the original pads (yes the original Ford pads!), installed new ones, all-new hardware and promised to adjust them at the specified interval going forward. The fresh rear brakes will give us added peace of mind when the camping/riding season arrives in the spring.
Max Tire Pressure
For maximum load carrying capacity, we keep the Ridge Grapplers pumped up to 80 psi (3,750 pounds/tire). At maximum pressure, there is no noticeable change in ride quality and leaving them alone gives us one less thing to worry about when we hook on to the trailer. With our tread depth measurements confirming that this air pressure isn't hurting the tread's wear pattern, we'll likely leave them at 80 psi for the long-term.
Having a Little Fun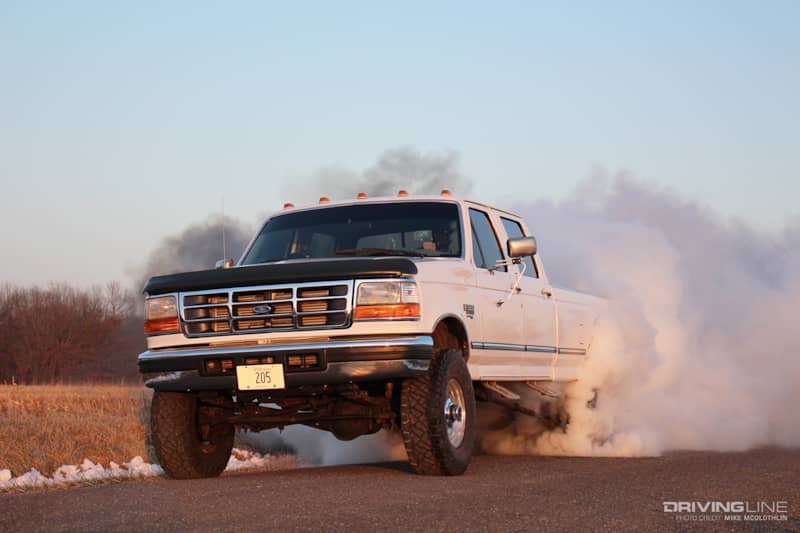 If you've been following our Project Paw-Paw series, you know that the test mule for our Ridge Grapplers has also been the recent recipient of 400 additional horsepower. And being that the truck is powered by a 7.3L Power Stroke diesel, the F-350 is turning out another 800 lb-ft of torque than it did in stock form. While we hated to do it, our last photo shoot called for a nice, smoky burnout, which with the truck making 1,100 lb-ft of torque at 2,500 rpm makes lighting up the rear tires a cinch. Don't worry about future tread depth readings being skewed, we'll only be keeping tabs on the front two tires from here on out…
Curious why the Ridge Grappler is one of the hottest selling tires on the market? Check out the science behind Nitto's hybrid terrain here.