LS-Swapped '97 Nissan 240SX Built for Track Day Action
Matt Snell grew up with classic muscle cars in the driveway of his house. Out of high school, Snell had a '92 Acura Integra with a few of the expected 'hop-up' parts. Like many of us who have motor oil in our veins, he graduated to a Lexus IS350 that was originally intended to be a daily driver, but the twitch to tinker with it got the better of him, and soon he was ordering parts for the car. Snell was introduced to some fellow gearheads who started attending some track days, and decided to attend one. That fateful Saturday would lead to a rabbit hole of track day entry fees, modifications and maintenance.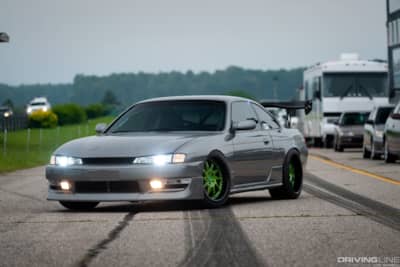 Luxury Car Turned Lapper 
The IS350 quickly became a competitive track vehicle, featuring a Procharger under the hood, a slew of carbon fiber bodywork, and was seen with Snell behind the wheel at Gingerman Raceway in South Haven, Michigan nearly every other weekend for several summers in the early 2010's. Unfortunately, the big luxury car was starting to get expensive to run at the track with the heavy Lexus eating brakes and tires like they were fast food burgers. Snell decided that a lighter, more nimble car that was a bit lighter on the wallet with consumables was probably a better choice. At the time, the Mitsubishi Lancer Evo MR was essentially a factory-built track day racer, but while visiting a dealership to test drive one, he spotted a 1997 Nissan 240SX on the showroom floor that was on consignment. Since this article is featuring said 1997 Nissan 240SX and not a Mitsubishi Lancer EVO MR, we don't need to tell you which car he ended up driving home.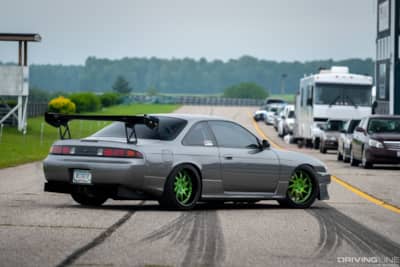 Let's talk LS1
What drew Snell to the car was the fact that the 240SX was already prepped for the track. Under the hood, the vehicle was already converted to a Chevy LS1 V8 engine, while the interior had a full roll cage in it. Snell would find out that local tuner Level 7 Motorsports in Marion, Illinois had been wrenching on the car for awhile, and was familiar with the vehicle. Once Snell found out what he had, he was even more excited. He took the new-to-him Nissan to the track a few times to get used to the car before the Midwest winter set in, and he soon realized that he had a much more capable car on his hands for lapping purposes than any of his previous vehicles. The power delivery and torque of the LS1 was very smooth and predictable, and the suspension design and chassis rigidity of a caged Nissan S14 was just the right balance of flare and fun. When the LS1 engine decided it had lapped the race track enough, Snell started the process of sourcing parts for a bigger and better LS2 engine to replace it.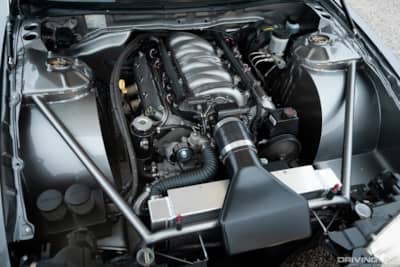 New Engine, New Displacement
From a stock perspective, the 6.0L LS2 displacement is already an improvement over the 5.7L LS1, but Snell wanted to improve that even more. Snell sourced a Brian Crower stroker kit to push the displacement to 6.4L, and since he was already opening up the block, upgraded several other components at the same time. Snell went with 10.5:1 compression CP pistons, used the BC connecting rods and forged crank that came with the stroker kit, a Magic Stick 3 camshaft. Texas Speed hardened pushrods, and PRC dual valvesprings, locks, and retainers to improve the rotating assembly and correlated parts. Snell also had the LS2 heads rebuilt prior to putting them on the block, and had the full engine machined at a local machine shop to ensure maximum reliability and performance.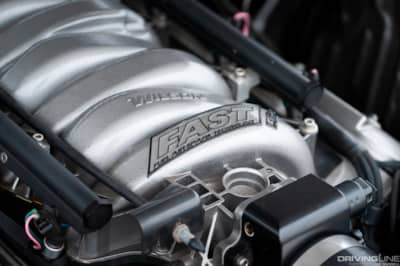 The LS2 was mounted back in the engine bay via the same Level 7 Motorsports motor mount kit that was previously used for the LS1, so at least reinstallation was relatively straight forward. Once the engine was back in the bay, an ACT twin disc clutch was added to transfer power through the T56 transmission, and an aluminum drive shaft transfers the power to a Nissan S15 helical rear differential. Fortunately, the extra attention to detail paid off, as the engine has lasted several years now on that initial engine build, and is estimated to be pushing around 600hp to the wheels.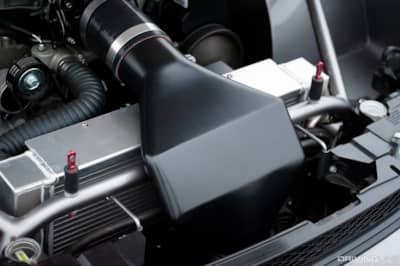 To aid in reliability, Snell improved the oil, cooling, and fuel systems to ensure the LS2 engine had what it needed to run reliably. Up front, a custom Wizard radiator and Level 7 oil cooler helped cool those fluids, along with a custom power steering cooler. Snell added an oil filter relocation kit to help make maintenance easier, and also added a Level 7 motorsports oil breather tank. On the fueling side, the car already had a 10 gallon fuel cell in it, but he upgraded the fueling with a Walbro 135 LPH low pressure lift pump and a Bosch 044 main fuel pump. The fuel runs through a 0.5 gallon swirl tank to remove air bubbles before being pushed through the Fuel Lab fuel pressure regulator and into the fuel rails.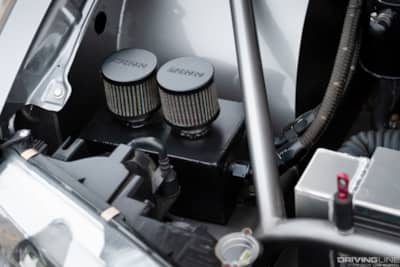 Attention to Suspension
The key to going fast on a race track is often related to the suspension, and this car has a full catalog of adjustable suspension to help keep the car dialed in. Under each shock tower, Stance GR+ coilovers feature a monotube design with 15-way dampening adjustment along with height adjustment to ensure the S14 is handling sway and bumps well. Snell went with Voodoo 13 front tension rods as well as adjustable SPL inner tie rods, outer tie rods, traction rods, and toe rods to get all of the suspension settings exactly where he wanted them.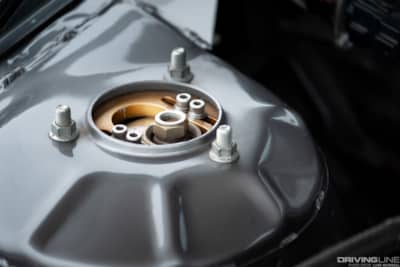 Up front, the lower control arms are boxed in for additional strength, while Powered by Max rear upper control arms introduce a bit more adjustability. The ball joints front and rear are also replaced with Moog ball joints, and a Level 7 Motorsports tension rod brace ties everything together up front. Since the car was shot earlier this year at Gridlife, Snell actually upgraded to a bag-on-coil airbag system, although that isn't shown in these photos.
Keep it Simple
Inside the driver compartment, the car is relatively simple. As mentioned earlier, the rollcage was in the car when he purchased it, as were the Recaro SPG racing buckets. A Nardi 350mm deep corn steering wheel along with an NRG quick release are used for steering inputs, while a Willans harness secures the driver and a Sparco harness secures the passenger. Snell added an ASD hydraulic handbrake with custom hard lines going to the rear calipers and an Alpine double din head unit to listen to music while heading to and from the track, but the rest of the interior is stock, including the stock door cards.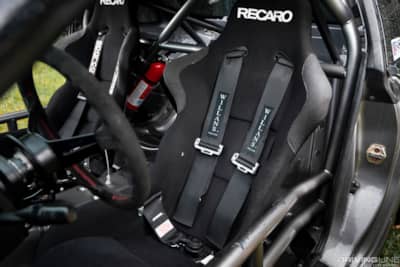 Outside, the car has a few simple upgrades but is largely unchanged. Snell went with a GReddy front lip on a JDM Kouki front bumper along with a slew of JDM Kouki accessories (including the front grille, turn signals, and foglamps), and added Origin rear over fenders, Navan side skirts, and a Navan rear valence to round out the aesthetics.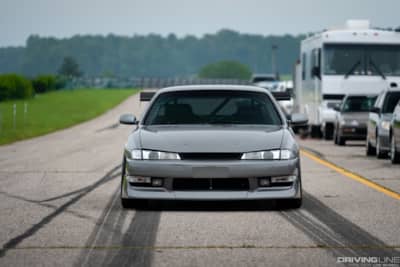 Aerodynamically, an APR GTC 300 rear wing helps with downforce, while a notched rear bumper and custom Level 7 Motorsports rear diffuser help evacuate air under the car. This particular 240SX S14 rolled off the assembly line with a sunroof, but that was replaced at some time with a base model 240SX roof that didn't have the excessive weight and reduced rigidity of a sunroof.
Rolling in Style
The biggest piece of flare that Snell added were the Avant-Garde F221 wheels, which were customized to his specs. Sizing-wise, the wheels run 18x9.5" in front and 18x10.5" in the rear, mated to Nitto Invo 245/40/18 rubber in front and 265/35/18 sizing in the rear. The Nitto Invo ultra high performance tires not only look cool, with their unique tread pattern, but also match his driving style and suspension setup on the track.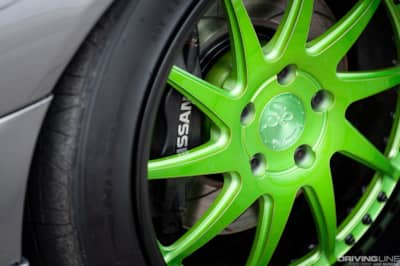 Snell had the lips and barrels powdercoated in a matte black finish, while the centers received a custom retina-burning green hue that is far from subtle.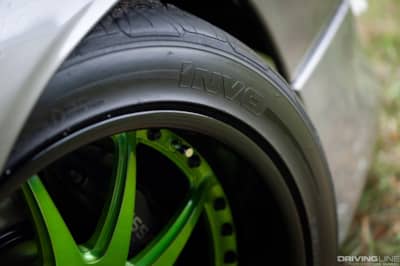 Plenty of Seat Time
Snell has been enjoying the car over the last several years, with most of his time occurring at Gingerman Raceway since it is the closest to him. He also has been getting time in with the local Porsche and BMW clubs, which just shows that track time is available if you know where to find it! While many think of the Nissan S14 as a drift chassis, it is just as capable as a track or Time Attack car.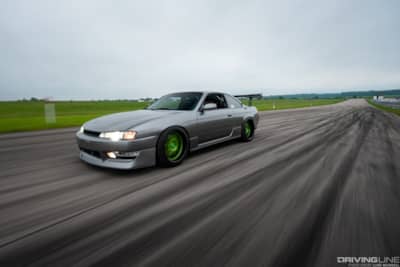 We asked Snell if he might take the car out for a skid soon. "At some point, I hope to get out there and try drifting it a bit. I know Gingerman like the back of my hand and I know there's a lot of runoff room there, so I think that's definitely the right place to do it!" said Snell. If he decides he likes drifting, he says he will probably end up with another chassis as he doesn't want to ruin how clean this one is.
Spec Sheet: Matt Snell's Nissan S14
| | |
| --- | --- |
| Hometown: | Osceola, Indiana |
| Engine: | Chevy LS2 V8; Custom Brain Crower stroker kit, 10:5:1 compression ratio CP pistons, BC connecting rods, BC forged crank, Magic stick 3 camshaft, Rebuilt LS2 heads, Texas Speed & Performance Chromoly hardened pushrods, PRC dual valvesprings, locks, retainers, Oil filter relocation, oil cooler, Custom built Wizard radiator, Level 7 motorsports oil breather tank, custom stainless steel intake pipe, 0.5 gallon fuel swirl tank, 10 gallon fuel cell, Walbro 135 low pressure transfer pump; Bosch 044 main fuel pump, Fuel Lab fuel pressure regulator, custom dual exhaust with Magnaflow piping. |
| Drivetrain: | T56 Transmission; ACT twin disc clutch; Power steering cooler; Level 7 Motorsports engine mount kit;, aluminum driveshaft, S15 helical differential |
| Interior | Recaro SPG seats, Nardi 350mm deep-corn steering wheel, NRG quick-release, Willans harnesses, Rollcage |
| Suspension: | Stance GR+ coilovers, Voodoo 13 front tension rods, Level 7 motorsports tension rod brace, boxed lower control arms, Moog ball joints front and rear, SPL inner tie rods, SPL outer tie rods, SPL traction rods, SPL toe rods, Powered by Max rear upper control arms. Full Airlift bag-on-coil system installed since the feature |
| Brakes: | Mitsubishi Evo 8 calipers Front, Nissan 300zx calipers Rear, 1 1/8" master cylinder, DBA USA 4000 series T3 rotors front & rear, Hawk pads, Russell stainless brake lines front & rear, ASD Hydro E break, custom stainless hardlines |
| Exterior | JDM Kouki front bumper, JDM Kouki grille, JDM Kouki turn signals, JDM Kouki foglamps; GReddy front lip, APR GTc300 wing, Navan side skirts, rear valances, Notched rear bumper cover for custom Level 7 Motorsports rear diffuser, Origin rear overfenders, Base-model 240sx roof installed |
| Wheels/Tires: | Avant-garde (AG) F221 wheels with custom green centers - 18x9.5 (front) 18x10.5 (rear), Nitto Invo Tires - 245/40/18 (front)  265/35/18 (rear) |
| Partners / Thank You's | John Pitch @ Premier Autosports in Indianapolis, IN - Filippo Bumbaca @ Eurasia Import Specialists in Granger, IN - Shaker Inc Machine Shop, Granger, IN |
More From

Driving Line
Wondering what kind of cars you might see at Gridlife besides Snell's S14? Check out the 8 best race cars we saw at Gridlife Midwest 2019!