Driver Battles: Corvette Z06 vs 2JZ-Swapped Nissan 240SX
Peter Hong's Nissan 240SX S13 returns to Chuckwalla with new power and an agenda in this edition of Driver Battles. The last time he was here with us, his wicked fast 240SX got edged out by the fastest track time we've ever recorded at that track for Driver Battles. That's gotta hurt. You run a tremendous day, slay it at the track, and your competitor still edges you out. Well, if you're not going to win the day, at least you got bested by the best ever.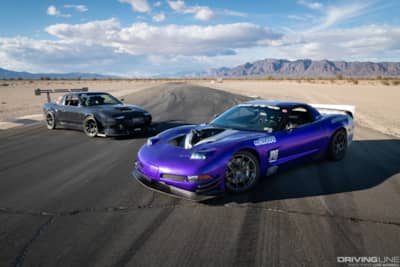 Redemption won't come easily, though. At least, not if Jake Rozelle has anything to say about it, which he does. He and his 2003 Corvette Z06 stepped up to the track this time and neither one of them is a slouch on the asphalt. Jake and Peter both bring lots of experience behind the wheels of their respective rides, which makes this Driver Battle particularly fun as well. One-sided it was not.
Pocket Rocket
Part of the fun comes from the skillsets of two veteran competitors duking it out. Part of it also comes from the fact that both cars are hard-charging power brokers with gobs of muscle.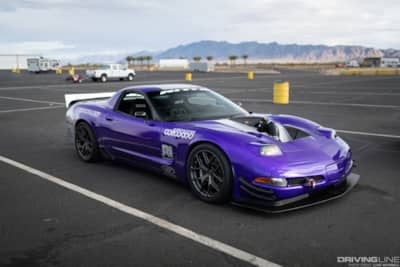 Jake's 2003 Corvette Z06 runs on a Lingenfelter LS7 engine that sends 800 horsepower to its Forgeline wheels and Nitto NT01 315/30ZR18 tires. It runs on Ignite E90 fuel and power gets to those wheels by way of a TR6060 close ratio transmission. With JRI shocks and Wilwood disc brakes managing all of that power, the 'Vette should handle more like a land-based jet fighter than it would otherwise. Jump to the video directly.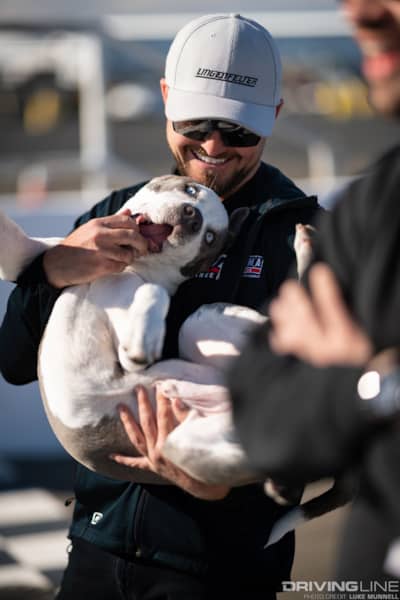 The entire car has been widened by two inches allow for the larger tires, too. Adding to all of that is that Jake's history with his car goes all the way back to his college days, so he's about as familiar with it as it gets without a paternity test. While Jake says he still drives it on the street, it's more for date night and less for grocery shopping.
Rising Up, Back on the Street
Taking all of that into account, then, why in the blue hell would Peter want to pit his Nissan against this kind of beast? When last we saw Peter Hong's 1989 Nissan 240SX S13, he was running a SR20 engine.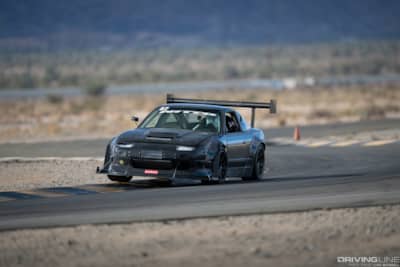 A lot has changed since then, obviously. You can almost hear "Eye of the Tiger" while the shop upgrades the car and Peter knocks out a bunch of crunches with a headband on. But this isn't 1983. Movies and cars change over the years. After taking the SR20 to its limits (and far beyond) too many times, he upgraded to something more reliable for his type of driving. The Supra 2JZ engine he's swapped in also makes 600 ponies and packs a Comp Turbo 6062, a 350Z transmission, and an AEM Infinity ECU.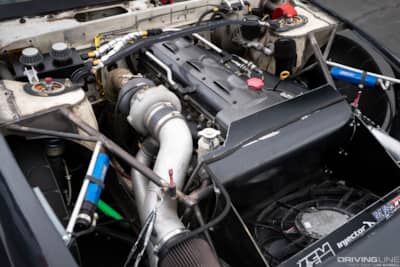 Its Wedsport TC105X wheels run on Nitto NT01 315/30ZR18 tires. The Nissan also sports more aero parts on it than an Area 51 research plane. Like the Corvette, it's also been widened for larger tires. Peter has owned more than a few 240SX models powered by various engines. He comes from a drifting background but he's also been doing time attack racing for over six years as well. It's his first time at Chuckwalla with this particular setup and we couldn't wait to watch it run.
Bring Me a Tire Love
This was Jake's first time on NT01 tires. He noted that they drive more like slicks and less like the conventional street tires to which he's accustomed. "It likes to be driven right to the limit, and stay right there," he said. "You don't want to put a lot of slip into it, you want to stay right there at that limit."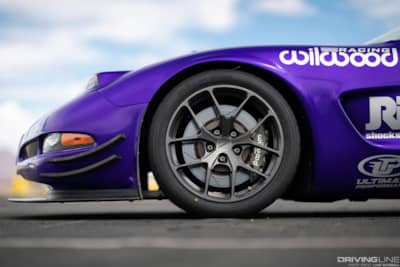 The tires held up great over a full day's punishment, which was to his liking. "The way you're able to get multiple laps out of them is nice." Peter was also amazed by how consistent they were: "I think I was getting a little bit faster as I progressed because the tire just keeps on going. It's either me or the car that gets tired, but the tires held up great."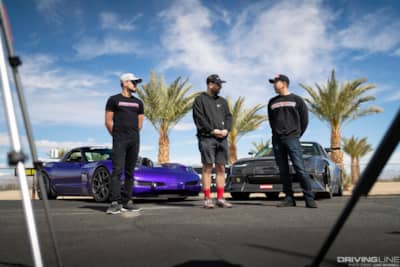 Both drivers knocked down lightning fast track times but if you want to know who beat out who, and set a new Driver Battles record, you'll have to watch the video on our YouTube channel for yourself.