Mobile Media Machine: Humble Beginnings of a Diesel-Powered Off-Road Camper Van
It's 2:45 AM on a chilly April night in Utah backcountry. With the Toyota in tow, my 1996 Ford F-350 Power Stroke and I have been on the road for over 16 hours on a normally 10-hour drive. Thanks to a few mechanical setbacks along the way, including a clutch slave cylinder that unexpectedly failed, I burned 4 hours of daylight doing roadside repairs. I'm exhausted, road-weary, hungry and ready to get a few hours of sleep before beginning my wheeling trip. Except there's one problem: my tent, sleeping bag, pillow, food and warm clothes are packed tightly into a few tote boxes in the the bed of the truck. It was precisely at this moment when I told myself there must be a better way.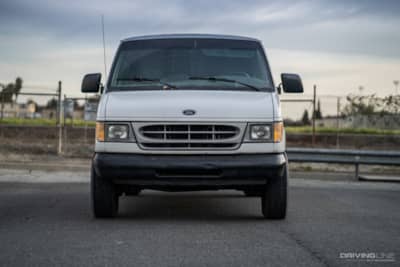 Thus began the search for the perfect off-road camping setup. Beginning with a simple camper shell and an air mattress on the tow truck, then moving up to a truck bed camper with a full kitchen and bathroom, I tried my hand at several different methods of staying comfortable while off the grid. But with each iteration, I found problems I couldn't solve for. Whether the comfort and ease wasn't up to my standards, or the setup was too cumbersome for a long-term solution, I felt I was out of options and was getting ready to settle.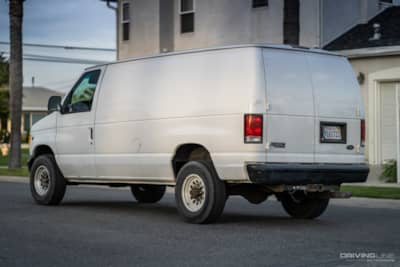 But then one day, I came across an idea that just might be the perfect solution to this problem. I needed a vehicle that could be easily driven around town during the week, but could also tow my Toyota through any terrain, and serve as a comfortable spot to sleep, cook and work out of. Most importantly, it had to be economical and preferably a DIY project. As the Truck Editor for Driving Line, I often found myself working for days on end in remote destinations, editing photos, videos and writing articles such as this one. The plan I was hatching in my mind seemed to solve for each of these problems.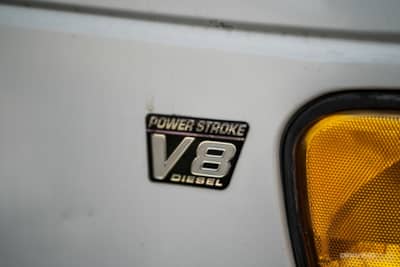 Camper vans are nothing new. People have been converting vans into camp vehicles for decades, with nearly every make and model represented in some form. They come in all shapes and sizes, and some even had enough power to easily tow a 4,000-pound truck behind it on a trailer. Researching this future project was easy thanks to a wealth of information on camper van conversions on the internet.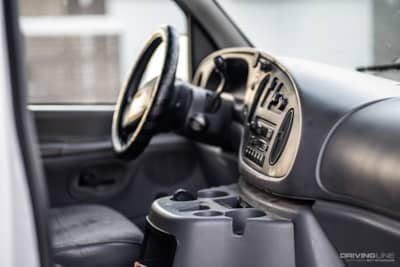 On the Hunt:
I began my search for the right vehicle. My ideal choice was a 1994-2003 Ford E-350 cargo van with a 7.3L Power Stroke diesel engine and standard length body. These vans were hard to find in good shape, as many of them served or are still serving as work or fleet vans for various industries. The reasoning for this particular van was strictly based on my previous experiences with the 7.3L as an incredibly reliable workhorse engine, capable of the abuses of daily driving and towing. Additionally, there are lots of camper van parts available for the Ford Econoline, and the E-350 model comes with a factory full-float rear Dana 60 axle. The standard length body will make it easier to fit in regular parking spaces when driving around town, and the cargo van variant gives me a blank canvas for building it however I want. I finally came across one that looked promising, and was listed just five minutes away from my house. After seeing it in person, going for a test drive, and a little haggling, I eventually drove home with it.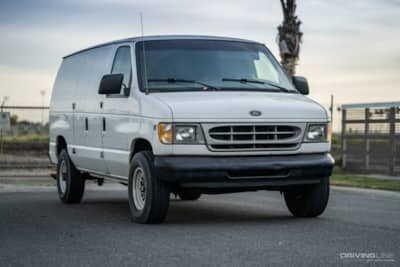 Planning:
This 1999 Ford E-350 Power Stroke cargo van was the perfect blank canvas. It was incredibly clean for its age, with no major body damage or paint defects, and it drove like it was new. Although the mileage was rather high at 302,000, I've owned enough 7.3L Power Strokes to know what to look for in a high mileage specimen, and this one checked out. While other components like the automatic transmission, front suspension and steering were beginning to show their age, I had plans to replace them anyway, so it didn't really bother me. This van was a perfect starting point for my camper conversion.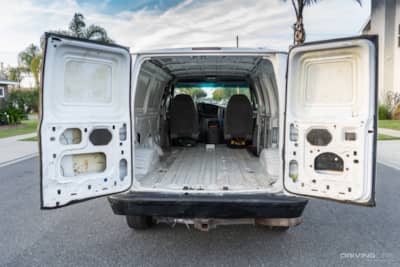 As a visual type person, armed with some photoshop skills I've honed over the years, I quickly mocked up a photoshop rendering of the exterior of the van, showing a possible outcome for the final product. My plans include a 4-wheel drive conversion, swapping the front twin i-beams for a solid axle Dana 60, 35-inch Nitto Ridge Grapplers, 17-inch Icon Alloy wheels, a roof rack, ladder, front and rear plate bumpers with winch mount, full-size spare tire, storage box and LED lighting. I also decided to photoshop in some windows, as my cargo van has none, currently. I also took this opportunity to convert the front clip to a 2008+ Econoline clip, giving the van a bit more of a modern flair.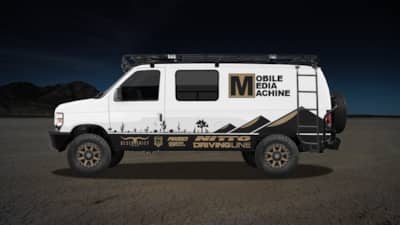 But I couldn't stop with the exterior. My creativity was flowing, and I thought I'd mock up a floor plan for the interior. I quickly took some measurements of the cargo space in the van, and drew a (mostly) to-scale digital version of the van from a top-down perspective. Starting with the most important component, the bed, I carefully laid out the rest of the interior. Needing a place to work from, I opted for an RV-style fold out sofa bed. This allows me to work from the sofa during the day, then later open it into a full-size bed for sleeping. I placed a cabinet for my camera gear, and a mount for my computer to be secured to in transit. I even plan to do a slide-out keyboard and mouse platform. The galley and storage would be installed at the back of the van, where it's easily accessed with the barn doors opened up.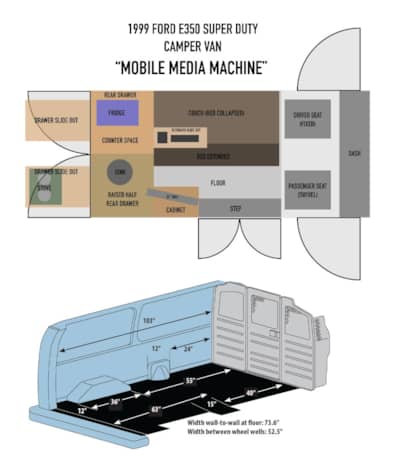 While both of these renderings are just ideas, and the real thing could end up deviating from this plan, I think it's a solid place to start. Having watched hundreds of camper van conversion how-to's and walkthrough videos, I had a solid idea of how I'd like the final design to look, aesthetically.
Next Steps:
Now that the van was mine, and the ideas were on paper, it was time to begin collecting the components necessary to start. I want to get the hard parts installed and out of the way first, while the van is at its lightest. I found a Quigley's 4x4 conversion kit for sale on my local classifieds, and didn't hesitate to pick it up. This kit came with everything needed to convert the van to 4-wheel drive, minus the transfer case and drive shafts. I then found an NP271 transfer case and tail shaft housing for my transmission, and had it delivered to King of the Hammers where I was able to meet with the seller and bring it home. This left the driveshafts, which I will order custom once everything is in place. This kit will allow me to run the wheels and tires I want, and get the van lifted up for plenty of clearance.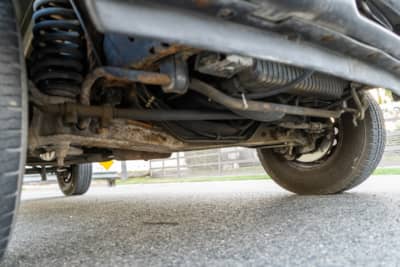 Once the suspension and drivetrain is squared away, I'll focus on some performance needs. The 7.3L Power Stroke was a strong engine back in the day, but severely lacks in power by today's turbo-diesel standards. Luckily, they are conducive to power-adding modifications, and many of the parts that fit the F-series trucks fit the van just as easily. On the short list is a 4-inch turbo-back exhaust system, tuner with custom tunes, a digital gauge readout and eventually an intercooler system to keep the exhaust gas temperatures (EGTs) down while towing.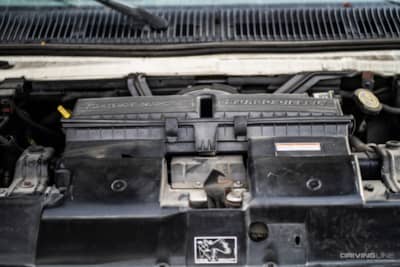 Finally, I'll take on the interior. I figured the best place to start is the windows and roof vents, getting them cut out and installed, then move on to insulating the interior panels from top down. Then the flooring, walls, and ceiling can go in, followed by the bed and furniture. That will give me a solid way to map out the wiring for power outlets, lighting and electronics, as well as a diesel-powered heater. And lastly, the decor and final touches can go in.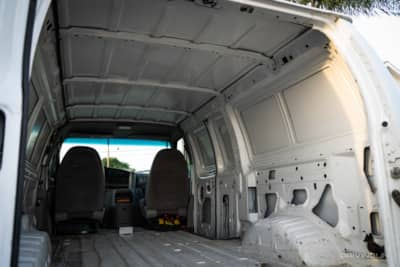 This camper van build is something I'm really looking forward to tackling. Not only will it test my mechanical abilities, having never converted a vehicle to 4-wheel drive, but it will also allow me to open up my creativity to build it into something uniquely my own, inside and out. But that's really what camper vans are all about. They're a self-expression of people in vehicle form, somewhere between a car and a home. I can't wait to gather the final pieces to get started on this project. It's something I've never done before, but I'm confident that it'll exceed my expectations as a mobile office and home away from home.
Want to follow the build process? Check out Matt's vlog Chasing Dust on Driving Line's YouTube Channel!