Modified Diesel Trucks Vs. Sports Cars: The Results Might Surprise You
In recent years, properly equipped, full-size ¾-ton and 1-ton diesels have proven capable of keeping pace with some of the world's quickest sports cars and even super cars. To be sure, these 8,000-pound behemoths are nowhere near stock, but many of them still tow, haul and get driven daily. The same thing can't be said for the cars they show their tailgates to… For what is quite possibly the best example of the kind of damage a late-model diesel can inflict on an exotic sports car we're taking a trip to Plain City, Ohio, where a common-rail Cummins-powered '04.5 Quad Cab Ram, which belongs to Firepunk Diesel's Lavon Miller, is known not only for its neck-and-neck races with Lamborghini's and 1,000hp Teslas, but also its ability to tow a 44-foot enclosed trailer cross-country.
For a milder example, we're pulling our own '97 F-350 out of the shed to show you what it can do against a supercharged fifth-generation Mustang. It's proof that taking advantage of a diesel engine's overbuilt, anvil-like nature can pay big dividends at the drag strip—and can give cars that were intentionally built for speed a run for their money. While none of the above takes into account how diesel technology has infiltrated the no-prep scene or the radial vs. the world events (that's a story for another time), both examples remind us that you should never judge a book by its cover.
Ram Vs. Lambo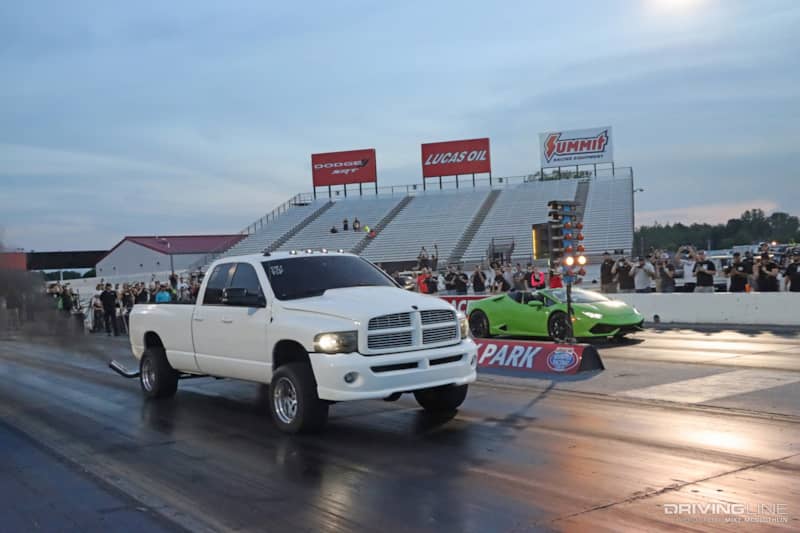 You don't see this every day: a Lamborghini at the drag strip or a 7,700-pound quad cab Dodge Ram beating it to the stripe. But that's exactly what happened. With the help of a compound turbocharged Cummins (the engine being an Enforcer series power plant from D&J Precision Machine) and a competition-ready 48RE transmission, this '04.5 Dodge owned by Firepunk Diesel's Lavon Miller has gone as quick as 9.83 at 140 mph in the quarter-mile. But even when detuned to roughly 1,280 hp—the amount of horsepower that's required to run the eighth-mile 6.70 Index class the truck regularly competes (and wins) in—Lavon's quad cab still covered the 1320 quicker than the Lamborghini Huracan he was up against, going 10.51 at 135 mph to the Lambo's 10.97 at 128 mph.
Detuned To Run 10's And Tow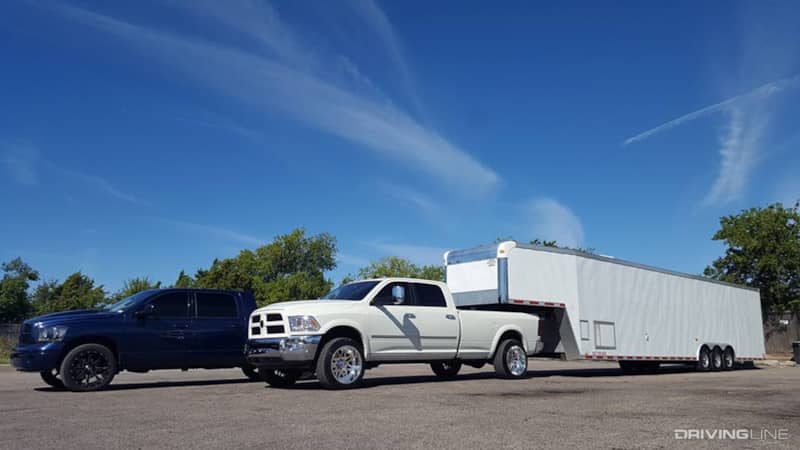 As if a Lamborghini-beating Dodge Ram wasn't enough, Lavon's quad cab is still used for work. In this case, work means hauling Firepunk's record-setting Pro Street Dodge to national diesel events or (in more recent years) towing the team's 3-second Pro Mod diesel S10 to the drag strip by way of this triple-axle, 44-foot-long enclosed trailer. In Lavon's own words, after the truck went 9.83 at 140 mph a line had to be drawn. The quad cab either had to become a dedicated racer or backed down a bit to keep it streetable. He chose the latter, and in doing so made his third-gen Dodge one of the baddest tow-rigs on the planet, but also a truck that unhooks at events and competes in the aforementioned 6.70 Index class (10.50 quarter).
Cummins Vs. Tesla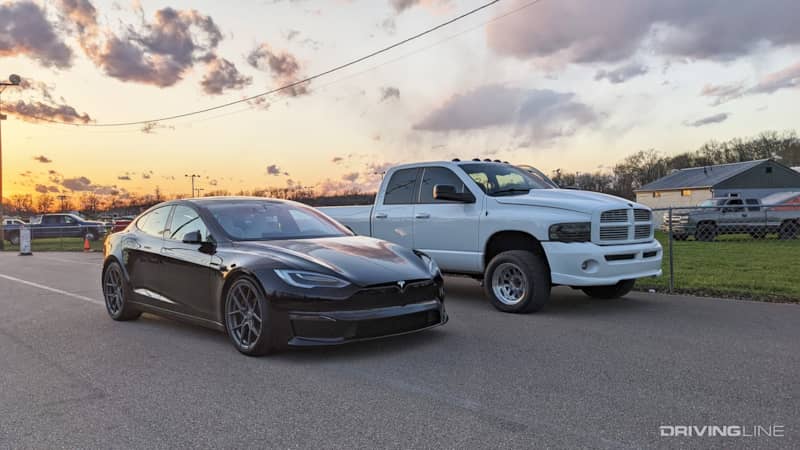 Of course, when good friend James Weaver (who also owns the Lamborghini Huracan the quad cab went up against) got his hands on a Tesla Model S Plaid, Lavon had to see how the Dodge stacked up. For those in the know within the diesel world, the 9-second-capable third-gen Cummins had a chance. For those who know that the "Plaidy" is the quickest factory EV in existence, it seemed like the Tesla held the edge. Either way, it was an unlikely, EV vs. diesel drag race that needed to happen—and finally did at Kil-Kare Dragway in Xenia, Ohio.
4x4 Vs. AWD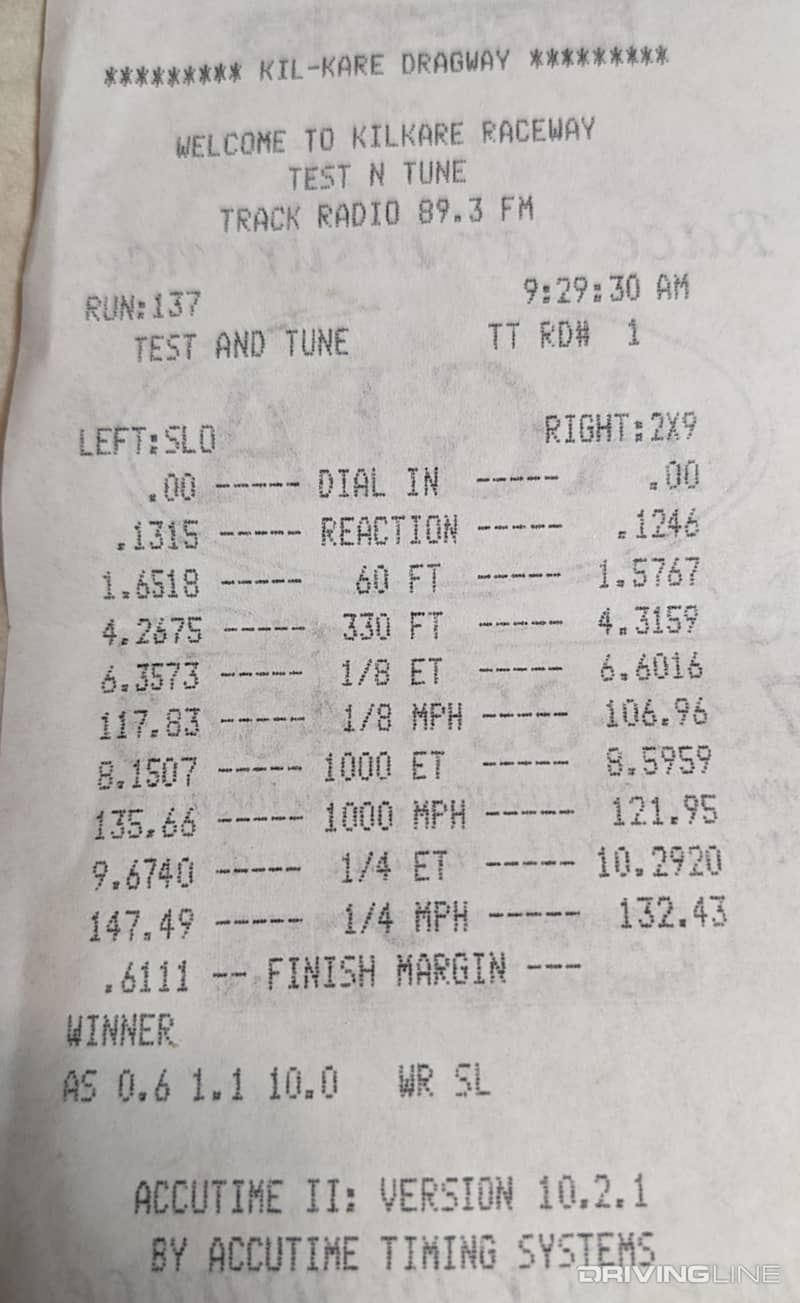 In 6.70 Index trim, Lavon's quad cab Ram went 10.29 to the Tesla's 9.67. Surprisingly, the Cummins had the superior 60-foot (1.57 seconds vs. 1.65), which at nearly 8,000 pounds (vs. the Tesla's 4,900 pounds) is quite impressive. However, by the 330-foot mark the hefty Cummins was no longer out front. We think with the 9.83 tune-up, a little weight shaving (the Dodge still sports A/C and a full interior) there may have been a different outcome. To date, and to our knowledge, a rematch has not taken place.
Playing With Pony Cars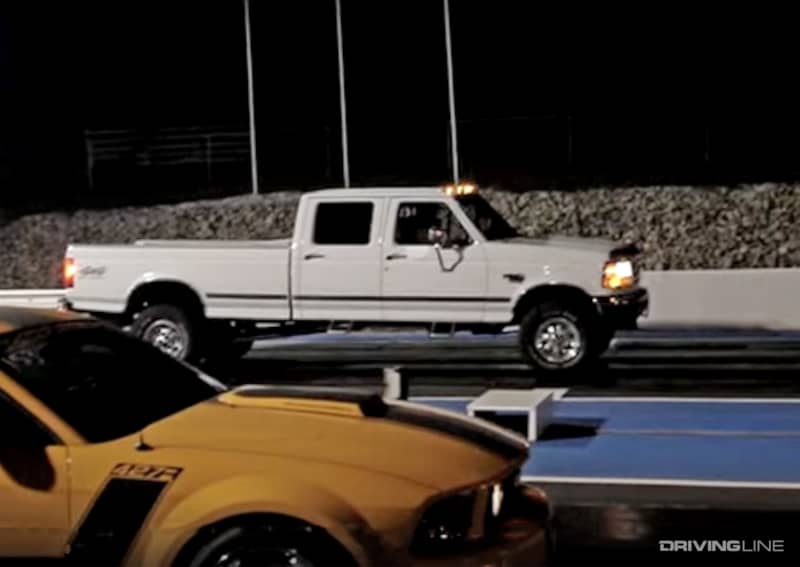 It's no 9 or 10-second quarter-mile jaw-dropper, but trust us, plenty of attention has been achieved over the years by stopping in at the local test-n-tune with our OBS Ford, a stock-appearing (and stock bottom-end 7.3L Power Stroke) F-350 packing nearly 600 hp. On this particular Friday night out, we were paired with a Roush 427R Mustang at Central Illinois Dragway, an eighth-mile track in Havana, Illinois. And yes, this picture was taken with a real, live potato (unfortunately yours truly was in the driver's seat and unable to obtain his own still shot). The race went well for us, with the old Ford (and its driver) getting the jump and leading the contest from wire-to-wire.
It's All In the Dig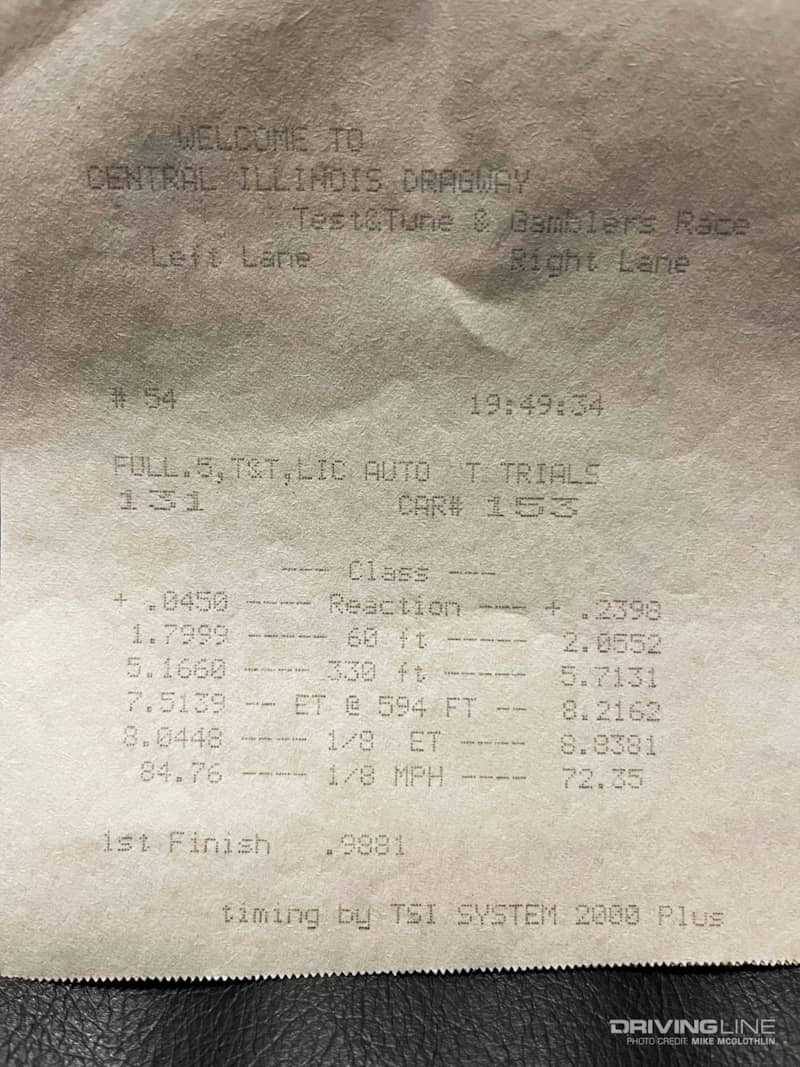 Leaving the line in four-wheel drive (Hi) with boost on tap is a huge advantage for a diesel, and is the reason why 7,000 and 8,000-pound trucks can cut 1.7-second 60-foots. Up against the Mustang, we launched with 8 to 10-psi of boost on tap and with torque converter lockup occurring on the E4OD automatic's first shift. Here, you can see on paper that the race was won on the tree, but also that the Mustang never really had a chance of catching up. And while the crew cab F-350 would go 8.04 at 84 mph on this pass, earlier in the evening we were able to string together a few 8.0s, including an 8.00-second eighth-mile (the truck's best to date).
An Addiction That Never Ends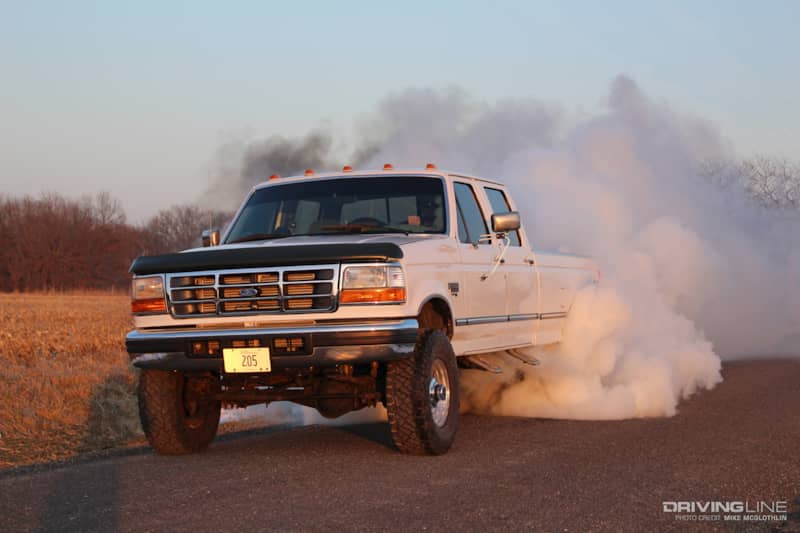 The rush of taking a diesel tow-rig to the drag strip and scoring wins against respectably fast cars is hard to explain—but it's addicting and is also a big reason why diesel performance caught on so hard. The idea of owning a vehicle that can haul and tow anything you need it to, that has four-wheel drive, that can travel 600 miles or more on a tank of fuel and that can become a Mustang, Corvette or even a Lamborghini killer on the weekend—all while remaining 100-percent reliable—can only be realized in the form of a diesel-powered truck.
More From

Driving Line
So what happens when diesels surrender all streetability and are purpose-built to go fast? Look no further than the first oil-burner to turn in a 3-second eighth-mile, right here.