The 3200hp 3-Second Diesel Door-Slammer Drag Strip Destroyer: Inside Firepunk's Record-Setting, Cummins-Powered S10
You're looking at Firepunk Diesel's Cummins-powered Pro Mod S10: the quickest diesel door slammer in the world. In fact, it's the quickest diesel-powered anything if you're talking eighth-mile racing—even faster than the lightweight, multi-turbo, 3,000hp dragsters that exist in diesel motorsports. And, it is the only diesel-propelled vehicle to have covered the '660 in less than 4 seconds—a climactic, 3.99-second moment that won't soon be forgotten.
No strangers to setting records, the guys at Firepunk were the first to send a Pro Street diesel truck (roughly 4,900 pounds) through the quarter-mile in the 7's, the first Pro Street competitors to dip into the 4's in the eighth-mile and remain one of only a handful of race teams that've put a diesel in the 6's—this truck having gone 6.94 at 202 mph back in 2018. Throughout all of the above feats, they were almost single-handedly forcing new chassis certification rules to be written. For the past three years their S10 has broken its own elapsed time and trap speed records countless times on its march through the 4's.
With two diesel dragsters seemingly on the verge of dipping into 3-second territory and Firepunk's S10 collecting a 4.11-second timeslip last fall, it was only a matter of time before someone broke into the 3's. Back in February, the Plain City, Ohio-based crew loaded up and headed to South Georgia Motorsports Park for Lights Out 12. There, not only would they familiarize themselves with a radial tire setup, but overcome various obstacles (large and small) in their quest for 3's. This is part of their story from that long, history-making week.
The Pro Mod Profile
Firepunk's fiberglass body '02 Chevrolet S10 Pro Mod sports a chromoly chassis, double frame rail, four-link suspension with Menscer Motorsports struts and shocks, a Rossler Transmissions Turbo 400 and a Mark Williams Enterprises 11.5-inch rear end. The Rossler TH400 houses a bolt-together (re-stallable) lockup converter from Neal Chance Racing Converters, and specifically the company's new billet-aluminum unit, which is 12 pounds lighter than the previous steel version. The 3,090-pound S10 is driven by Firepunk's Larson Miller, who also happens to be a lights-out bracket and index racer. In March of 2020, Hot Shot's Secret—a brand heavily committed to diesel drag racing—became the title sponsor for the truck.
Horsepower Vs. Traction: A Fine Balancing Act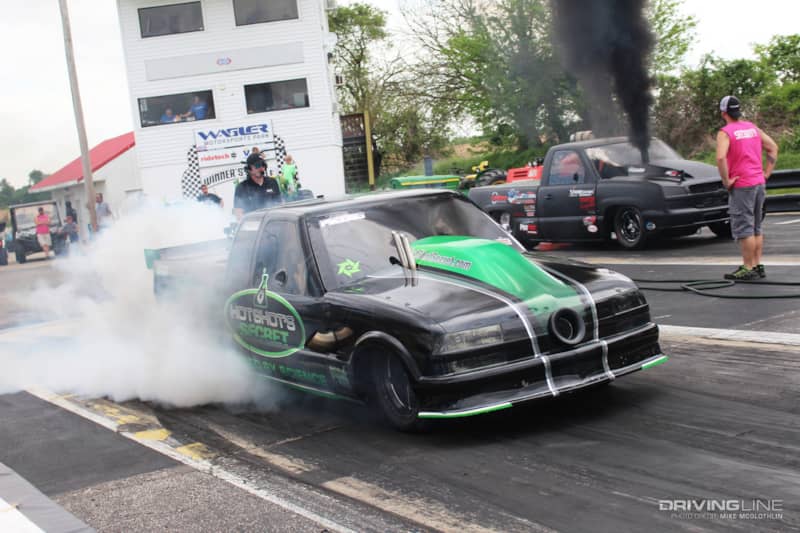 Most people would be amazed with how many variables come into play while trying to get a 3,200hp vehicle down the track, and the first 60-feet alone are very interesting. There is a fine line between applying as much power as possible on the start and maintaining traction while doing it. At the Lights Out race, "we were leaving the line around 1,400 hp," Firepunk's Lavon Miller told us. "We have time-based fueling, so we can build our power ramp as precisely as needed." That's the beauty of campaigning an electronically controlled, common-rail diesel engine—the combination being used in most diesel Pro Mods these days. As for how quick power ramps up following the launch, we'll let the team's G-meter data do the talking.
Driving Line (DL): 1.05 and 1.04 60-foots… What does the G-meter tell you guys on a launch like that?
Lavon Miller (LM): We're pulling 2.2 G's on our initial move and then we drive into 3.3 G's at 0.8 seconds. Then at 2.2 seconds it's still at 2.7 G's.
Enjoy more of our dialogue with Lavon throughout the rest of this article.
One Wicked Cummins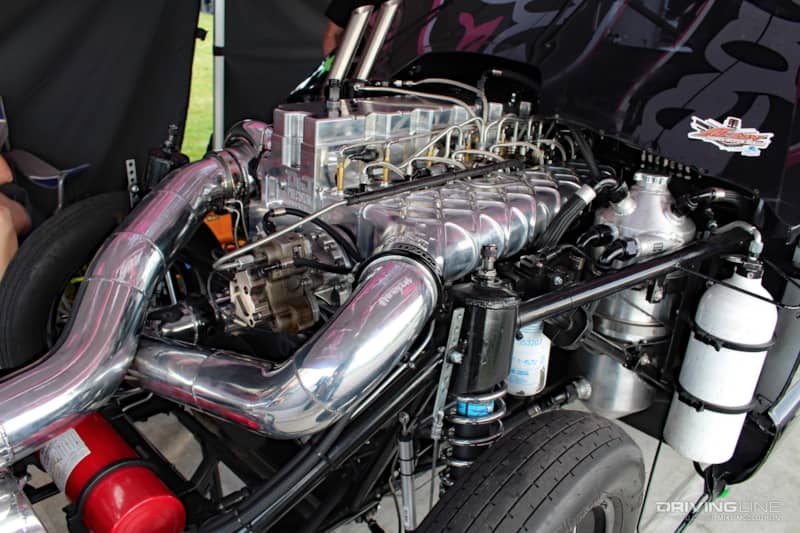 This is the I-6 Cummins power plant that not only allows more than 3,200 hp to be made, but produces it in ultra-reliable fashion. Designed, manufactured and assembled in-house at D&J Precision Machine, it features a lightweight billet-aluminum block and 24-valve cylinder head, but also incorporates a steel bed-plate that boasts six studs per main. The rotating assembly consists of a billet-aluminum crankshaft from Winberg and D&J's own X-beam connecting rods and forged-steel ring land pistons, while a roller cam drives the valvetrain. The cutting-edge cylinder head is where things get real interesting. Machined from billet-aluminum, it makes use of 12 exhaust ports, one port per valve, which yielded an additional 100 cfm in exhaust flow over other, single port head designs. Dual 14mm CP3 high-pressure fuel pumps from Exergy Performance supply diesel to six massive injectors and Exergy fine-tunes the stand-alone Bosch ECM. Fittingly named Executioner, the one-of-a-kind common-rail Cummins has spent much of its time killing the competition thus far.
Single Turbo & Nitrous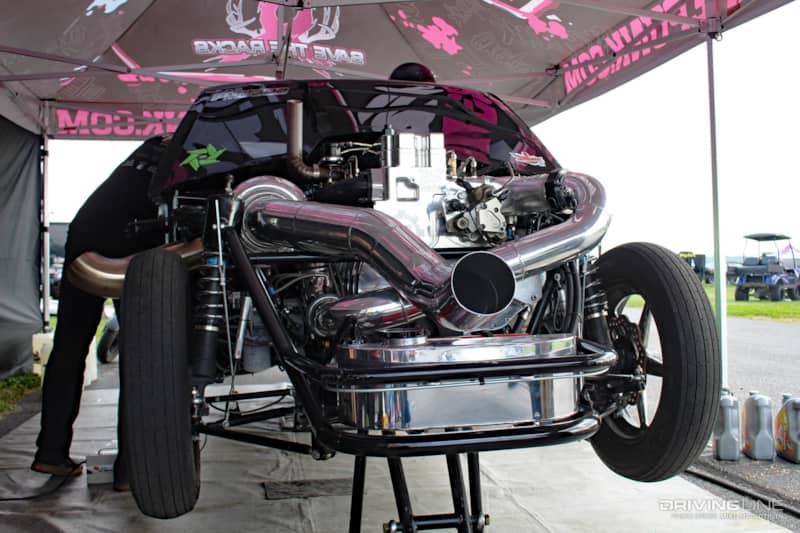 As much of the diesel industry has learned, nitrous oxide is a great friend. In Firepunk's case, nitrous is not only used to add horsepower, but by being able to efficiently cool intake temps and EGT it rules out the need to run an intercooler. N2O is also responsible in helping bring the single Garrett GT55 turbo to life during staging (via a spool jet). On top of a non-intercooled, single turbo application being considerably lighter than the intercooled, compound turbo setups from yesteryear, the single turbo/nitrous combination is easier on the engine. With all systems go and the truck under peak load, 125 psi of boost is squeezed out of Firepunk's GT55.
Busy In The Pits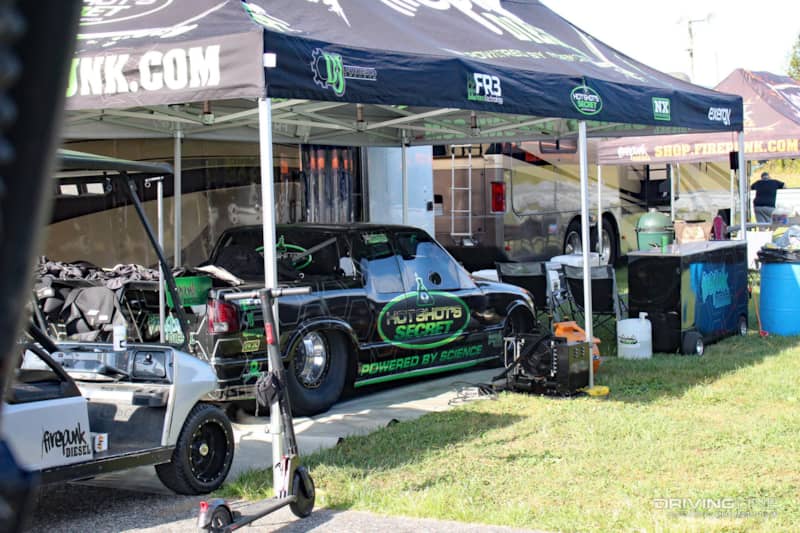 Trust us, the photo above is a rare shot of the S10 being left unattended. Even on a regular race weekend, Firepunk's Pro Mod pit is a hive of activity, especially between rounds. As for the wild weekend down in Georgia, multiple things were being tweaked between passes, with most changes either stemming from issues encountered or data collected from the run. When we asked Lavon about the specific changes made right before the record-setting pass, he had this to say.
DL: Shift points and fuel quantity seemed to be the biggest changes going into that record-setting pass, but did any other notable changes play a role in the 3.99?
LM: For every pass there were changes, but yes, adding pulse width modulation to [converter] lockup to draw rpm down without going into wheel stand was one thing. Another was adjusting our wheelie control to trim fuel smoothly so it can actually control power if our wheelie angle went over 1-degree. It just takes data to find those sweet spots.
Slicks Vs. Radials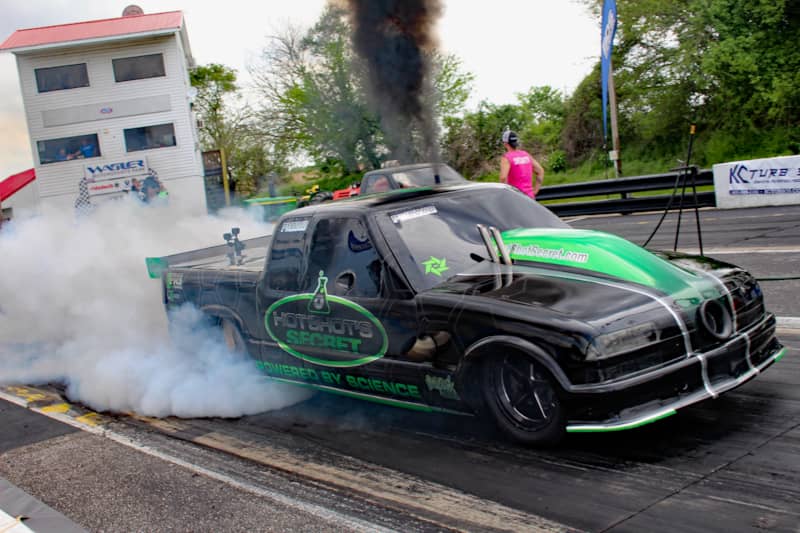 Another impressive aspect in all of this is that Firepunk's previous records were established on big tires, not radials. With radials obviously under the truck at Lights Out 12, a totally different strategy had to be employed to get down the track.
DL: Was there a learning curve associated with running radials and what was your biggest takeaway from indulging in this type of racing versus the big tire stuff you guys are used to?
LM: With a small tire, its 100-percent stuck all the time or it spins and the run is aborted, so on the small tire you hit the tire and accelerate it as fast as you can without spinning. When a radial spins it's basically on ice (loses all traction and won't shake) where a big tire continues to grab and release. Both tires require finesse and a perfect tune-up to get down the track, but two very very different strategies.
Frame It!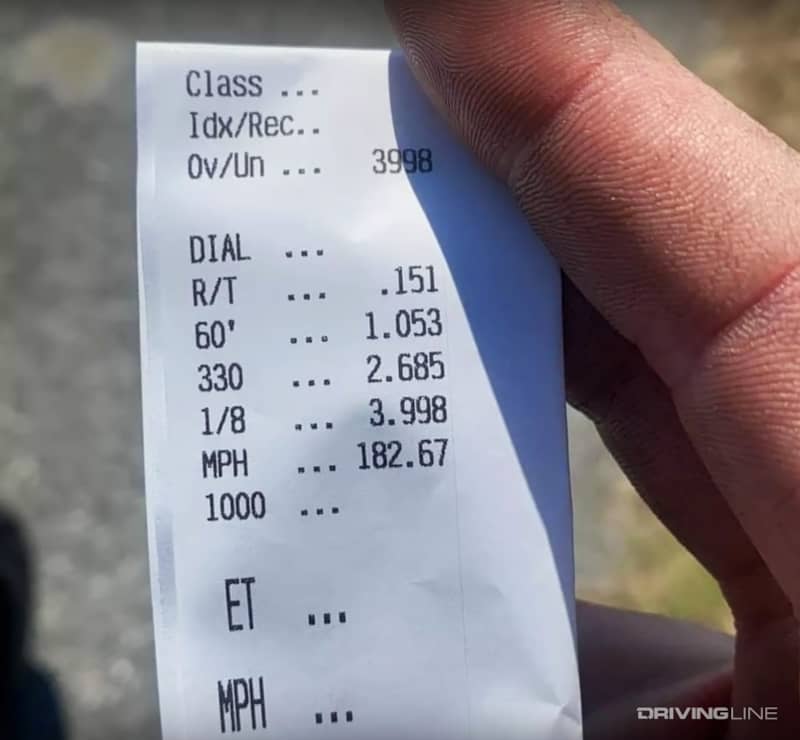 The timeslip diesel race teams and fans have been waiting for: concrete proof of the first ever 3-second pass. Leaving perfectly off the limiter, the S10 rocketed out to a 1.053-second 60-foot before passing through the '330 mark in just 2.685 seconds. With all 3,200 hp online on the back-half of the track, it crossed the stripe in 3.998 seconds at 182 mph. And get this: on this pass they ran into an rpm cut-out problem at 5,900 rpm, which occurred at the 3.7-second mark. Lavon tells us that they've yet to pinpoint the source of the issue, but we'll go ahead and tell you now that once it's fixed more mph will be on the table. And, if one of their 1.04-second 60-foots can be combined with more down-track rpm, look for them to start creeping deeper into the 3.90s along with seeing 185-mph trap speeds.
Constant Analysis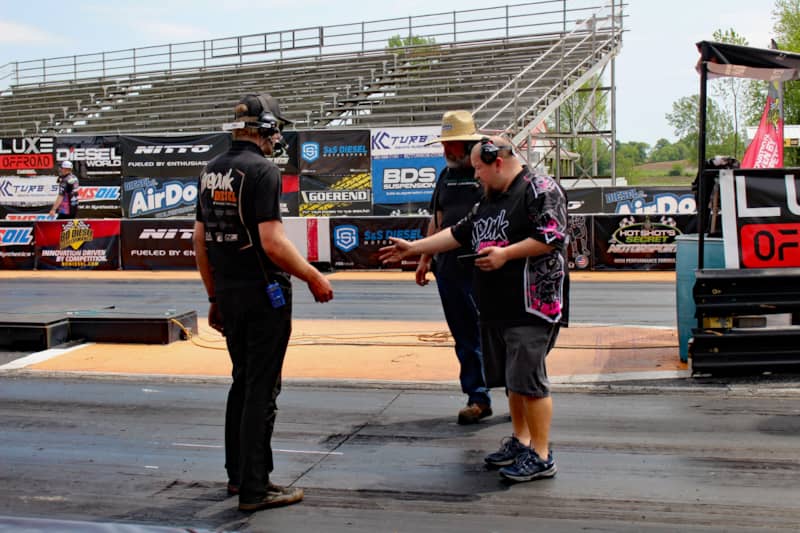 Not only is every pass analyzed thanks to the truck's data logger (as well as each run being video recorded), but the team's chassis experts watch each hit from the starting line. Here, Firepunk's Lyn Miller and Cody Fisher inspect the track following an aborted pass where the S10 lost traction shortly after the launch. While a boatload of factors play into the launch, we're told the Pro Mod is happiest when tire temperature is in the 110 to 115-degree range. On the truck's best 60-foot to date, a breakneck 1.048, the radials were 109 degrees. As for that pass…only one nitrous bottle was opened and pressure fell off to roughly 500-psi. But even without nitrous in the equation the S10 still managed an ET of 4.007 seconds.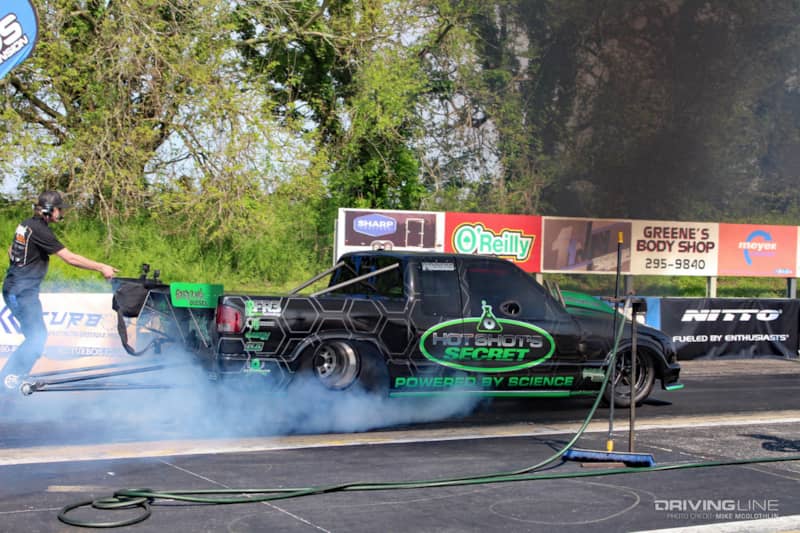 More From

Driving Line
When Firepunk's Pro Mod put up a 6-second quarter-mile, it joined some pretty elite company. You can read all about that right here.