Mustang vs. Corvette: Can a Cobra Have More Bite Than a Stingray?
Ali vs. Frazier, Coke vs. Pepsi, Android vs. iPhone, Batman v Superman. There have been many rivalries over the generations, but there's one in particular that really gets people's engines going: Corvette vs. Mustang. As icons in the American automotive world, these two have been battling it out for the title of best American sports car since their classic car days. While each has their pros and cons, there's no denying that they are both amazing cars to let loose on the open roads and especially on the track.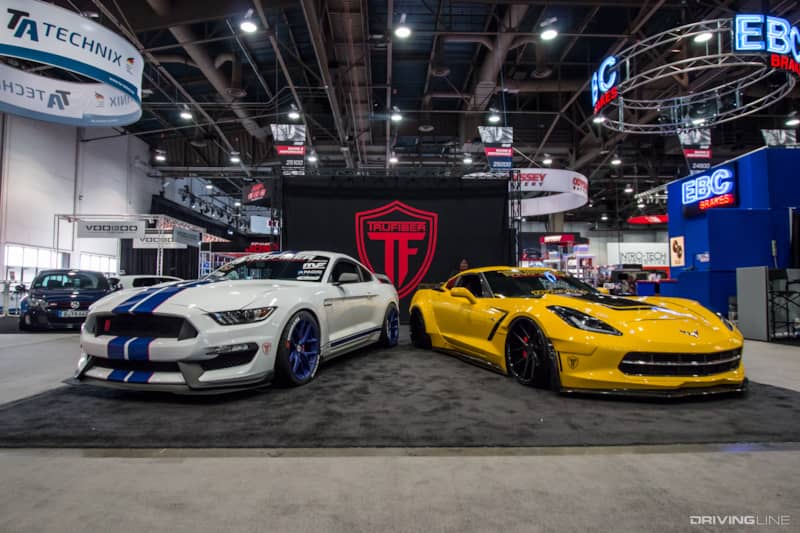 At SEMA Show 2016, these two were in a more stable setting. Trufiber USA was able to get these two superstars to play nice for a week and outfitted both of them with their best, new custom modifications. Let's take a look at the physiques of these two modern day American muscles.
Stung by a Stingray
The body lines are as sharp as a stingray's stinger, but if we're being honest here, the 'Vette (as the kids call it) might resemble a missile more than anything. Between the two, the Corvette Stingray has become one of the top track vehicles through its generations.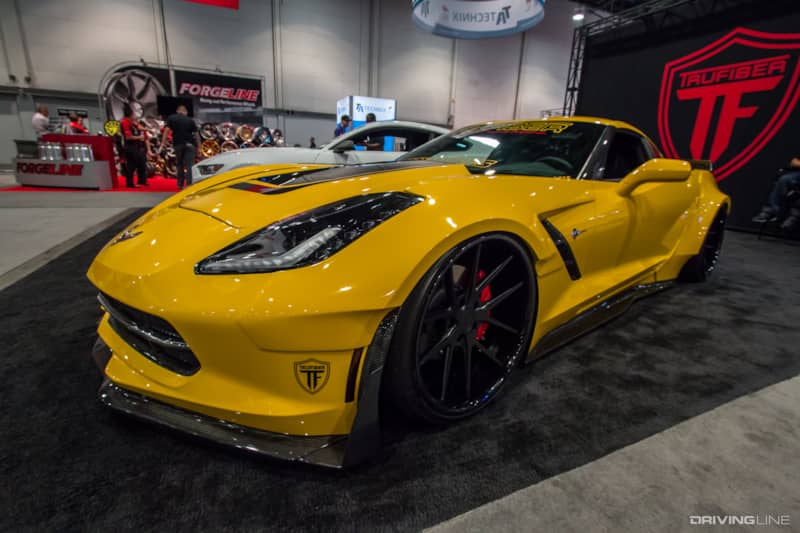 While it probably can't compete in the eye-candy awards against exotic cars like, say, a Lamborghini, it has definitely been known to hold its own against one on the track.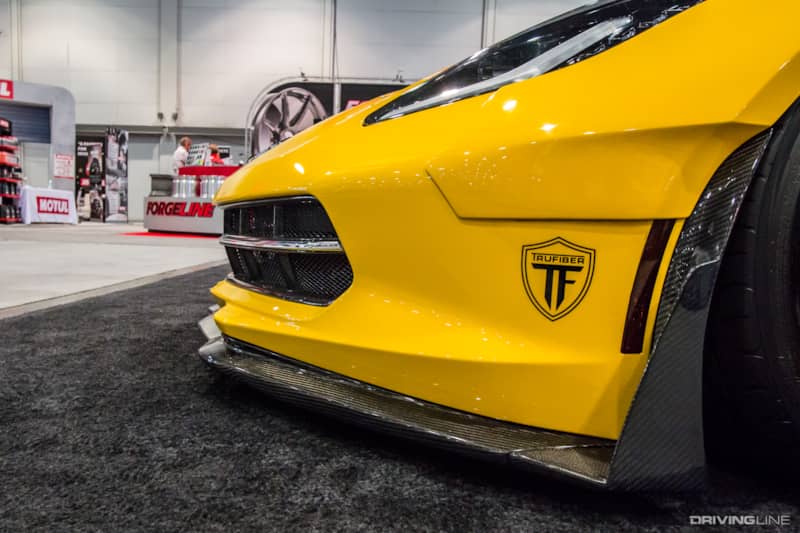 To help in the looks department, Trufiber stepped in to add a little more sting to this Stingray. Originally debuted at last year's SEMA Show, they have refreshed the look with updated wide body fender flares and their trademark, perfectly fitting carbon fiber details, both around the car as well as under the hood. As if this sleek track missile needed to be any lower, it has an Air Ride Equipment suspension kit, which makes it the first C7 on air ride, to give it that perfect stance for any situation.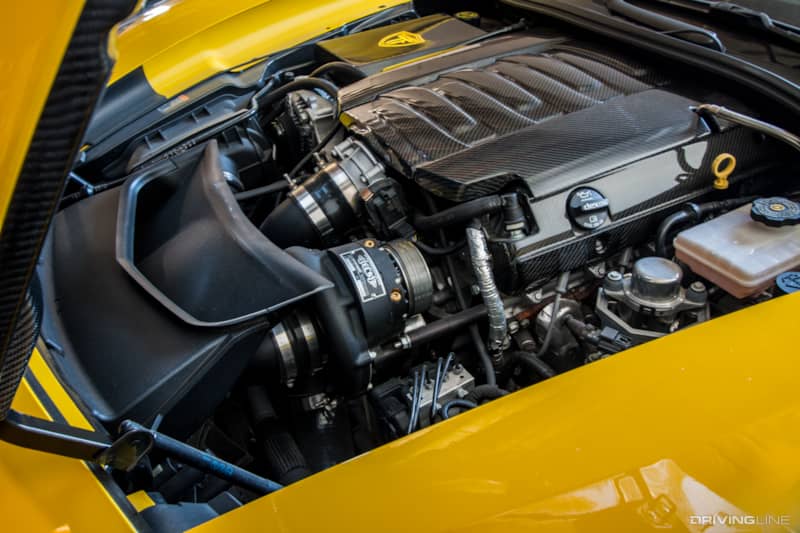 Bitten by a Cobra
While the Mustang might not have the track star status that the Corvette possesses, it does uphold a legacy that is impossible to go unnoticed. Prototyped and designed for speed from the get-go, the Mustang has also been able to maintain its distinct character and allure over the generations. So what's an icon got to do prove that it's reached another level? Does a Cobra-badged Shelby GT350R do the trick?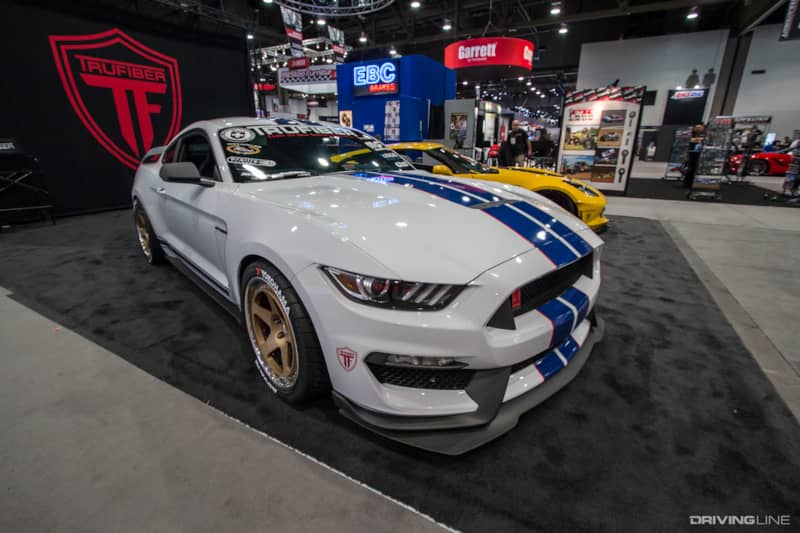 The Corvette makes an awesome weekend warrior, but if you're looking to have some fun for every day, look no further than the GT350R. This specific 'Stang (as the kids call it) is owned by professional driver Tony Brakohiapa. Whether he's road racing, drifting, stunt driving or just being awesome, Tony definitely knows a thing or two about performance cars, so there's no doubt in our mind about the track capabilities of the GT350R.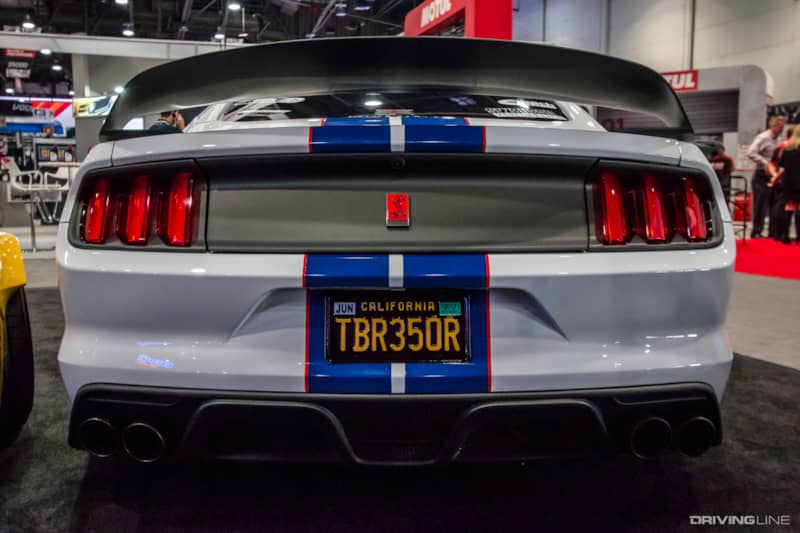 Ford made it more responsive and a lot louder, but Trufiber took it up another notch by replacing the new aerodynamics for perfectly fitting carbon fiber versions. These not only make it look more badass, but they also make the car a lot lighter. Don't let the cool gray and racing stripe paint job fool you; pop the hood or the trunk, and you'll notice they've been replaced with carbon fiber as well.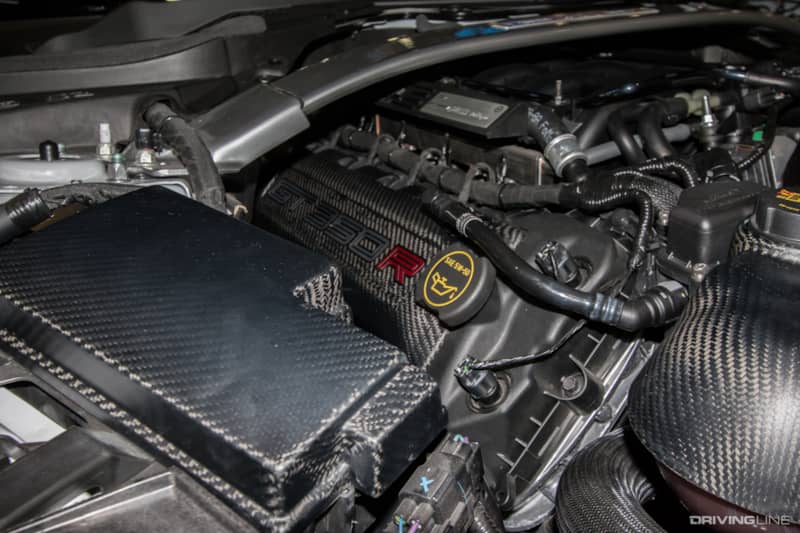 So what do you think? Would you pick the Mustang over the Corvette?
See more photos in the gallery below.