"On the Fence" About a Part?: Here are 7 Mods You Actually Need
For this article, we are assuming you've already upgraded the obvious things, like brakes, the cooling system and safety upgrades. Even after those essentials are complete, there's always a long list of car mod wants. So, where should you start? Here are seven common items that sometimes need an extra twist of the arm to commit to, plus the arm twisting you need to take the plunge. 
1. Wheels
If all you do with your car is run errands and rev your engine while sitting at stop lights around the mall, then save your smoothie money and stick with stamped steel or cast wheels. But, if you are getting serious about track time, forged wheels are where it's at. Though they are a cheaper alternative, don't let flow-formed wheels fool you. The method for manufacturing flow-formed wheels are similar to cast, except the metal is poured into a smaller wheel mold, then heated and stretched. This process of heat and pressure helps strengthen the aluminum in the barrel portion of the wheel, but the hub section of the wheel is still cast and tends to be brittle.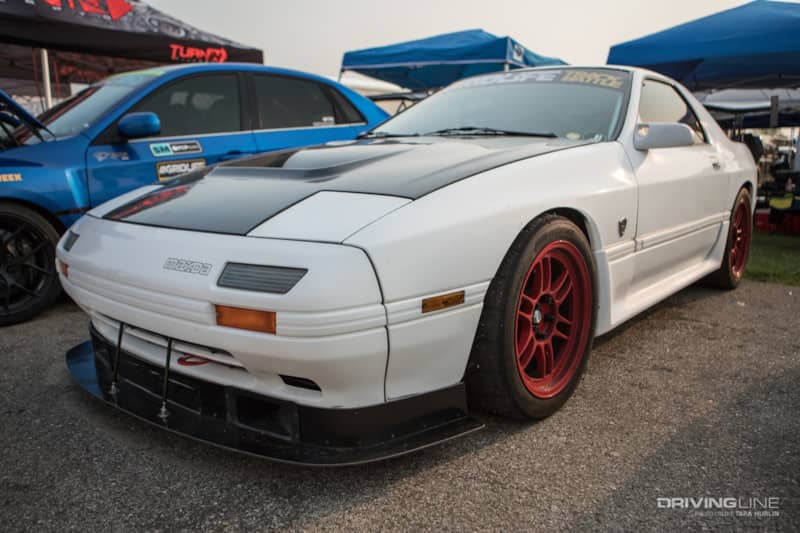 There's a reason why most competitive drivers steer toward forged wheels: they are lightweight, yet strong and dense enough to take a beating. But, there's also a reason why these wheels are more expensive. Production costs are high because the process is quite intense. In short, a raw block of metal is pressed into shape with extreme pressure. If you are increasing your car's power and pushing your skills as a driver, buying forged is worth the peace of mind. A few good brands to get you started are Forgeline, Enkei, BBS, Advanti and Konig.
2. Tires
Sticky competition tires will put the power to the pavement, and certain tire compounds are better than others depending on the use and conditions. Take Nitto's NT01 tires, for example. Designed for consistency, strength and steadiness on the track, the high modulus rayon compound combined with steel-reinforced sidewalls and body-ply construction gives drivers the confidence it takes to push their cars to the limit. The NT555R was designed in a similar fashion, but with a tread pattern designed for those who also drive their cars on the street. For RWD drag racers, nothing beats a set of NT05R drag radials on the rear for straight-line stability and a pair of NT05 street tires in the front for the ease of going from street to strip.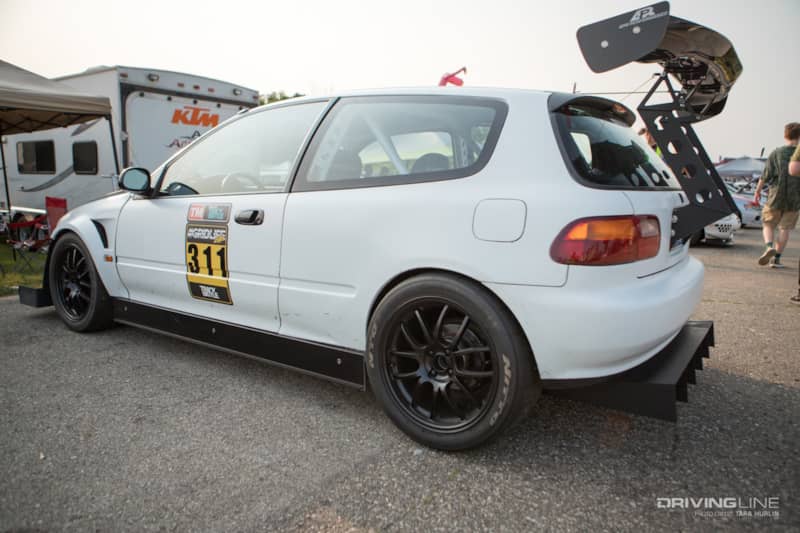 You can further fine-tune performance tires to the track conditions by decreasing or increasing the psi. Higher pressures will be better in resisting aquaplaning, while lower pressures will give better grip and breakaway for recovery.
3. Coilovers
Ditching your simple lowering springs in exchange for a set of coilovers will give you a much greater range of adjustability in ride height, spring pre-load, shock dampening and rebound, so you can tune your suspension to your specific driving style.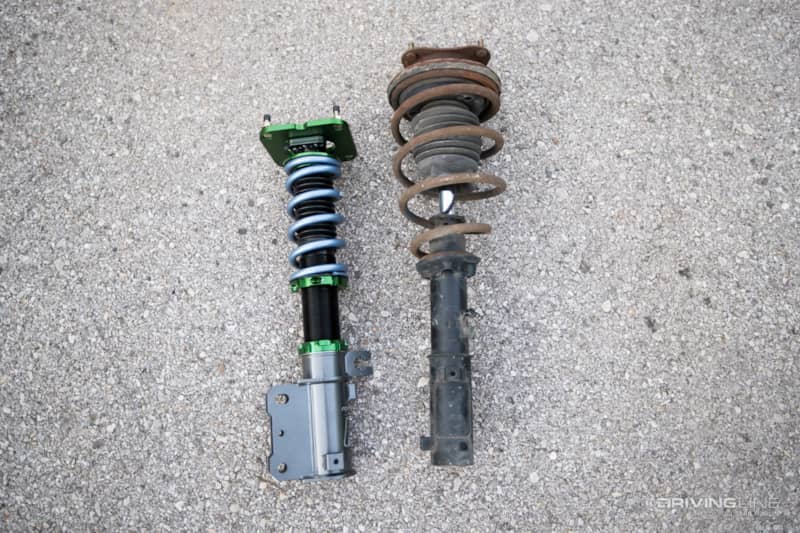 Depending on your current setup, the stiffer springs may make for a rougher ride overall, but your car's cornering performance will have you grinning from ear-to-ear.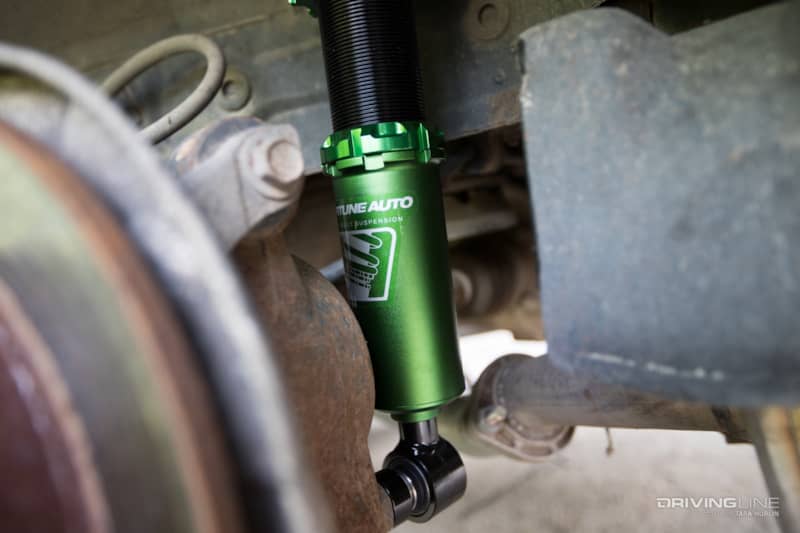 The old saying "you get what you pay for" still rings true when looking at coilover manufactures. Cheap coilovers can be a liability on the road and on the track, and some sleeve designs can fail even when lightly abused. If superior handling is what you seek, watch out for cheap knockoff brands and save your pennies for the real deal. Fortune Auto, BC Racing, and KW are good places to start. The image used here features Fortune Auto's custom coilovers, which are fully serviceable and rebuildable, and therefore will save you money in the long run. After install, it's important to get a proper alignment catered to your driving style. 
4. Hydraulic Hand Brake
Hydraulic hand brakes aren't only for drift cars. They enhance the fun factor in any car while making your setup more competitive, and have several benefits over a standard e-brake. They are easy to reach and spring back on their own, so all you have to do is let go. Some manufactures sell handbrakes that incorporate a locking mechanism so it can also be used as a standard e-brake.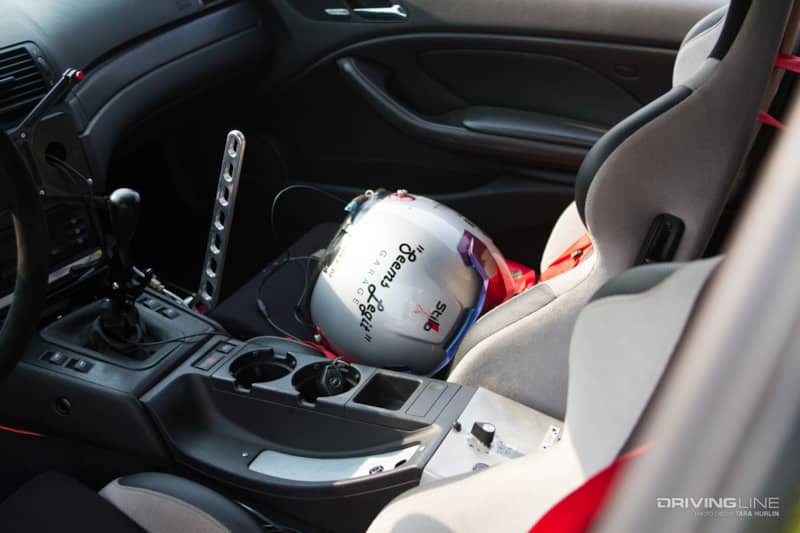 Handbrake turns are frequently used in rally driving to negotiate tight, lower speed corners and can be useful in a variety of maneuvers and stunts, such as the Scandinavian flick. A hydraulic handbrake is hands-down the best way to pre-load a FWD MT drag car to get off the line quickly. And, of course, handbrake turns are also a method of inducing oversteer for drifting.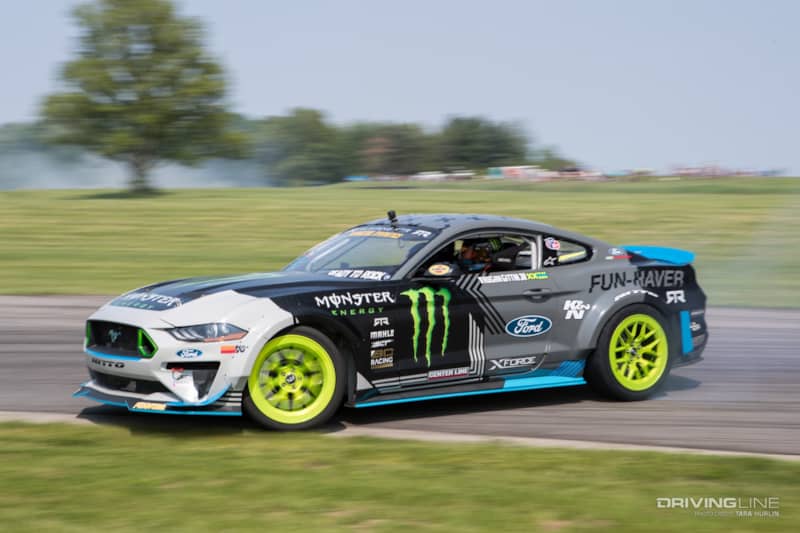 To initiate a braking drift,the driver enters the turn and applies the brakes to push the car's weight to the front wheels, causing the back wheels to rise and lose traction. A combination of braking, throttle and shifting holds the slide through the corner and carves a tighter radius around the turn. This method of taking a bend will only be quicker than the conventional racing line if the corner is very tight, but every second counts, especially when it gives a little extra thrill.
5. Anti-Theft
A quick disconnect steering wheel's main purpose is to aid a driver while entering and exiting a car equipped with jungle gym-like roll bars, but there are other perks. An aftermarket steering wheel can offer better grip, more custom to your hands, which also allows for more driving position comfort and vehicle maneuverability.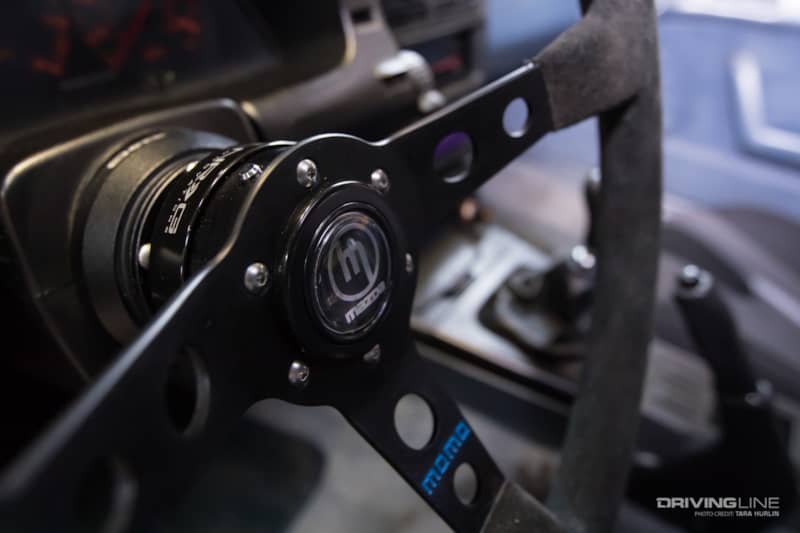 Street cars equipped with quick-disconnect hardware may get extra cool kid points, but the setup can also work as a theft deterrent. A car with a seemingly missing steering wheel will take more effort to drive away with. The setup pictured features a Momo steering wheel secured by an NRG quick disconnect hub. 
6. Cooling System (for You)
Cooling devices such as the Cool Suit Chillout System will help you maintain focus during the hottest of track days. The system pumps a propylene glycol coolant formula through specially designed cooling apparel, and suit temperatures are adjustable from 35 to 70-degrees.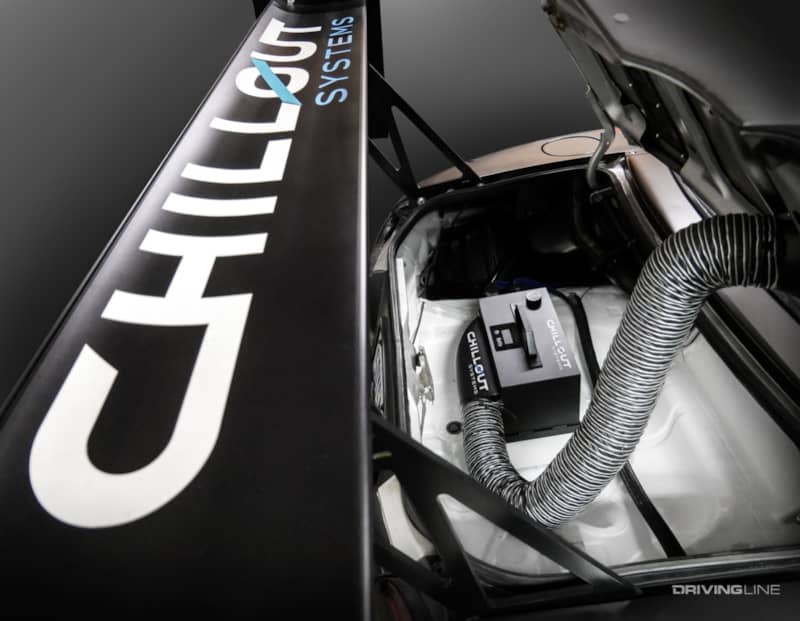 Though such a system does require installation of a cooling unit and plumbing the device to the driver's seat for easy connection to the driver's apparel, it is simple to use once installed. For those worried about putting on unwanted weight, we have good news: The entire system weighs just 12-lbs, including the fluid. The average electric draw is 15 to 18 amps, which shouldn't require an additional battery source.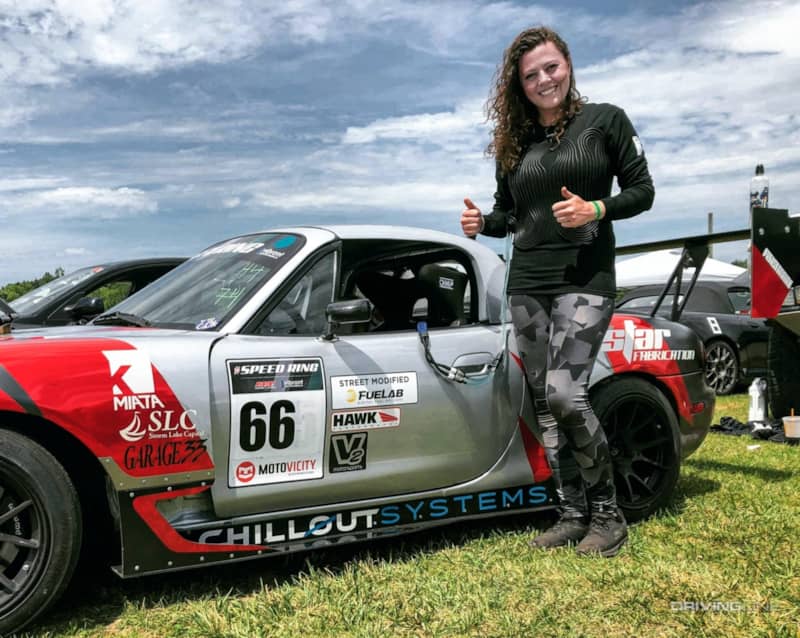 Darby Jean recently installed the Chillout System, and after experiencing the cooling bliss during a hot summer season, she agrees that this upgrade is essential if you are trying to push to yours and your car's limits. "I noticed immediately that I was able to bring down my lap time because I could hold my focus longer," she said. "It keeps me level-headed and able to focus, even after taking several laps in a hot car."
Adding Aero
A gargantuan wing won't do you any good at legal road speeds, unless guzzling gas faster for no gain is the goal. For street driving, it's most beneficial to reduce drag, but if you're competing on a track you may want to consider taking it a step further.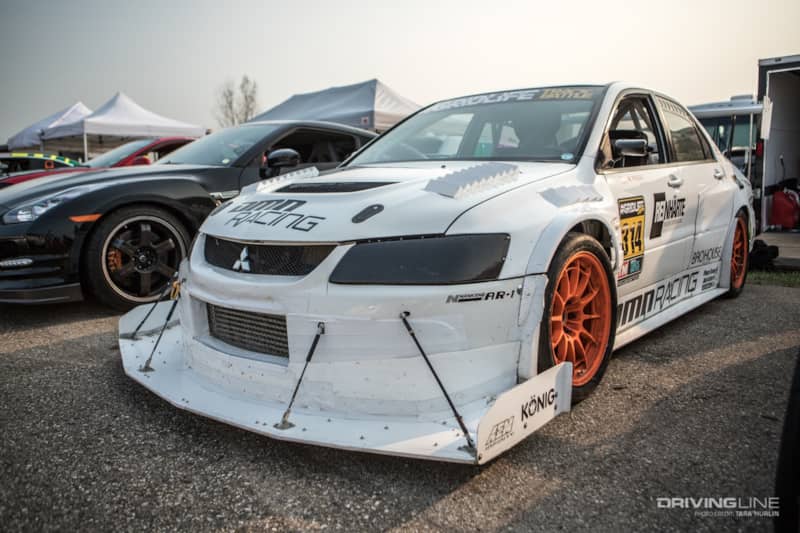 Smoothing the underbody of the car with added lightweight panels is the best way to reduce drag and gain median speed. For the average circuit car, it's best to start your aero package off with a basic rear wing to put more weight on the rear tires, and a front splitter to reduce drag. Adding a rear diffuser will speed the airflow up underneath the car, reduce pressure (aka drag), and create a greater difference in pressure between the upper and lower surfaces of the car for even more aerodynamic grip and faster cornering ability. If you want to get really O.C.D., smoothing out body panels and filling gaps will help your car slice through air like a hot knife cuts butter. 
Reducing drag quickly leads to needing additional downforce. Balance is important: If you upgrade to a bigger rear wing, you'll need to add front aero, like a larger splitter or canards, for example. This process could lead to several variations of aero until you find the right balance for your setup. As you maximize downforce, you'll quickly realize that you need to upgrade your springs to handle the extra weight. If you haven't figured it out already, committing to perfecting your aerodynamics can lead to a vicious cycle.
Did you think this article would help talk you out of spending your next paycheck on car parts? Sorry, not sorry. But here are some tips on how to get your build sponsored.