On the Trail: Black Bear Pass
If you're looking for an easy off-road cruise that's kick back and mellow, it ain't Black Bear Pass. However, if you want lots of treacherous driving to really test your driver's chops and a real sense of accomplishment, you've come to the right place. It's infamous in the off-road world for its dicey obstacles. The trail tests your nerves as much as your ability. On the Trail tackled it and as you'll see in the video, it was no joke.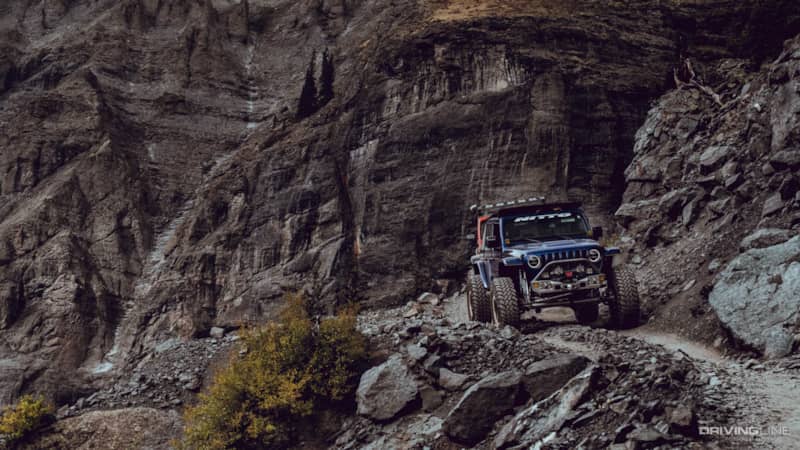 Men in Black
Collin Coates from Built2Wander hosted Evo Manufacturing's Mel Wade and 3D Offroad's Matt Thompson for a hard day's off-roading through Black Bear Pass. Their weapons of choice: Triton JL on 40-inch Nitto Trail Grapplers with Bilstein coilovers and one-ton Dana 60 axles, 2020 Gladiator aka ("Blaze JT") also on 40-inch Trail Grapplers, and Mel Wade's daughter's Jeep JL on 37-inch Trail Grapplers. Note: a low center of gravity really helps on Black Bear's switchbacks. Mel tells us that stock vehicles actually work better here because of that.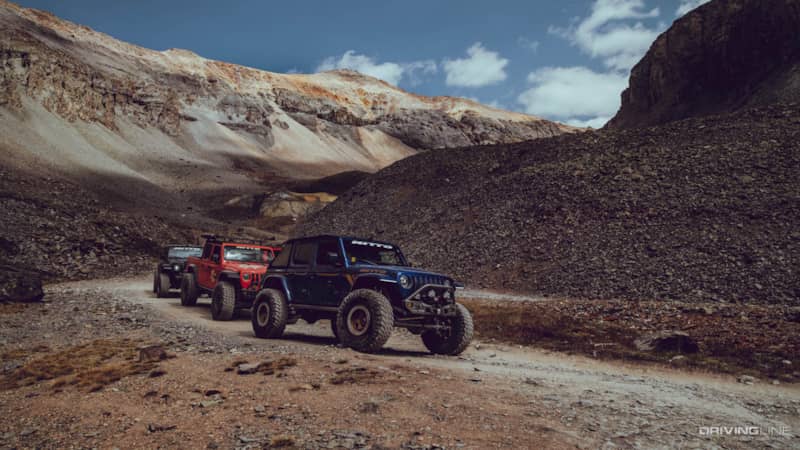 Blacklist
Look at your kids' breakfast cereal. See all those little marshmallows in it? Imagine the cereal is a mountain and all of those marshmallows are switchbacks. That's Black Bear Pass. Just don't expect a toy at the end. As Mel points out in the video, any minor mishap can turn into a very big deal here. Here more than other places, preparedness is even more vital. We're up at the 13,000 foot level so food, water, and sunscreen are musts for this run. Not only do you need all the basics you usually take on a trip, but recovery gear like straps, shackles, and winch hooks are essential too. That way, the person behind you can help if you run into trouble on these switchbacks. Cold weather gear is also a good idea.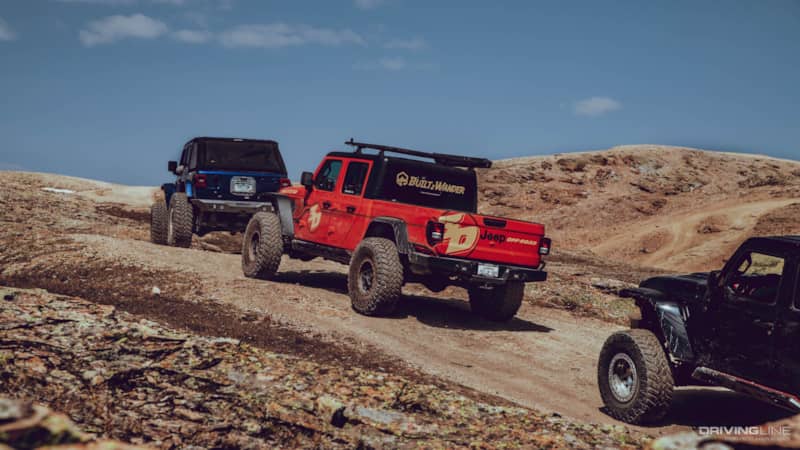 Black Out
Geared up and ready to go, our team headed out. The notorious trail starts at the 11,000 foot level at Red Mountain Pass on the Ouray side and travel is one way, except for the annual Jeep Jamboree where the route is reversed. It's also only open from mid-July to early Fall – weather permitting. Black Bear Pass used to be marked with a sign that read, "Telluride --> City of Gold; 12 Miles, 2 Hours; You Don't Have to Be Crazy to Drive this Road--but it Helps; Jeeps Only." At least, until local authorities got tired of replacing it due to constant thievery. Even the beginning has spectacular views, as you'll see. From the meadows, the road rises to the summit of Black Bear Pass at 12,840 feet. That portion is less about driving skill, more about taking in the view.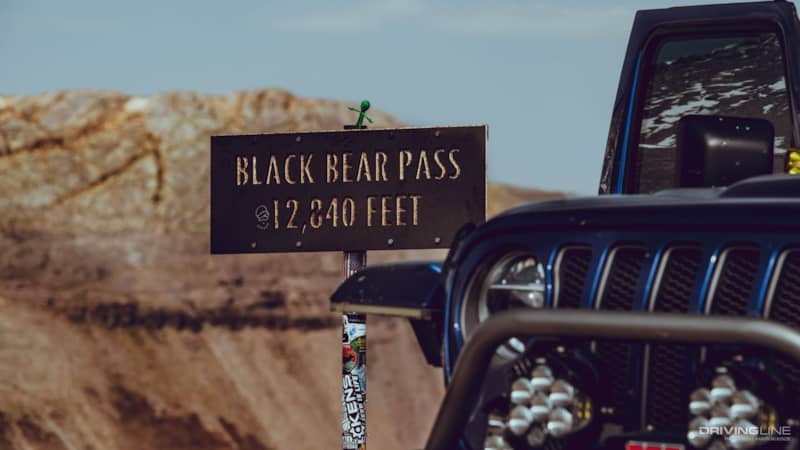 Men in Black II
And at the summit of the pass, the view does not disappoint. Mel noted at this point that stock vehicles do well here because they're not overbuilt. Meaning, they've not been widened out, which makes navigating the switchbacks ahead more difficult. Big tires and lifted suspension are great and all, but the wider turning radius they bring into the mix isn't helpful here. And neither is the mods' top heavy nature. Plus, a longer wheelbase makes getting off-camber very easy, which is not a good thing. After lunch at the summit, the crew got back to business.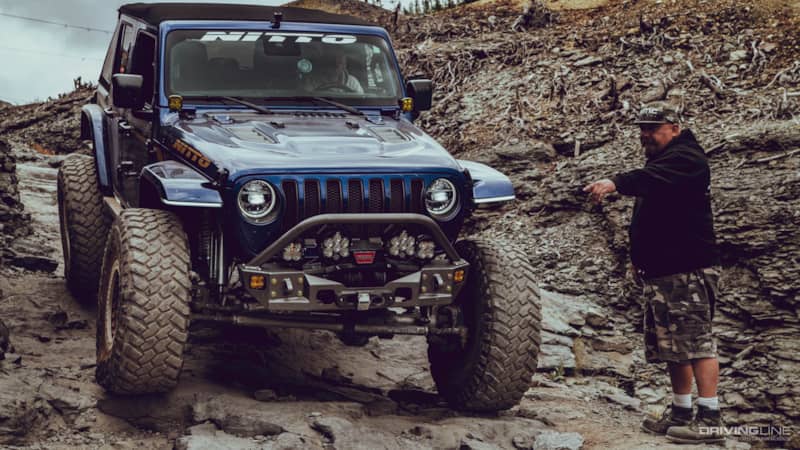 The Empire Strikes Black
In the words of Han Solo, "Here's where the fun begins." Remember all of those switchbacks we kept bringing up earlier? This is where they start. If there's a time to turn back, it's now. There's a nice, friendly sign that even warns you about the 1000-foot drop offs, off-camber switchbacks, and loose shale awaiting you up ahead. From the summit, the guys drove down the backside of the pass, noting a patch where someone went off-trail to do some donuts. It's that sort of behavior which gets trails closed, so staying on the designated trail is important not just for you but other drivers.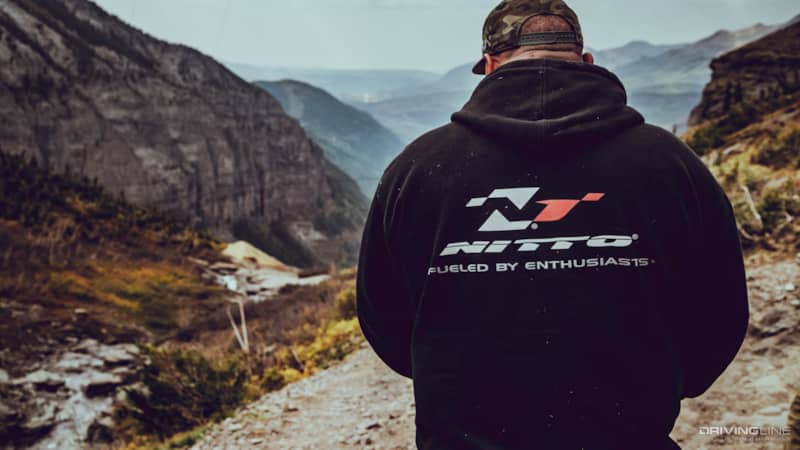 As they hit the shelf roads, Mel reiterated the importance of paying attention and respecting the obstacles; if you don't they can really bite you in the backside. Hitting the wrong line could make you tipsy in a hurry in terrain like this as well. Walking through rough patches and planning your descents through them is an excellent idea here, as you'll see on the most treacherous parts of the trail.
The Black Keys
One of which is The Steps. At this point our trio faced that particularly challenging part of the trip and Mel walked Collin's and Matt's vehicles through it. If you want an idea of how treacherous it can be, check out the wonky angles the axles take as the Jeeps wind their way through it. It's a gnarly combo plate of shale, drop offs, blind trail, and snaky path. The Steps are not to be tread lightly. And neither is the next part.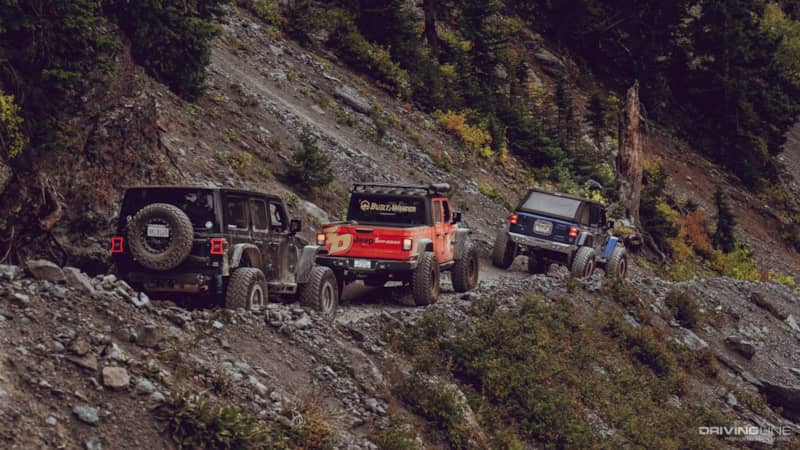 The Steps were preschool compared to the education awaiting the team next. This last stretch is the toughest part of the whole trail. It comes down into Telluride proper, passing the electric plant on the way; it also takes you to Bridal Veil Falls, the highest waterfall in all of Colorado.
Heart of Darkness
How difficult, you ask? Swearing scary, that's how. Up until this point, we didn't have to bleep anything. As Collin hit the big kid stretch of switches and drop offs, he hit the throttle on the potty talk, he was so moved by the experience. The narrowness is why this trail is one-way during the few months it's open each year.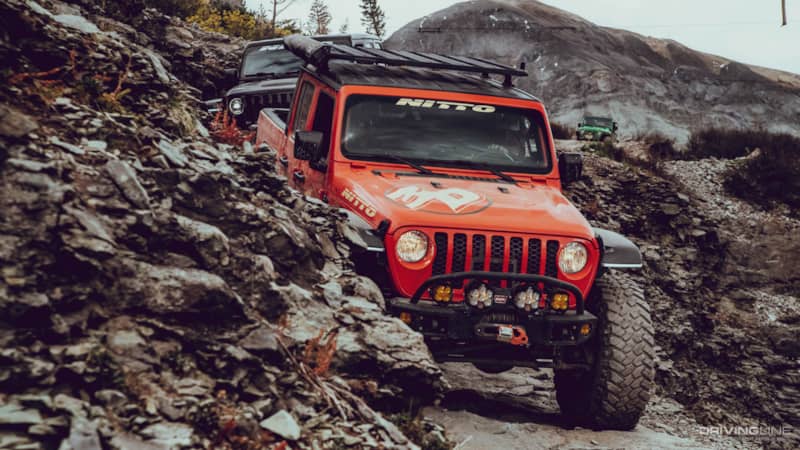 The team inched its way down the sliver of a trail, hugging the shale wall as tightly as they could. Concentration is key here. Collin saw just how key when he rolled a little too aggressively into the first ultra tight switchback. Black Bear Pass is a very treacherous and unforgiving trail. Take it slow and easy. If you have to make a two- or three-point turn to get through it safely, you should.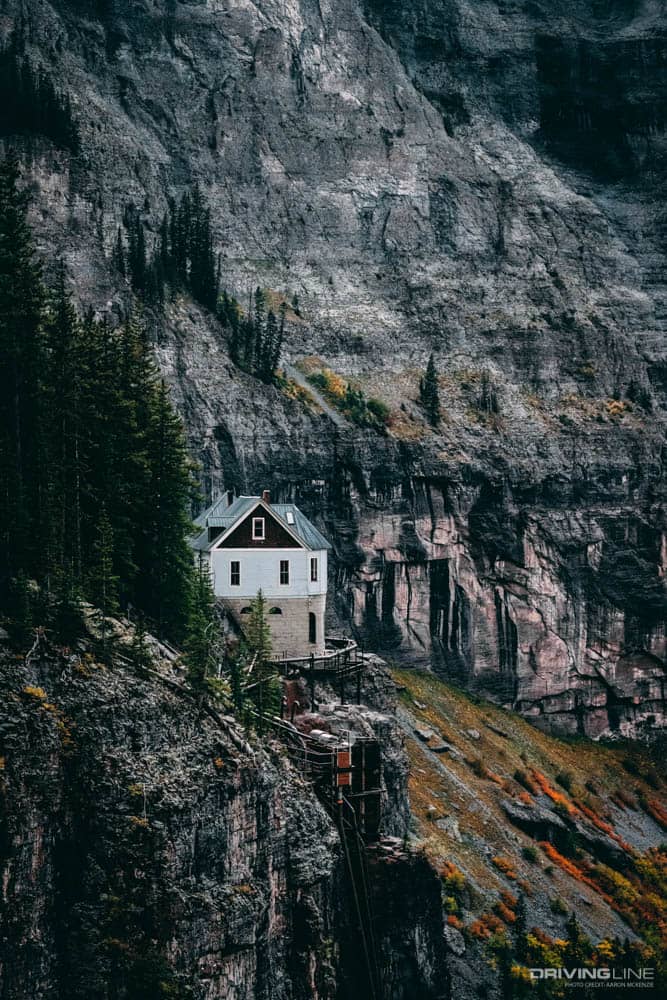 Lesson learned, Collin applied the knowledge to the remaining seven hardcore hairpins ahead. The reward for all of this patience and focus came when the guys got to the power plant ahead. Built in 1907 for the Smuggler-Union Mining Company, it sits atop the spectacular Bridal Veil Falls. Getting here is hard work through tough terrain but the reward is worth it.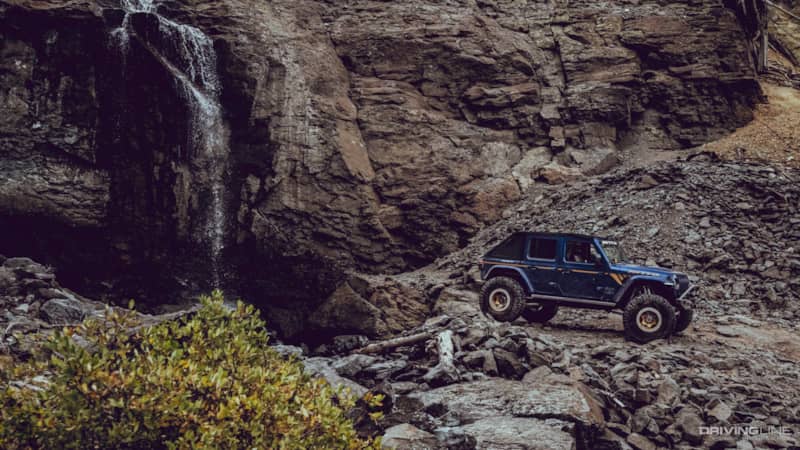 Fade to Black
Making the descent into the Telluride area, all three of the guys were stoked. Anxiety faded but the happiness didn't. Collin and Matt crossed Black Bear Pass off of their respective bucket lists. We think you should too.
Click here to watch the entire video.