On the Trail: Hitting Sedona, Arizona's Broken Arrow with Austin Stobaugh
Sedona, Arizona ages better than most of the old western movies that were shot there. Until the '70s, Sedona played backdrop to over 60 Hollywood projects, and the old films certainly do not do justice to the timeless grandeur of the beautiful red rock formations. If you've driven through the area you've seen the abundant red and orange sandstone formations, but you haven't truly experienced them until you've explored it for yourself off-road. A unique rock layer known as the Schnebly Hill Formation gives Sedona its legendary desert beauty. The colors are especially brilliant to behold during sunrise and sunset, when the sun bathes the area in its most golden light. Because of the scenery and popularity of the trails there, we sent our own Mike Sabounchi to hit Sedona's Broken Arrow Trail with Desert Race School and Carbon Off-Road's Austin Stobaugh. In the video, they take you through some of the magnificent scenery from inside and outside of a Lexus GX470 and a Carbon Off-Road modified Jeep JK. (Click here to go straight to the video)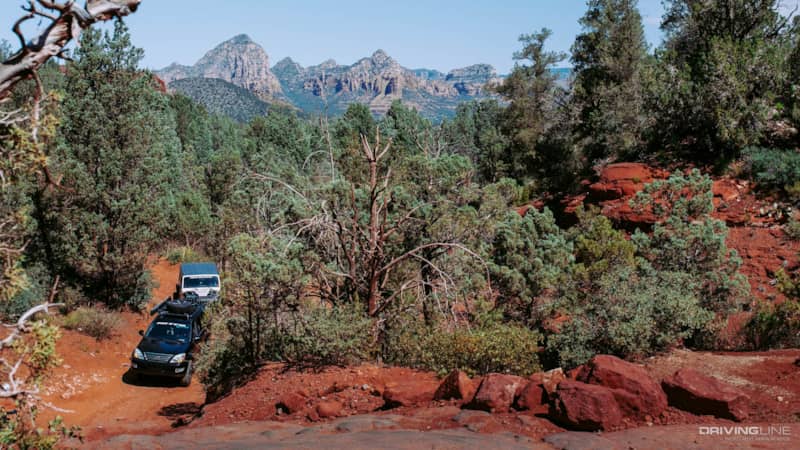 Broken Arrow Trail
A super popular trail just outside of town, Broken Arrow Trail is a 3.6 mile-loop sees lots of traffic from hikers and off-roaders alike. Having said that, there are plenty of turnouts to pull over into and let oncoming traffic pass by. This isn't a trail to rush through, you'll also want to take it easy so you can take in all of the killer scenery along the way. Some experienced drivers consider Broken Arrow to be on the easy side, but there are some exceptions that we'll talk about in just a minute.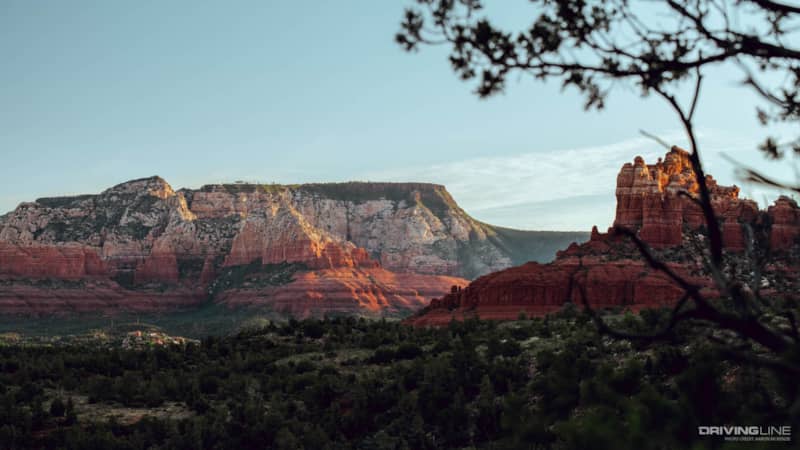 The Vehicles
Mike brought his 2009 Lexus GX470 to bear on the excursion. It packs Eibach 3-inch lift Black Rhino wheels and Rhino Rack Platform Rack and Awning. Austin's 2012 Carbon Off-road built Jeep JK is a much more custom animal. Not only does it run a 4-inch suspension lift but also front and rear lockers, aluminum bumpers, and Carbon Off-Road chromoly axle shafts and axle housings. Both are equipped with Nitto Ridge Grapplers but are very different beasts in terms of their capabilities. The point being that anyone can enjoy themselves on this trail. Broken Arrow has a rep for being an easy run for almost any rig but if you want to make a full day of it, there are lots of side obstacles and alternative lines just begging to be explored as well.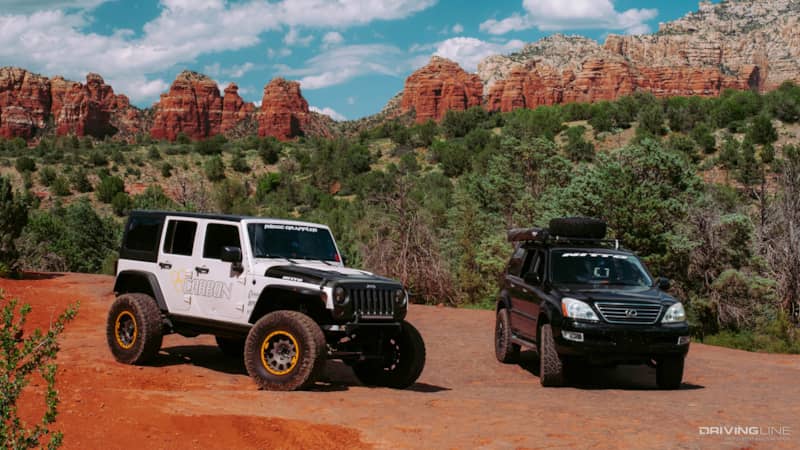 Points of Interest
After airing down their tires, Mike and Austin got down to the serious business of enjoying the day. Scenic vistas abounded but some stood out more than others, demanding that you stop for photos (or at the least, to drink in their beauty). Submarine Rock was the first of those along the way.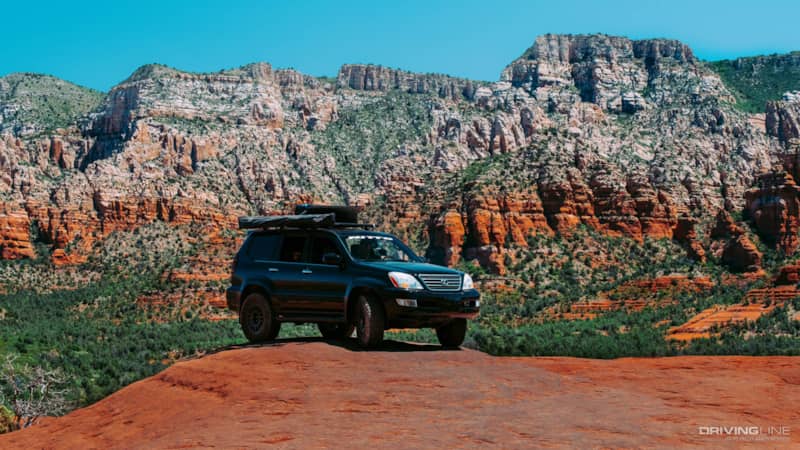 The leg of the trail leading to Submarine Rock runs through single-track forestation. Once you break through atop the rock itself, you're rewarded with plenty of red stone formations for your viewing pleasure.
Once they'd captured some imagery to mark the occasion, it was off to Chicken Point Overlook. Leaving the single-track forest portion behind, the path opened up and became rockier. Thanks to some expert guidance from Austin, Mike made it up over a technical climb to Chicken Point Overlook.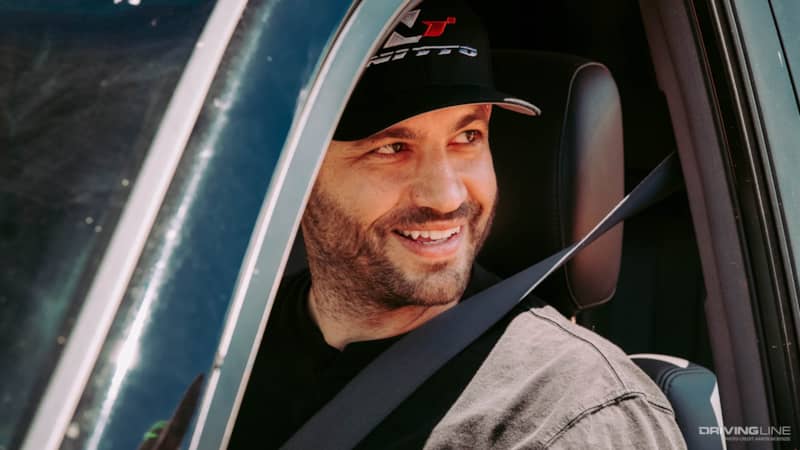 They rewarded themselves with lunch and a close look at the stratified cliffs that gives Sedona its reputation. With their bellies full, Mike and Austin tackled The Slide next. Take note in the video for some good advice on how to approach obstacles on the trail, and take the time to walk and always observe possible lines before conquering any new path.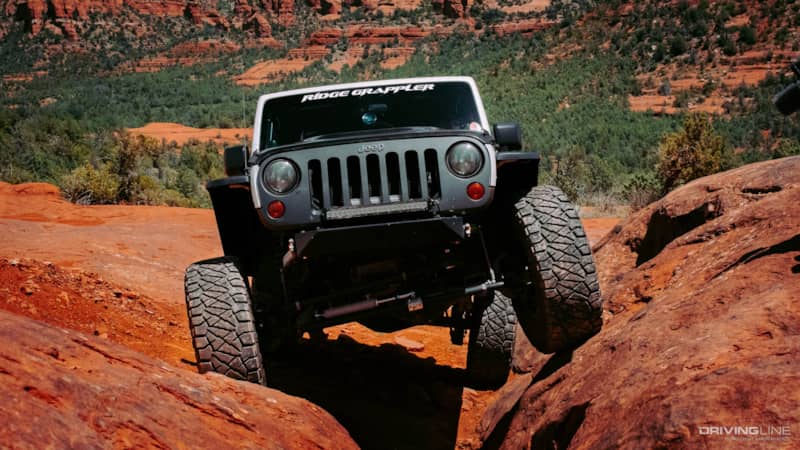 Beware the Devil
Carefully approaching obstacles is always a good idea, but when the trails become harder, it's even more important. You may remember a few paragraphs back where we talked about a tricky technical spot on the Broken Arrow Trail. Take special note of any trail with "Devil" in the name, it generally means that it isn't going to be all nice and cuddly in the ease-of-execution department. Enter Devil's Staircase, the final rock obstacle at the end of the trail.  Austin walked Mike through the proper way to slide his GX470 down the smooth, rocky terrain to the end of the trail. Key to that was keeping the wheels straight, even when it seemed counterintuitive to do so. That's one of those instances where you learn to just trust the process and not over-think the issue. Especially when that advice is delivered to you from a pro who knows his or her business, like Austin does.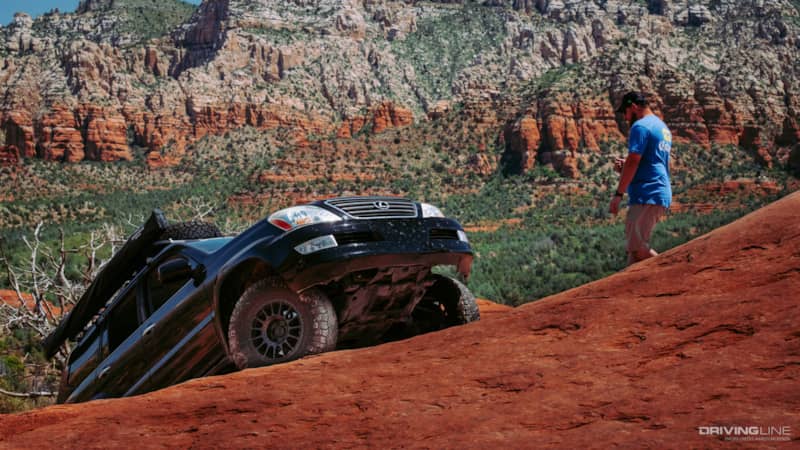 At trail's end, you have a decision to make: go back to town or go back in again. Seeing as how Broken Arrow Trail has all of those other lines and obstacles begging to be explored, you'll be tempted to drive back in and enjoy it all over again. And we don't blame you.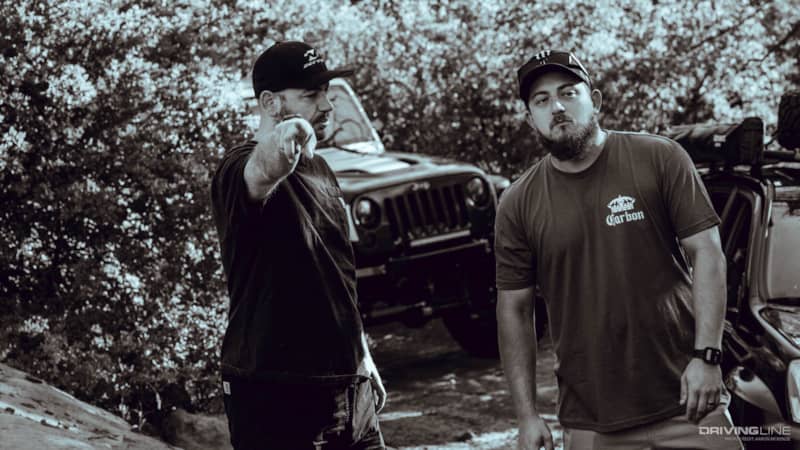 Where to Watch the Video
Enjoy the episode for yourself by clicking here. While you're there, binge the rest of the episodes for more thrilling off-road excursion ideas.