The Best Routes to Off-Road in the Naches Trail System | On the Trail
East of Mount Rainier lies the Naches Trail System. It's a smorgasbord of everything from super tight dirt trails to super aggressive rock crawling that's too much for some vehicles (and drivers). Some of these trails are so constricting that you'll find yourself backing around corners. They're a real exercise in technical maneuvering like that. Oh, and the ridges with their breathtaking scenery and equally pretty trails don't hurt, either.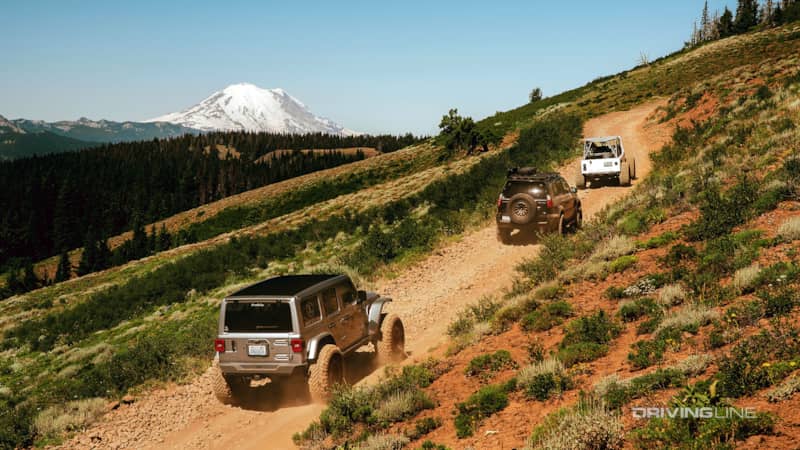 The Naches Trail is a rugged beast that follows the same route pioneers and their covered wagons used back in the mid-1800s to find new opportunities in the Pacific Northwest. Specifically, it moves through the same mountain range that modern drivers now cross via Chinook Pass on Highway 410. Obviously the trail gives you a good idea of the difficulties those folks in the far less off-road capable wagons faced. Moreover, wild life spotting opportunities abound here. So this should be a pretty fun day.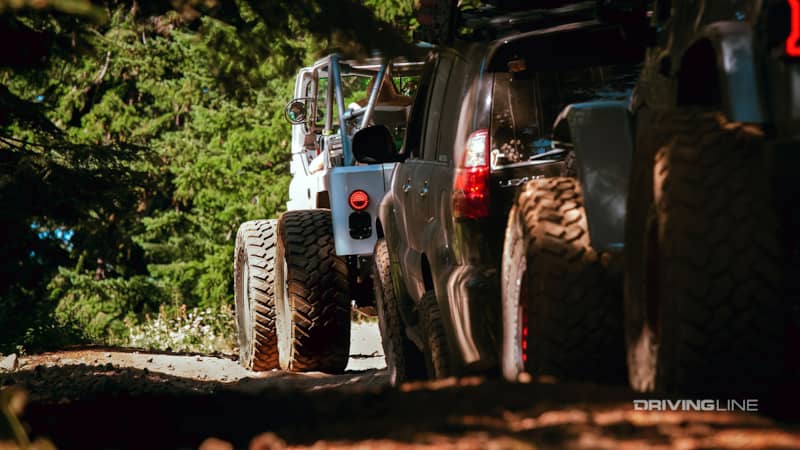 Our crew for this excursion consists of our own Mike Sabounchi, Nitto Tire's Chris Corbett, and Luke Shuman of Hazzard Fab Works (@thelukeofhazzard). This isn't either of our guests' first run at the Naches Trail System. That means they'll have some great insights into it that you'll find in the video of the trip. In fact, for Chris coming out to the Naches is a return to the beginning; this is where he got his off-roading start way back in 1998. His weapon of choice was a Jeep Cherokee that "set the stage for many years after that," he says. 
Two Jeeps, One Lexus
Our heroes tackled the Naches Trail System with a blend of Jeeps and a Lexus. Chris brought out his wife's 2019 Jeep Wrangler with Ultimate 60's, ARBs, and Synergy Suspension. It rides on 40-inch Nitto Trail Grapplers in KMC beadlock wheels. It's not an extreme off-roading machine but it has a few upgrades for the job.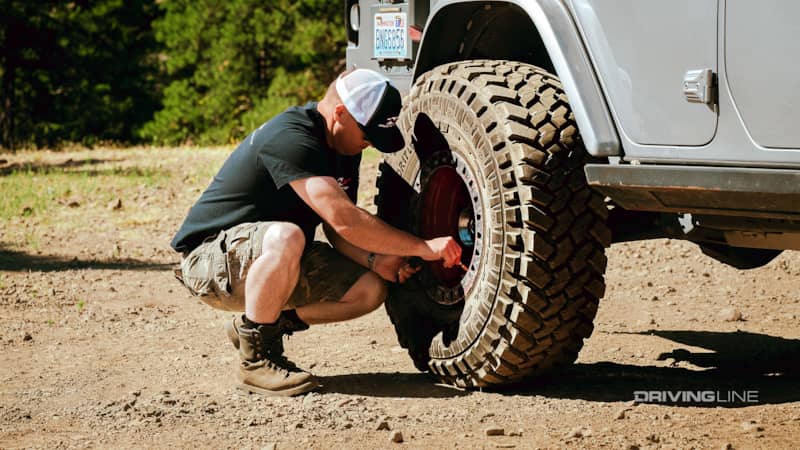 Luke's Jeep on the other hand, IS a purpose-built beast made to beat big bad opponents into sweet oblivion. At one point it was a stock`91 Jeep Wrangler. Not it packs a Jeep CJ nose, is powered by a LS engine, and rides on TR Beadlock wheels in 40-inch Trail Grapplers. It also runs Jeep's manual transmission and fabricated 10-inch housings. Mike's machine is his trusty 2009 Lexus GX470 with an Eibach Lift and the brand new 35-inch Nitto Recon Grapplers. Not only are we covering a lot of ground in the terrain department but also a pretty fair range of vehicle customization this trip.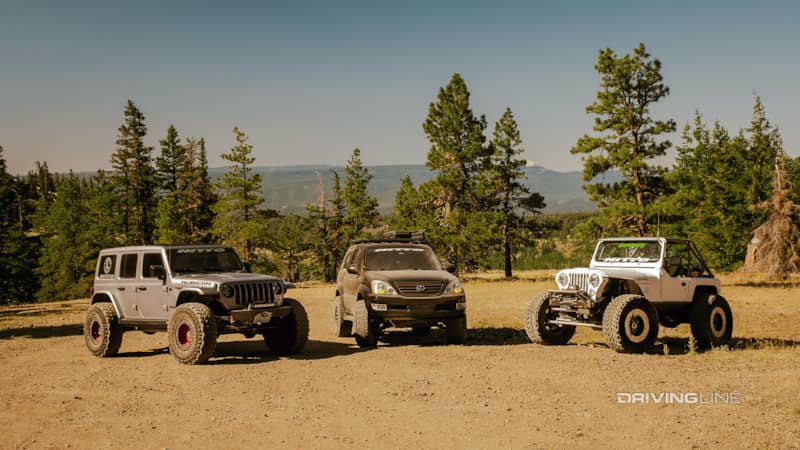 Uphill. Both Ways. In the Snow. And We Liked It.
The first wagon train made it through the Naches Pass in 1853. As you watch our crew take on these obstacles with their modern off-road tech, imagine cutting this trail with covered wagons and lowering them down the steep trails and rocks with ropes and only actual horses for horsepower. They were also low on food and other supplies. It's the ultimate, "Well back in their day..." thing to hit your kids with when they complain about slow wi-fi at the house. Regardless, the first leg of our own journey started with one of those narrow trails with walls of trees on either side. The ground itself was smooth sailing. But it didn't stay that way, as you'll soon see.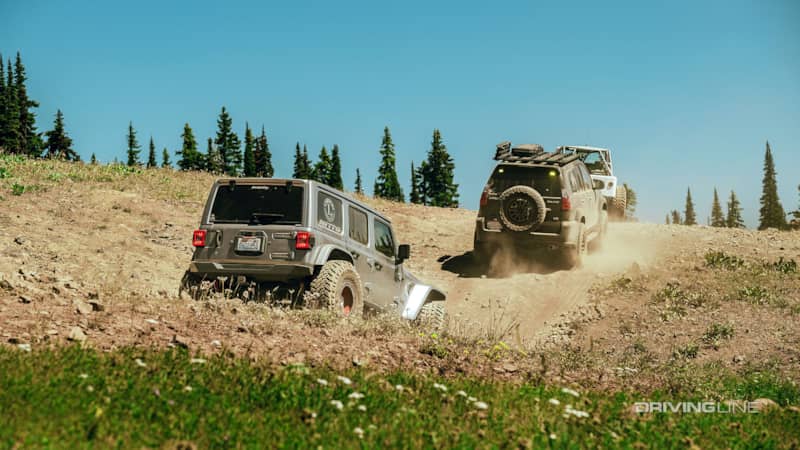 And yet those settlers still weren't the first ones through here, of course. Ancient native American trade routes between the Yakama and Salish peoples pre-date the pioneers, of course. The two groups traded nice, tasty fish from the ocean for horses.
Chris' own four-wheeling history also started here as well. He was already a car guy at the time but a good buddy that he looked up to hipped him to off-roading a CJ 7 at the Naches and got Chris all pumped up to take the Jeep into the dirt. That saw him buying the `91 Jeep Cherokee we mentioned earlier. Over the years he built it up better and better, spending up to five days a week running around the trails with it. Exploring the unknown and the tales from his mentor sparked that interest and now he lives for it.
Funny Not Funny
Seeing as how Central Washington lies in the rain shadow of the Cascade Range, the land tends to be drier on the Naches Trail. Winters can be downright frigid while summers can hit over 100F. You'll want to be prepared accordingly. Once the forest widened out, we came to Funny Rocks and the first real big obstacle of the day. You could see the black lines from other drivers' paths through the winding rocky tiers ahead. While Chris and Luke assessed potential lines up and over, Mike summed up the situation in one word: "Wow!"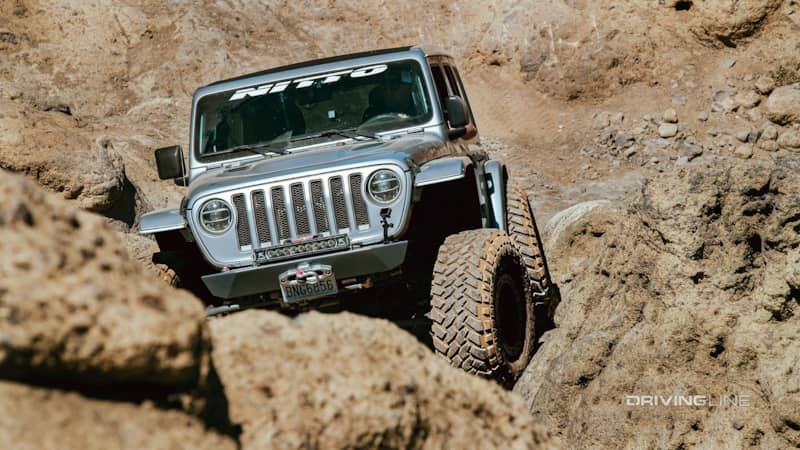 It may be named Funny Rocks, but that may be just because whoever came up with that moniker had a sense of humor. If you make it out here yourself, as Chris points out, the far right line up is the easy one but there are several others that are more challenging depending on what your feeling. Hit this place on a weekend, and you'll see all kinds of four-wheeled off-road vehicles here playing and having a good time. That's part of the beauty of this place. One reason the crew chose the right side line is because it looks harder than it actually is; that also makes it a potential confidence builder.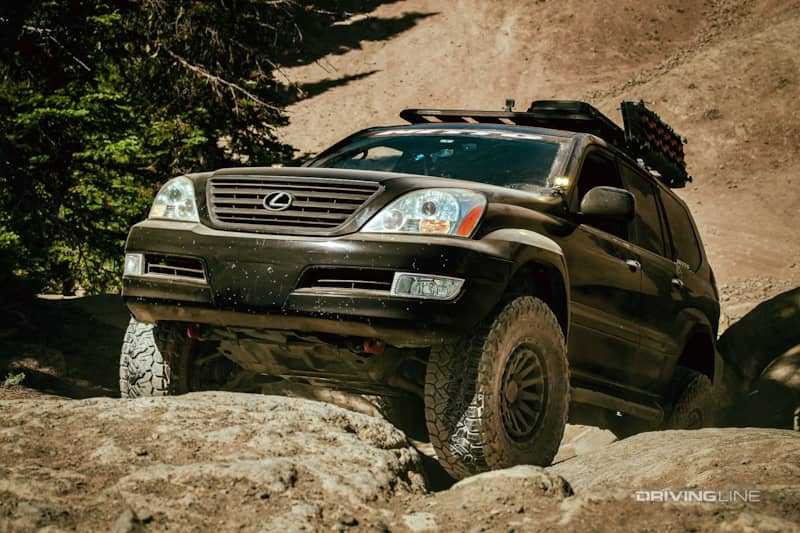 That's why Mike, being the first-timer here, hopped into the passenger seat of Luke's Jeep for a test run to the top. Once they were up there, Luke went back and gave Mike some tips and strategy insights for attacking the rocks. After agreeing on some hand signals so that they were all on the same page, Chris and Luke spotted Mike and his Lexus through the climb up.
School of Rock
More open ground greeted the guys and they ran through it to the next rough patch: the Moon Rocks. It's the quintessential crown jewel of the Naches Trail, at least as far as obstacles go.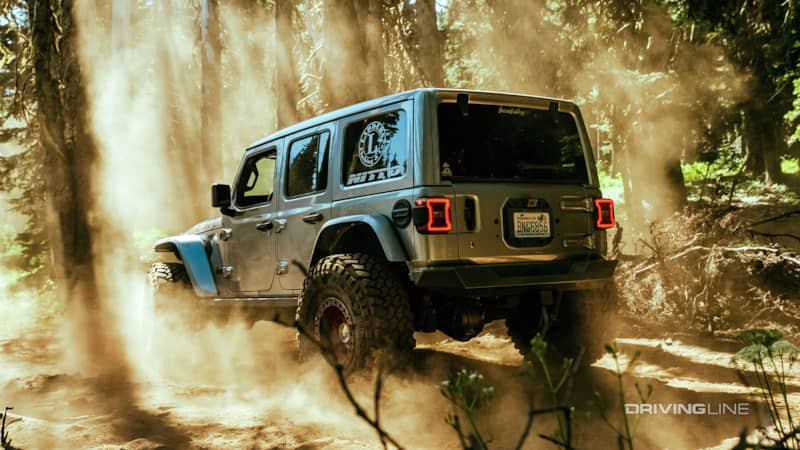 Translation: it's big, bad, and not for everyone. It's also optional. Unlike the big bad boss at the end of a level in a video game, you don't have to beat it to keep going. You also don't have a magical pause button to hit while you look it up on Wikipedia for the best way to attack it, either. So either bring a buddy who knows what to do or be sure of your own abilities before starting the encounter. At this point, Luke and Mike stopped to get out and assess the Moon Rocks before getting their climb on. Think steep incline rock face with more twists and turns than a soap opera. That's kind of what the Moon Rocks are like.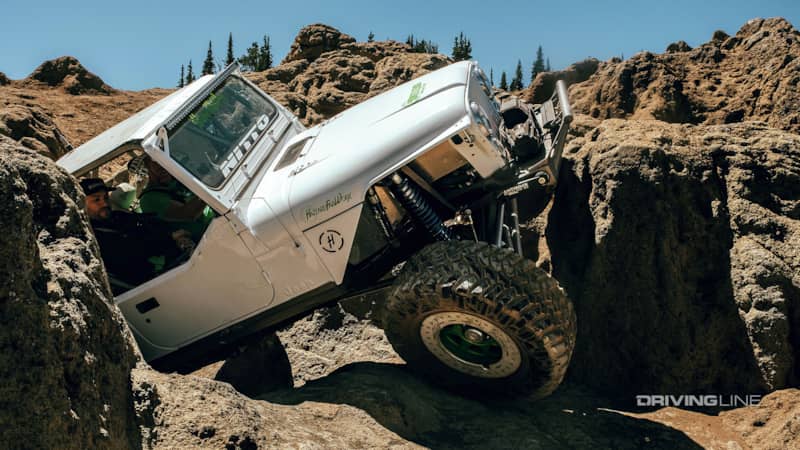 What followed was a series of lessons for Mike taught by Luke in the fine art of rock fu. They took on the Moon Rocks in Luke's modified mutant monster of a Jeep and while they made it up without incident, you really see just how gnarly the place is in the video. As Luke observes, it's a very tough line and you're almost guaranteed to take out or scratch something along the way. Although Chris took an easier line for his Jeep, that just means "less difficult" in this case.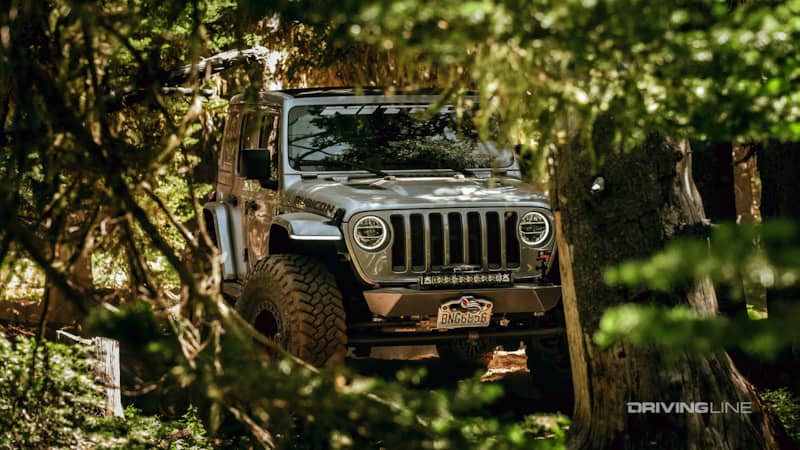 Final Destination
The trip itself got easier at this point, too. Mike took the time to snag some photos as the group made its way through some very pretty open terrain. One thing to keep in mind on this trail is that it's part maze, part honeycomb. Either bring a friendly guide who knows it or make sure you've got a map and a plan before taking it on. After they reached a very cool little hunting cabin in a meadow, the guys decided to call it a day. Time really can slip away from you on the Naches Trail so plan your trip accordingly, complete with exit strategy. One great resource for a place like this is the local four-wheel drive and off-road club, like the Pacific Northwest Four Wheel Drive Association.