One M37-2NV
In a world of flash, glitz and glamour, sometimes you need to step back and enjoy the vintage steel. We often cover late-model trucks and SUVs, but that doesn't mean we don't appreciate a serious dose of beautiful natural patina.
"This is my kind of rat rod," says Mel Wade, owner, founder and mad scientist behind EVO Manufacturing and Off Road Evolution.
Named "M37-2NV," Wade's 1951 Dodge M37 Power Wagon was born out of necessity, but it ended up filling a void in his heart he didn't realize was there. Years ago, Hobart Welders approached Wade to build them a vehicle to use on the Ultimate Adventure. When Wade got to the drafting table, he decided he wanted something different; something that would stand out in a crown of late-model rigs, but perform just the same.
Wade found the perfect vehicle for his vision: a rough around the edges retired Air Force M37 truck. In what can only be explained as dark magic, Wade and his crew put the truck together in a week. Yes, you read that right — a week. Since the initial build, the truck has been tweaked a little and had racked up around 10,000 miles. A large majority of those miles were put on in the dirt.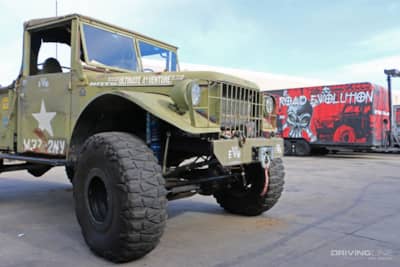 These days, the truck serves as a shop truck and all-around grunt. Seeing this beast cruising down the streets of Southern California next to all sorts of hybrids and fancy cars is a sight to behold. M37-2NV is easily one of Wade's favorite trucks, mostly because no matter what, it is always ready to wheel.
"My favorite feature of the whole truck has to be the flip-up windshield." Wade explains. "Pop those panels open, and it's better than A/C, even while cruising down the trail." The truck gets dents, scratches and various other forms of abuse, and it just doesn't matter. It all adds to the character of the truck.
The original front differential assembly was tossed in favor of a Dynatrac ProRock 60. The added beef was further strengthened internally with a Detroit locker and 5.38 gears. Wade opted to use proved and beefy Ford wheel bearing assemblies and brakes as well as the Dynatrac Free-Spin kit.
"I don't normally put a Detroit locker in the front of a vehicle, but it just made sense with the scale of this truck," Wade explains.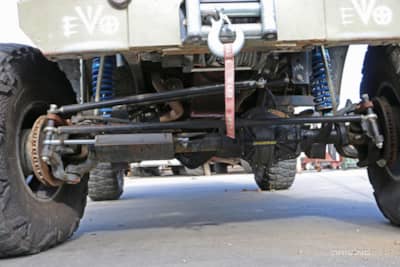 A GM 14-bolt was used in the back of the truck. The full-float axle assembly is a massively strong differential that is easy to find at junkyards. Inside is a Detroit Locker and matching 5.38 gear set.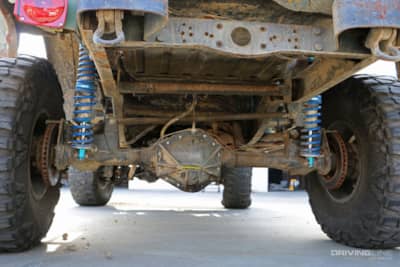 Knowing the M37-2NV was going to see a wide range of use, Wade selected the Nitto Mud-Grappler. The 40x13.50R17 monsters are wrapped around a set of 17-inch ATX Slab beadlock wheels, giving Wade the comfort of knowing he can drop to single digital tire pressures and not have any issues.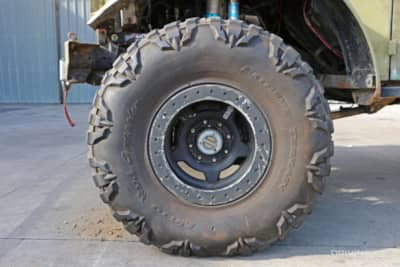 The front of the truck was slightly tweaked. A pair of Truck-Lite LED headlights fill the original buckets, and the stock front bumper was modified and strengthened to accommodate the Warn 16.5 winch.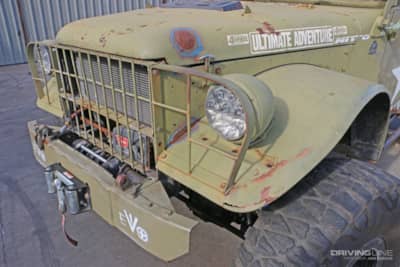 Another element that makes the M37 a unique truck is the factory convertible top. When the top is removed, everything above the door line is gone, giving the occupants that open-air feeling without being in a Wrangler like everyone else.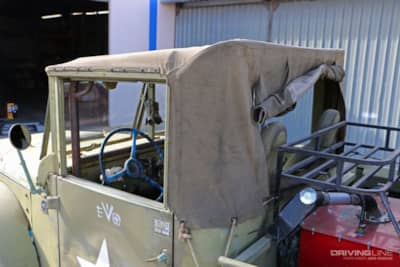 Done with being a military utility vehicle, the M37-2NV bed now serves as home for the JAZ fuel cell, spare Nitto tire and an ARB Fridge/Freezer for frosty trail refreshments. After the stock tank was removed, Wade found the fuel inlet to be a handy fire extinguisher storage cubby.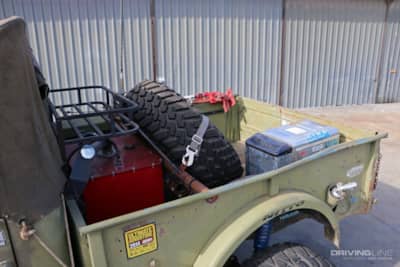 The stock bench seat was removed in favor of a pair of MasterCraft Safety military seats Wade special ordered. Between the seats sits the Art Carr shifter for the manual valve body Turbo 400 automatic transmission. Just as all open top rigs should have, Wade and his team built a full rollcage from 1.75-inch 0.120 wall DOM tubing.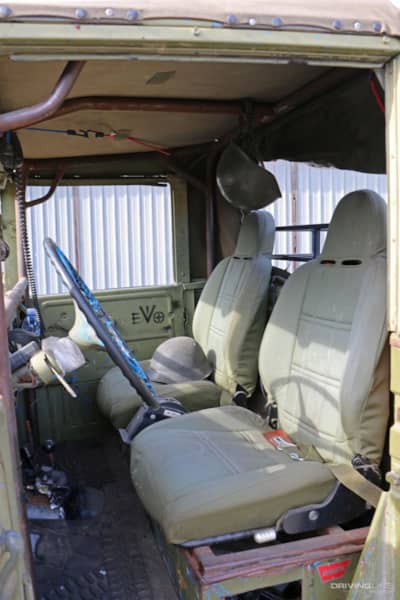 The M37 used leaf springs from the factory. While being simple and reliable, this just wasn't going to suffice. When building the M37-2NV, Wade chose the EVO Manufacturing 3-link plus track bar system and adapted it to the size of the truck. Spring and damping duty is handled by a King coilover with reservoir. The cycle is set up roughly in the middle of the 12-inch travel shock for even up-and-down travel. To help keep the body under control, Currie Antirock sway bars are used both front and back.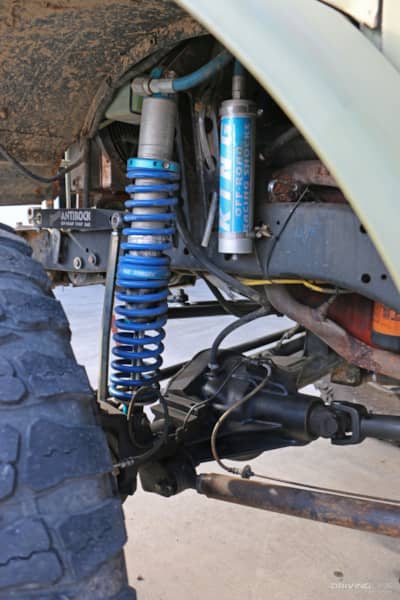 At the front of the TH400 transmission is an RV torque converter with an incredibly low 900 rpm stall speed. Behind it is a nearly indestructible combination of transfer cases. An NP203/NP205 Doubler setup was put together using an Offroad Design kit. This creates a 4:1 low range ratio when both cases are switched into low gear. Both front and rear driveshafts utilize 1350 U-joints and were custom built by the folks over at JE Reel.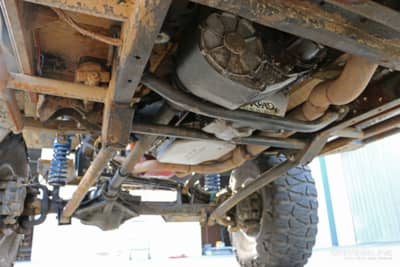 The 14-bolt was upgraded with drilled disc brakes to make stopping those 40-inch Nittos easier. The rear suspension is an EVO Manufacturing setup that maximizes articulation using Currie Johnny Joints at all ends, which also give the arms plenty of adjustment for pinion angle.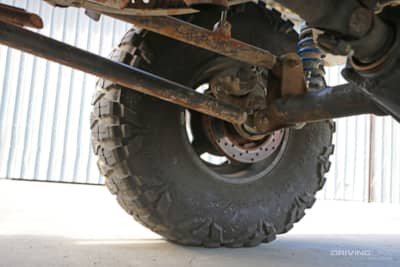 Handling steering duty is an EVO Manufacturing chromoly Hi-Steer kit that ties into Currie Enterprises Hi-Steer knuckle arms and a PSC Motorsports hydraulic ram assist kit.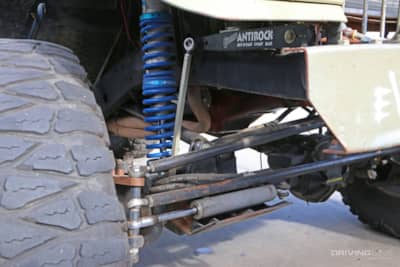 Under the hood resides a 400-cubic-inch Chevy Small Block engine. The custom built shock hoop support dons Off Road Evolution logos as it keeps the front coilovers from twisting up the framerails. Keeping the engine cool is a monstrous aluminum C&R Radiator. An MSD Ignition and HEI distributor system keeps things firing, a Holley carburetor keeps it fed and an Optima YellowTop battery keeps it all juiced.
The truck was originally built using a throttle body injection system, but that unfortunately failed while on a trail. The carb swap out was a relatively quick fix and has been working greatly. Wade mentioned that if he could build the truck again, he'd toss in an LS engine and be done with it.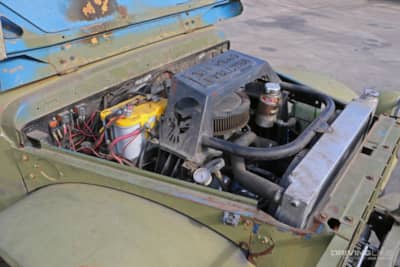 The back end of the truck is relatively untouched. Why mess with perfection?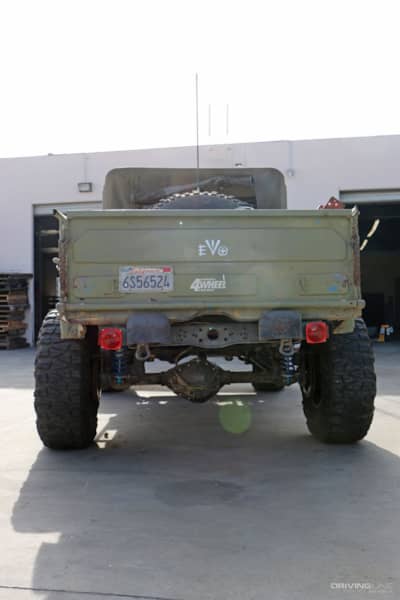 To provide ride and travel in the back end, Wade set up a pair of 14-inch King coilovers with reservoirs. Just like the front end, the truck can use every bit of the travel, mostly thanks to proper suspension design and huge wheel well openings.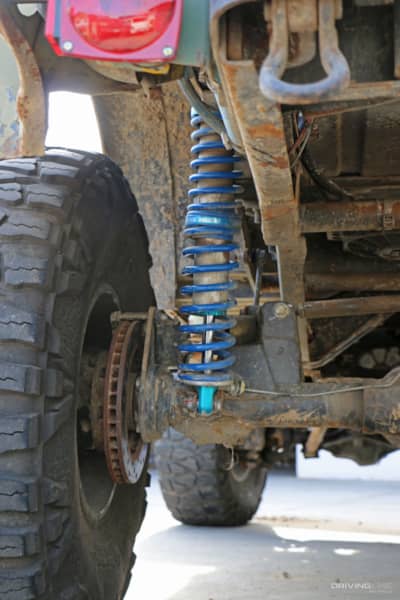 The M37 is not a truck you'll see often for many reasons. Over 100,000 M37s were built in the '50s and '60s, but few of them remain today. The truck itself is rare. Couple that with the off-road modifications Mel Wade and his team made, it is practically a unicorn.
Check out even more details of the truck in the video below.