Optimizing a Ford F-250 Super Duty for Towing Cross-Country: A Recon Grappler A/T Review
Hauling a loaded enclosed trailer across the country isn't always easy and it's not for every truck. A stock ¾- or 1-ton truck can do it, but there is always room for improvement for vehicles that are fresh from the factory. On our latest trip across the country we used a 2022 Ford F-250 Super Duty, one of the most common choices for a tow rig. The 10 speed transmission combined with the 6.7L Power Stroke diesel engine combine for a more than capable rig. Rated for 30,000lb GCWR, we would never have to worry about starting and stopping what we planned to haul. However, we chose a single-wheel rear version, and with the need to pull an enclosed trailer (read: it drives like a wind sail) across the country, some improvements to the truck would make the trip a lot better.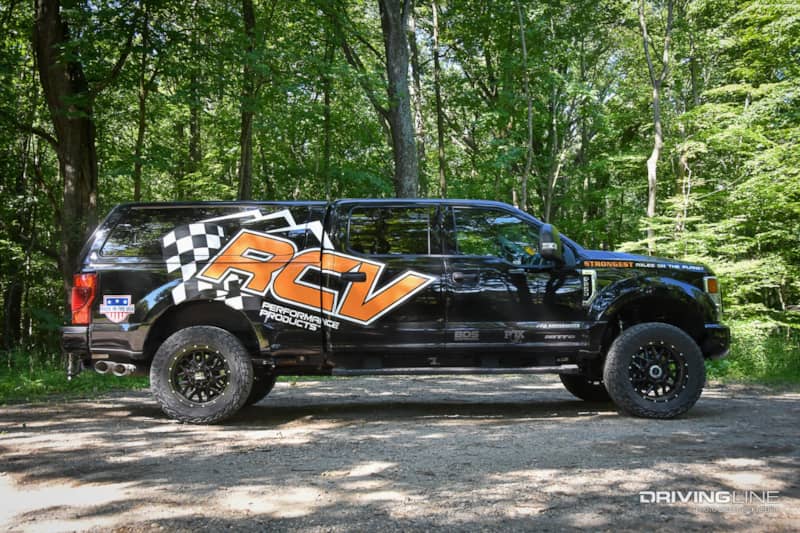 The '22 model truck is actually lower than 2019 and older Super Duty trucks, so we got with BDS Suspension for their new 2" level spring kit for the 20+ Ford Super Duty. We added some bonus goodies like Fox 2.0 shocks specifically designed for this truck, and BDS radius arms to make sure we could adjust caster if needed. We also added an AirLift Loadlifter 5000 air bag kit to the rear to make sure this thing stays firmly planted all around.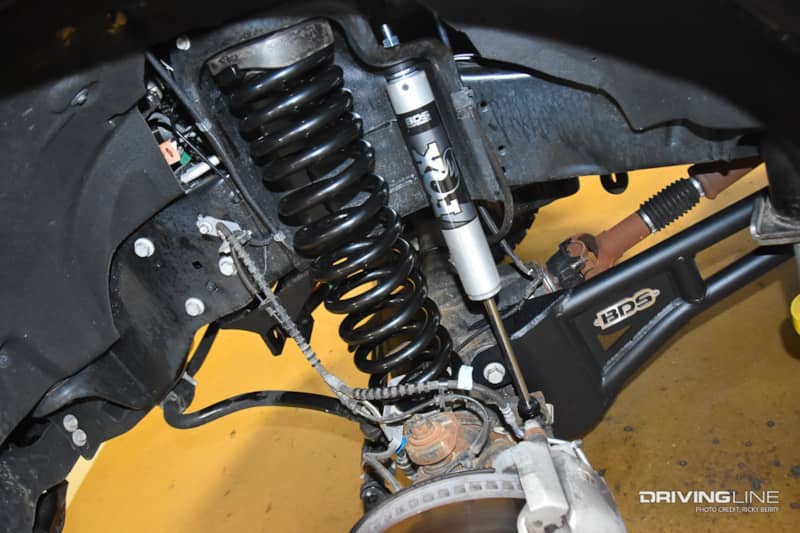 Even brand new these trucks have a loose feeling steering and some bump-steer,  so we put on a dual steering stabilizer kit from BDS as well. This kit uses two FOX stabilizers making the steering firm and precise feeling.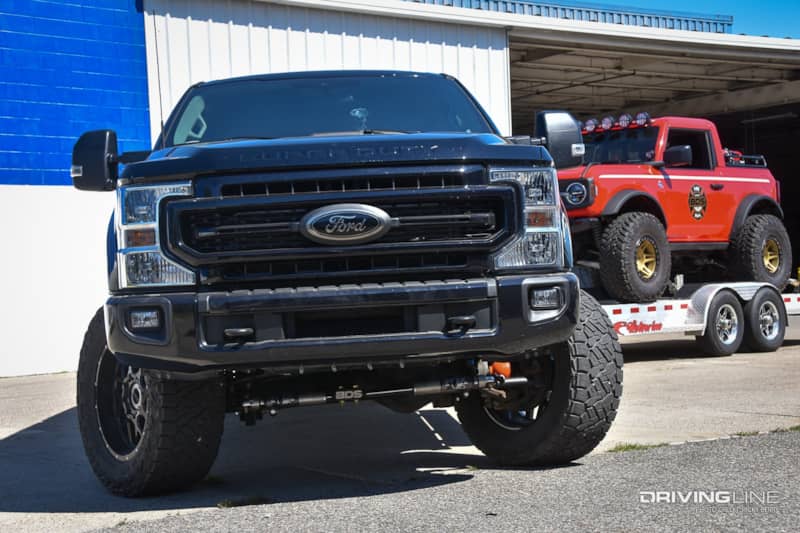 Upgrading the Tow Rig with Nitto Recon Grappler A/T Tires
The main task was to improve the spongy feeling of the rear when pulling a trailer. This brand new 2022 Ford F-250 Super Duty came with load range E tires, which based on specs should be sufficient. However, the sidewalls seemed thin and the contact patch of the tread was only 8" wide, and even at max PSI you could feel it needed something more. We chose to upgrade to a 35x13.50R20 Nitto Recon Grappler, load range F.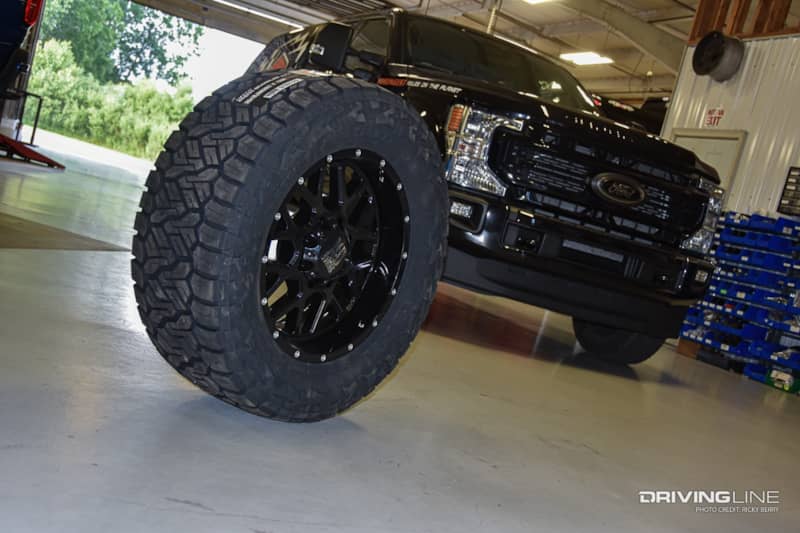 The wider contact patch and higher load-rating would net us the stability we needed. We mounted these on a set of 20" XD Grenade wheels to give the truck an updated look.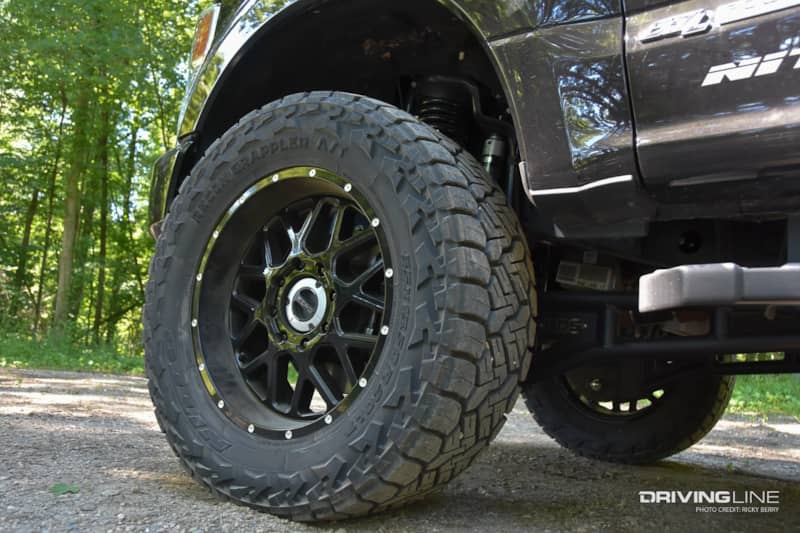 This truck is primarily used to tow a 24-foot enclosed trailer down the highway, but those highways often lead to dirt roads, gravel lots, and grassy fields.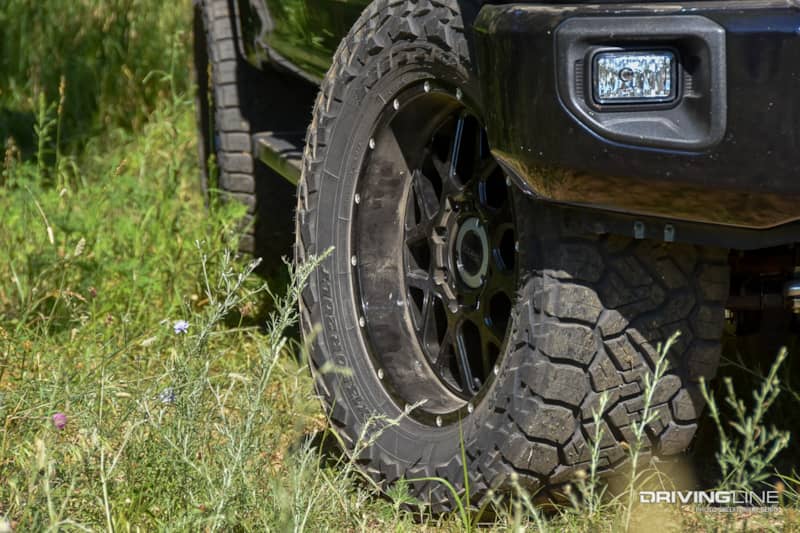 When it came to tire choice, we had to make sure that it was smooth and comfortable on-road, yet could still maintain traction at these remote off-road show locations like King of the Hammers, Glamis, Sand Hollow, etc.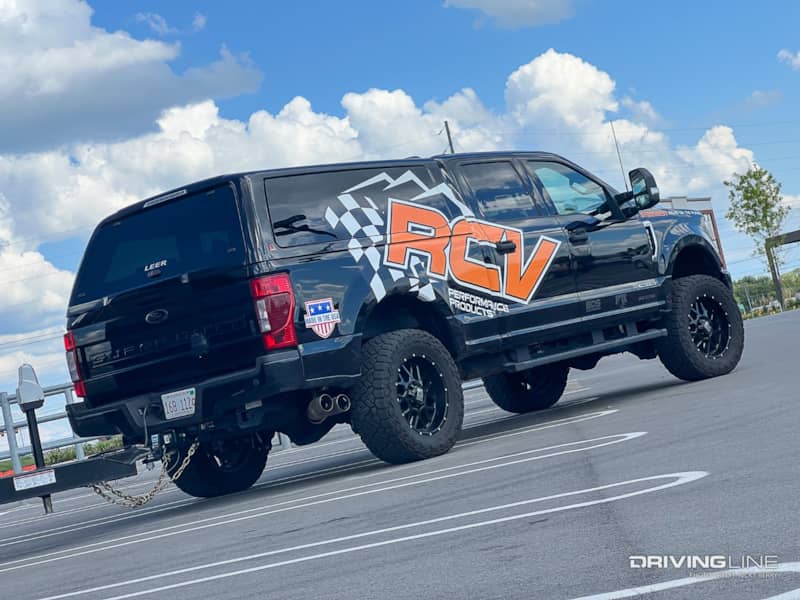 After thousands of miles, we found the Recon to continue to prove to be the perfect all-terrain for a tow rig. The load range F options are really the extra insurance you need for a safe and stable tow in a variety of conditions and weather both on- and off-road.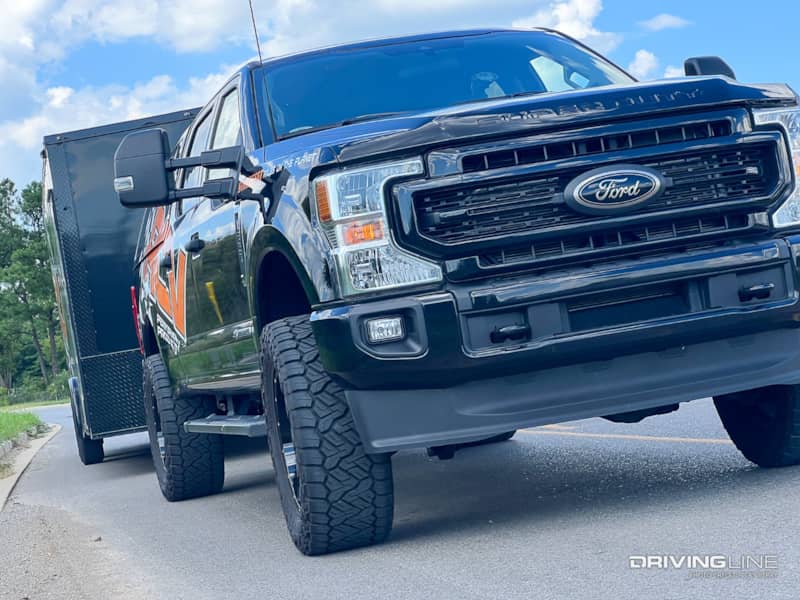 Compared to stock, this truck now feels planted and able to take on the rugged terrain it will see for years to come. The Recon Grappler A/T tires excel in wet weather and winter conditions, as well boast a 60,000 mile treadwear warranty. We shouldn't have to worry about tires for a very long time on this truck.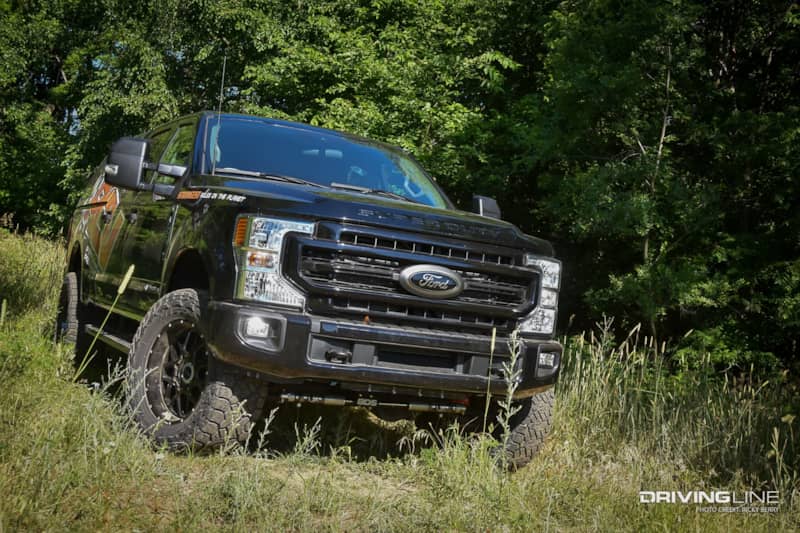 From the massive potholes on I-40 in Oklahoma, to the dusty dirt of Boone Road into King of the Hammers, and everything in-between—we don't have to worry about our Recon Grappler-equipped tow rig.