Nitto's Latest A/T Tires Tested: LGE-CTS Puts 5,000 All-Terrain Miles on a Recon Grappler Equipped Ford Super Duty Truck
An off-road capable shop truck is essential to the family-run company LGE CTS Motorsports, and they kept that in mind when they built their Baja Forged Super Duty back in 2019. The truck, and therefore its tires, would need to handle everything from hauling parts and projects to the OLAF overland and Real Deal motorcycle events, plus a few weekends off-roading in between. So, when it came time to mount up a fresh set of tires, they knew that a tough all-terrain tire was more than necessary.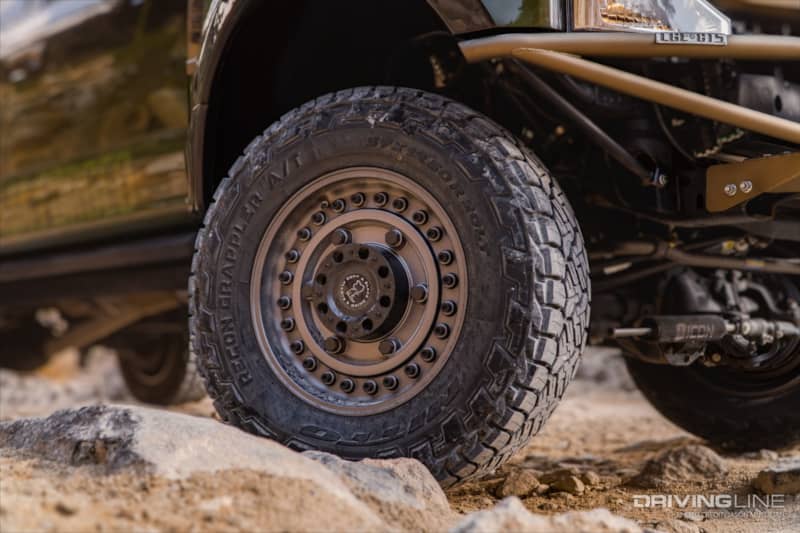 We first took a look at the Baja Forged Super Duty about 6 months ago, which is about the time Nitto first introduced the Recon Grappler A/T to the public. LGE-CTS chose a set of 37x12.50-inch of the all-terrain tires mounted up to a set of 20x9.5-inch Black Rhino Armory wheels. Since we last saw it, they've put nearly 5,000 miles across a variety of terrain and added weight to the vehicle—a great all-around test for the new all-terrain tire.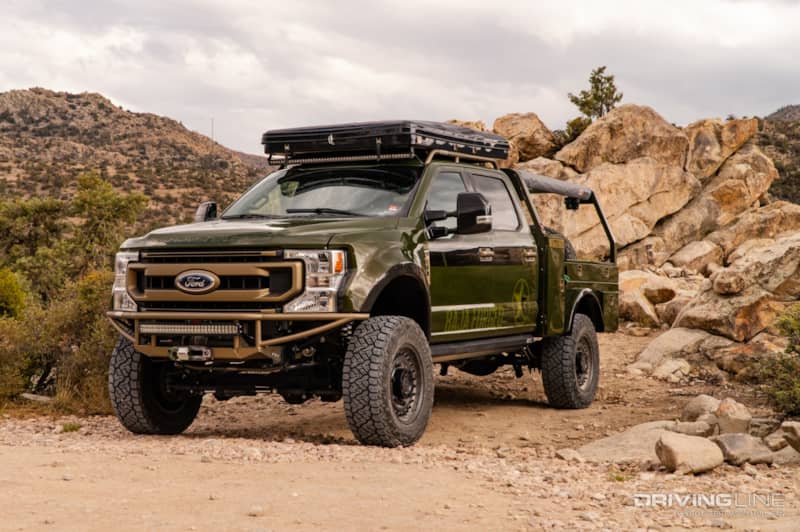 All-Terrain Handling
Right from the get go, Theresa Contreras of LGE CTS Motorsports & Baja Forged was impressed, "I love the look of theRecon Grappler! They are wearing well, and the tread barely looks touched even after all those tough miles. So far we feel very confident in the ability of these tires, both on and off-road."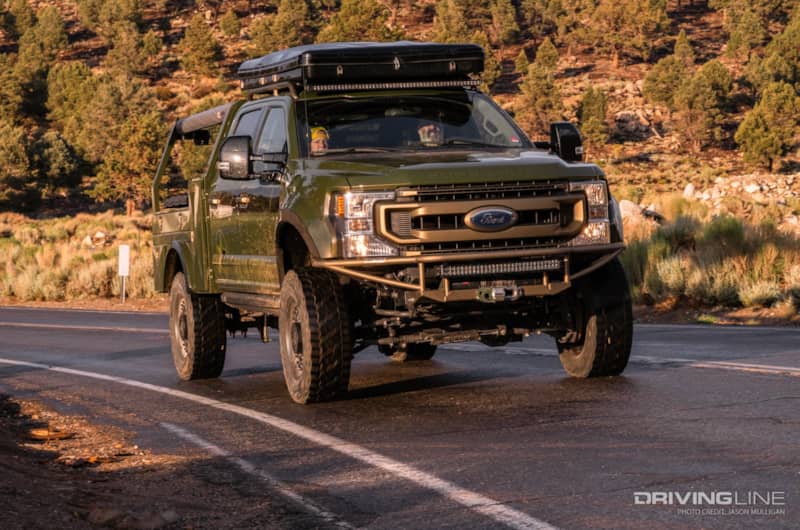 Generally, tires that feature a more aggressive off-road tread design handle themselves well in gnarly terrains or competition settings but sacrifice ride quality and road noise on the highway. The design of the Recon Grappler as an all-terrain tire was designed to bridge the gap between on and off-road performance.
Ride Quality
Unlike other tires that they've had on their heavy-duty trucks, the Nitto Recon Grappler A/T was not prone to grab a line in the road, or throw off steering and handling capabilities. Much of this is due to the all-terrain aspect of the Recon; the tread is designed with both wide and narrow grooves for great highway performance as well as a tougher shoulder design that helps keep traction off-road. But also unlike most off-road tires, the Recon Grappler's tread design looks to keep down road noise which can be an issue, especially with a heavy-duty truck packing some pounds at a higher tire pressure.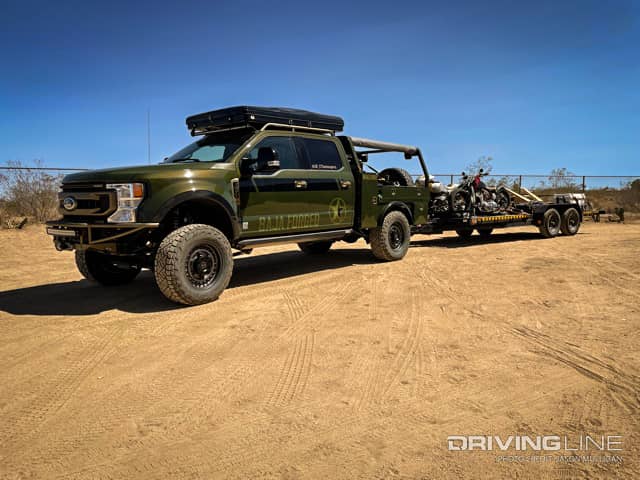 "I have driven it a lot in the last few weeks because we have been doing a lot of towing," says Theresa. "You don't want to be all over the place when you tow." So far, the new tire has handled well on the road.
Towing Capabilities
Towing duties for the Super Duty has included picking up a few Ford and Nissan project vehicles and running all of the parts and Nitto tires around town to go on those builds. They have also used the truck to tow their recent builds to the SEMA show in Las Vegas, and multiple trips through a maze of Los Angeles freeways. They were a bit nervous with a lifted Super Duty and trailer on the rutted Los Angeles freeways but the tires handled perfectly and tracked well. Their destinations were the LA Auto Show to showcase a recent Ford Bronco build and hauling out a pair of custom motorcycles and materials for a show booth to promote their Real Deal Revolution non-profit group and "Babe's Ride Out" in central California.
"The tires have been great for towing. And are very quiet all around. The tire still grips on dirt roads and rocks and floats well over sand. The handling was great off-roading when we air down as well," said Sara Morosan, who runs the LGE CTS Motorsports retail store in Upland, California.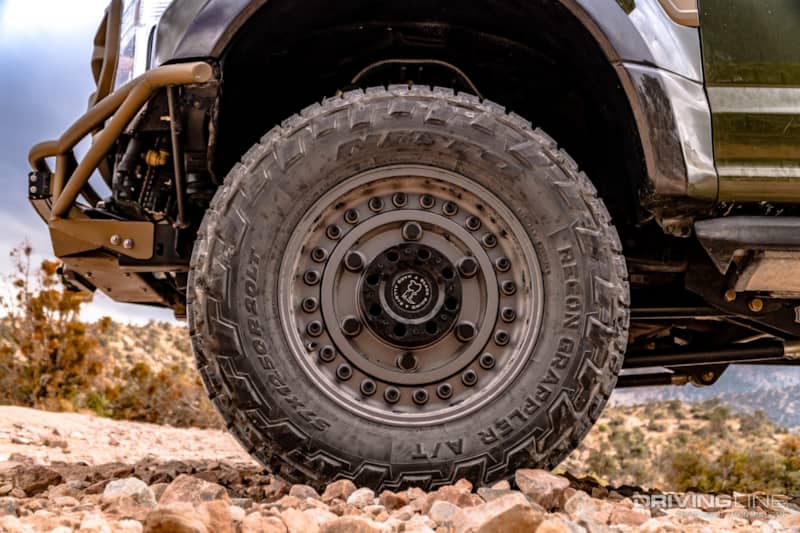 Jason Contreras said that they made some small adjustments as they keep putting more miles on the tires, getting to know them better. "We lowered the air pressure down just a bit and that provided a slightly better ride on the highway. Since it is a heavy duty truck and they are an E rated 37-inch tall tire, we run them at 65 PSI when we are towing with them."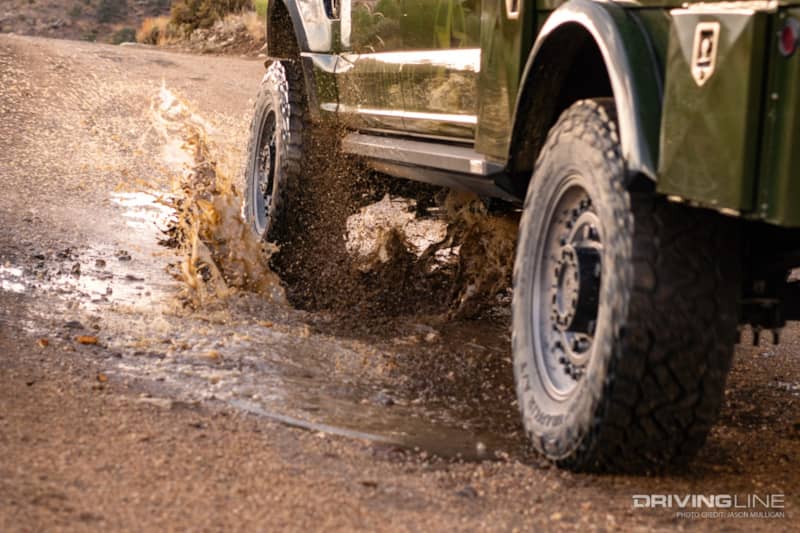 Off-Road Performance
Even with off-road capable and all-terrain tires, reducing the tire pressure when going off-road helps provide better traction, a wider footprint, and a more comfortable ride. It can also help keep parts such as door latches and roof racks from rattling loose. The Super Duty is a larger, heavier-duty platform than most off-road rigs. Add on the extra weight from the utility bed and loaded up with gear for a weekend trip; Jason stated that they usually air down only a few PSI to make sure they don't have any issues on the trail, even though a full-sized spare sits nicely on a swing arm outback.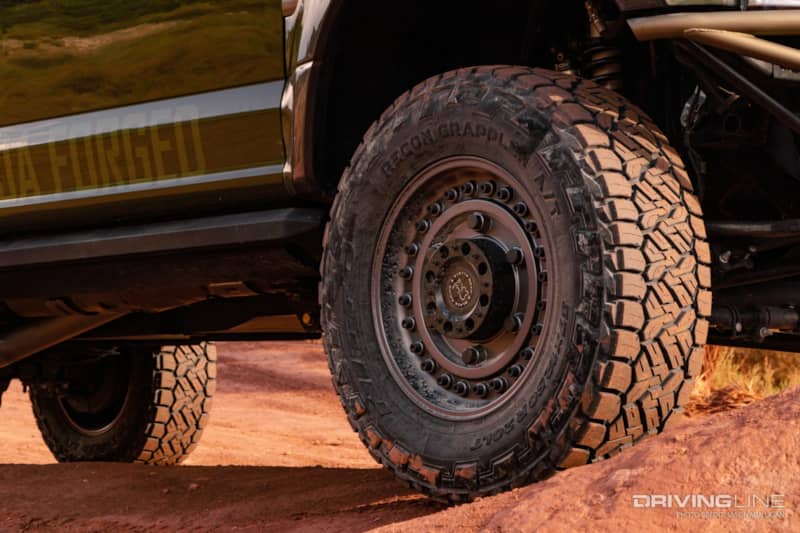 The truck has mainly seen the rocks of Johnson Valley, trails of Big Bear, and sand of the open California desert. While there haven't been many rainstorms in Southern California recently, the Recon Grappler is designed to help maintain traction in wet conditions as well whether on or off the road, so they'll be prepared for the next bit of wet weather.
"The Nitto Recon Grappler is a great mix of on and off-road, providing us with a great ride all week, and gripping the terrain off-road from loose gravel to crawling over rocks when aired down on the weekends."