Orange Dream Machine: A '77 F-100 Pickup Truck Inspired by Family Heritage
Whether it's truck brands or careers, people like sticking to family traditions. That lineage in any particular segment in life gives you an edge over most others. Wisdom comes with experience and if you are pre-exposed to inside knowledge, chances are that you will follow the path that has been paved for you. Such is the case for Isaias Garcia—he followed in the footsteps of his father.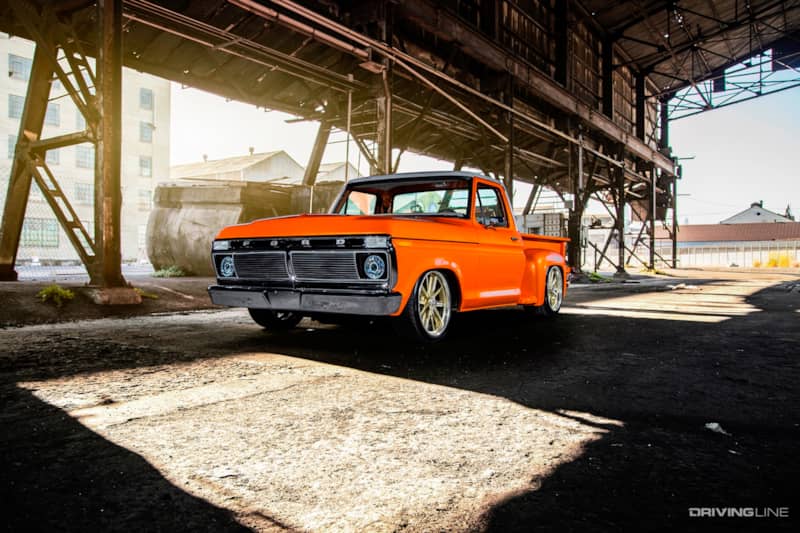 Bleeding Blue
For the Garcia family, the Ford brand of vehicles are favored as they have been trusted to get the job done right over the years. Ike, Isaias' father, drove a '69 F-250 for the family's San Francisco-based electric contracting business and it has been a distinctive vehicle in their stable ever since. But that was not the only FoMoCo truck in the family. Isaias' cousin, Aaron Magdangal, also owned a '78 F-100. Solidifying the brand loyalty, Ike also had a '62 Ford Falcon sedan delivery and Isaias has many fond memories of working on it in the garage.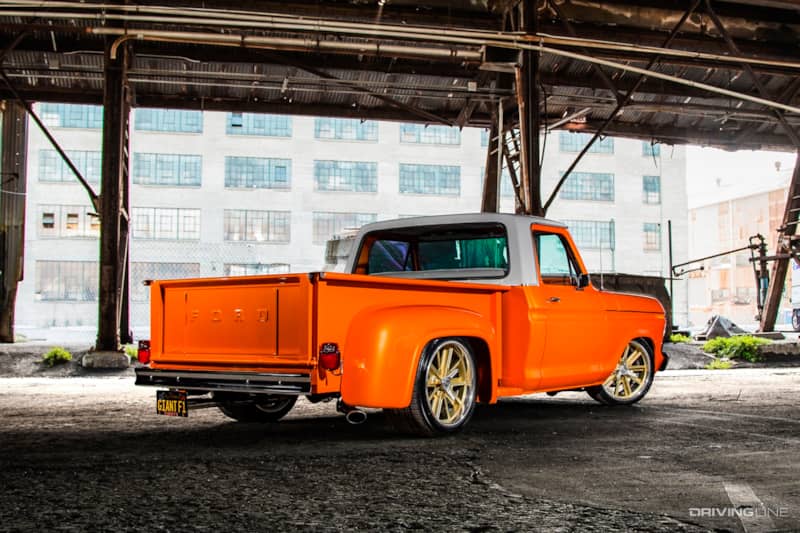 Like Father, Like Son
Though the F-250 was used and abused, Ike loves his truck and has outfitted it with a utility bed to simply keep it in service. For a while, Ike had his eyes on a particular '77 F-100 that one of his older customers owned. It came equipped with a flareside bed, was well-maintained and in decent shape. The truck had the original 302ci V-8 and manual transmission complete with a three-on-the-tree column shifter.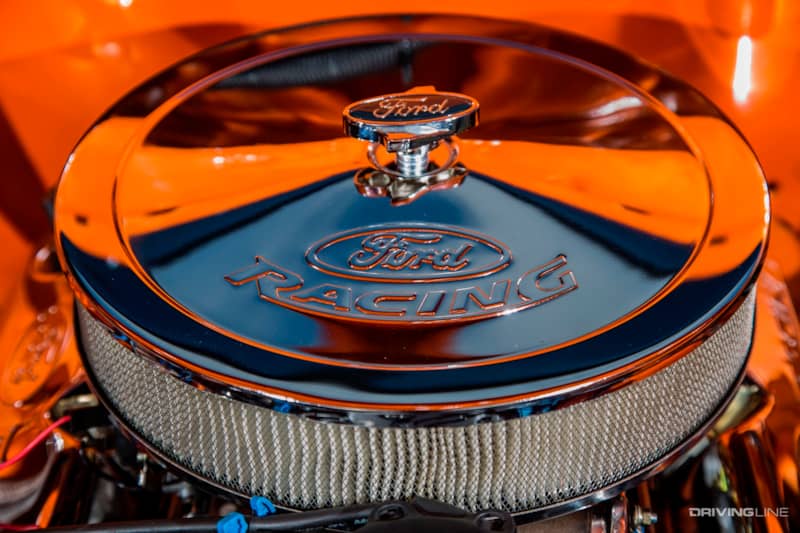 Though it was a solid truck, it was becoming difficult for the older gentlemen to drive it. Ike made the owner an offer, which was accepted, and in turn he gifted the truck to his son.
Living the Dream
Isaias was so excited to get the truck that he daily drove it as is for years. When something needed upgrading, he and his father worked on it together. Though he was enjoying the truck, the ultimate plan was to fully rebuild it to improve its style and capabilities. Isaias knew he had to go all in and made some life choices in order to fully invest in his beloved F-100. After searching around for a shop to take it even further, he chose to have Rolling Motors tackle the rebuild. Though the business specialized in collision work, the shop crew was eager to test their skills on this truck.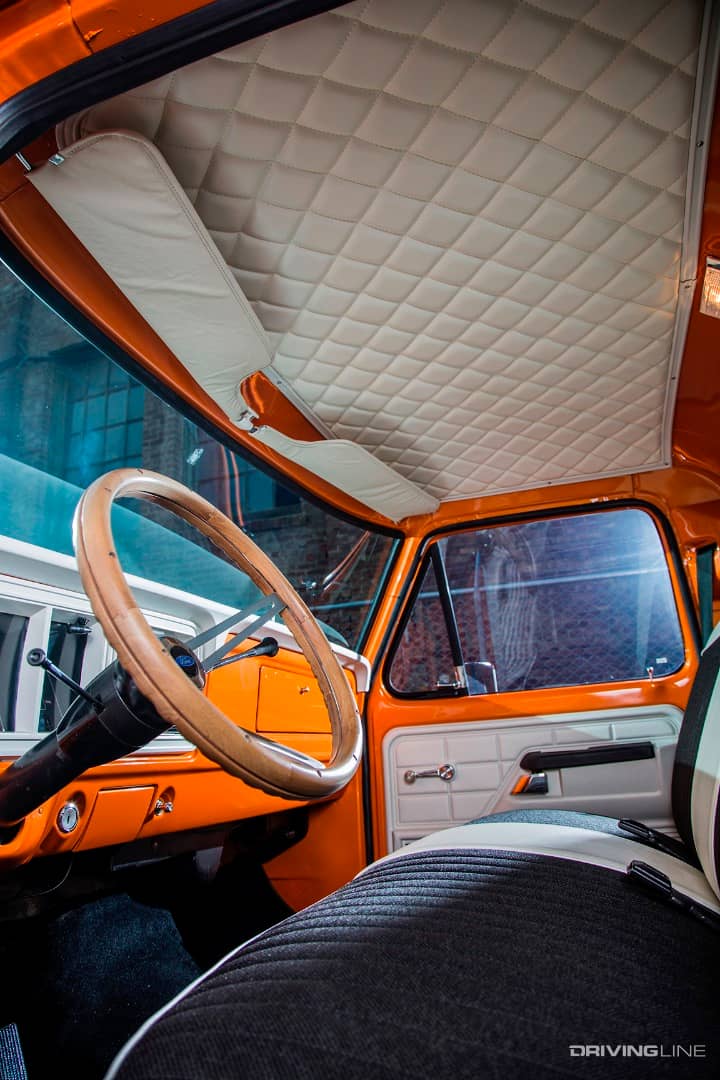 Pushing Through
Though the build of this truck ran smoothly in the beginning, there was a bit of a hiccup along the way as Rolling Motors was forced to relocate when their lease was up. While moving, the crew made the effort to ensure the truck was taken care of. Work continued as the business moved to a new location in Burlingame, CA and the name was changed to Golden State Collision Center.

The Stance Setup
Striped down, the bare chassis received DJM Suspension Dream Beams up front and a set of Firestone airbags on all four corners. It was setup to run a set of 20x9 and 20x12 American Racing VN407 wheels with 255/35ZR20 & 315/35ZR20 Nitto Motivo tires. The wheels set the aesthetic tone for this truck, while the tires set the practical tone, and are more than capable during all seasons. The all-season tire gives Isaias confidence in knowing that he can drive the truck all year long without any worry about the weather.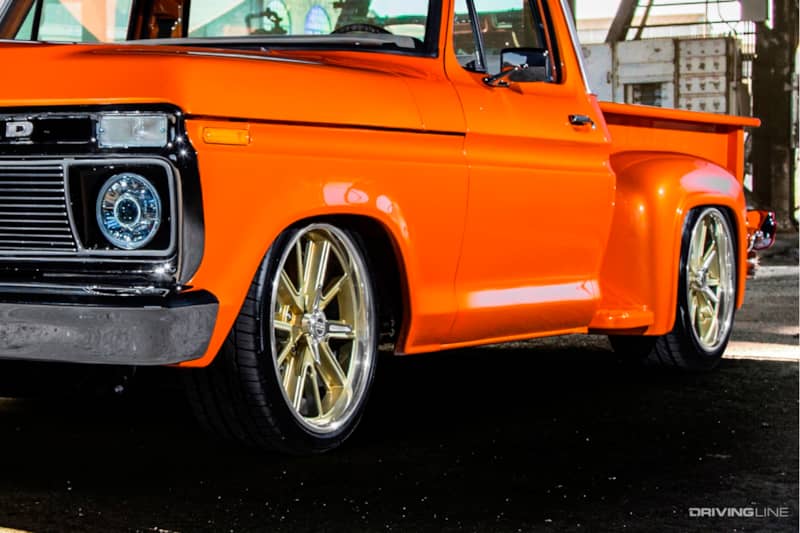 Shine On
Under the hood, the original engine was cleaned up and enhanced to make it a real stunner with a host of aftermarket performance and dress-up parts.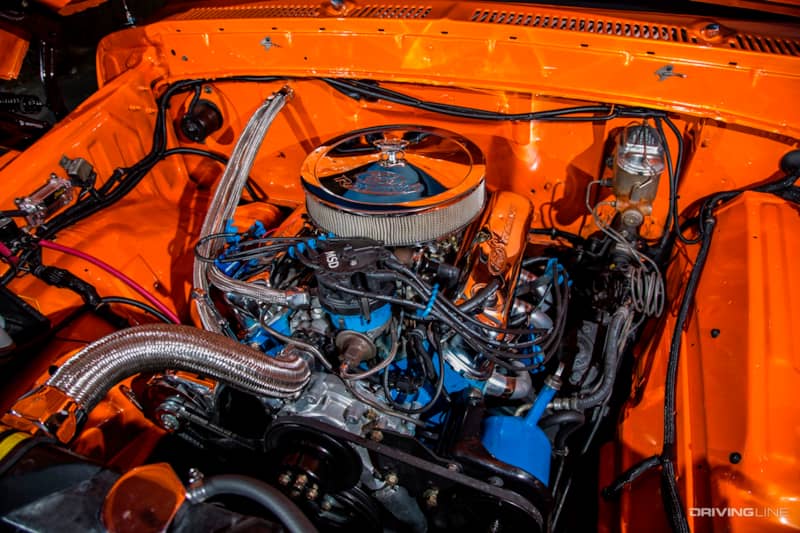 On the outside, the original steel body was straightened and painted Oh So Orange Pearl with Lexus Pearl White top. Afterwards, replacement goodies like bumpers and the wood bed floor were sourced from LMC Truck. Finishing it off, a replacement upholstery kit was customized and installed by Seal and Upholstery.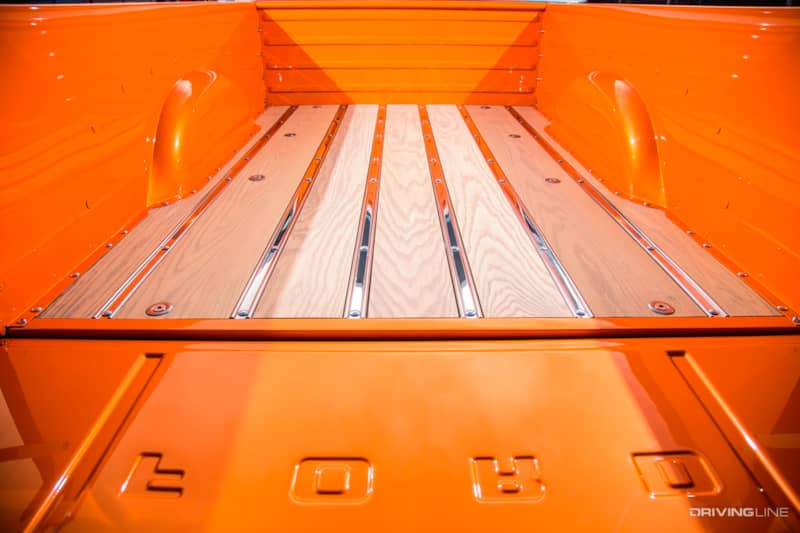 Extended Family
It's normal for frame-up builds like this to take a while and this truck was completed within a year and a half. Isaias patiently waited and soon enough he was cruising on the road again. With this F-100 together now, it will be cherished like never before, and obviously, never leave the family tree.