Paying It Back: Craig and Aron Kendall's '50 Chevy 3100 Pickup
Most classic trucks have a lot of sentimental value and for Craig and Aron Kendall of Alpine, WY, this '50 Chevy 3100 pickup took them on quite the journey together. The idea of this truck build originates many years ago when Craig was in his 20's. Back then, he had a 5-window '53 Chevy like this one and it was his favorite ride. Though he loved the truck, he had to do what was best for his growing family and sell it to pay the bills.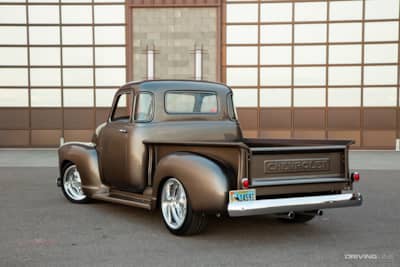 Jumping Back In
As the years passed by, Craig could not get over the fact that he had to get rid of his truck and had the desire to own one like it again. In 2017, a buddy told him about a 3-window '49 Chevy he was restoring but lost interest in it and offered to sell it. At the time Craig had some extra cash and figured he had a place to store the truck so, he might as well pick up the Chevy to one day fulfill his dreams.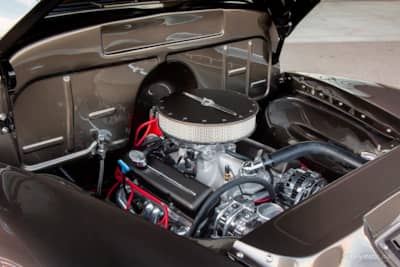 Moving Forward
Craig told his son Aron about the truck and invited him to come and check it out. Though Aron is more of a 4x4/diesel truck enthusiast, he was keen on his dad's truck and wanted to help fix it up. His goal was to help make the truck reliable for his dad and mom to cruise or drive long distance for events. To help achieve this, Aron ordered up a 383ci small block Chevy from BluePrint Engines to replace the tired V8 that was in the truck.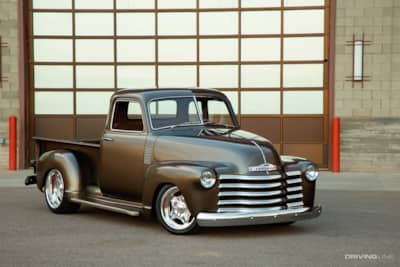 A Solid Foundation
Aron also wanted it to have a good foundation and a cleaner look on the underside. He came across Total Cost Involved (TCI) and decided to pull the trigger on purchasing one of their new chassis. Craig was then surprised with it at Christmas time when Aron gifted him a photo of the chassis. Though the construction of it was not complete, this was a great way for Aron to convey to his father what he had in store for the truck.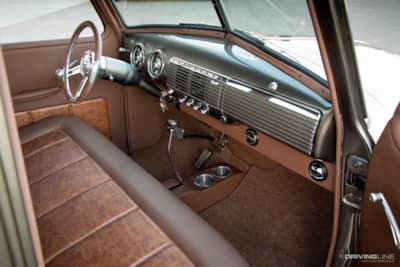 Switching Gears
The plan was for Aron and his father Craig to work on this truck themselves but as they went further down the rabbit hole, things were going to take longer than anticipated. Realizing this early on, Aron was able to form a solution to move the build at a more reasonable pace. He contacted Premier Street Rods about taking the brunt of the work by setting up the powertrain, chassis and mounting the body. While talking to Ross Logsdon of Premier, Aron found out that they also had solutions for rusted out trucks by offering 100% new bodies. Going this route would not only save time but it would fetch better results. Plus, they could get it in a 5-window cab version as well.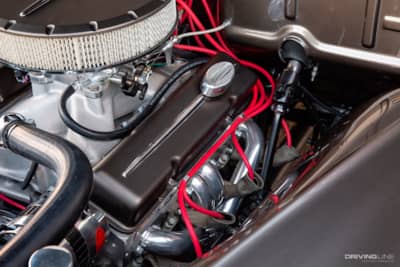 The Build Up
At that point, the chassis was shipped to Premier's headquarters in Lake Havasu City, AZ for the truck to be built there. Aron and Craig loaded up the engine and a few other parts and made a road trip to deliver these pieces to Premier. The TCI chassis was set up with a modern independent front suspension and four-link rear for smooth ride and performance capabilities. While at Premier, the team assembled the chassis while adding Ridetech coil-overs and Wilwood disc brakes. Then, the 383ci engine was dropped in along with the 4L70e transmission that delivers power to the Currie 9-inch rearend with Eaton Detroit Trutrac limited-slip differential. The engine was also upgraded with a Holley Sniper EFI unit for drivability and dressed up with numerous components from Billet Specialties.
Improved Looks
From there, the body was bolted to the frame and worked smooth for a fresh appearance. Then, the truck was painted PPG Bronze Mist and a Mar-K dark oak wood bed floor was installed. Completing the look of the exterior is a set of 18 and 20-inch Schott Velocity billet wheels. These are covered in 225/45ZR18 and 275/40ZR20 Nitto Motivo tires that keep the grip on the road all season long. This was the perfect choice for this truck as it is meant to be driven and has to navigate through various weather conditions throughout the year.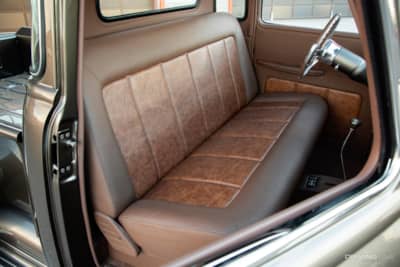 Creature Comforts
Finishing things out, the interior was upgraded with an Ididit column and Billet Specialties steering wheel. A few goodies like the shifter and pedals from Lokar Performance Products were added along with a set of gauges from Classic Instruments. The truck was then sent to Ron Mangus Interiors, where the Glide engineering bench seat was upholstered like the rest on the interior. Topping it off is a Kicker sound system for audible entertainment during long trips.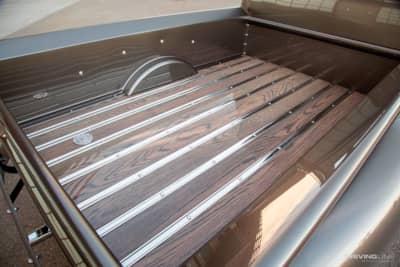 Paying It Back
Though Aron got carried away while building this truck, the results turned out stunning. Not only does it look good, but it has numerous features of a reliable vehicle that's easy to drive. Upon completion, Aron was able to pay it back to his father Craig by helping him create the truck of his dreams. In our opinion, there's nothing better than that!
Click here to see Sinister: A 1,000hp, slammed '56 Chevy Pickup Truck.