The F100 That Got Away: Reviving a Dream With a Restomod Pickup That Blasts Past the Competition
You never forget your first ride because it marks a significant chapter of a person's life. In a sense, your first vehicle is the key to unlocking personal freedom as it can take you anywhere you desire. Some of us were even lucky enough to own a cool vehicle at that point in life. Eddie Rosen is one such person— he had a bumpside F100 at age 16, which made for some pretty rad times in his youth.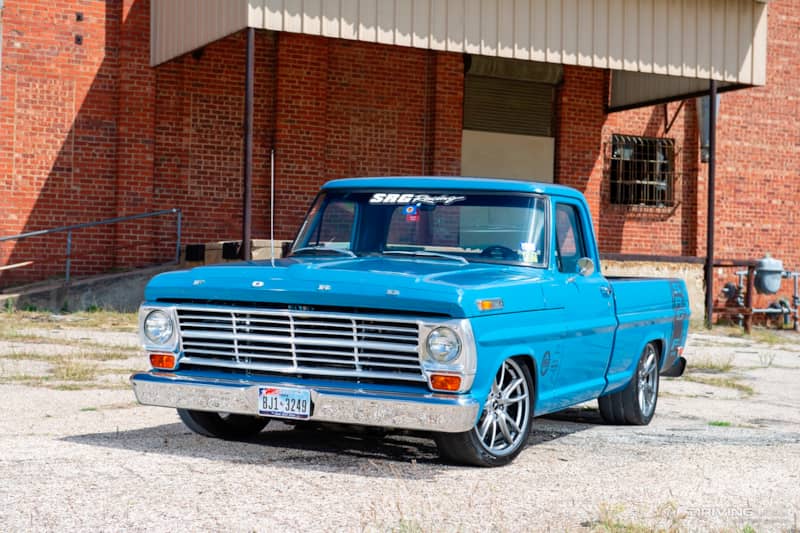 Responsible Decisions
Most times people don't keep their first ride very long as they usually aren't anything special. And those that are fortunate to have something memorable, can also get bored with their first ride. Other times, things happen in life, and you might find yourself looking to make more "responsible decisions." At the time you think you are making the right choice to move on and sometimes this can be a decision you'll regret for a long time.
Eddie is one that sold his truck thinking he was moving on to bigger and better things. However, as time passed by, he couldn't stop reminiscing about the feeling he had with his old pickup. He knew he had to get another pickup like that one he had and to his surprise, his mother bought him this '68 F100. Since he had been more aware of the upgrades others were able to add to trucks like these, Eddie knew he wasn't going to leave it as is.
SRG Flavor
Fortunately for Eddie, he was able to meet Scot McMillan, Jr. of Scot Rods Garage (SRG) and they seemed to click when it came to discussing modifications for this truck. Scot's name may be familiar to many as he once worked at Gas Monkey Garage (GMG) while they were featured on Discovery Channel's hit show, Fast 'N Loud. Since making his exit from GMG, Scot has been busy helping others turn their dream vehicles into reality.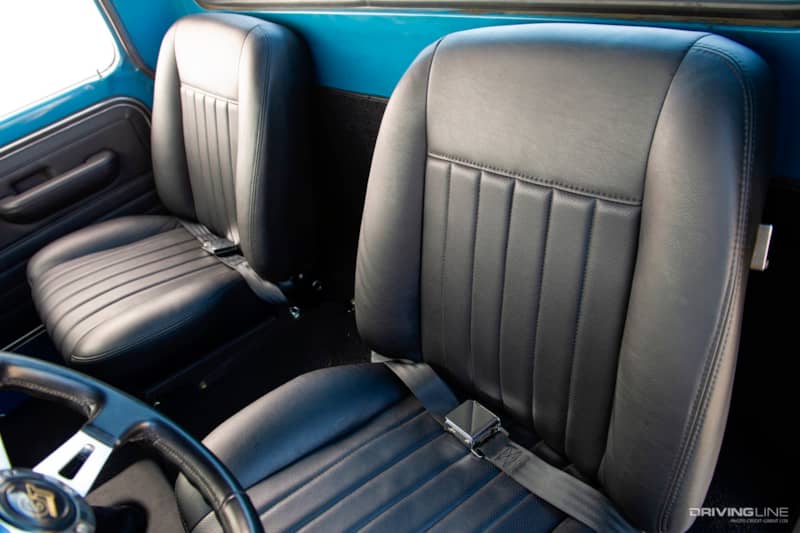 Corner Carver
Eddie and Scot were able to figure out the goals for this truck and its intended use, which included putting lots of road miles on it. Though these trucks had a smooth riding original suspension, they were setup for backroads with loose terrain and not for cornering on paved surfaces. To fix this, a front suspension clip from a late-model Crown Victoria was added along with a custom rear four-link to hold an 8.8-inch rearend, from a Ford Mustang, in place. For increased tuning capabilities, a set of Ridetech coil-overs were installed.
Filling the Gaps
The suspension setup not only helped in the handling department; it also made the truck sit lower as well. Filling up the gaps is a set down on Mustang Track Pack style wheels in 19x9 and 19x10.5-inch sizes fitted with 275/35ZR19 and 305/35ZR19 Nitto NT05 tires. Since this truck was built to corner on track and on roads as well, the large tread blocks of the NT05's help maximize traction while still also being able to efficiently evacuate water during wet conditions.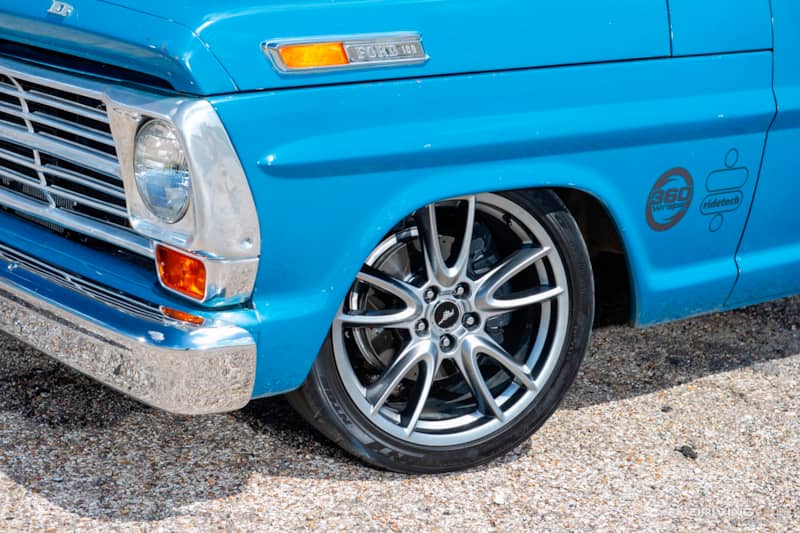 Sacrilegious Ride
Some may consider a Chevy Engine in a Ford sacrilegious, but the folks at Scot Rods garage aren't afraid to make bold moves like this. Getting the job done on this truck is a 6.0L Chevy Vortec LS engine from BD Turnkey Engines. Waking it up a bit is a Trickflow power package consisting of a hot cam, pushrods, rockers, and valve springs. Making this most out of this setup is a pair of Doug's headers that flow into a custom exhaust with Stainless Works mufflers.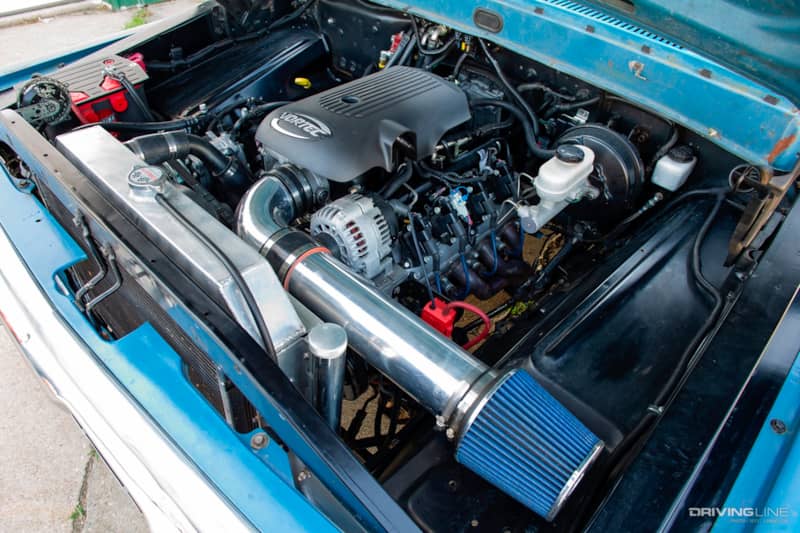 The Works
Feeding the beast is an Aeromotive Stealth fuel cell that is able to keep a full supply of fuel for this hot rod of a pickup. Maximizing power delivery is a TREMEC T56 manual transmission that also makes driving this truck a blast. Altogether, this setup boosted the truck's power ranking to 486hp at the wheels. That's pretty impressive for this old workhorse.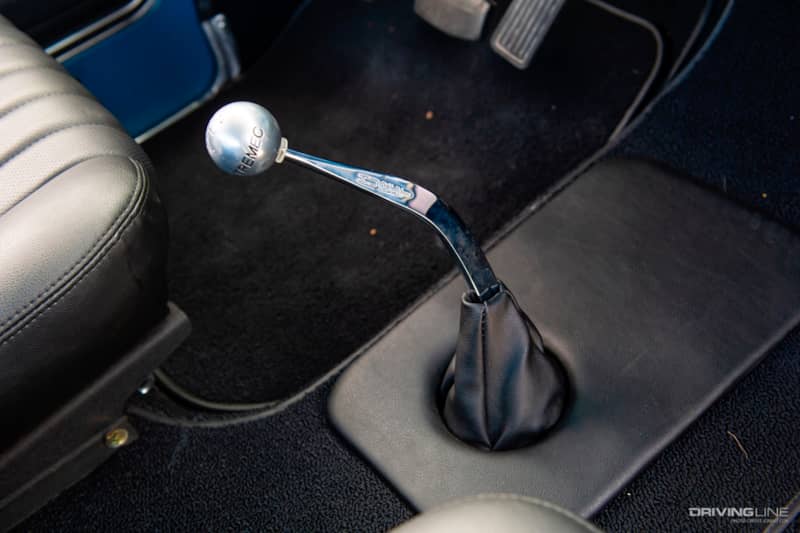 Restyling
With the functionality turned up to eleven, Eddie felt no need to alter the exterior as the original paint was in great shape. However, the interior was in need of some love and received a set of '67 Mustang bucket seats that were refreshed by Keith Kirk Upholstery. This addition helps both style and utility as they keep Eddie in place while traversing corners at full speed. Providing information to help him pilot this truck is a Dakota Digital gauge cluster, Grant GT steering wheel and an Old Air Products AC system to keep temps in the cab down during those hot Texas summer days.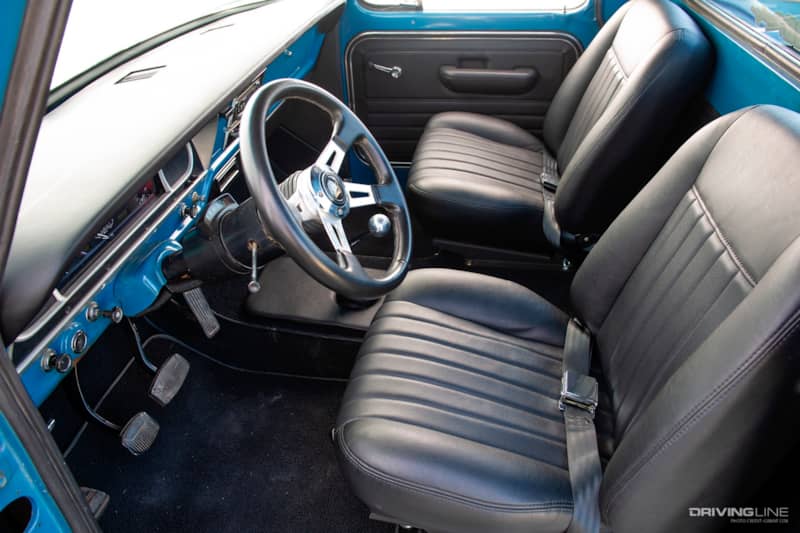 Living the Dream
With this truck all complete, Eddie is able to fully take advantage of its prowess while having the satisfaction of not having regrets over a miscalculated life choice. Since the completing this truck, Eddie has been able to really enjoy driving this restomod pickup and abuses it at autocross events where it has regularly placed first in class. Now that's a job well done!