Party Animal: A Coyote 5.0L V8-Swapped OBS Ford Bronco Restomod
Classic trucks and SUVs are all the rage these days, and it's a popular trend to add enough performance to them so they can meet modern standards. At the same time, the term "classic" is ever-evolving, and it's still kind of hard for us to believe that a '96 Ford Bronco would fit into that category, but it does. In fact, these fifth-gen ('92-'96) Broncos and their counterpart ninth-gen ('92-'97) F-series pickups are now known as OBS (Old Body Style) vehicles.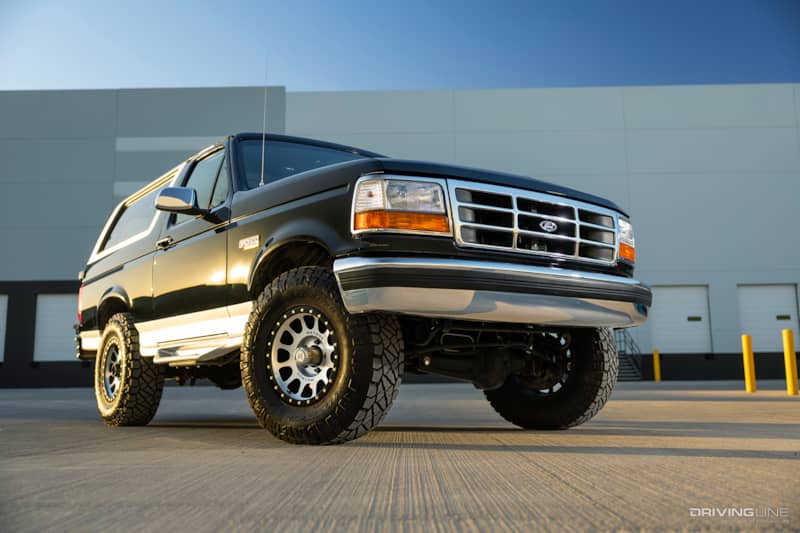 Reversing the Aging Process
If you recently picked up an unrestored Bronco like Chris and Terri Tabone did, you would quickly realize that they need a lot of attention in order to look pristine again. Since these vehicles are about three decades old, unrestored versions will naturally have parts that have worn out with time. The Tabones found this out the hard way with their '96 Bronco, but pressed on anyway.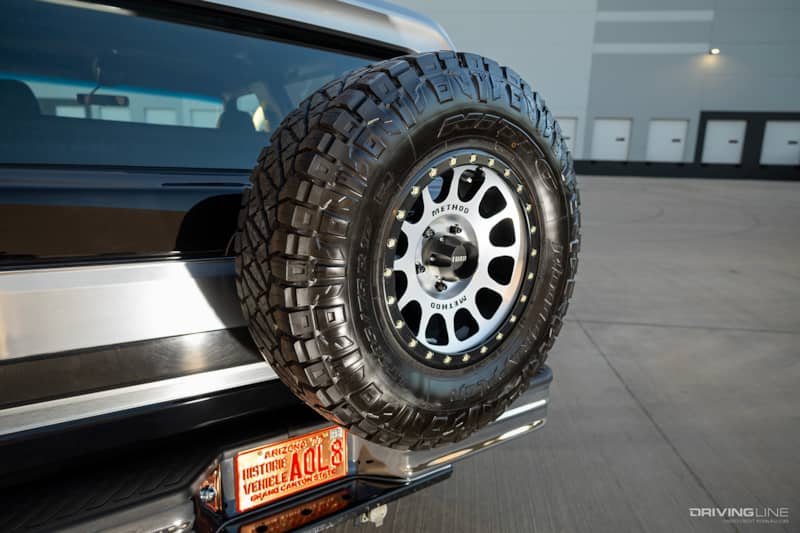 When they picked up this vehicle, their intention was to make it a wicked tailgating machine that could be comfortable to drive to Las Vegas Raiders games and be a part of some parking lot action. To get this Bronco up to speed, they turned to the classic Ford truck specialists at Fat Fender Garage (FFG) in Gilbert, AZ. While there, they met with shop owner Jason Noel about the project, and they were so impressed with what they saw there that they left the rig in order to get the full treatment.
Altitude Adjustment
Kicking off the build, the FFG team knew they had to start with a good foundation. Since all the bushings on the suspension had seen better days, they decided to replace everything with a full kit from Energy Suspension. Then, to add a bit of extra ground clearance, they installed a Rough Country 2.5-inch lift kit that included front coil springs, I-beam drop brackets, and 10-stage variable nitrogen-charged shocks. To ensure good front-end alignment, new ball joints with eccentric adjusters were installed for proper camber setup.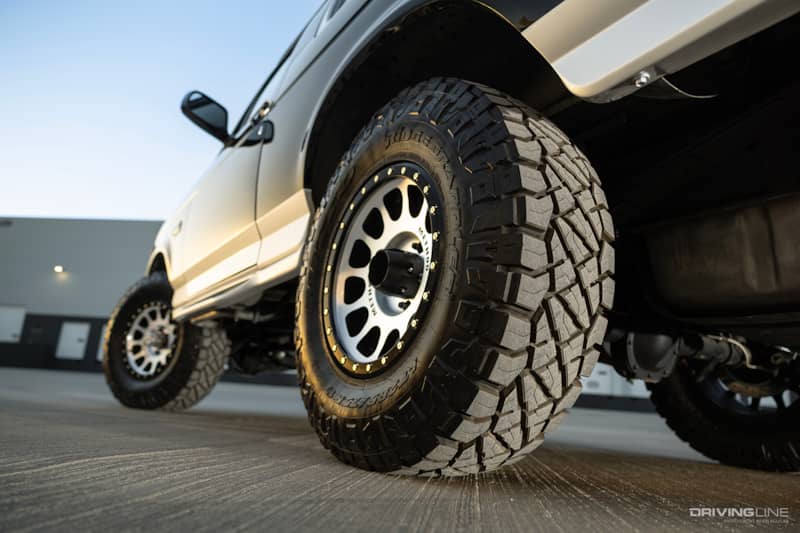 Making it Dual Purpose
Making the most of the lift, the Bronco was fitted with a set of 17-inch Method MR305 wheels with 285/75R17 Nitto Ridge Grappler tires. Since this vehicle mostly sees pavement but will also get some off-road use as well, the all-terrain/mud-terrain hybrid capabilities of these tires work perfectly.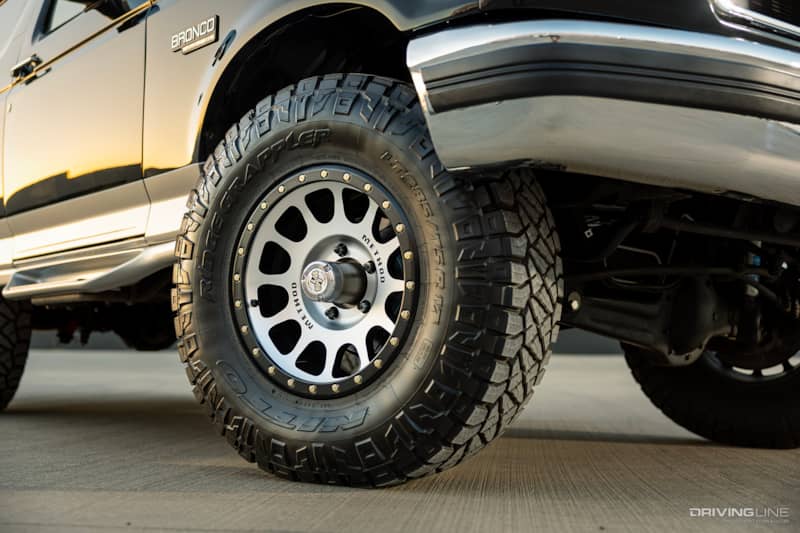 Not only will this Bronco be able to navigate the great unknown, but it will also grip the highway quietly and smoothly. The owner of Fat Fender Garage stated, "when looking for tires in the size we wanted, the Nitto Ridge Grappler fit our needs while meeting the quality demands and looks of this build."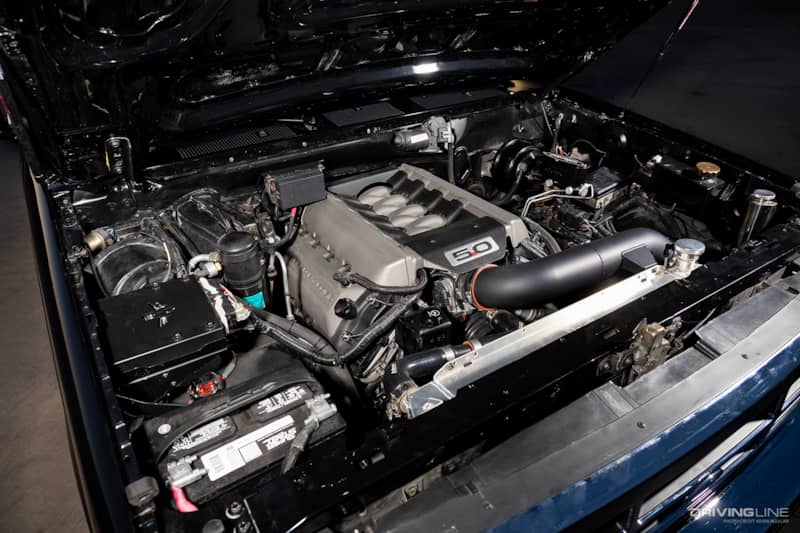 Modern Power
Besides being Ford fanatics, the crew at FFG are seasoned professionals at adding modern Coyote engines into older trucks. However, there was one small issue with dropping in that engine, because there's no kit for installing one in an OBS Ford Bronco or F-series pickup. However, it did not create a roadblock as they sourced a used 5.0L Coyote from a late-model Mustang and figured out how to make it work in the '90s-era machine.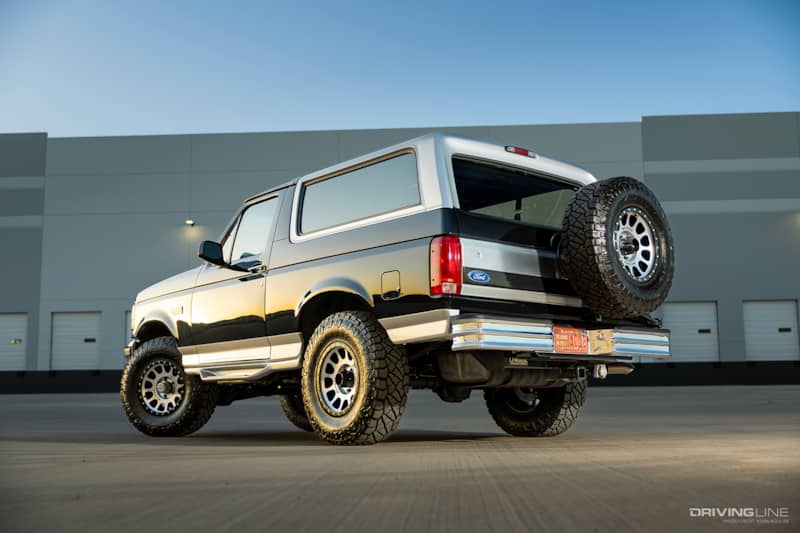 To marry this engine to the Bronco's frame, the boys created their own motor mounts. In the process, they also developed their own cold-air intake and stainless-steel headers that run to a custom 2 ½-inch exhaust with X-pipe and Borla mufflers. To help make it operate properly, they used a Ford Performance Control Pack and used new sensors to sync the factory OBS gauges. Then, a 6R80 transmission with a transfer case was salvaged from an F150 to retain the manual 4x4 floor stick.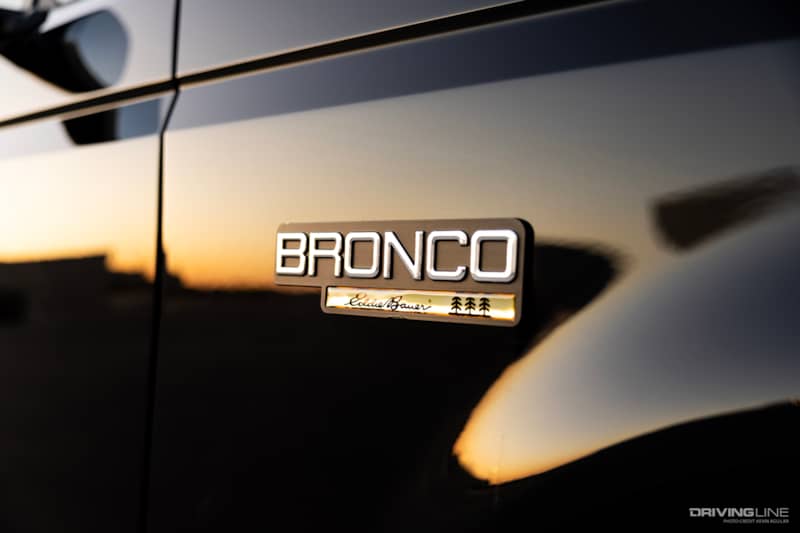 Bright Work
Once the Bronco was turned into a modern functioning vehicle, the team turned their attention to making it look good once again. Though this was originally an Eddie Bauer edition that was painted green and tan, the Tabones wanted it to represent their favorite football team. So, after the body was made laser-straight, Juan Martinez of FFG covered it in black and silver BASF paint. Then, to get it completely in tip-top shape, new glass, seals, lighting, mirrors, bumpers, and a grille were sourced from LMC Truck.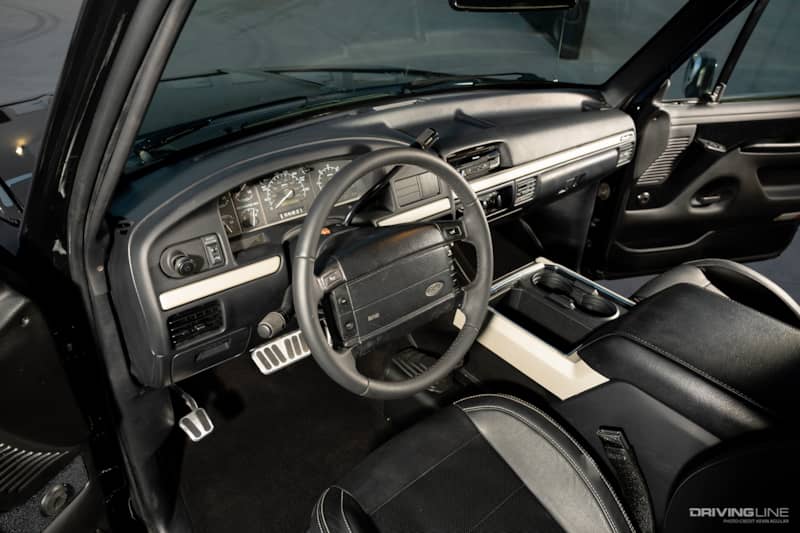 Because it had an Eddie Bauer package, the interior was also stylized, specifically in tan. With the new look of the exterior, the inside needed to match. To do so, the whole thing needed to be gutted, and everything was either coated black, reupholstered black, or replaced with reproduction black pieces. For a more modern feel on the inside, late-model Mustang bucket seats were salvaged and placed in along with a late-model F-250 center console. Topping it off is a full sound system that's comprised of Focal speakers and amps for the ultimate in audio when tailgating.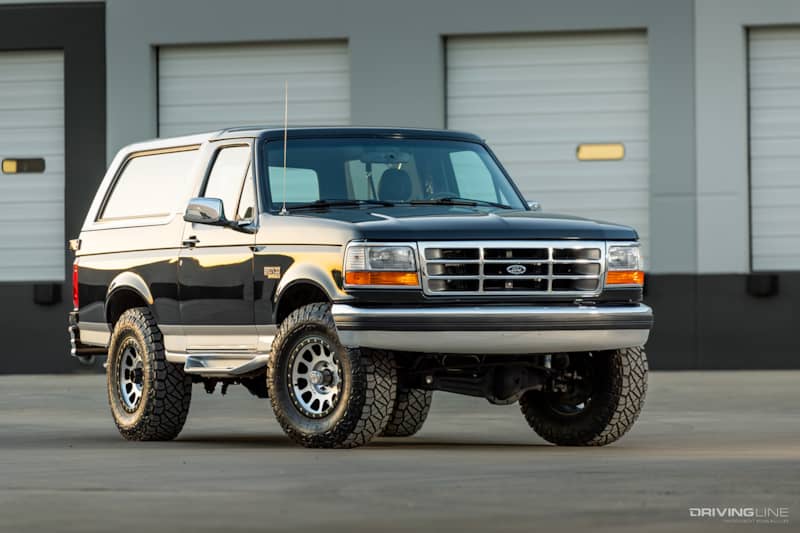 The Results
After all was said and done, this Bronco turned into a complete beast that's ready to brawl on and off-road. Before the shoot, we even took it for a test drive, and we can tell you that it felt amazing, sounded good, and the tires made the ride super comfortable. One thing is for sure, the Tabones have the perfect ride for pre-gaming.