Power Stroke History, Lesson 3: 6.4L
It was quieter, cleaner and more powerful than any engine yet built for Ford trucks, and it was being produced amid a wave of bad blood and lawsuits taking place between FoMoCo and Navistar over the problematic 6.0L. The power plant in question is the 6.4L Power Stroke. Based on the same basic architecture as the 6.0L, the 6.4L retained the exact same 4.13-inch stroke (but a larger 3.87-inch bore), a crankcase bed-plate, four-valve, cast-iron cylinder heads and integrated oil cooler, although oil flow is slightly different due to the 6.4L not utilizing a hydraulically actuated fuel injection system. Beyond those similarities, a host of differences set the 6.4L vastly apart from its predecessor.
Perhaps the biggest news on the 6.4L was that high-pressure common-rail injection had replaced HEUI. This provided for quieter engine operation, 25 more horsepower, 80 more lb-ft of torque and also contributed to NOx and particulate matter emissions being reduced by 50 percent and 90 percent, respectively. Other means for lowering pollutants called for the use of a second EGR cooler, a more efficient EGR valve and a diesel particulate filter. More big changes included the addition of a compound turbocharger arrangement, a fuel cooling circuit, a better water pump and a larger radiator with an increased capacity cooling fan. We'll go over all of the above and more in this trip down 6.4L memory lane.
6.4L Hard Facts
| | | | |
| --- | --- | --- | --- |
| Production: | 2008 to 2010 | Valvetrain: | OHV, four valves per cylinder, single cam |
| Bore: | 3.87 inches | Injection System: | High-pressure common-rail, direct injection |
| Stroke: | 4.13 inches | Injectors: | Siemens piezoelectric high-pressure common-rail (under valve cover) |
| Displacement: | 390 ci | Injection Pump: | Siemens K16 VDO high-pressure fuel pump |
| Compression Ratio: | 17.5:1 | Turbocharger: | BorgWarner series sequential (compound) turbos |
| Block: | Cast-iron | Intercooler: | Air-to-air |
| Rods: | Powdered-metal | Emissions: | Exhaust gas recirculation (EGR), diesel oxidation catalyst (DOC), diesel particulate filter (DPF) |
| Pistons: | Cast-aluminum | Horsepower: | 350hp at 3,000 rpm |
| Heads: | Cast-iron with four 16mm head bolts per cylinder (with sharing) | Torque: | 650 lb-ft at 2,000 rpm |
The Last Navistar-Built Power Stroke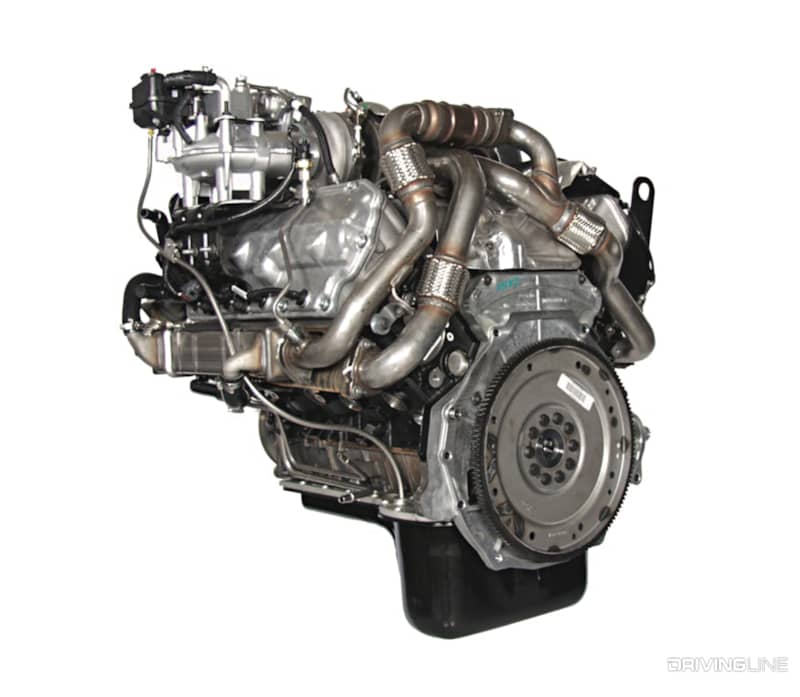 Introduced alongside the launch of the '08 Super Duty in the first quarter of 2007, the 6.4L had a lot to live up to. Not only were customers of problematic 6.0Ls ready to bury the hatchet, but Ford needed to keep pace with the more powerful competition (the 365hp LMM Duramax and the 350hp 6.7L Cummins). A few design similarities between the 6.4L and the 6.0L remained, such as the bed-plate used in place of individual main caps, the four-valve cast-iron cylinder heads and the camshaft being a direct carry-over component.
Piston Woes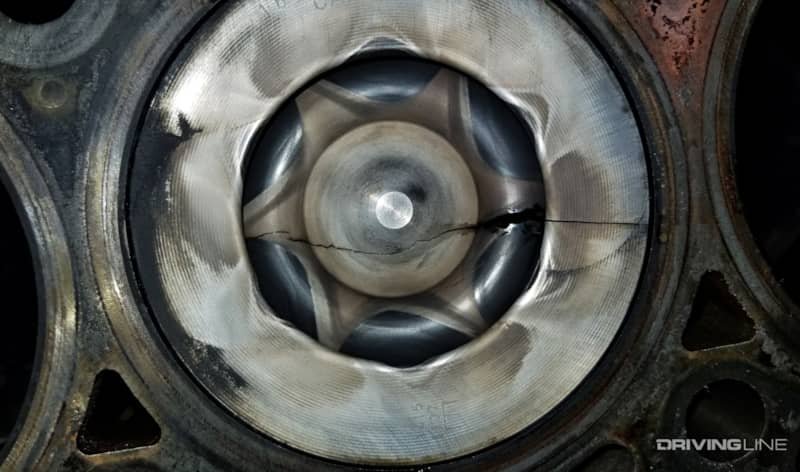 In both stock and modified form, the factory pistons used in the 6.4L Power Stroke can crack, although owners are much more likely to face this kind of catastrophe if they've tinkered with (or abused) the engine. Many believe the pistons crack due to the higher boost (40-42 psi stock) and drive pressures the engine sees thanks to the compound turbo arrangement. Luckily, there is a sound and highly affordable solution. Being that Navistar had always produced a milder horsepower version of the Power Stroke for its own commercial applications (T444E/7.3L, VT365/6.0L, MaxxForce 7/6.4L), industrial-grade pistons are available. The MaxxForce 7 heavy-duty pistons feature a different fuel bowl lip that's better at rejecting heat and that hold up well in higher horsepower applications.
Connecting Rods: Here's the Beef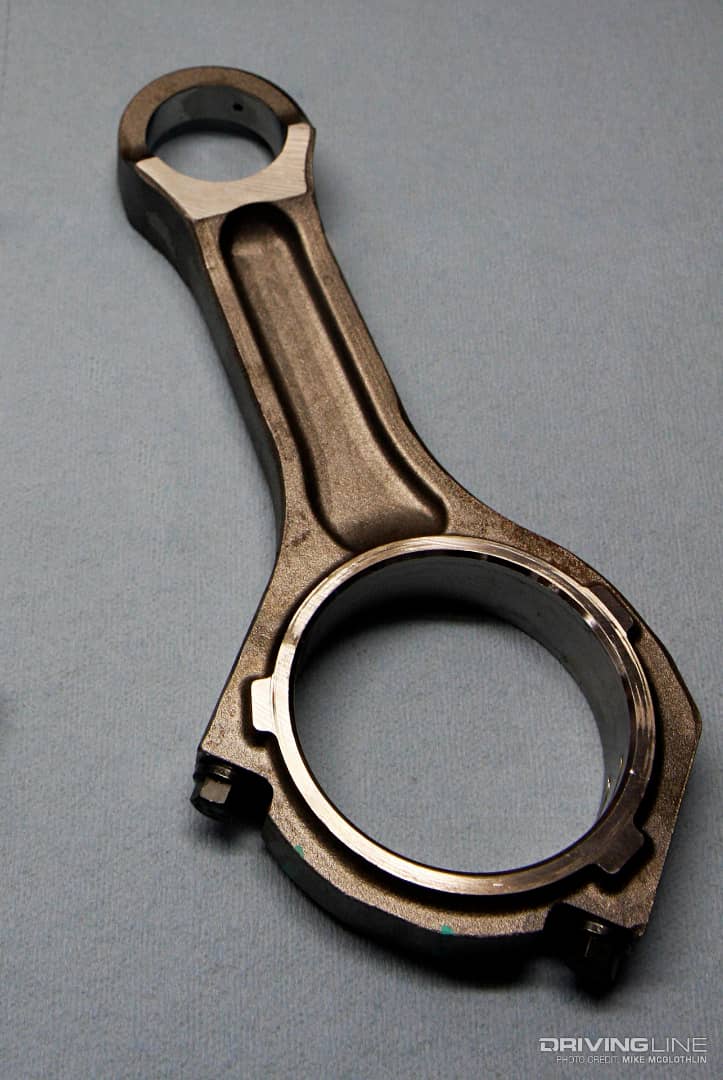 While the 6.4L's pistons can become questionable with added power or high miles, the connecting rods are anything but a weak link. In fact, out of every Power Stroke ever assembled, they can withstand the most abuse. The only failure we've seen occur at high horsepower was on an '08 F-250 equipped with triple turbos and making more than 1,000hp aboard a chassis dyno. The only rod failure we've seen on a bone-stock 6.4L was one that'd been hydro-locked. Other than that, thousands of folks have driven 6.4L-powered trucks making 550 to 700rwhp on a daily basis without issue.
Four (16mm) Head Bolts Per Cylinder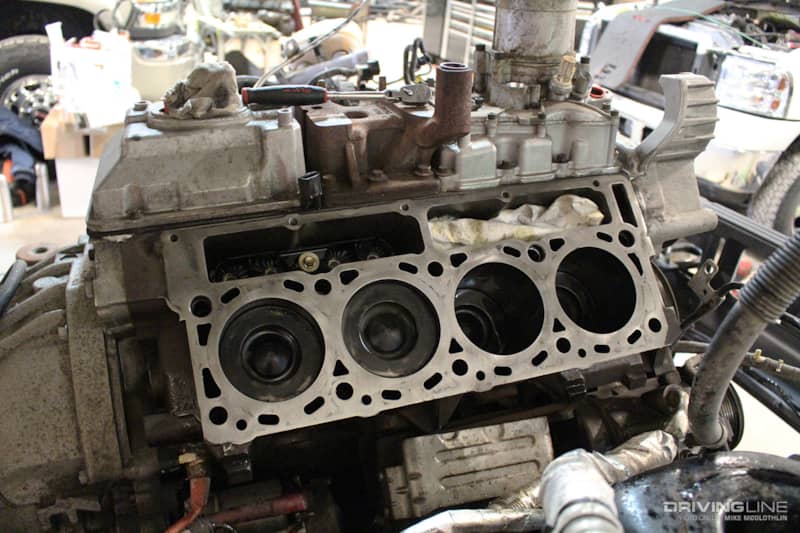 Rather than completely redesign the block and heads to accept more head bolts, Navistar increased the diameter of the fasteners from 14mm (on the 6.0L) to 16mm. This paid big dividends and kept the 6.4L from popping head gaskets like the 6.0L did. Even on modified power plants, it can take thousands of miles before any head gasket issue(s) surface.
Still a Problem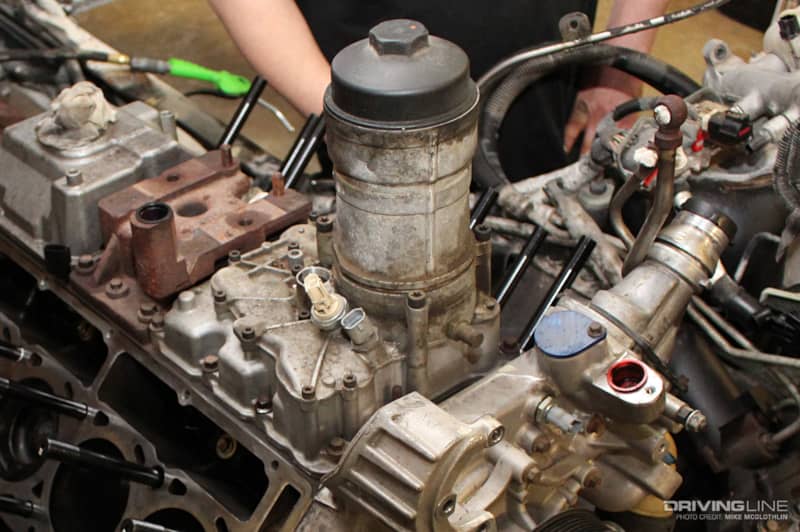 Using the same design oil cooler, it's the same old song and dance on the 6.4L. They're prone to plugging up and fail often. Casting sand from the block and sludge resulting from coolant breakdown (due to the extreme temperatures it's exposed to from the EGR coolers) clog the coolant passageways, which superheats the engine oil. Just as is recommended on the 6.0L, install a coolant filtration system if you want this vital component to live a trouble free life.
Series Sequential Turbocharger System (i.e. Compounds)
A two-stage turbo setup straight from the factory? What more could you ask for! Though Ford and Navistar most likely settled on a compound turbocharger arrangement in order to meet emissions, it certainly didn't make the 6.4L any less interesting. The compact turbo package manufactured by BorgWarner combined a 65mm fixed geometry low-pressure charger with a 52mm variable geometry high-pressure unit. The result was 40 psi worth of boost right off the showroom floor. While fairly small in size in terms of performance diesel applications, the 52mm/65mm arrangement could support nearly 600rwhp on fuel, more than 700rwhp on nitrous and remain reliable while doing it.
High-Volume, High-Pressure Fuel Pump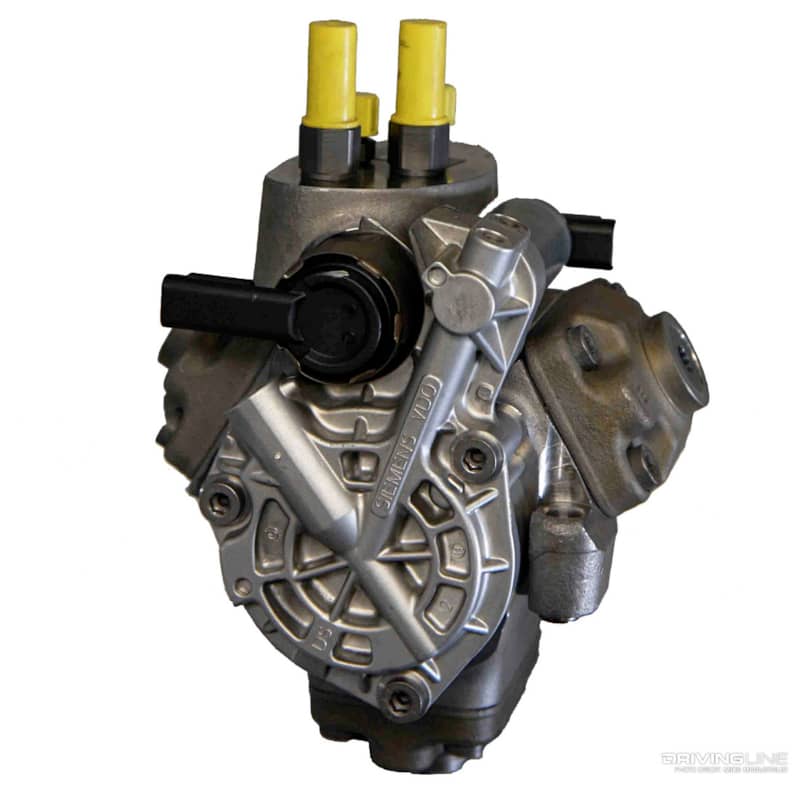 Navistar's relationship with Siemens continued on the 6.4L Power Stroke, only this engine would feature a high-pressure common-rail injection system as opposed to HEUI. The K16 VDO fuel pump was located at the rear of the lift valley, under its respective cover and the turbochargers. It is capable of producing as much as 25,000 psi but outflows a comparable Bosch CP3 (found on the competing Duramax and Cummins engines) by 20 percent. In terms of longevity, it falls short of what you can expect from a comparable CP3, especially if water or other contaminants make it into the pump.
State-of-the-art Injectors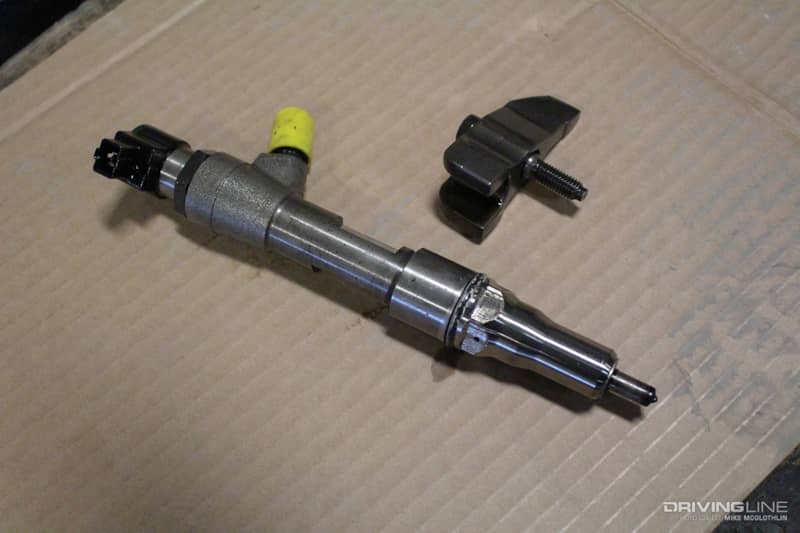 The piezoelectric injectors used in the 6.4L Power Stroke were a first for the diesel truck segment. They were located under the valve covers. Like the 6.0L, peak in-cylinder injection pressure remained near 25,000 psi, but the highly-advanced, quick-firing injectors could deliver much more precise fueling than the previous HEUI injectors could. In addition to that, as many as five injection events could be pulled off during the course of each cylinder's power stroke. This means pilot events are used to quell engine noise, post events are employed to better meet emissions and the main shot can be carried out in less than two milliseconds while still making 350hp. At a time when the Duramax and Cummins competition were relying on the formidable yet aging solenoid-style common-rail injectors from Bosch, these injectors were a step ahead of the game.
More EGR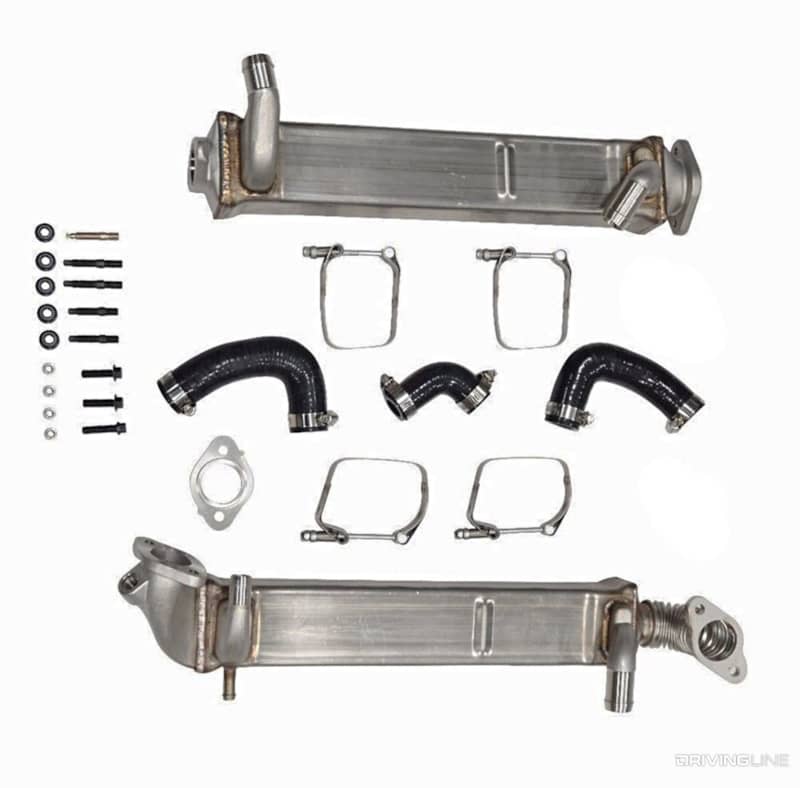 Because diesel exhaust fluid had not yet been introduced to the diesel pickup market (the urea-based chemical used to transform hydrocarbons into carbon dioxide, nitrogen and water), the 6.4L met the more stringent 2007 NOx emission standard by utilizing additional EGR. Approximately 25 percent of all the air a 6.4L breathes in contains exhaust gases. To handle the increase, and in an attempt to avoid all the EGR fiascos that had surfaced with the 6.0L, the 6.4L was designed with two EGR coolers. Exhaust gases bound for the intake tract must first pass through 17 inches worth of coolers, where temperatures can be dropped by more than 800 degrees F, along with an EGR valve equipped with a stronger DC motor. Out in the real world, EGR cooler and valve issues still caused downtime for 6.4L owners—and the problems surface more and more as the miles rack up.
DPF, Regeneration and Poor Fuel Economy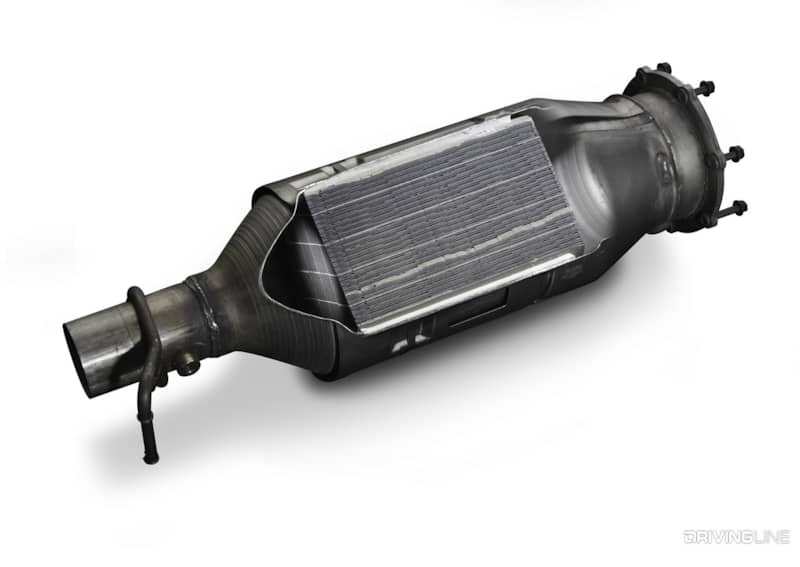 With the NOx side of the emission equation headed off with more EGR, the engine's particulate matter production had to be addressed. This was done by fitting the exhaust system with a diesel particulate filter (DPF), which kept heavy solid pollutants from leaving the tailpipe. Thanks to a process called regeneration, the DPF was a self-cleaning device, whereby additional fuel was injected on the engine's exhaust stroke to effectively incinerate the trapped particles in the DPF. However, a direct result of the regeneration process was that the percent fuel content found in the engine oil skyrocketed. It wasn't uncommon for owners to report draining an extra gallon of oil at the appropriate oil change interval. Regeneration was also to blame for the disappointing fuel economy the 6.4L saw (10-12 mpg in many trucks). Upon release, Ford recommended a DPF cleaning interval of 100,000-120,000 miles. We're not sure how many trucks made it that far without a problem, as emissions-related issues (everything from minor quirks to catastrophic failures) dominated most 6.4L service records.
Improved Cooling, Leaking Radiators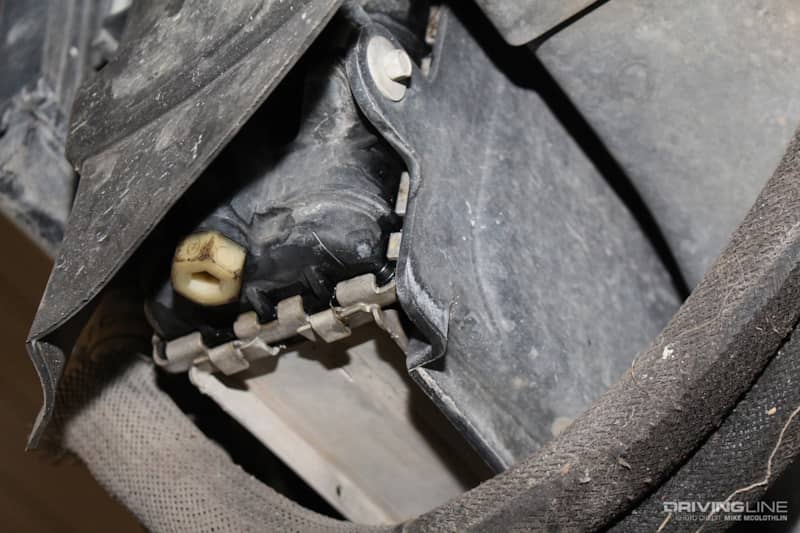 To both offer more coolant capacity for the new EGR system (which required even more exhaust gases be introduced into the intake stream) and support the higher horsepower, payload and tow ratings of the '08 Super Dutys, the 6.4L Power Stroke came with a much larger radiator. Specifically, it saw a 33-percent upsize over the unit used in front of the 6.0L and Ford actually had to rework the Super Duty's front frame rails to make room for it. Unfortunately, the radiators are notorious for leaking where the plastic end tanks crimp onto the aluminum core. Ford issued TSBs along with an updated radiator in an attempt to solve the issue, but these proved to be mild improvements, at best.