Power Stroke Sleepers: 5 Stock-Appearing Fords That Pack Big Surprises
Everyone loves a sleeper vehicle. It's the automotive equivalent of a wolf in sheep's clothing — a stock-appearing terror on wheels. In the diesel world, Ford trucks are some of the best candidates to turn into sleepers due to the fact that they're not as synonymous with making big horsepower as the other two brands are (i.e., Cummins-powered Rams and Duramax-equipped GMs). This is especially true in the case of the 7.3L and 6.0L Power Stroke V8-equipped trucks, built from '94.5-'07. These mills utilized a hydraulically activated, electronically controlled unit injection system (HEUI), which many consider to be a complex and inferior platform in terms of adding performance. For this reason, most Cummins and Duramax enthusiasts write them off or pay them very little mind. Big mistake!
The following Blue Oval profiles might just make you think twice about that old 7.3L or raspy 6.0L sitting next to you at the stoplight. And don't forget that a modest-looking '08-'10 Super Duty can click off bottom 13s at the track with nothing more than a programmer. Be careful who you line up against — this world is full of surprises.
1.  850-rwhp 7.3L
Let's kick things off with the nastiest truck of the bunch, shall we? Meet Tony Salokas' '01 F-350. While the '05 front clip, Reflexxion cowl hood and Harley Davidson grille and headlights are aftermarket add-ons, they do very little to draw attention to the fire-breathing 7.3L Power Stroke under the hood.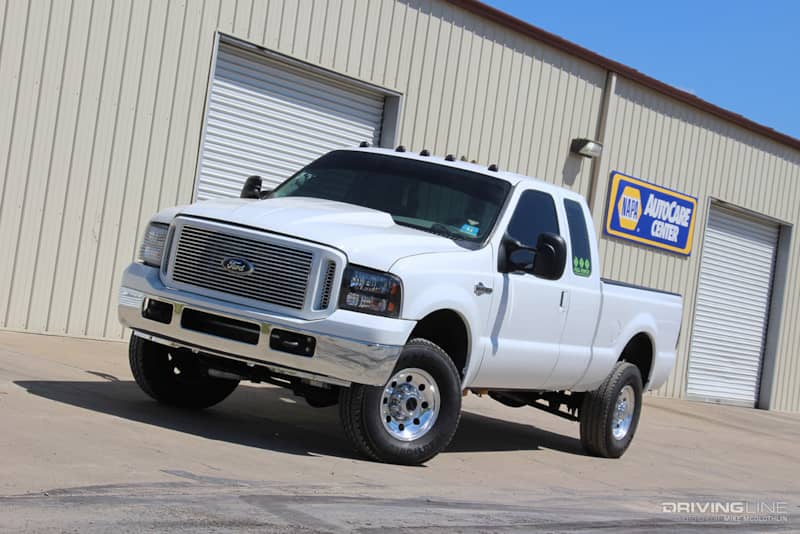 Built by Carson Stauffer Diesel, the 7.3L sports a partially filled block, Dyno Proven main bearing girdle with ARP main studs, Manley Performance I-beam rods, fly-cut and de-lipped 15:1 compression pistons, fire-rings that protrude into both the block and heads, a Gearhead Automotive Performance Stage 2 cam and Carson Stauffer's Stage 2 (ported) cylinder heads.
HUNTING FOR 10s
For fuel, Tony runs a set of 300/200 hybrid injectors from Swamp's Diesel Performance and a Marty's Diesel Performance 1375 fuel supply system, and keeps the high-pressure oil side of the HEUI equation happy with one of Swamp's Gen3 high-pressure oil pumps. A 75 mm S400-based charger from Barder Turbo Service supplies the air, a BTS 4R100 handles the shifts and with a whiff of nitrous, the truck sends more than 850 hp to the pavement.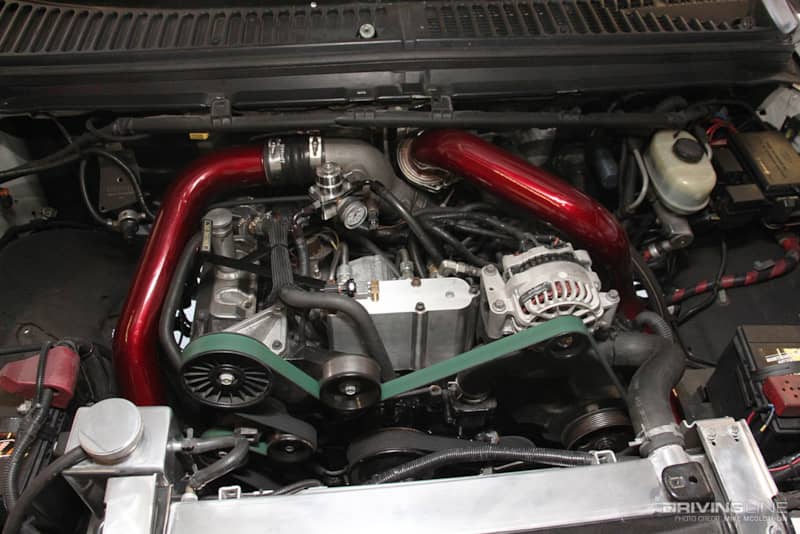 Tony's best quarter-mile pass to date has been an 11.03 at 120 mph (with a 1.577-second 60-foot). On fuel alone, the truck lays down more than 700 rwhp. Once the weather breaks in Tony's neck of the woods, you can bet he'll be on the hunt for 10's in 2017.
2.  700-rwhp 6.0L  
The 6.0L Power Stroke is the biggest underdog in the diesel performance realm. Even though a stock 6.0L short block can handle big horsepower and torque, most diesel enthusiasts steer clear of them due to their mechanical failure points on the top-end of the engine (stretched head bolts, failed EGR cooler and EGR valves, sticking turbos, plugged oil coolers, etc.).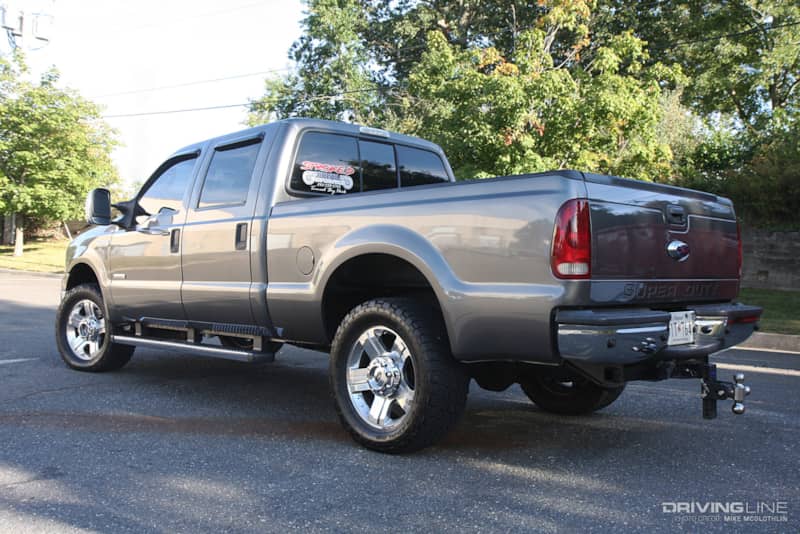 Needless to say, it's fairly rare to find a hopped up version of Ford's '03-'07 Super Duty — which was just perfect for Tommy Barnes. His '07 F-250 is stock-appearing and completely unassuming, all the way down to the three-ball hitch he leaves in the receiver.
8,400 POUNDS AND MID-12s
Put together by Stroked Diesel Performance, the 6.0L retains the factory connecting rods yet sports a set of fly-cut, 16:1 compression pistons, a Stage 2 camshaft from Colt Cams and a set of worked over (ported) heads from River City Diesel, which are anchored to the block via ARP studs. A dual high-pressure oil pump system from Warren Diesel is employed to keep a set of thirsty River City Diesel 285/150 injectors happy, a 68 mm Garrett PowerMax turbo sits in the valley and custom PCM and TCM tuning was handled by Stroked Diesel Performance via SCT software.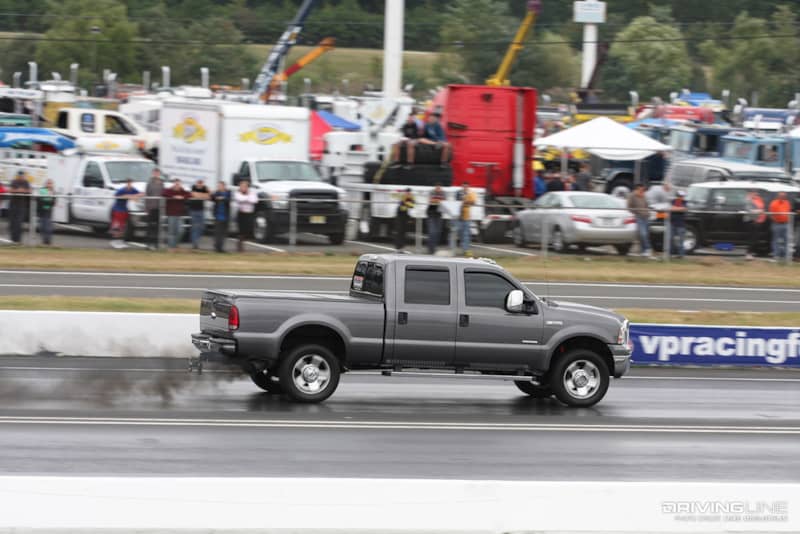 A hefty race weight of 8,400 pounds and a quarter-mile trap speed of 107 mph means Tommy's behemoth applies 700 rwhp to the track. A set of 305/55R20 Nitto Terra Grapplers help the full-weight Ford dig itself off the line and cover 1,320 feet in just 12.6 seconds.
3.  Grandpa Truck
Robby Ching's '97 F-250 might just be the mother of all sleepers. 20 years after being built, it's rocking the stock wheels, factory ride height and the same twin traction beam front-end it left the assembly line with. But when Robby turns the truck loose courtesy of a boosted, four-wheel drive launch, it nabs a 1.8-second (spinning) 60-foot time before storming through the quarter-mile in 12 seconds flat.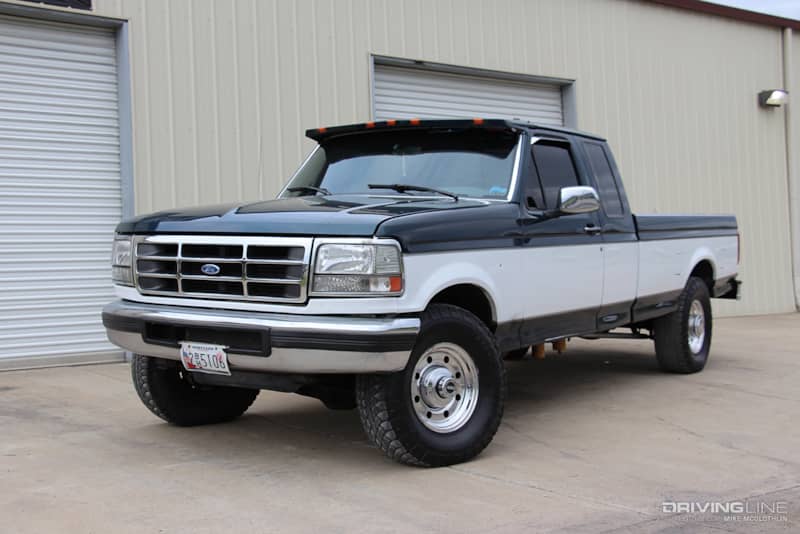 Once onlookers and race victims realize what just happened to them, they're often confused and bewildered before admitting they're impressed with this truck. It's the same old Ford your grandpa used to drive, only with four times the horsepower.
600-rwhp hp and Lightweight
What's even more impressive is that Robby runs an untouched, 296,000-mile, stock bottom end 7.3L Power Stroke. Big fuel comes by way of a set of Full Force Diesel 300/200 hybrid injectors and a Marty's Diesel Performance 875 supply system, while an SRP1.1 high-pressure oil pump handles oil volume duties.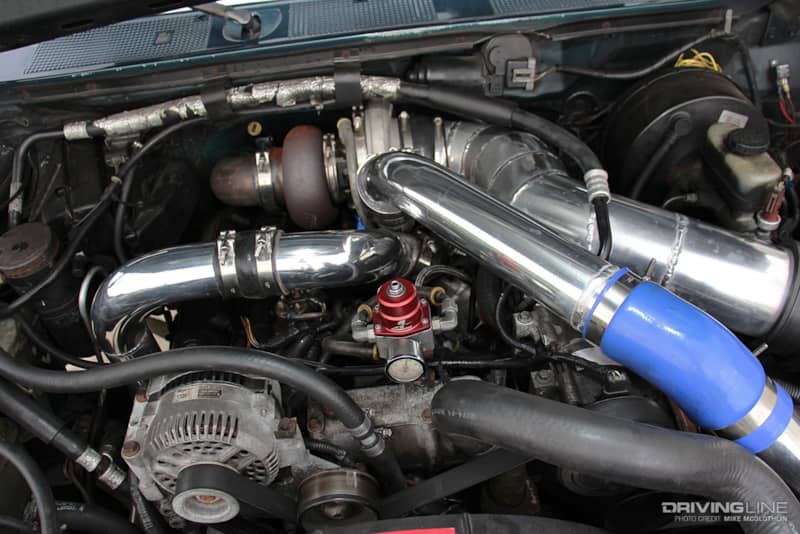 Beyond that, a box BorgWarner S467.7 turbo with a race cover, built E4OD automatic, Swamp's Diesel Performance custom tuning and a shot of nitrous adds roughly 100 hp to the mix. To date, the ladder combination of parts has culminated in a best pass of 12.02 seconds at 114 mph.
4.  The Grocery-Getter
It might not be sporting the factory 16x7 Alcoas, but that doesn't make this old-body style Ford any less of a sleeper. And believe it or not, Stephanie Davis' F-350 is actually a tow rig for her husband Steven's 10-second 7.3L-powered drag truck, but she's quick to point out that it gets the groceries, too.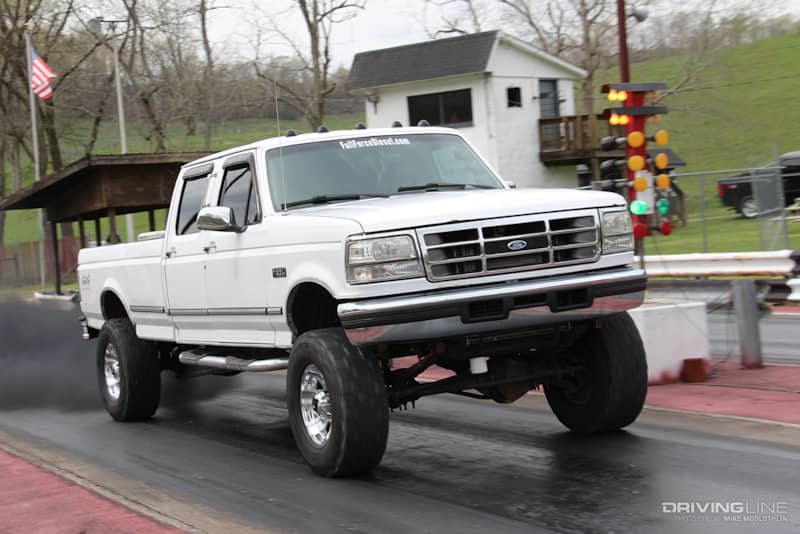 The 20-year-old workhorse sports a stock 7.3L long block, a set of Full Force Diesel 200/100 injectors, DieselSite Adrenaline high-pressure oil pump, a Dominator 66 drop in turbo from Bean's Diesel Performance and custom PCM tuning from Dyno Proven.
500+ RWHP TOW-RIG
Thanks to the combo listed above, Stephanie's Ford is a real runner — and the 205,000-mile Blue Oval more than keeps pace with today's easy horsepower, plug-and-play diesel trucks.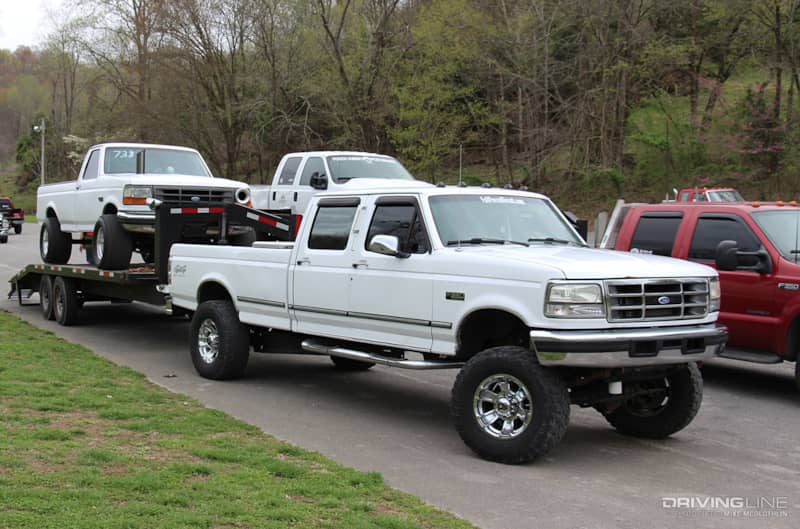 We've personally seen it make 524 hp and 1,035 lb-ft of torque on a chassis dyno, sprint through the eighth-mile in 9 seconds, and win a sled pull. Once it's hooked to the trailer, this old-school tow-rig can embarrass vehicles with or without 10,000 pounds behind it.
5.  Tuned 6.4L
Who knew an 8,400-pound truck could rip off a low 13-second quarter-mile? Well, with essentially one modification (a 300 hp file in the PCM), a 6.4L Power Stroke-equipped '08-'10 Super Duty can do just that.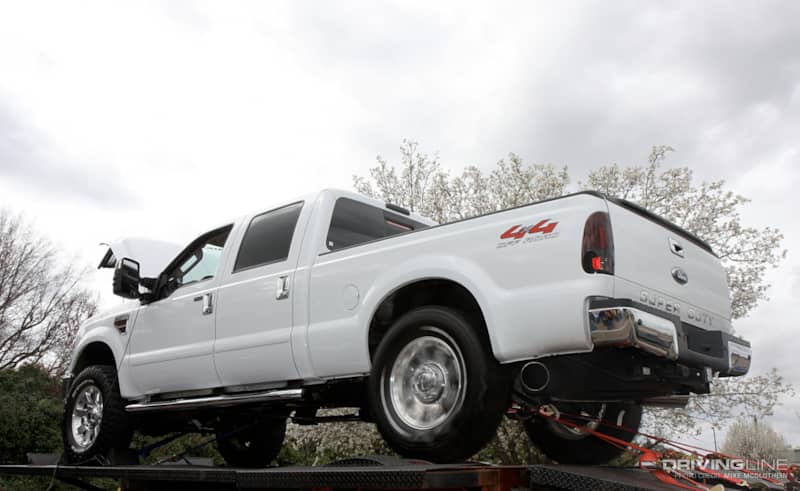 This makes them the ultimate sleeper in our book, because anyone can own one and the cost to play the performance game is very minimal. Add in the fact that the 5R110 TorqShift automatic can handle the added abuse without any upgrades and you've got a truck that's reliable, fast, more fuel efficient (if you can keep your foot out of it) and can still tow anything you need it to.
COMMON-RAIL + TWINS = EASY HP
Thanks to a potent factory high-pressure common-rail fuel injection system and compound turbo arrangement, aggressive custom tuning files often take a bone-stock 6.4L from 290 rwhp to a tire-melting 580 rwhp. Nothing has to be touched under the hood! Get your hands on a regular cab version and you could be looking at high-12s with just a tune.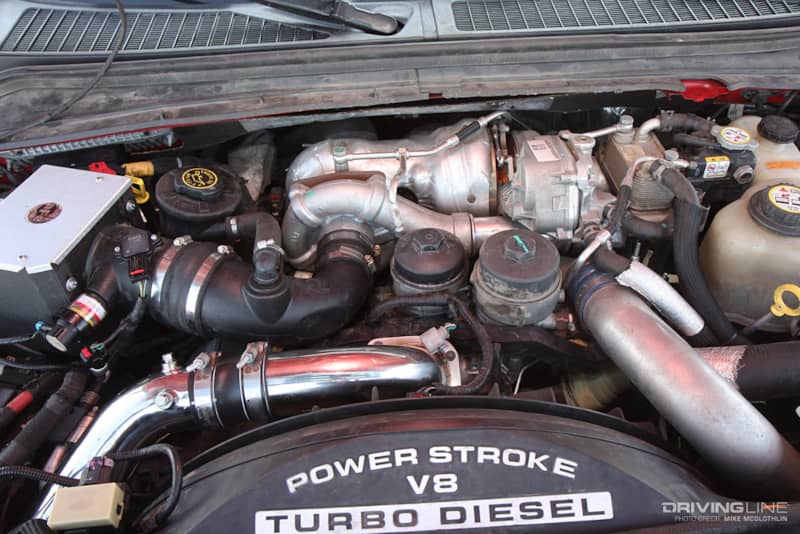 We've even seen a tuned '08 regular cab be treated to a little nitrous and proceed to make a 7.55-second eighth-mile pass (11.80 in the quarter). We love when the owners of these trucks tune them but refrain from adding aftermarket wheels — and we like them even more when they're still sporting the factory, dual exit exhaust tip.