Project Paw-Paw: Part 7
Finishing what we started in Part 6, it's time to set the turbo, route the intercooler piping and install a 5-inch exhaust system on our '97 F-350—the 215,000-mile project truck that's affectionately known as Paw-Paw. Thanks to the Irate T4 Complete Turbo Mounting Kit we bolted in place during the previous installment, we can run virtually any T4 flanged turbocharger we want now. However, with our horsepower goal being to glean somewhere around 600rwhp out of the 7.3L Power Stroke, we've opted to run an S400 series charger from BorgWarner rather than an S300-based unit. But Paw-Paw won't be getting a run-of-the-mill, out-of-the-box turbo.
Reaching out to Fleece Performance Engineering, a custom 68mm S400 was soon on its way. Sporting a proprietary billet compressor wheel and a larger turbine wheel than what you'll find in a comparably-equipped turbo, the custom-tailored S468 should get us exactly where we want to be—both on the dyno and at the track. And because boost pressure is about to triple, we're also installing DieselSite's high-quality synthetic fabric intercooler boots and a dozen spring-loaded T-bolt clamps. Then, we're adding a boost fooler from Driven Diesel and scrapping the factory exhaust for a 5-inch aluminized system from Diamond Eye Performance.
This is the last performance add-on the 7.3L V8 will see, but this series is far from complete. Tune in next time, as we'll be yanking the transmission for a performance rebuild and transforming it into one of the toughest E4OD's you can buy.
Custom-Built S468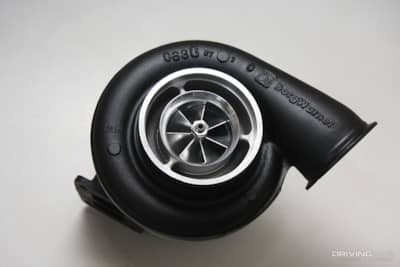 After calling Fleece Performance Engineering and conveying the fact that we needed an S400-frame turbo that could support more than 600rwhp while maintaining great drivability and even offering good towing manners, the company spec'd us the perfect charger. The intake side features a proprietary, 7-blade billet compressor wheel with a 68mm inducer and a map width enhancement groove (the factory turbocharger measured 60mm and had no map groove), along with a 3.5-inch V-band discharge compressor cover. The 68mm compressor flows in the neighborhood of 1,300 cfm, which is a huge upgrade over stock (725 to 750 cfm).
The Key to Drivability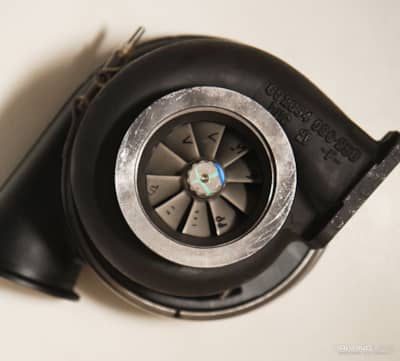 The .90 A/R exhaust housing wears a coat of Fleece's signature high-temp black paint and conceals a 10-blade turbine wheel with an 81mm exducer and an 87mm inducer. Use of the 87mm wheel (used almost exclusively in S472 and S476 turbos) separates our Fleece S468 from BorgWarner's common off-the-shelf S467.7 FMW, which sports a smaller, 74/83mm turbine. Fleece's theory behind utilizing the 87mm wheel is to make use of a fairly large turbine without sacrificing drivability (i.e. spool up) by pairing it with a relatively tight .90 A/R exhaust housing (vs. Borg's 1.00, 1.10 or 1.25 A/R options).
Billet S468 Price: $2,297.50
Box S467.7 FMW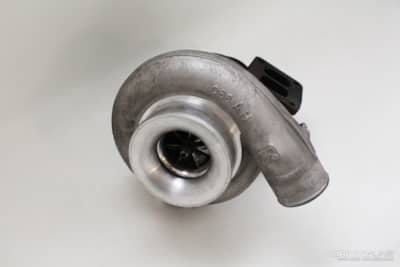 Thanks to its affordable price tag, good spool up and ability to support more than 600rwhp, BorgWarner's box S467.7 FMW is one of the most popular T4 turbo choices in the 7.3L world. It features a forged milled compressor wheel (FMW) with a 67.7mm inducer, a conventional (straight boot) compressor housing outlet and the previously mentioned 74/83mm turbine wheel. Equipped with the available 1.10 A/R exhaust housing (which is ideal for optimum top-end, high rpm flow), we've seen this off-the-shelf charger support 550 to 650rwhp on countless 7.3L-powered Fords on fuel—and we've also seen it abused to the tune of 1,200rwhp on nitrous.
S467.7 FMW Price: $1,300
Installing the S468 in Sub-Sections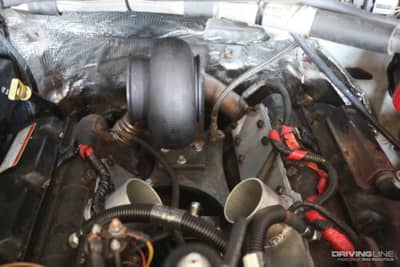 Just as we described in Part 6, breaking the turbo down into sub-sections was the easiest way to install it on Irate's T4 collector and up-pipe assembly. Believe it or not, even though the S400 sits centered (and higher) in the valley, space is still tight on both the compressor and turbine sides. Here, the exhaust housing has been fastened to the collector's studs via the supplied mounting nuts.
More In-Frame Turbo Assembly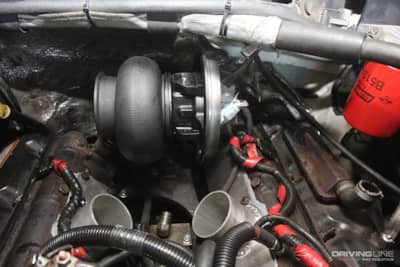 With the turbine housing affixed to the collector, the center cartridge, shaft and compressor housing back plate were all installed as a single assembly. In this picture you get an idea how close the compressor housing will be to the driver side head. This is precisely why we opted for Irate Diesel Performance's flat intake plenums in Part 6. Attaching the 3-inch diameter intake Y would come next, followed by installing and clocking the compressor housing to clear it.
V-Band Connection at the Compressor Outlet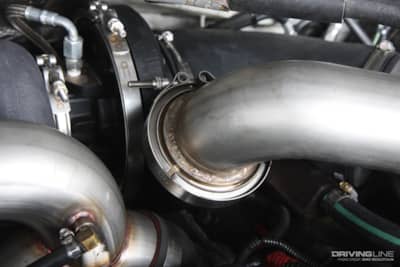 Although we don't expect to see block-scattering boost, we do anticipate our A-pillar gauge will register 50 psi on occasion. The fact that the turbo's compressor outlet sees the most boost production is precisely why we spec'd our S468 with a 3.5-inch V-band discharge. A V-band connection eliminates an intercooler boot in this high-heat, high-boost area. Also notice that the oil supply line has been attached to the turbo's center section, the supplied air intake has been installed and the new crankcase ventilation hose is hooked up.
Boost Fooler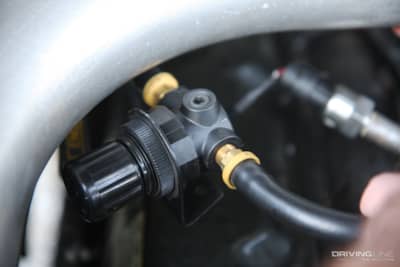 Not all OBS Fords ('94.5-'97) need them, but for less than $60 a boost fooler is cheap insurance that the MAP sensor will never hinder your pursuit of horsepower. While all '99-'03 7.3L Power Strokes need a boost fooler to keep the PCM from defueling at 24 psi of boost, the frequency-based MAP sensor on the older Fords can freak out if it sees a sharp rise in boost. This mechanical Overboost Annihilator from Driven Diesel intercepts the MAP sensor line and only allows it to see 22 to 23 psi of boost.
Overboost Annihilator Price: $59.95
Boost Containment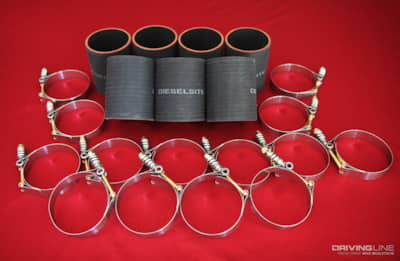 To guard against blown or degraded intercooler boots, we reached out to one of the best names in the business, DieselSite, for a complete set of boots (7) and clamps (14). DieselSite's intercooler boots are made from a synthetic fabric that can withstand 100 psi of boost, extreme heat and won't break down when exposed to fuel or oil. Our 3-inch diameter boots measure 4.25 inches in length. To ensure the intercooler boots never budge, we're using DieselSite's 300 series stainless steel, spring-loaded T-bolt clamps. The high-quality clamps feature zinc-coated bolts and 300-pounds of clamping force apiece.
High-Flow Downpipe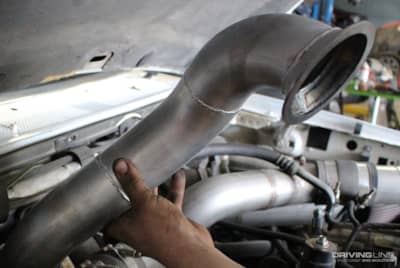 If you know anything about the design of the factory downpipe on '94.5-'97 Power Strokes, you know that this 3-inch diameter piece is a major improvement. More of a pinched-down oval, the factory downpipe is highly restrictive and chokes exhaust flow once power levels crest the 300rwhp mark. Above, you're looking at the top section of the two-piece downpipe supplied in Irate's T4 turbo mounting kit (complete with a 4.62-inch inlet to match the S400 turbo's exhaust housing outlet). The second (lower) portion of the downpipe comes from Diamond Eye Performance, which transitions flawlessly into the company's 5-inch exhaust system.
5-Inch Exhaust System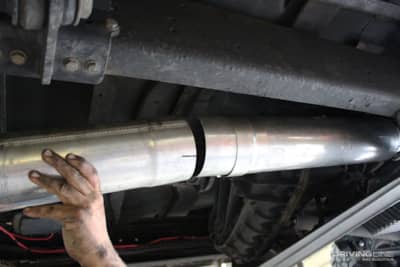 Opening up the rest of Paw-Paw's exhaust system, we installed a 5-inch diameter aluminized kit from Diamond Eye Performance (PN K5315A-RP). The company's 3-to-5-inch system includes a two-piece 3-inch downpipe, 5-inch diameter pipe from the downpipe-back and is the only 5-inch system still available for '94.5-'97 7.3L owners. As we've already pointed out, the upper section of the downpipe wasn't usable in our case, as it's intended to bolt up to the stock turbocharger. Once in place, we went back through the exhaust system from head to toe and cut down the excess threads on all of the supplied U-bolt clamps for a nice finished look, and then added the supplied logo-embossed 304 stainless steel 7x18-inch tip.
5-inch Exhaust System Price: $330 – 350
Engine Ready, Transmission Not So Much…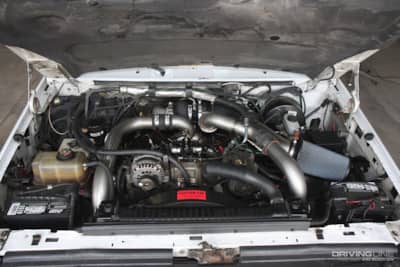 As far as the engine is concerned, we're ready to start chasing horsepower. However, the E4OD it's bolted to stands zero chance of getting 600hp to the wheels without some major upgrades. In Part 8, the four-speed auto will receive a full performance makeover, complete with a host of billet and re-machined parts, additional clutches and topped off with a triple-disc torque converter and a billet flex plate. If you're adding big power to a manually-shifted '94.5-'03 7.3L Power Stroke, you can skip the next installment, so long as you contact South Bend Clutch for a dual disc upgrade for your ZF-5 or ZF-6 hand-shaker (make it a 3250…).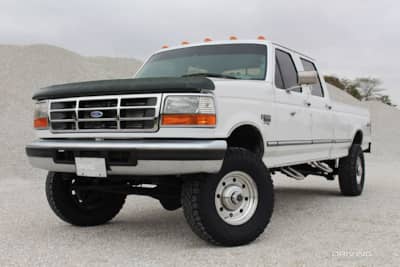 If you missed how we readied Project Paw-Paw for a bigger turbo and snuck an intercooler behind the grille, catch up on those extensive installs here.