Race to the Finish: King of The Hammers 2017 Recap
For those who followed along with the Ultra4 live stream of King of The Hammers, you got a taste of how tough, how close and how surprising the race was. For those of you who didn't, read on for a minute-by-minute race recap — it's the only way to begin to tell the story of 122 racers over 181 miles of the most challenging terrain on earth.
KOH 2017 RACE RECAP
6:30 a.m.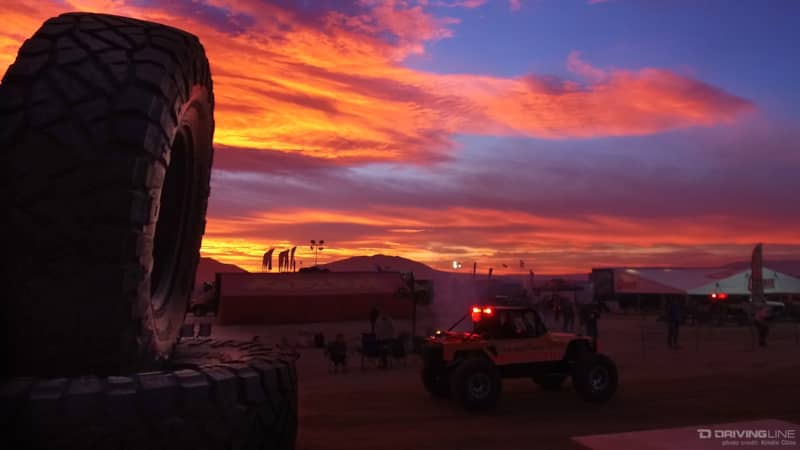 A striking sunrise overlooks HammerTown as media and early onlookers arrive alongside racers beginning to stage.
KOH Lap 1 = 61 miles, mostly desert
8:00 a.m.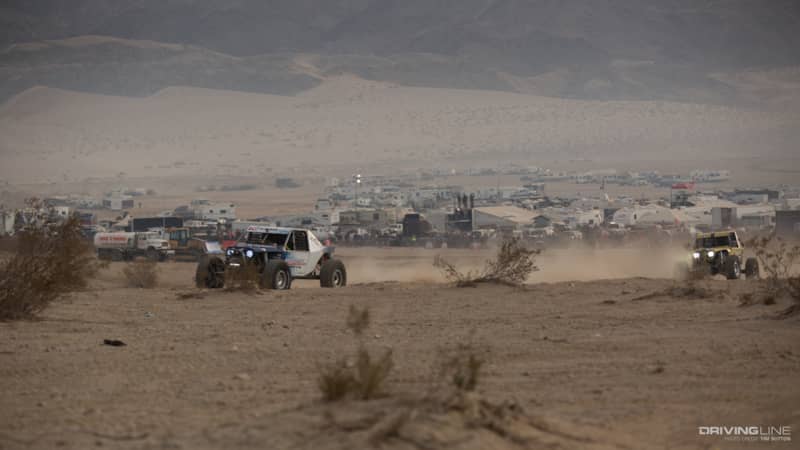 Erik Miller and Jason Scherer are first to leave the starting line.
8:21 a.m.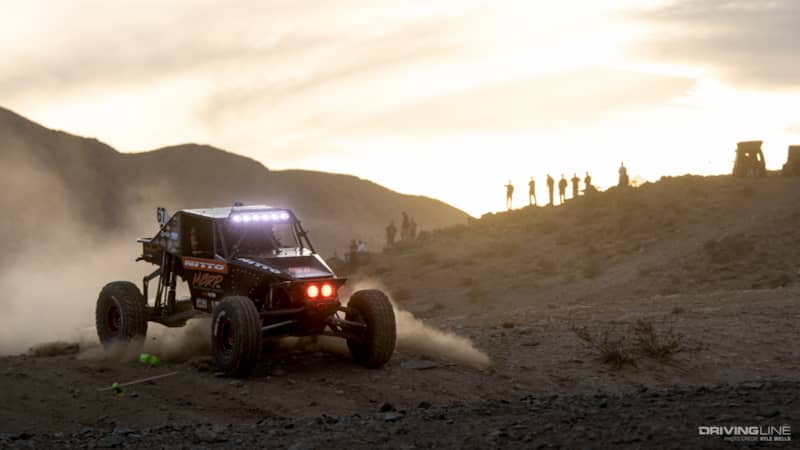 Loren Healy has taken a big lead. He is almost to Pit 1. Fact: This is the only race the "Red Dragon" has not won (his 2010 and 2014 KOH wins came before the purpose-built IFS car's time).
Looks like he wants to break away from the dust. Reportedly the dust is already becoming an issue. It's thick, heavy and almost impossible to see through. Hopefully the wind will pick up and blow the dust away.
8:29 a.m.
Healy is still in the lead.
8:30 a.m.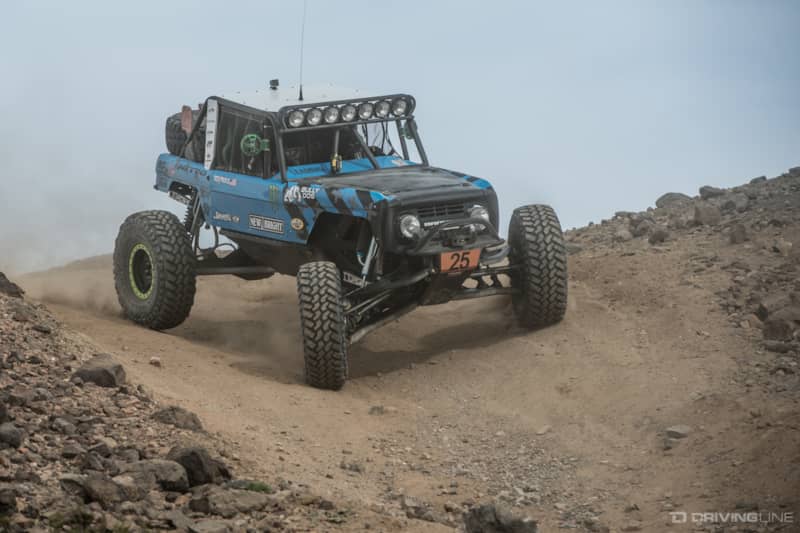 The last few drivers leave the line with Vaughn Gittin Jr. being the last man off. He wasn't expected to race today after mechanical issues kept him from finishing Thursday's Every Man Challenge race.
There are 14 hours of racing left.
8:36 a.m.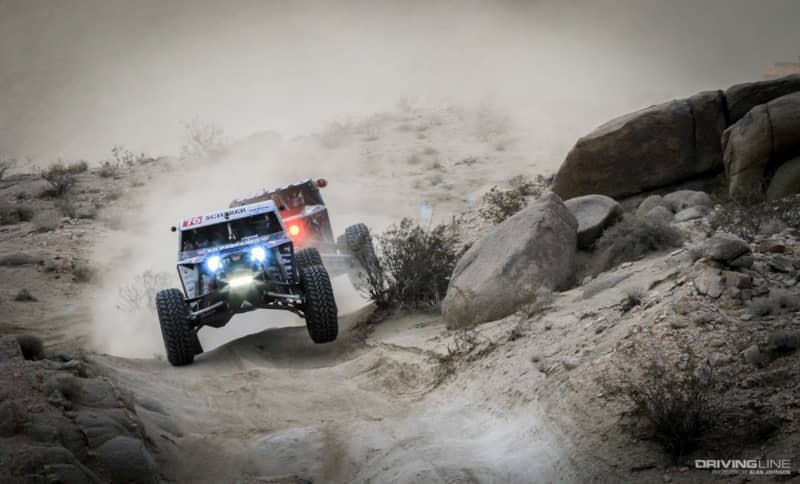 Scherer is in second place.
8:39 a.m.
Wayland Campbell has taken the second position from Scherer, and Miller is in third. Healy is still maintaining his early lead, which the announcers say should be a concern to other drivers: "A comfortable Loren Healy is a dangerous Loren Healy."
8:43 a.m.
It's a very tough course this year. "If 20 people finish, I'll be shocked," HammerKing and KOH founder Dave Cole says. He predicts that the first racer will come around Backdoor around 9:00 a.m.
8:48 a.m.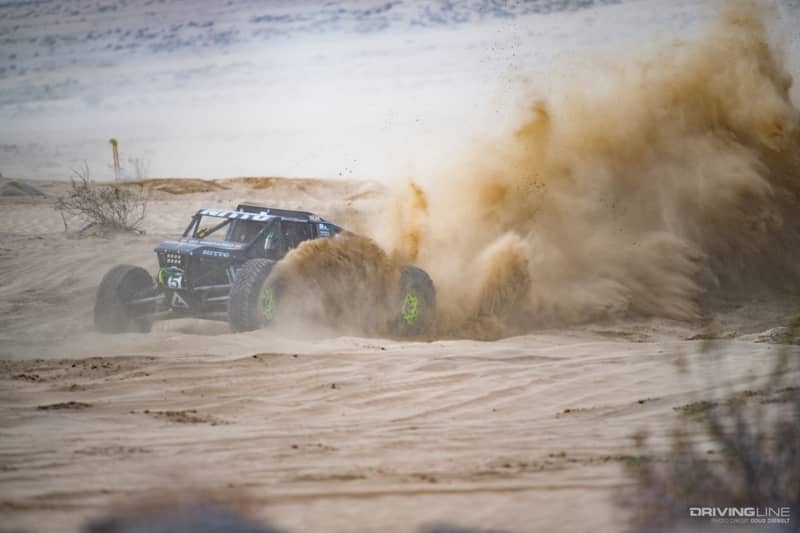 Shannon is reportedly in fifth place, up from his ninth place starting position, with son Wayland maintaining his position at second.
8:53 a.m.
Announcers receive a report from Tom Wayes that Healy's Red Dragon is on fire. He is out of the car and safe. Wayes takes the lead with Wayland following closely behind.
8:56 a.m.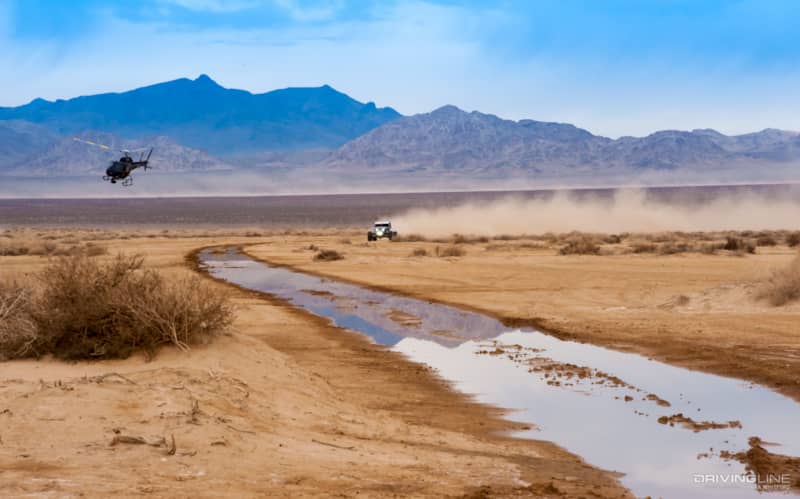 It's Scherer who soon takes the lead, followed by Wayes and Wayland, respectively.
9:00 a.m.
Healy's pit crew member Nick Nelson reports that his car caught on fire on race mile-38. They are waiting to hear more, while the KOH crew makes their way out there.
"If you want to find a way to make a car not finish, you just bring it out here," Nelson says.
9:12 a.m.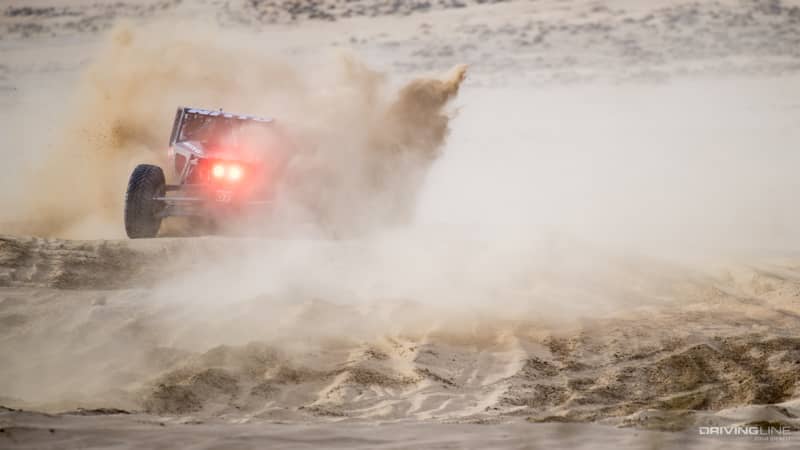 "Dragons should breathe fire, not catch fire," an announcer comments. It looks like Healy's KOH run is over.
Scherer, Wayes and Wayland maintain their first, second and third positions, while Miller follows in fourth.
9:18 a.m.
There are reports that dust has become a serious issue. Wayland has fallen back to sixth place.
9:26 a.m.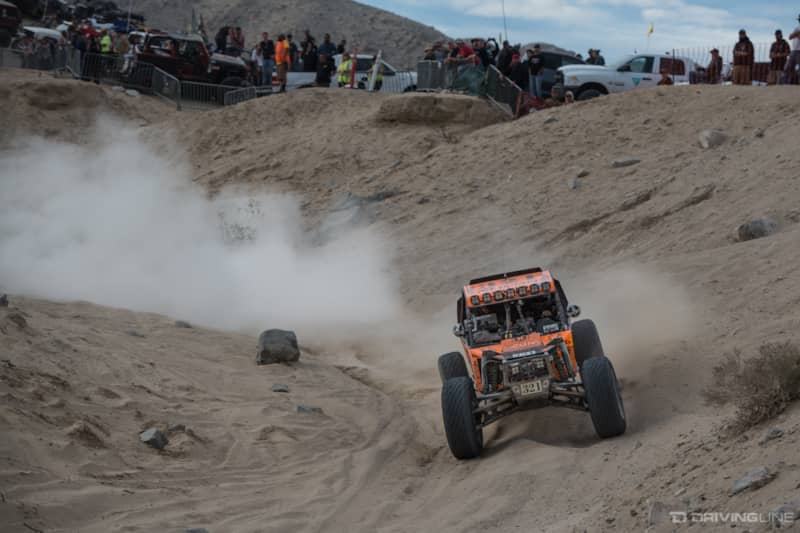 Scherer is the first to come through Backdoor, a bit later than Cole had predicted. Wayes follows in second.
9:29 a.m.
Scherer arrives in HammerTown first, followed by Wayes. The first two drivers have finished Lap 1 in approximately 1.5 hours.
9:31 a.m.
Wayland arrives in HammerTown third while Scherer and Wayes finish pitting. Two-time KOH winner Randy Slawson comes through Backdoor.
KOH Lap 2 = 56 miles, mostly rock trails
9:32 a.m.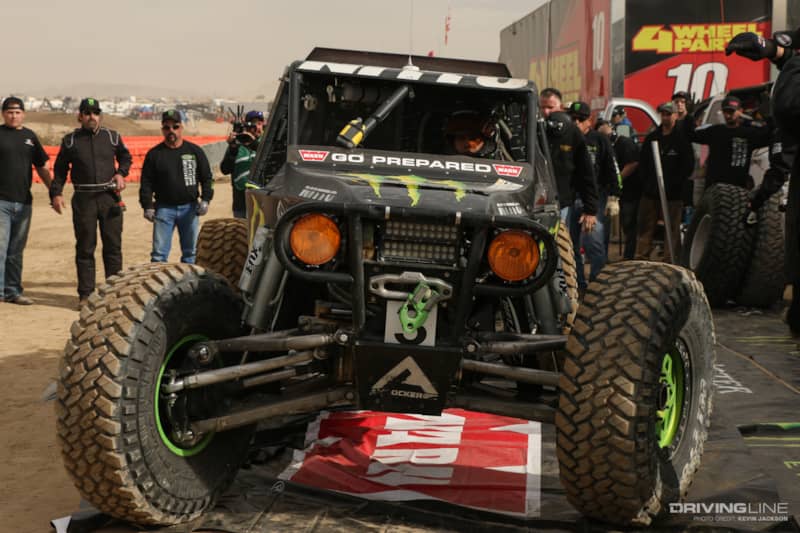 It's also a quick pit stop for Wayland; he's off on Lap 2, looking "calm, cool and collected."
9:34 a.m.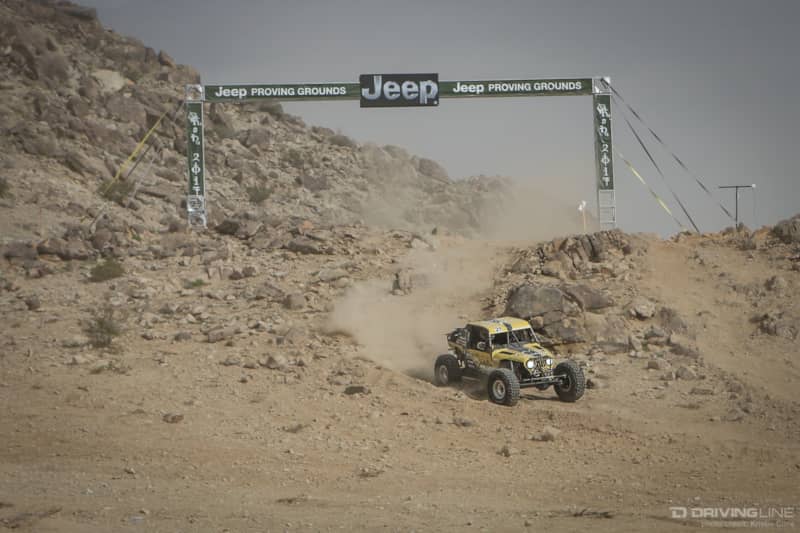 Miller comes through HammerTown in fifth place, right after fourth-place Slawson.
9:36 a.m.
Shannon arrives in HammerTown. The tops cars are all between 5 to 10 minutes of each other. HammerTown now has a steady flow of cars arriving to pit; it looks like the win could go to anyone.
9:39 a.m.
Shannon tries to leave pit but is given the wrong helmet, so there's a bit of a delay as the confusion is sorted out.
9:42 a.m.
JP Gomez takes on Backdoor with a flat tire, followed closely by Bailey Campbell. She looks like she's really gunning to get on that podium this year, besting her 5th place finish from 2016.
9:45 a.m.
JP and Bailey arrive in HammerTown pits. It had looked like Bailey's car was fine, but apparently they had been driving conservatively after catching a rock. Her top left frontend ball joint is loose.
"Better to lose 20 minutes here than lose it out on the rocks," an announcer says.
9:49 a.m.
Tom Wayes
Jason Scherer
Marcos Gomez
Randy Slawson
Wayland Campbell
Pete Antunac
Erik Miller
Derren Henke
Lucas Murphy
Levi Shirley
Only 7 minutes separate the top 10 cars.
9:53 a.m.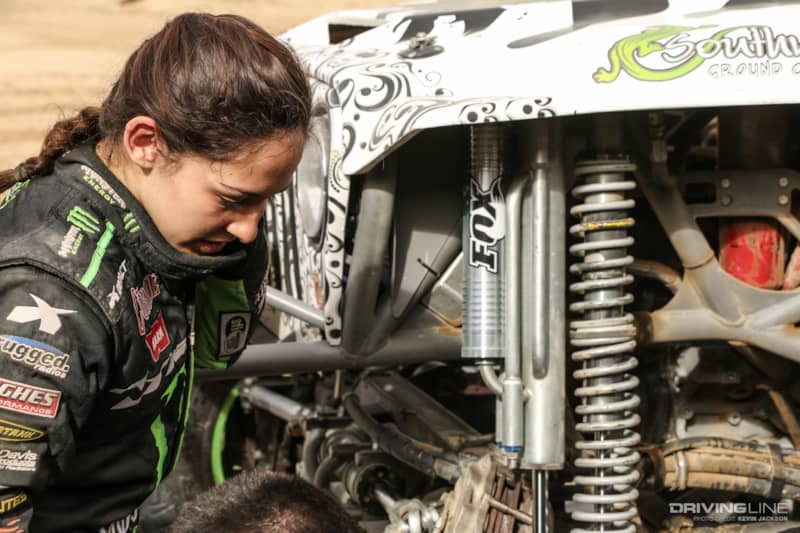 Bailey is out of her car, helping the pit crew. Over the past year she's transformed from "helping out" to "being in charge" of her own repairs, so there's no one better than her to lend a hand.
9:55 a.m.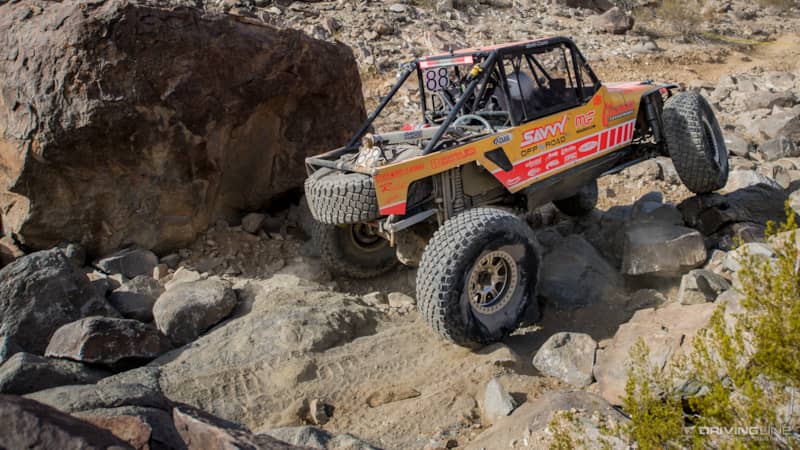 Today's other female driver, Jessi Combs, is reportedly coming through Backdoor at a good pace. It's her first time racing in the 4400 class. She is a three-time consecutive winner in the 4500 class. Gary Ferravanti Sr., winner of the 2016 Ultra4 National Championship race, follows.
9:56 a.m.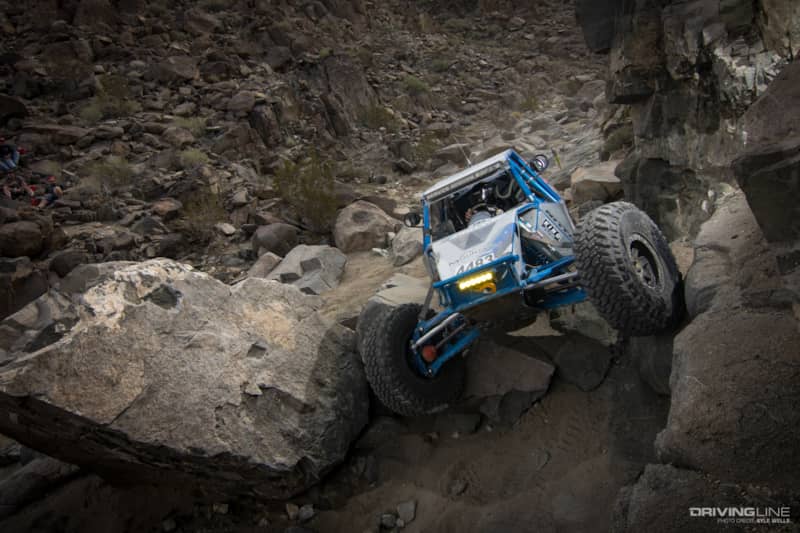 Now here's something you don't see every year: Raul Gomez makes a narrow pass in Backdoor, making a little bit of contact on the left of an unsuspecting driver. His aggressive driving is exciting to watch.
9:57 a.m.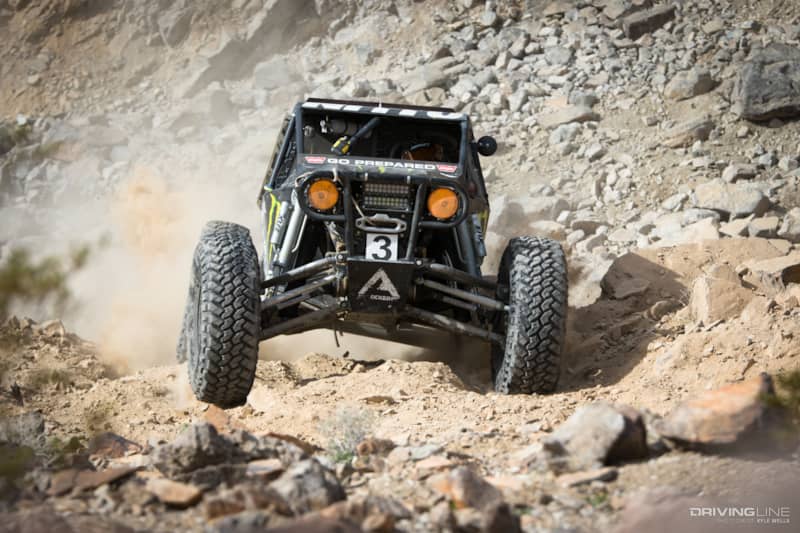 The tables have turned, with Wayland now in first place and Scherer in third.
9:58 a.m.
After exiting Backdoor, Gittin Jr. tries to pass someone ascending the hill and flips over.
10:01 a.m.
Raul is interviewed at his pit stop; he reports that the dust is absolutely terrible.
"You can't see anything," he says; however, "The car feels amazing." The Gomez cars are unique, with both IFS and IRS. Raul says he hopes the wind picks up.
10:02 a.m.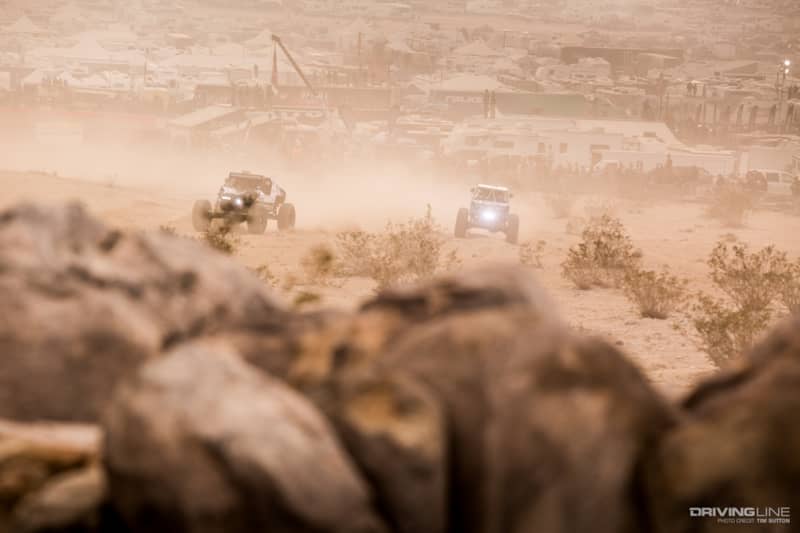 Huge clouds of dust can now be seen crowning the mountains. Raul wasn't lying.
10:03 a.m.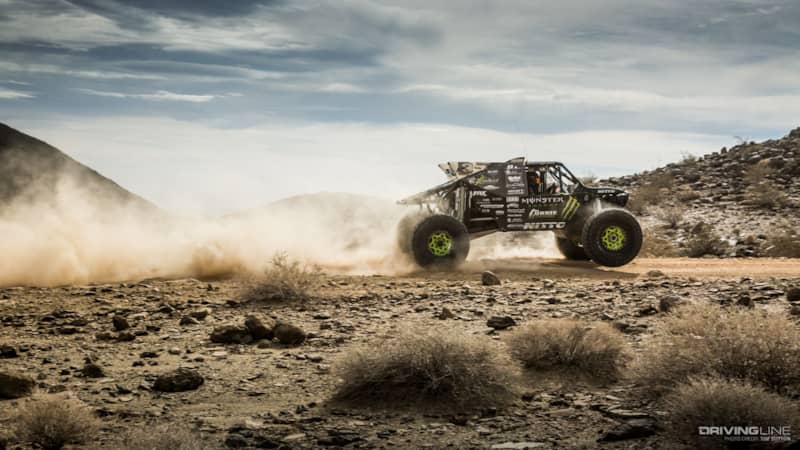 Wayland, Scherer and Wayes, respectively, lead the pack by a substantial distance.
10:11 a.m.
Gary Ferravanti Jr. comes through Backdoor. Bailey is still in the pits, there's reportedly some scramble in finding the correct replacement part.
10:12 a.m.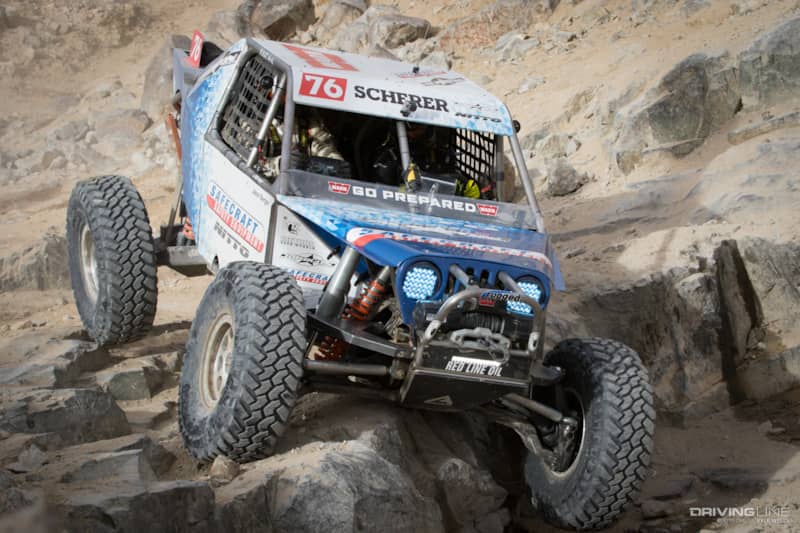 Wayland is seen coming through Aftershock first; he looks good as he keeps his car flowing and moving forward. The race is about halfway done for him. Wayes is second through Aftershock, followed closely by Scherer. While Wayland and Wayes look smooth going over the rocks, Scherer appears to be having a bit of trouble; he loses about a minute to a minute-and-a-half in there.
10:15 a.m.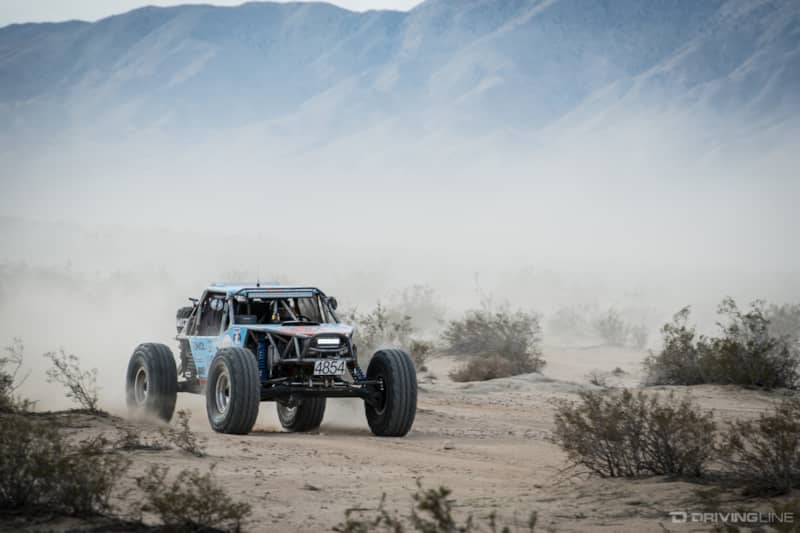 Bailey Cole, son of Dave Cole, stops and comes to Gittin Jr.'s rescue, helping him flip his car back over. Last year, when Gittin Jr. first arrived at KOH, Bailey, as well as Loren Healy and team, helped to show him the ropes. #SpiritofUltra4
10:18 a.m.
Miller comes through Aftershock, in fourth place.
10:20 a.m.
Slawson's wife Krista hops in the car at the pits for Lap 2 in their Legends car.
10:21 a.m.
Shannon is in the sixth position as he comes through Aftershock in the "Dragon Slayer." Fact: He is the only driver to ever win KOH with an IFS car.
10:31 a.m.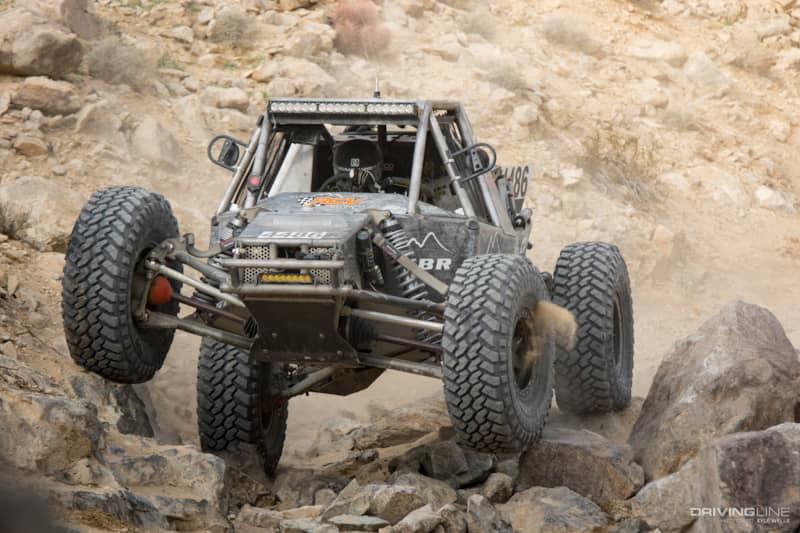 Marcos Gomez is seen going through Aftershock very quickly in his IFS/IRS car, followed by JP. The announcers compliment the brothers' aggressive driving styles; their cars are single-seat, so they have no co-drivers to support them.
10:35 a.m.
Wayland and Wayes have started to pull away from the rest of the pack as they go through a lot of rocks.
10:36 a.m.
Bailey Campbell update: They had to take parts off her recovery car. Her wheel is placed back on, and she goes on her way into Lap 2. She has gone from her initial top 10 position to the 60th position (approximate).
10:50 a.m.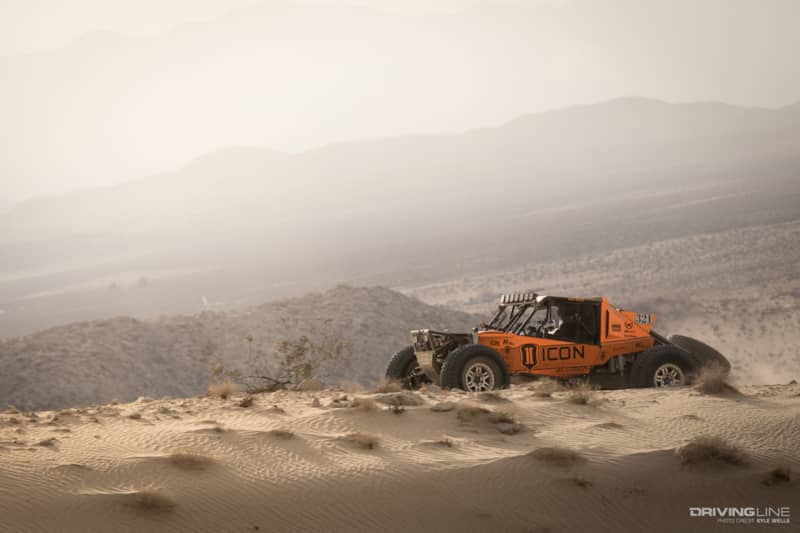 Wayland has lost his first-place position, with Wayes taking the lead and Scherer in second as they approach Chocolate Thunder on Lap 2.
11:00 a.m.
Wayes has a solid 4-minute lead coming into Chocolate Thunder.
11:01 a.m.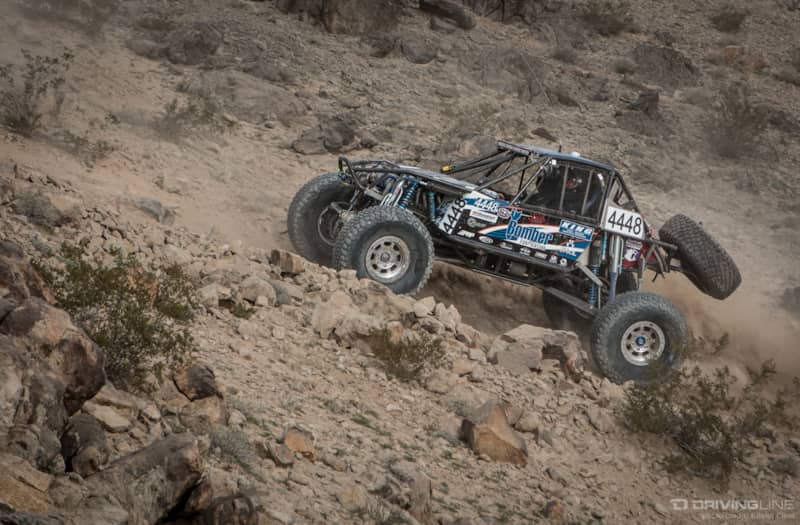 Miller and Slawson are in fourth and fifth place respectively, with a substantial gap between them and the rest of the pack.
11:07 a.m.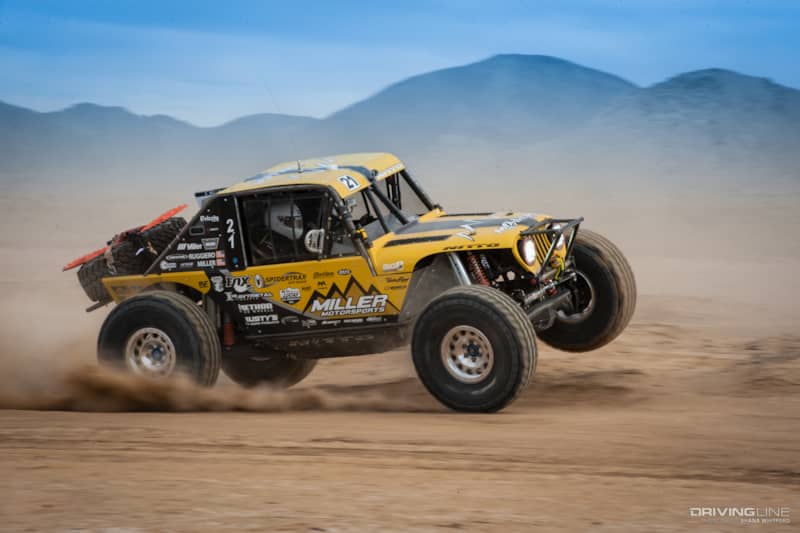 Miller is reportedly about 5 minutes behind the top three racers, with Clay Gilstrap and Shannon following, passing Slawson.
11:12 a.m.
Derek West is in the pits.
11:16 a.m.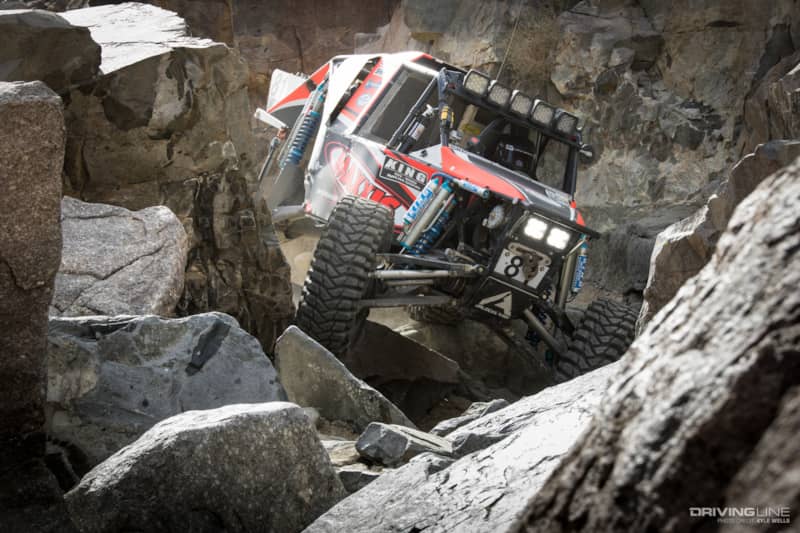 Levi Shirley comes through Chocolate Thunder.
11:19 a.m.
Wayes has a massive lead as Wayland passes Scherer through Wrecking Ball.
11:31 a.m.
Bailey makes passes coming through Aftershock, while Jason Blanton has to winch up.
11:34 a.m.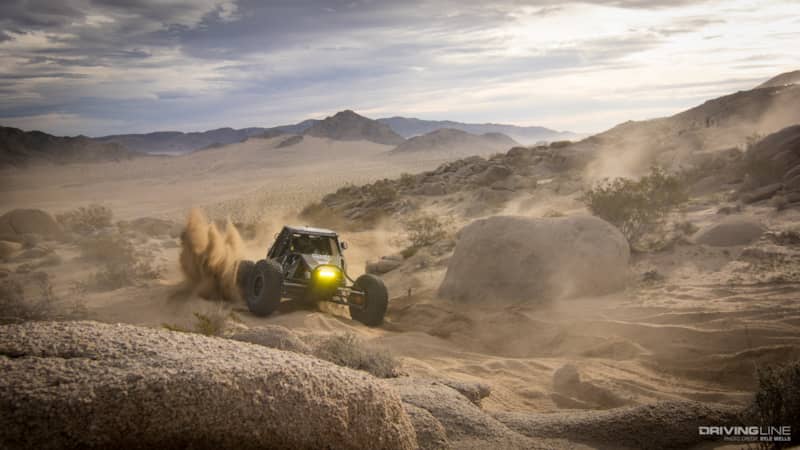 JP Gomez is reportedly in the top 10, while Gilstrap has passed Miller and is now sitting in fourth.
11:38 a.m.
Combs comes through Chocolate Thunder.
KOH Lap 3 = 64 miles, same as Lap 2 with a few additional rocks trails
11:40 a.m.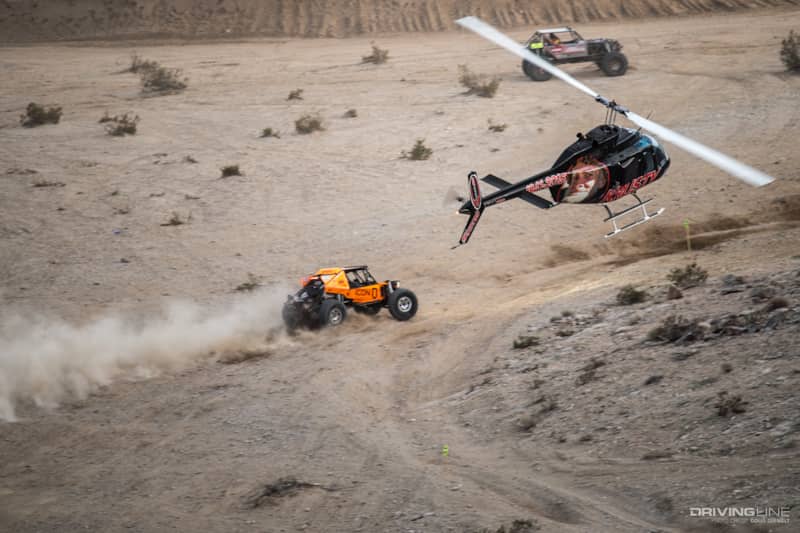 Wayes pits quickly and begins Lap 3, with no sign of the second- or third-place drivers.
11:46 a.m.
Scherer arrives in HammerTown, followed closely by Wayland; still, they're a good 6 minutes behind Wayes lead.
11:47 a.m.
Wayland is already out on Lap 3. Scherer has been having brake issues, but takes off quickly to keep up with Wayland. They trail Wayes by 8 minutes.
11:49 a.m.
There's no sign of Miller yet at Backdoor. Shannon has passed him, claiming fourth, and enters Backdoor.
11:51 a.m.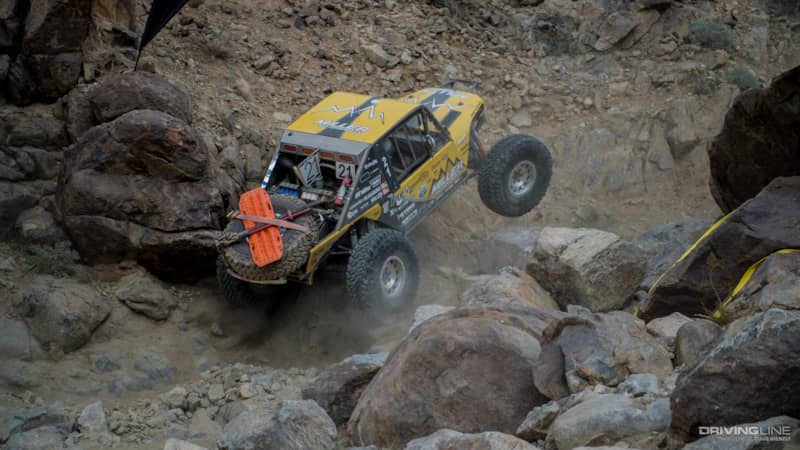 Gilstrap and Miller come through Backdoor.
11:53 a.m.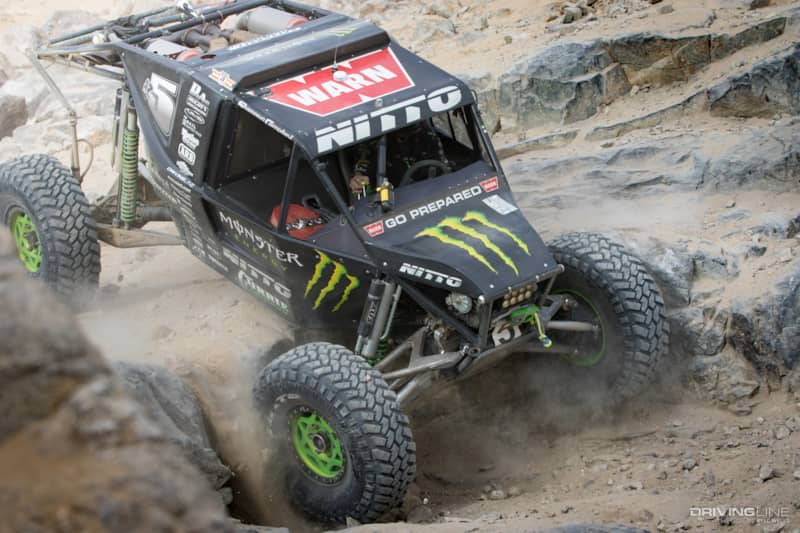 Shannon is already beginning Lap 3.
11:55 a.m.
Miller leaves the pits, leaving Gilstrap behind. It appears there's a problem with Gilstrap's rear wheel.
11:58 a.m.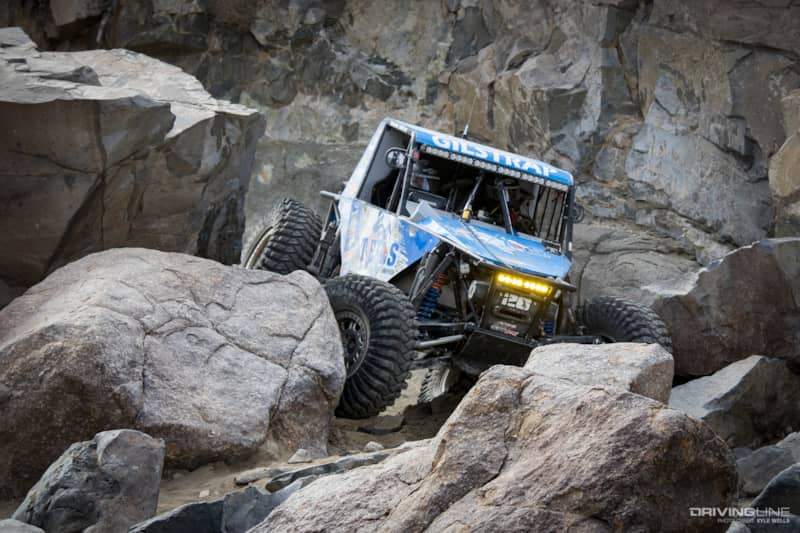 Gilstrap leaves the pits; his car seems to be in good condition. Wayes, Scherer and Wayland lead the pack, respectively.
12:08 p.m.
Tom Wayes
Shannon Campbell
Wayland Campbell
Jason Scherer
Clay Gilstrap
Erik Miller
Lucas Murphy
Shannon has notably bumped up to second place, but he is a whole 9 minutes behind leader Wayes.
12:11 p.m.
Eight racers are now on Lap 3.
12:30 p.m.
Raul takes a long pit stop; his car is having transfer case issues.
12:58 p.m.
Wayes has reportedly broken down at Spooner's. Scherer exits Spooner's while Wayland and Shannon Campbell are arriving.
1:15 p.m.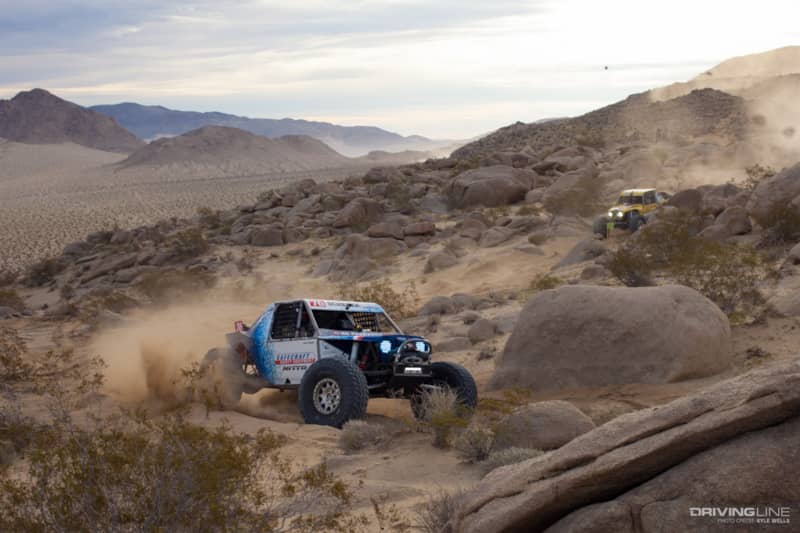 Scherer has fallen behind Wayland and Shannon.
1:16 p.m.
The Gomez brothers are seen passing each other in Lap 2 and appear to be having a blast. Combs reportedly crashed in Backdoor, losing all her lights, but she's recovered and is on Lap 3.
1:20 p.m.
Scherer reclaims his spot in second place, passing Wayland and Shannon going through Chocolate Thunder. In this section, the line changes constantly; it's a different trail every pass.
1:32 p.m.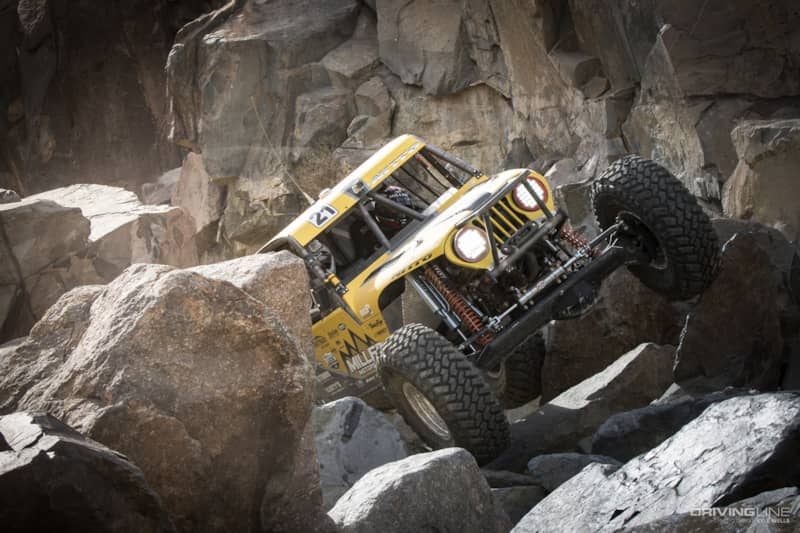 Miller comes through Aftershock looking really good; he is constantly moving forward, a demonstration of why he's the current King of The Hammers. Lucas Murphy follows closely behind.
1:34 p.m.
Jason Scherer
Wayland Campbell
Shannon Campbell
Erik Miller
Lucas Murphy
1:45 p.m.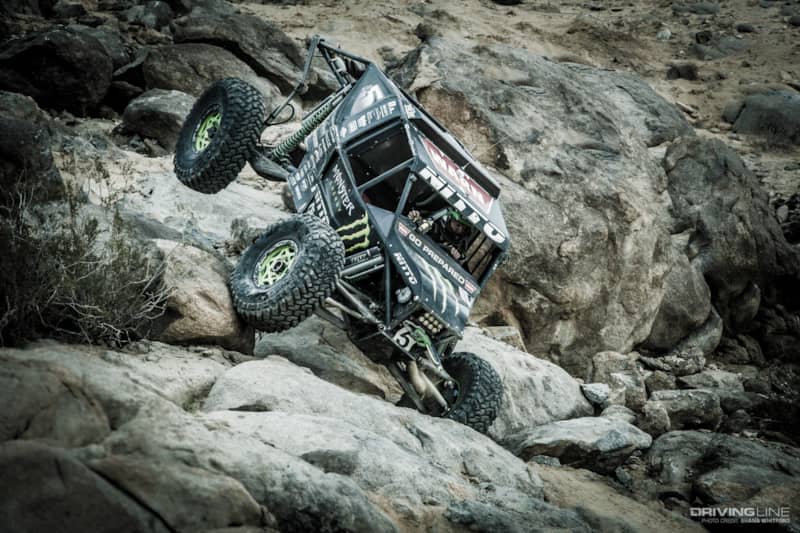 Wayes is back on the course and continues the race. Scherer is physically in the lead, but Shannon is technically in first place based on corrected time (he crossed the start line 2 minutes after Scherer on Pole).
1:54 p.m.
Wayland has now taken the lead at Jack North, followed by Scherer and Shannon. Miller, Murphy and Shirley are a good deal behind.
2:05 p.m.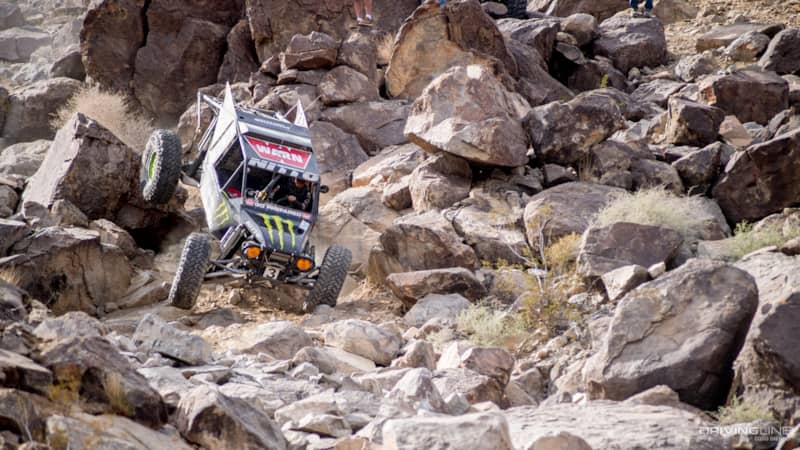 While Wayland has the physical lead followed by Scherer, Shannon Campbell could be the leader time-wise. The three make the toughest of the rock trails look deceivingly easy.
2:06 p.m.
The lead keeps swapping as the top three make their way through Chocolate Thunder. They are an estimated half hour away from the Finish Line. Bailey has finished Lap 2.
2:08 p.m.
Wayland laps someone in Chocolate Thunder, with Scherer following closely behind.
2:10 p.m.
The announcers say they have never seen a KOH lead that has been this close. Onlookers are questioning if they're pushing so hard their cars will make it to the end.
2:13 p.m.
Scherer has reportedly passed Wayland in first place.
2:21 p.m.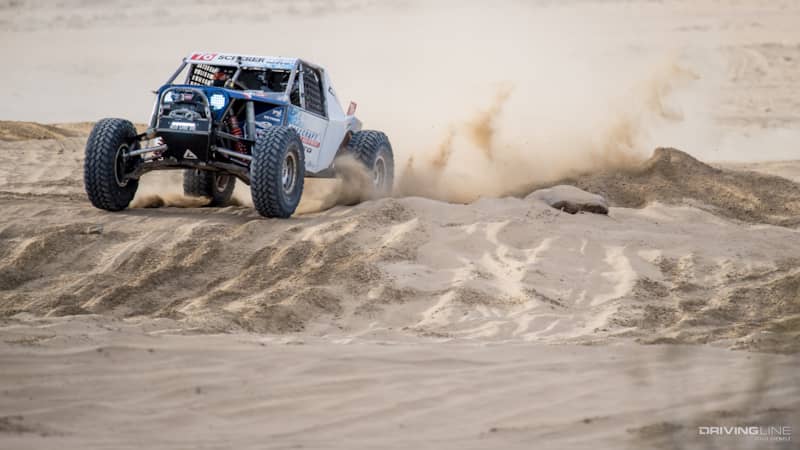 The leaders still have five more sections to conquer before the open desert, which is Scherer's specialty; his car, "The Gavel," is known for going very quickly on this kind of terrain.
2:30 p.m.
Shannon has now taken the lead, followed by Scherer. Wayland appears to have been stopped for a minute or two. Miller is in the fourth position.
2:47 p.m.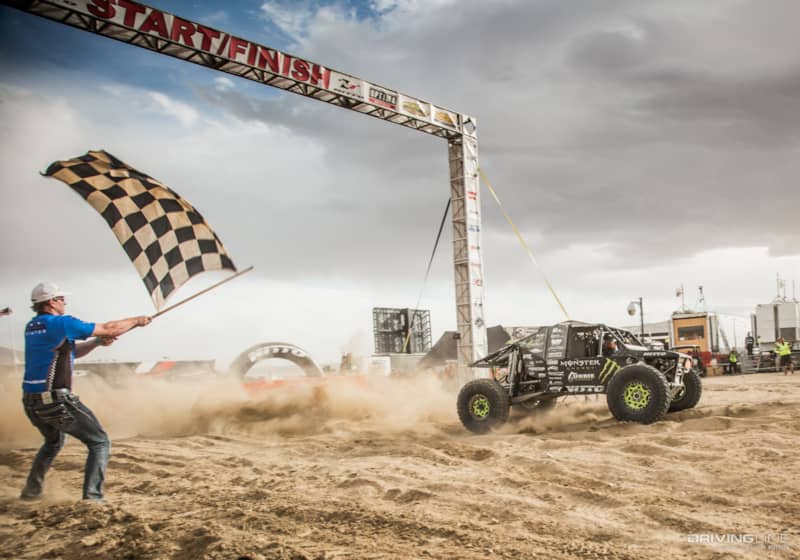 Shannon's driving on a bare wheel, but he thinks he can hold off Wayland as they come through Backdoor. Wayland chooses to take the hard line rather than wait behind his dad and the two descend the waterfall together. Wayland takes the lead and is the first driver to cross the Finish Line.
2:48 p.m.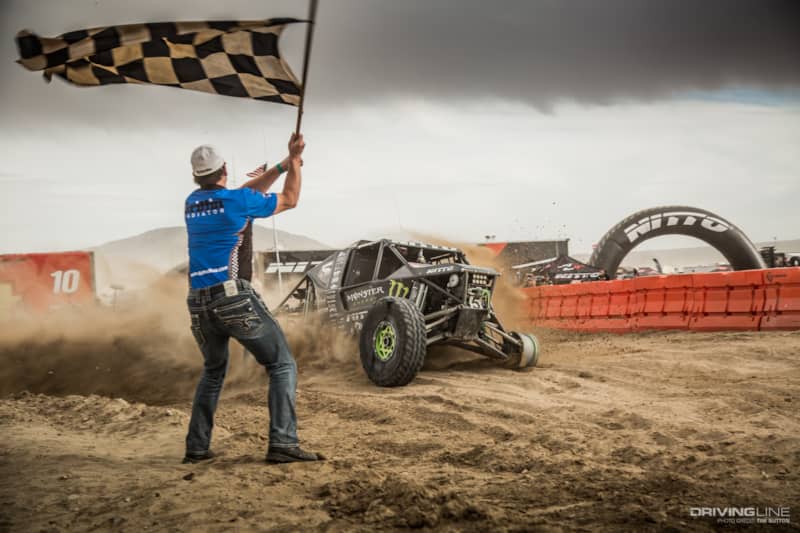 Shannon finishes in second place. His finish time trails his son's by a minute; however, they await the adjusted time to see who really takes the win.
2:50 p.m.
Scherer finishes third. It is announced that Shannon has beaten Wayland by 28 seconds! He becomes the first three-time KOH champion in history!
2:56 p.m.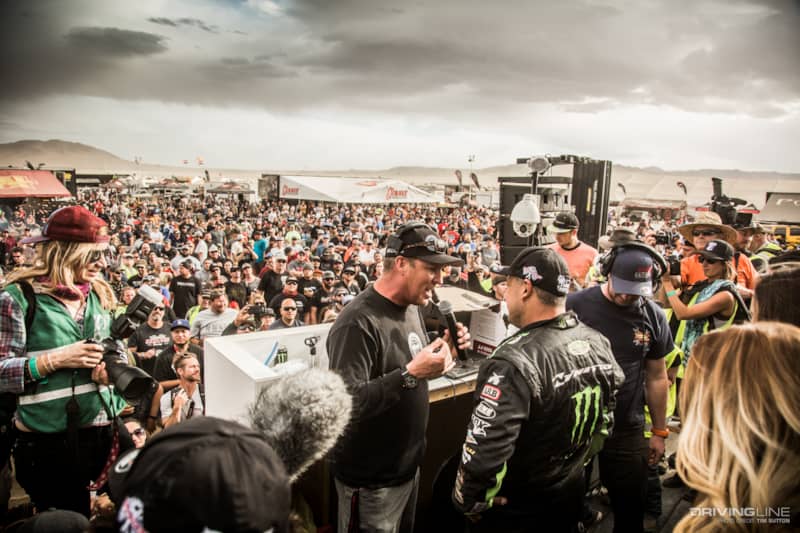 Shannon is interviewed on stage: Despite some early difficulties, the helmet mix-up and a broken wheel, he nevertheless came out on top, never having to use his winch once.
"It's nice having the best winch in the industry and not having to use it," an announcer comments.
2:58 p.m.
Shannon and Wayland celebrate with champagne on stage. "I haven't even thought about the three-time King thing," exclaims Shannon. "I was just more excited about Wayland and I getting to race to the end. It was the best race of my life."
King of The Hammers doesn't end here... 50 racers crossed the Finish Line! Read the rest of the day's results in Part 2 of our race recap.