Recycled Green Part 2: Rusty's Off-Road Jeep XJ Fender Flares and Rocker Guards [Video]
Welcome to Part 2 of our 2000 Jeep Cherokee XJ build, which we've dubbed Recycled Green. In our first installment, we got things rolling by ripping off the worn suspension and tires and replacing them with a set of Nitto Ridge Grapplers and 3-inch Advanced Kit from Rusty's Off-Road. Having logged a few thousand miles behind the wheel, we were now certain of what the next modification to this old farm Jeep needed to be.
When we fit the XJ with the 265/70R17 Ridge Grapplers, we understood that the potential for rubbing was there. Given the XJ has fairly modest wheelwell openings from the factory, trimming a little sheetmetal is common practice on this platform. Thanks to a flexy suspension setup, with our front sway bar links disconnected, our stock fenders flares would routinely come off on the trail.
While we could simply leave them off of the Jeep, it would not only look bad, but still leave us with the main issue: our tires rubbing sheetmetal. To come up with a more permanent fix, we went back to the XJ experts at Rusty's Off-Road. There, we were able to order the company's complete fender and rocker panel armor set, which would do a few things for our Jeep.
First, and most importantly, it would allow us to gain 3½ inches of wheelwell clearance. Goodbye rubbing tires! Secondly, it would cover a few crinkled body panels that the Jeep had when we purchased it. Finally, the armor would not only add a better look to the Jeep, but protect it far better if we happen to contact terra firma on the trail.
Given this would be a more time-consuming install, the Jeep's owner opted to have the pros at Low Range 4x4 in Wilmington, North Carolina, knock out the upgrade. We were there to follow along as they trimmed and bolted everything in place. While you can watch the full upgrade in the video above, we've broken down some of the highlights in the article below.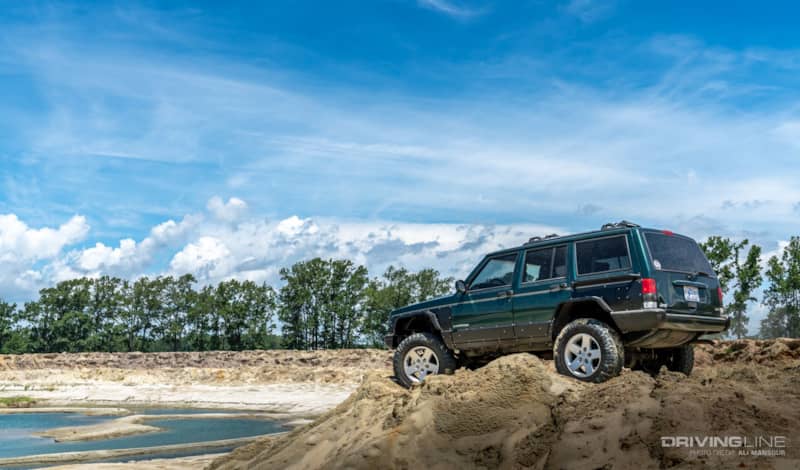 Clearance for Days
This entire upgrade got put into motion primarily due to the 32-inch-tall Nitto Ridge Grapplers making contact with the XJ's stock fenders. The Rusty's flares more than take care of that issue, and we can definitely run a taller tire if we opt for that down the road. For now, we're keeping the 32s in place, since the need for a taller tire isn't currently there. Nor do we want to tax the drivetrain any more until we opt for a differential gear ratio change.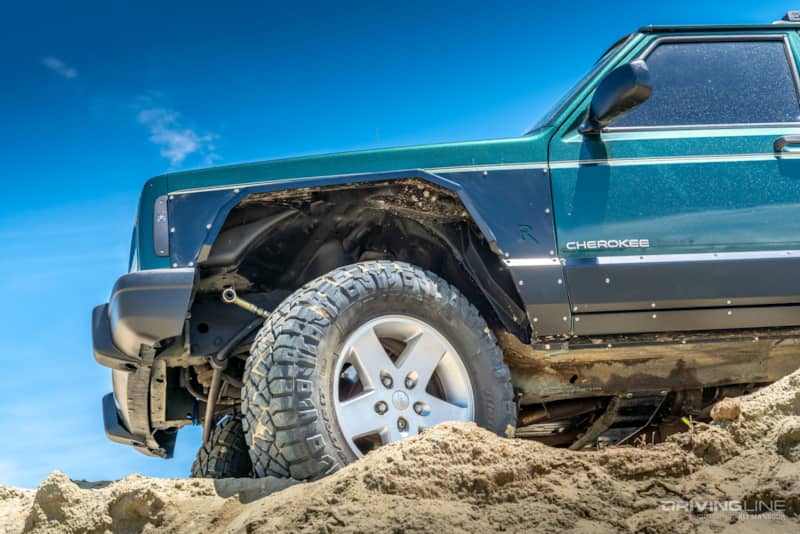 Rocker Guards
While you can purchase the fenders and rocker armor separately, we wanted a cohesive look throughout the Jeep. Having the extra 1/8-inch laser-cut steel along the doors and rockers is also a nice strength upgrade for the trail. It's worth noting that in areas where the steel door armor isn't through-bolted, Rusty's provides Rivnuts. We highly recommend a heavy duty rivet nut installation tool if you plan on tackling this install at home.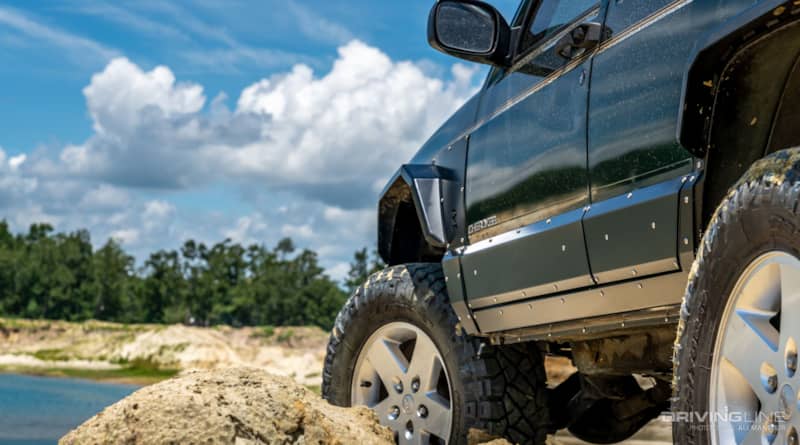 HD Flare
While the armor is primarily comprised of 1/8-inch steel, the flares are formed from a thicker 3/16-inch plate. Given everything is steel, Rusty's gives you the option of ordering the armor bare or with a black semi-gloss powder coat finish. We went with the powder coat and were impressed with the quality and consistency of the finish throughout all of the pieces.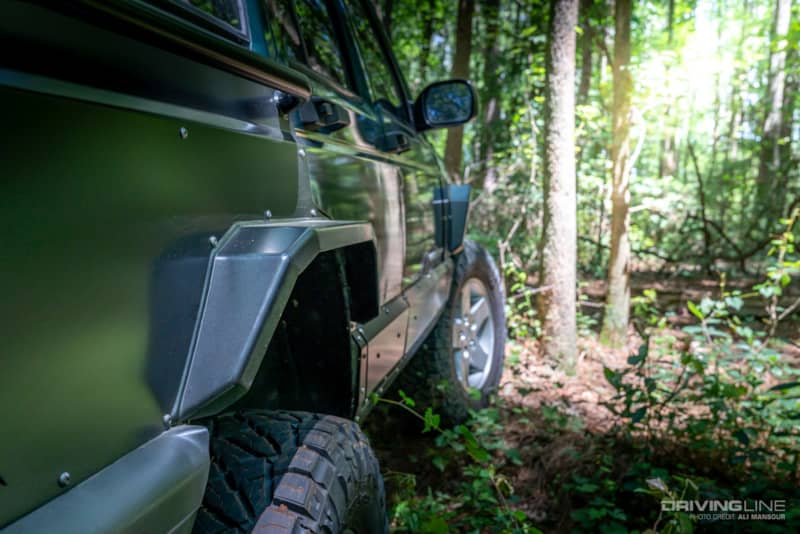 More Protection
Coming from experience, the tube just below the rear window on the rear armor is a piece you'll be glad you have. Pivoting around tight, tree-lined trails, it's easy to find your back glass and body resting against a tree. Thankfully, this added armor railing does a fine job at keeping your XJ's glass intact.
What's Next?
While Rusty's does offer a front and rear bumper set that match up with the armor nicely, we spent a little time with some trim paint and air saw to make the OE bumper set work with the upgrade. Sure, we have more in store for the classic SUV, but for now, we're loving the new look and function of our setup.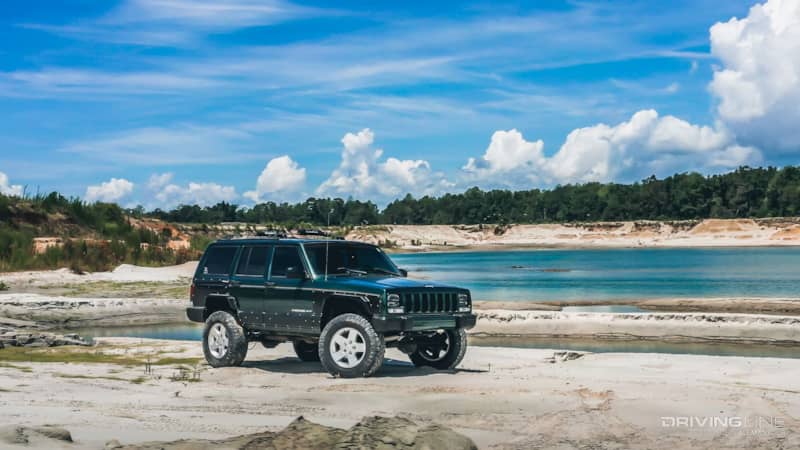 Thinking about an XJ purchase of your own? Here's what you need to know.