Road Test Review: Facing The Power Of The Twin-Turbo Hurricane In The 2023 Jeep Grand Wagoneer L
It's rare in the SUV world to encounter a situation where bigger truly equals better. Most of the time, choosing to push out the proportions of a given platform typically introduces a crowd of caveats to balance out the benefits of all that additional space. It's not uncommon for stretched versions of sport-utility vehicles to suffer from ungainly handling, white-knuckle parking challenges, and of course the loss of step that comes from carting around all of that extra weight.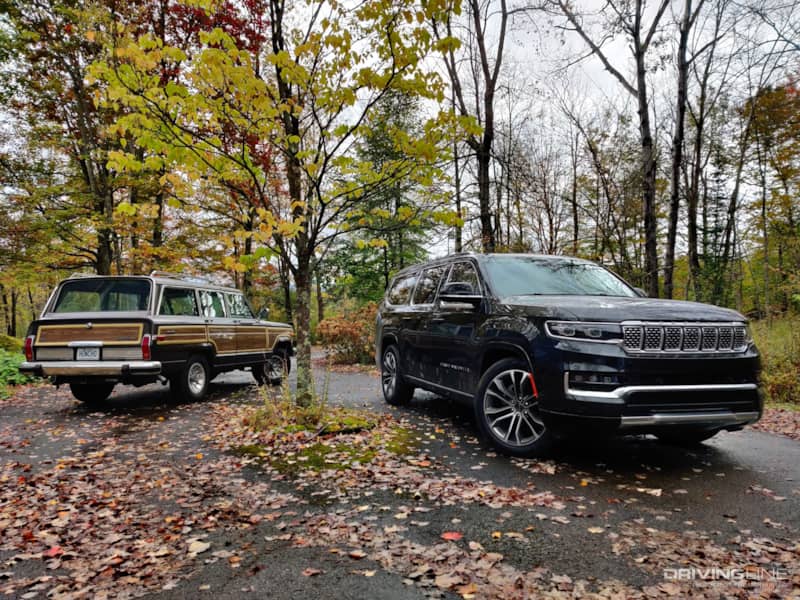 The 2023 Jeep Grand Wagoneer L turns out to be a surprising exception to most (if not all) of the above. Thoroughly embiggened as compared to its already massive standard-wheelbase sibling, the Grand Wagoneer L pairs its pachyderm-like proportions with a sizzling new underhood entry that puts Jeep's previous V8 engine to shame. It's a compelling package that posits you can't always predict how much you'll enjoy the drive simply because you're overwhelmed by the size of the wrapper.
How Big Is It?
The tale of the tape reveals an impressive glow-up for the Grand Wagoneer L, which gains seven inches of wheelbase versus the "base" model. That translates into an additional foot of overall length, and with five inches of that distributed to the rear overhand there's now a 16 cubic feet of extra cargo space behind the third row of seating. With a whopping 44 cubes now available when hauling a full load of passengers, that's roughly the equivalent of stacking two full-size sedan trunks on top of each other, ensuring that you won't have to choose between people and packages when cramming the Jeep to the brim.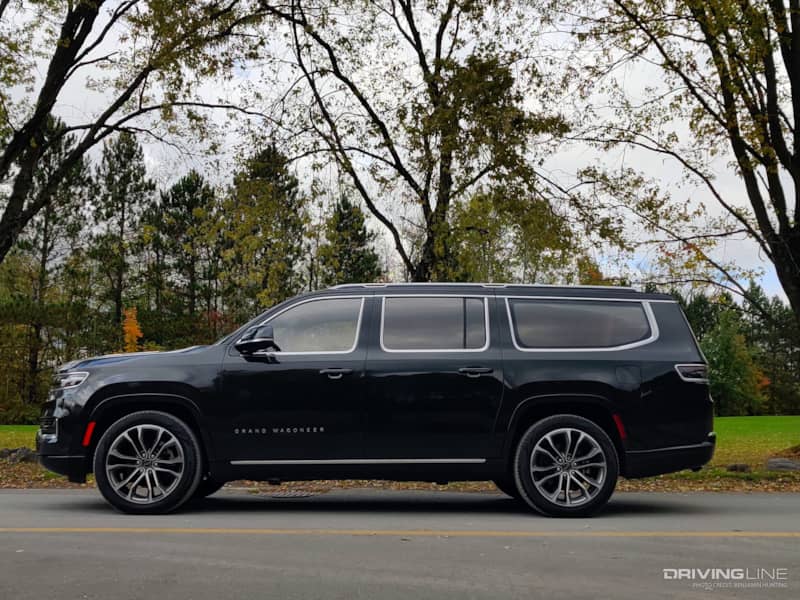 As someone currently engaged in a change of address from the city to the countryside, I had ample opportunity to push the Grand Wagoneer L's seemingly endless interior space to the max with boxes, lamps, banners, and all manner of odd-sized items that would have trouble fitting inside of lesser SUVs. With the third row stuffed flat into the floor (at the touch of a button), and the second row folded over, I had no difficulty finding room for all of the last-minute gear I didn't have time to pack before the professional movers arrived.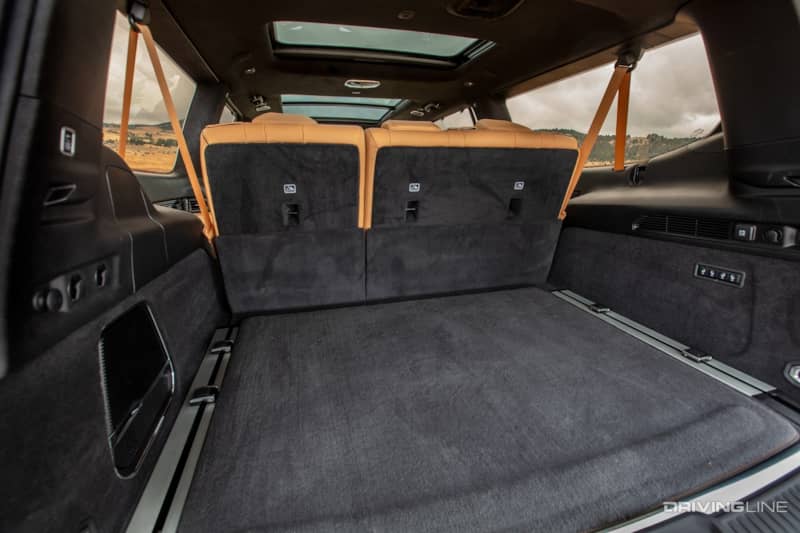 Having previously used the standard-wheelbase Grand Wagoneer as a track day support rig, it was enlightening to see how much additional space was available in the stretched model, with its 131 total cubic feet challenging class-leading minivans in the battle of mobile warehouses.
Bring The Hurricane Pain
Most of the time, elephantine luxury trucks like the Grand Wagoneer L balance out their copious carrying capacity with handling and steering feel that trends towards distant and detached. It's certainly true that the air-sprung, adjustable ride-height Jeep is far from athletic when asked to bend with the asphalt, preferring to register its distaste at sudden directional change by way of a relaxed lean-in from corner entry to exit.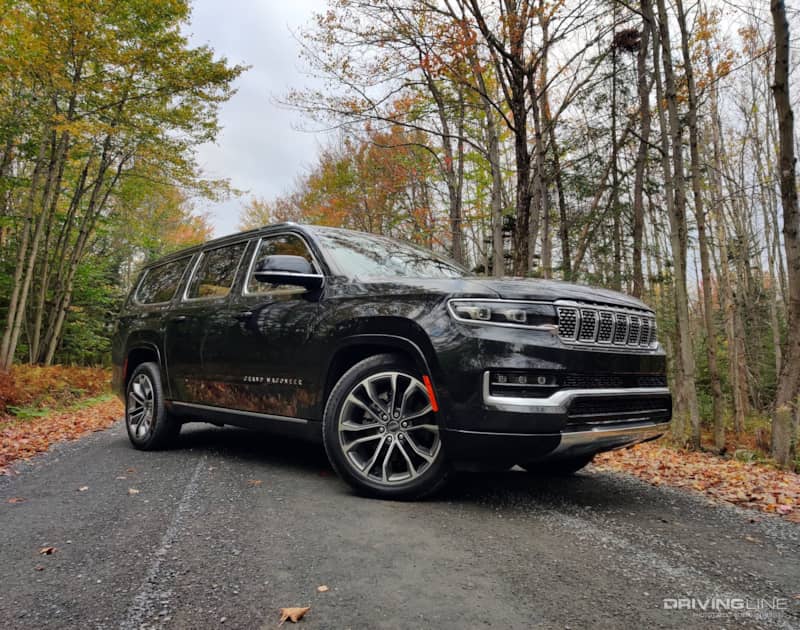 While its soft charms and arms-length isolation of driver and passengers from the noise and bustle of the road surface are par for the course in its class, where the new L leaps ahead of the regular Grand Wagoneer—and finally places alongside leading lights in the segment—is in the engine compartment. Standard for every version of the long-wheelbase Jeep is a new 3.0L inline-six cylinder that's been twin-turbocharged to produce an exceptional 510 hp and 500 lb-ft of torque.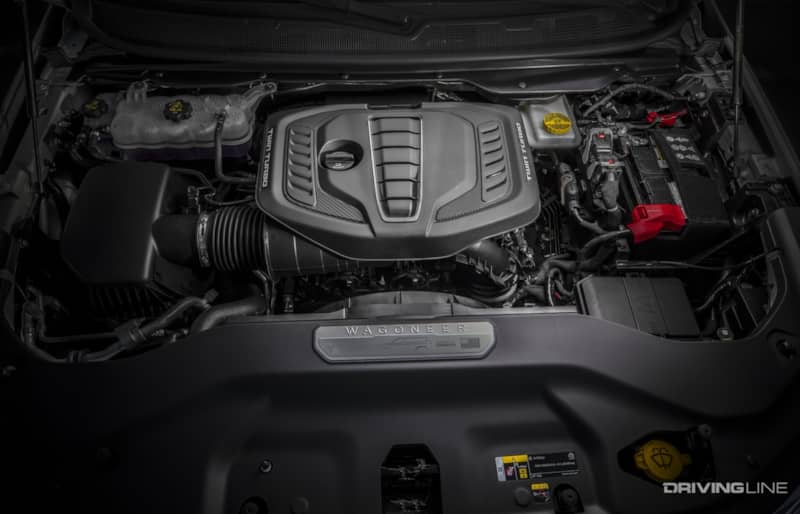 For those keeping score in V8 land, that's a considerable sand-kick in the face of the 6.4L eight-cylinder that remains the base motor on smaller versions of the Jeep. With a near-40 pony advantage plus an 45 additional lb-ft of twist on tap, the L stampedes to 60-mph nearly a full second faster than its shorter and lighter twin. On a long enough stretch of road that advantage eventually evens out, but you'd need ice water in your veins to keep the spurs dug into the sides of a whale like this one much past the century mark—while it might out-accelerate its predecessor, it certainly doesn't out-brake it.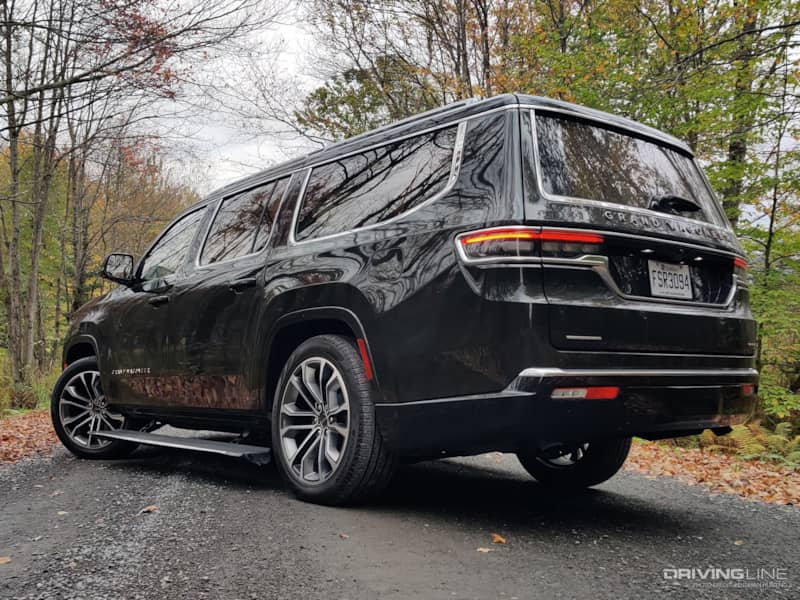 Once the novelty of launching a sub-5 second cetacean wears off, prepare to be impressed by just how smooth the turbo six (dubbed the "Hurricane" by Jeep) feels as compared to the higher-displacement 6.4L. While I've always liked Jeep/Dodge's largest V8, especially in the Challenger and Charger Scat Pack models, the six-cylinder is calmer, quieter, and seemingly more responsive when passing. It's a significant upgrade that nearly matches the eight-cylinder at the fuel pump, and it's great to see Jeep making the high-tune version de rigueur for the biggest fish in its SUV pond (with non-"Grand" Wagoneers able to access a 420 hp version of the same as an option).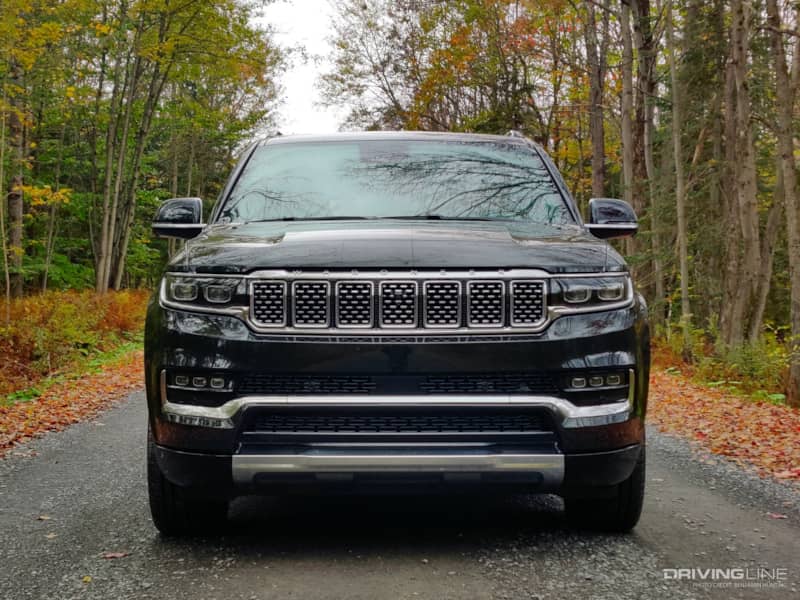 It's also rumored that this mill will make it into the mix with the next-generation versions of Dodge's performance coupe and sedan, which are slated to replace the Challenger and Charger in a year's time. Although the lack of rumble will likely be missed by longtime fans, the pace promised by this new addition to the family should more than make up for it.
A Worthy Choice You Might Not Ever Notice
Aside from its super-sweet drivetrain, the Jeep Grand Wagoneer L's second secret weapon is an exquisite interior, which carries over largely unchanged from the previous year. I sampled the Series III trim level, which includes acres of fine-stitched leather, a truly overwhelming number of screens accessible at nearly every passenger position, and a cabin whose materials and overall design felt worthy of the truck's $113,000 asking price. Think of it as a more organically turned-out answer to the Cadillac Escalade (especially when ordered with a light interior color), and you've got the general ideal on the level of opulence that Jeep is going for here.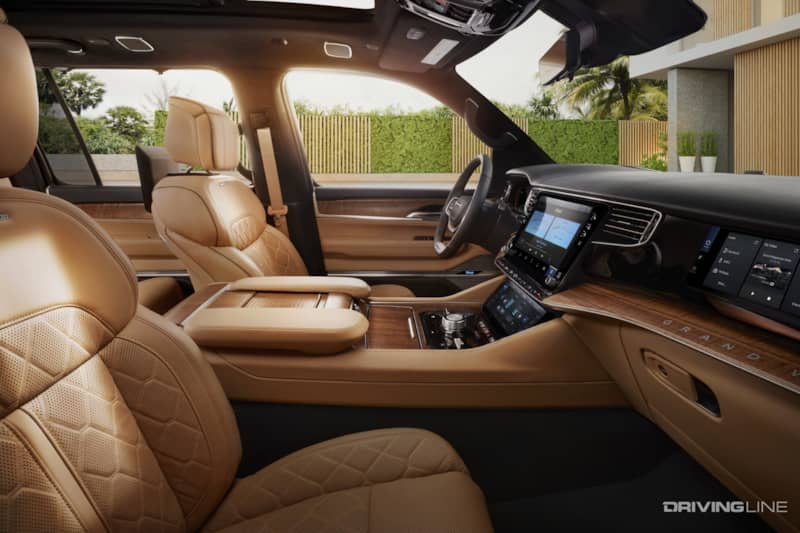 To be honest, I'm also starting to come around to aspects of the Grand Wagoneer's exterior styling. Initially, my reaction to the Jeep's sheet metal was largely indifferent, as I felt the general shape and lack of detail called to mind several large SUV cues mashed into a single silhouette. The L actually looks much better in person than it does in photos, and isn't awkward or gangly as extended-wheelbase utility vehicles often are. Still, it's more anonymous than extroverted, even given its gargantuan size, which might not appeal to those looking to trade their cash for flash.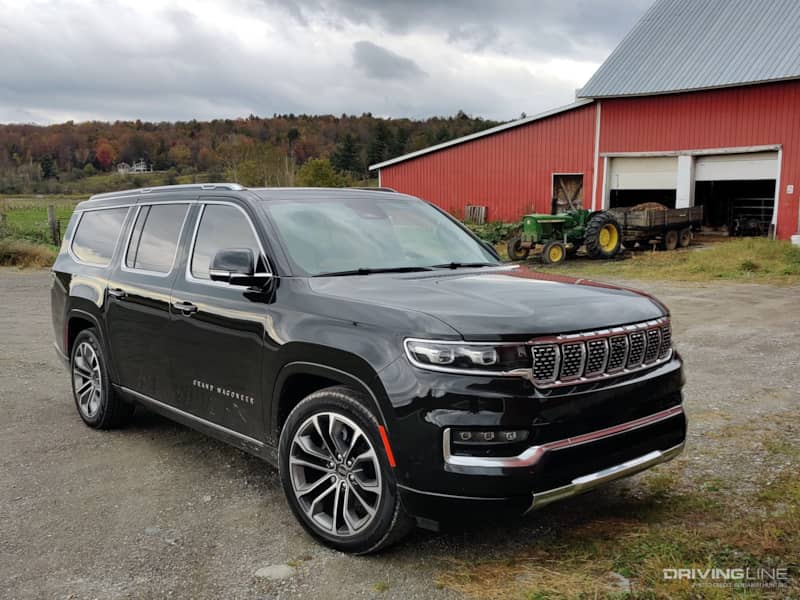 There isn't a lot of competition on the playing field that the Jeep Grand Wagoneer L has rolled onto. Aside from the previously-mentioned Escalade (in stretched ESV trim) and to a certain extent the GMC Yukon Denali XL, few ultra-long trucks can touch the price point or over-the-top combination of luxury and capability that the Grand Wagoneer L offers. If anything, Jeep's greatest enemy is its own obscurity, as few deep-pocketed customers would think to head over to that particular showroom when seeking out a prestigious do-it-all tow-rig the size of a small aircraft carrier. I'm not exactly sure how the brand will overcome this attention deficit either. For such an enormous automobile, it sure is easy to miss the Grand Wagoneer as it passes you by on the road.