Second to None Mach 1: Stunning '69 Mustang with a DOHC 4.6L V8
Like most automotive enthusiasts, John Godfrey got hooked early in his life. At the age of 17, he was fortunate enough to pick up his first Mustang, a '69 fastback that was daily driven for six years. After getting married and expanding the family, the Mustang became a vehicle that was not so practical to him. It was sold in order to find a better solution for his family's needs at the time, but John knew he would get behind the wheel of another Mustang in the future.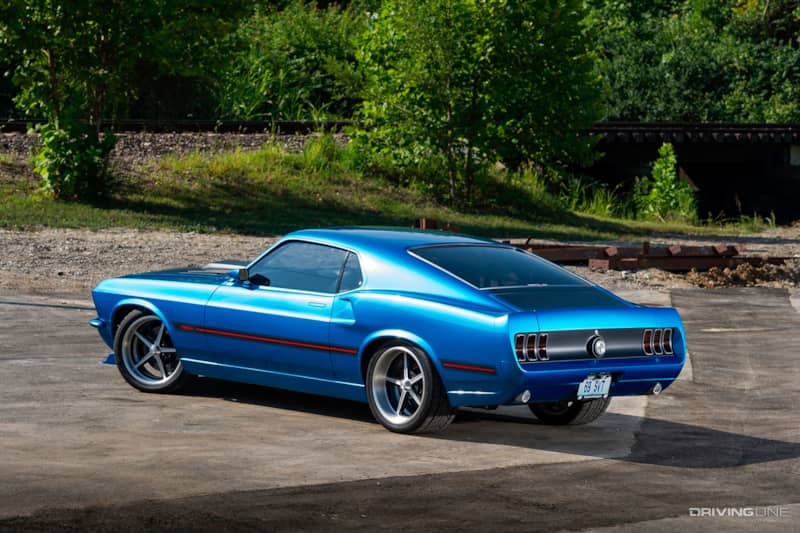 Getting Back to It
Working as a machinist, John saved up for him and his wife, Shari to buy and restore a '69 Mustang Mach 1. The car is an R-code, which means that it has a 428ci Super Cobra Jet V8 and this one also has the 4.30:1 rear gear ratio as well. The car was a 10-year restoration and finished in Acapulco Blue. It was done up so much that it was not something the couple could drive regularly to car shows or cruise nights. That's when they formed a plan to find another car and make it a bit of a sleeper with a modern engine, drivetrain, interior and suspension.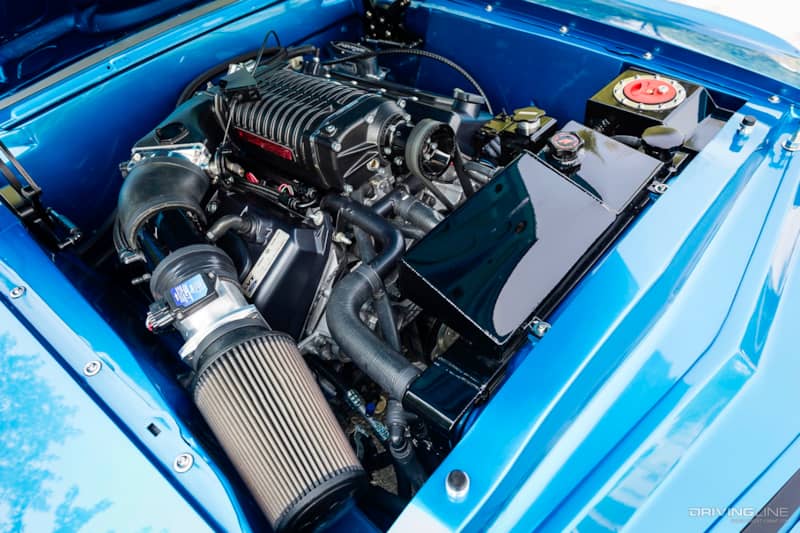 Second Time Around
After an extensive search on Craigslist, they found another Acapulco Blue Mach 1 in Springfield,MO. Like many online purchases, the car was cheap at $1,200 but was a total rust bucket. Another key piece they were looking for was a modern engine that could put down gobs of power. Luckily they found a 32-valve DOHC 4.6L V8 from a '04 SVT Cobra "Terminator" Mustang. The funny part about the engine is that it was from a stolen car recovered by the police. It now has a TREMEC 6-speed manual transmission behind it with McLeod twin disc clutch for extra grip.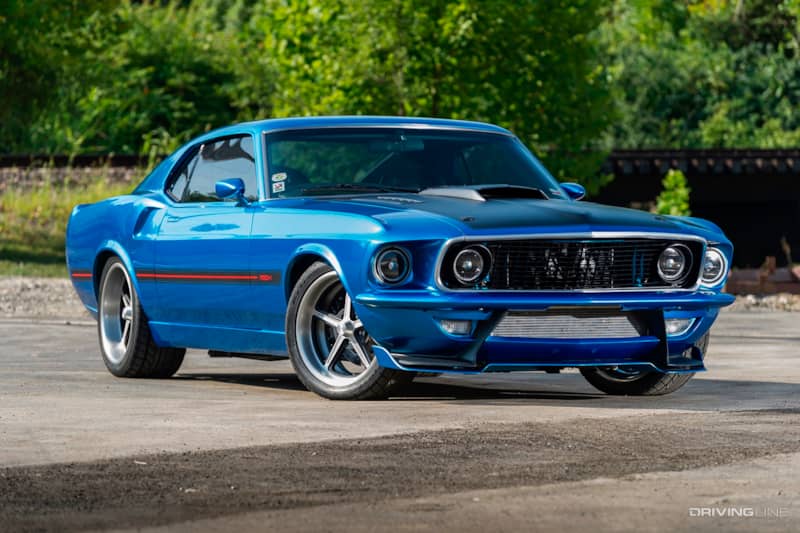 Underlying Performance
To squeeze every bit of performance out of the drivetrain, John installed a Heidt's Super Ride Mustang II independent front suspension system. In the rear is a Total Cost Involved three-link rear torque arm suspension with a sway bar and subframe connectors for extra rigidity. The chassis was also equipped with double-adjustable coil-overs on all four corners to maximize performance capabilities. Putting the power down to the wheels a 9-inch rearend from a '69 Drag Pack Mustang with 3.91:1 gears and 31-spline axles.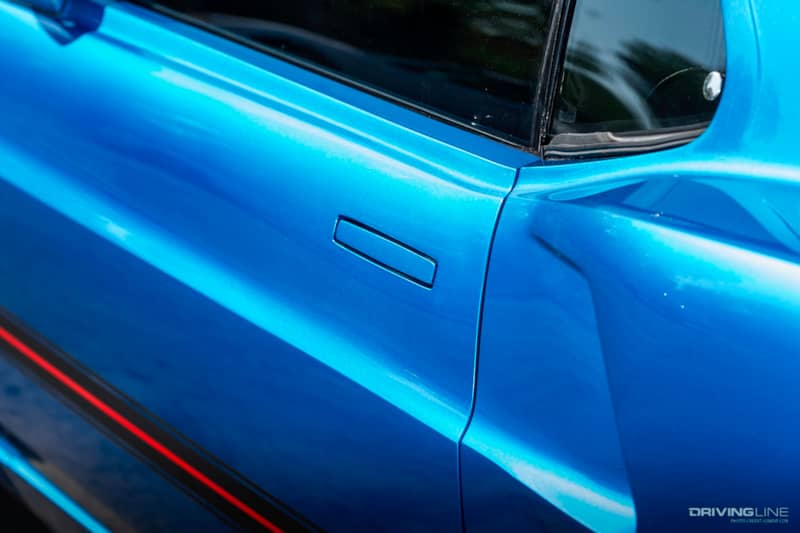 Getting Under the Skin
As the vehicle was coming together, the next thing to tackle was all the cancer (AKA rust). John got to work by replacing the roof, floor, quarter panels, taillight panel, doors, front frame rails, core support, front fenders and the hood with help of products from Classic Parts of America. Given the amount of reproduction parts needed to make it one solid car again, gives you a good idea of how bad the car's condition was. In order to fit the modern drivetrain, John modified the firewall and removed the factory shock towers. Furthermore, the transmission tunnel was raised 1 ½-inches, which was all a part of the work that John performed during many weekends in his own 30x40-foot shop.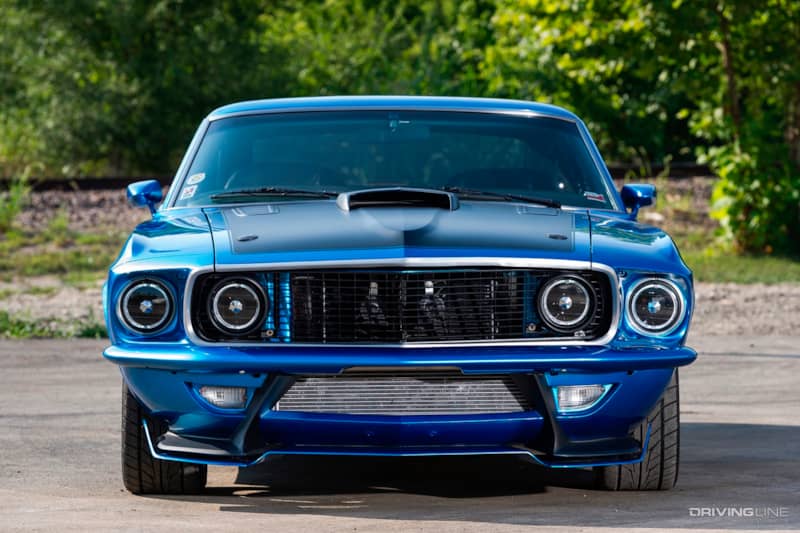 The Transformation
Moving along, the Godfrey's son, Johnny, media-blasted the body and coated it in epoxy primer to create a solid starting point. The car was then sent out to The Restomod Store, where the plan was to simply give it a fresh paint job. After seeing some of the work that Michael McLin had done to reshape other vehicles there, ideas started to churn the Godfrey's imaginations. For starters, John wanted a redesigned front spoiler and Shari wanted to add a set of sleek Kindig-it door handles. These were the only planned mods and as the work continued, things snowballed from there.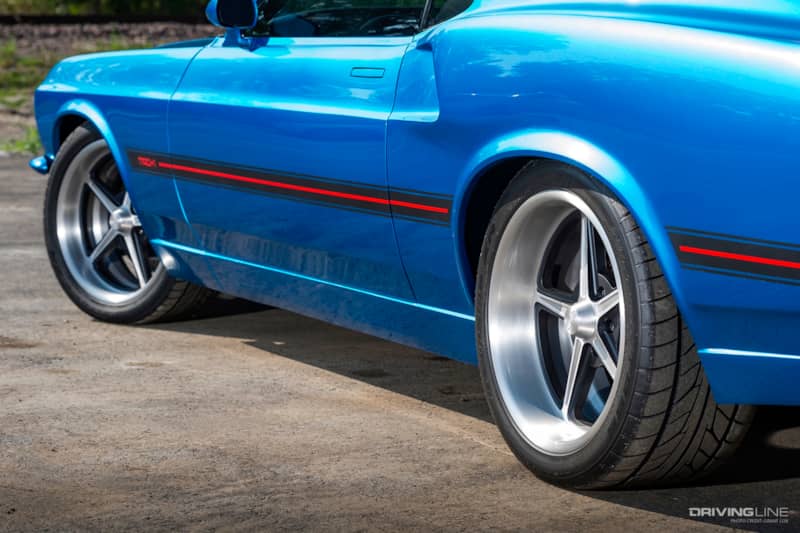 The Snowball Effect
As time went on, new modifications like shaved driprails, lower rocker panels, custom side scoops and tucked bumpers were added to the list. Adding to the high level of fabrication, all these mods were done in steel and not fiberglass. As the 2-year process at The Restomod Store was coming to an end, the body was sprayed in a custom mixed blue paint that is similar to Acapulco Blue but with a more spectacular luster. Finishing off the look of the stunning beast is the 18x8 and 18x10 Intro XLR Hauler billet wheels wrapped in 245/40ZR18 and 285/35ZR18 Nitto NT555 tires. This ultra high performance tire was the perfect fit with large contact patches that make for superior traction and great handling on this highly customized muscle car.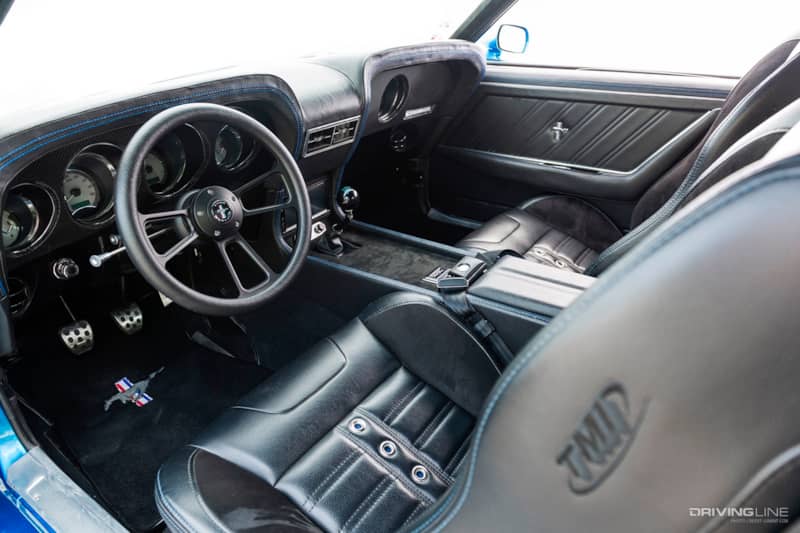 Creature Comforts
Working on detail for the interior, the original seat frames were used but enhanced with TMI Products XR Sport seat foam and upholstery. The plush, suede headliner and dashboard also came courtesy of TMI. Other pieces like the custom center console and door panels are other key pieces that really set this car off. To help keep track of the engine vitals is a set of gauges from Dakota Digital. Topping it all off is Memphis Car Audio stereo that's controlled by a Kenwood head unit.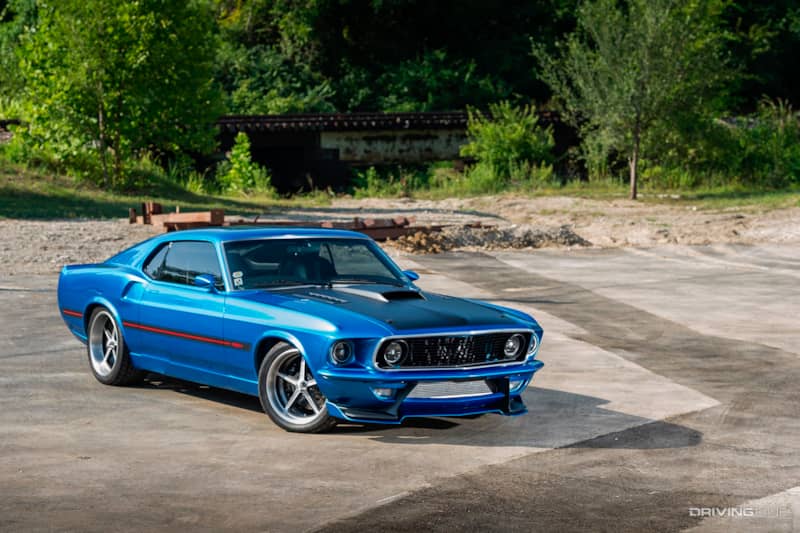 Second to None
After many years of hard work, the Godfrey's created a vehicle that was greater than they first imagined. Though it was finished to a show-quality, it is perfectly capable of holding its own on the street and taken to events without the use of a trailer. Their goal was to make a bit of a sleeper companion, but in the process, this car has transformed into something far superior. We can truly say that this Mach 1 is second to none other!