Slightly Overworked: A Sled-Pulling Second-Gen Ram Packing A 1,400 HP Cummins
When you spend your life building and repairing pulling trucks for customers, chances are pretty good that you'll eventually build one for yourself. Although it took longer than he wanted it to, Erik Hucke did exactly that with his '97 Dodge Ram. A work in progress since 2009, Erik was finally able to debut his battle-ready second-gen a couple years ago. Since then, it's been a force to be reckoned with in the popular Limited Pro Stock Diesel Truck class. On any given night, his 1,400 hp, Cummins-powered monstrosity can best some of the strongest-running trucks in North America.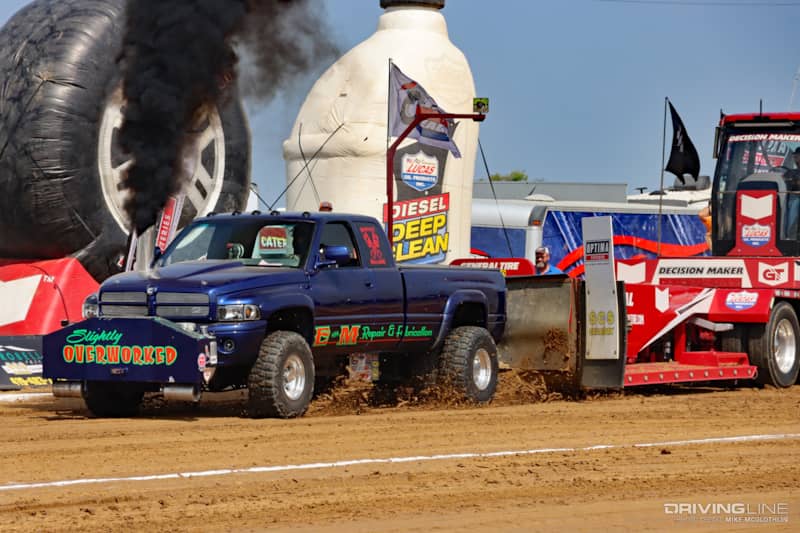 But building a winning combination didn't happen overnight. Rather, Erik's sled-conquering concoction represents years of trial and error in the truck pulling sport. The '94-'02 Dodge chassis, custom hitch (and hook point), engine, turbo, fuel system, transmission and driveline are all part of a carefully selected recipe—and it consists of parts that've proven themselves time and again in the dirt. Couple all of that with a sharp eye for reading a track, an aggressive driving style and a willingness to think outside the box on tire choice and you get more than just a contender. Keep reading for a closer look at Erik's full-pulling Dodge Ram.
The Repainted, Repowered V-10 Donor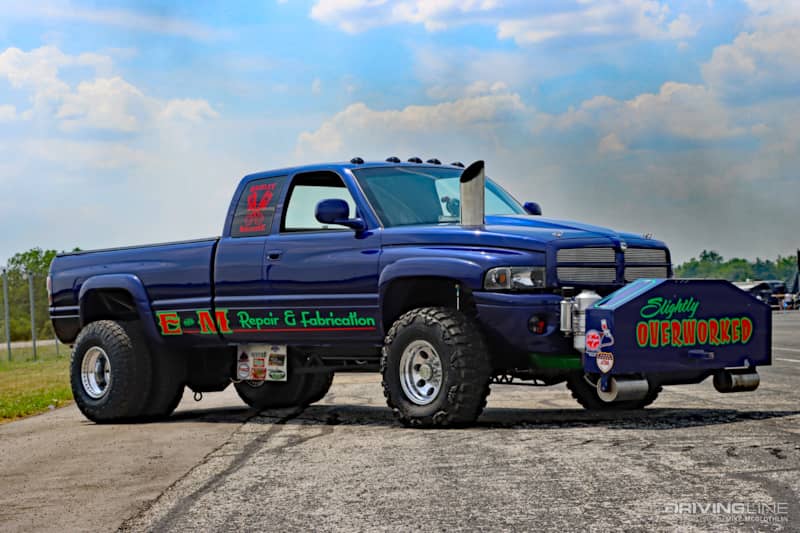 Believe it or not, the '97 Dodge Ram 2500 Erik transformed into a high-caliber diesel puller was originally powered by an 8.0L gasoline V-10. It's also surprising to learn that the shade of deep blue the truck now wears is actually a factory Ford Edge color. Erik's autobody work was performed at Pop's Garage and Restoration in Camden, Ohio. The Slightly Overworked name present on the weight box stems from Erik's workaholic nature. At his place of business, E And M Repair & Fabrication, everything from light truck repair to agriculture equipment to custom fabrication is part of an average day's workload. Needless to say, he's always busy in the shop.
Haisley Super B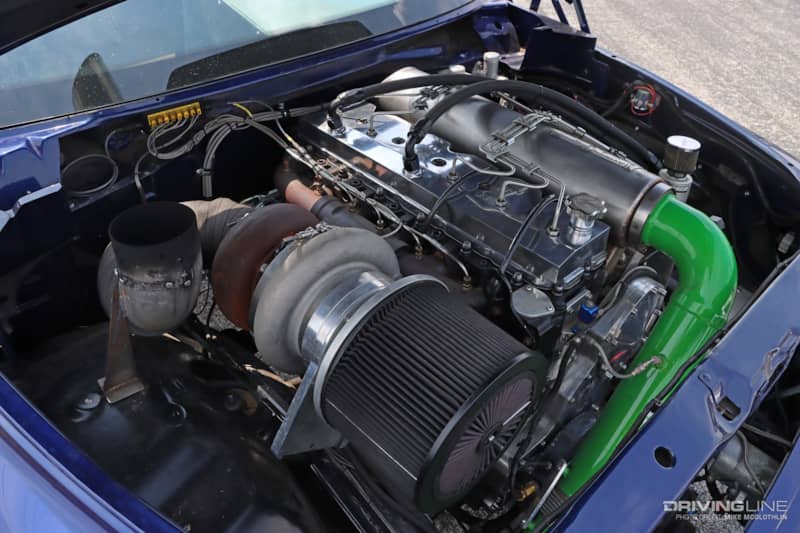 Like many others in the Limited Pro Stock class, Erik campaigns a mechanically injected Super B Cummins built by Haisley Machine. The engine's 6.7L-based, cast-iron Cummins block has had its water jackets filled with concrete, has been machined to accept ductile iron sleeves, 14mm ARP main (and head) studs and fire-rings, and is topped off with a 1-inch thick deck plate. A crankcase girdle ties all of the main caps together and a factory-based crankshaft spins a set of billet connecting rods that are topped off with forged pistons. A ported, 24-valve cylinder head (which has also been filled with concrete), complemented by a ZZ Custom Fabrication individual runner intake manifold, allows the Super B to breathe easy.
76mm Turbocharger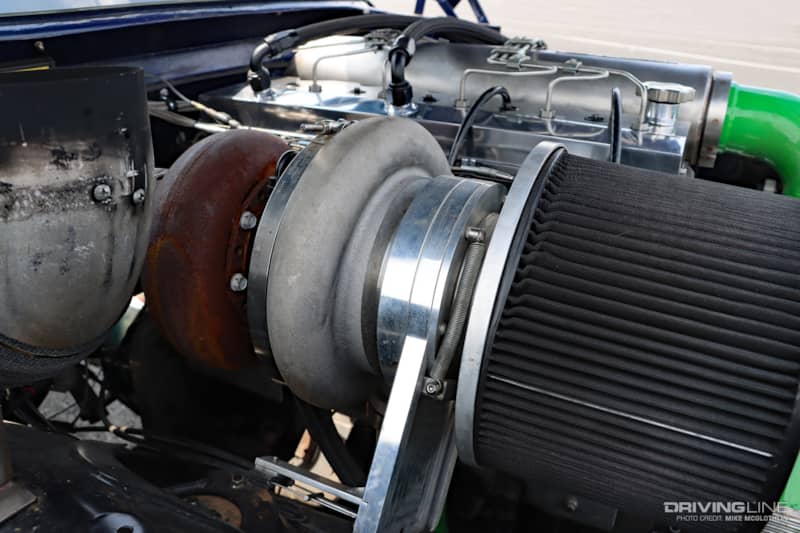 Squeezing in excess of 1,400 hp through a 3.0-inch smooth bore turbocharger isn't easy—but this R&D-rich, class-specific unit from Wimer Fuel Injection & Turbo makes it possible. Limited Pro Stock rules dictate that only a smooth bore (no MWE groove), 76mm (inducer) compressor wheel be used, and like most pulling classes no power adders other than fuel and air are allowed. The 3.0-inch smooth bore charger sports a T6 turbine inlet flange and mounts to an exhaust manifold with a custom, Haisley center section and BD outer sections. An air-to-water intercooler from Sandridge Custom Fabrication (in conjunction with an icebox) keeps intake temps nice and cool.
Old-School, Mechanical Fueling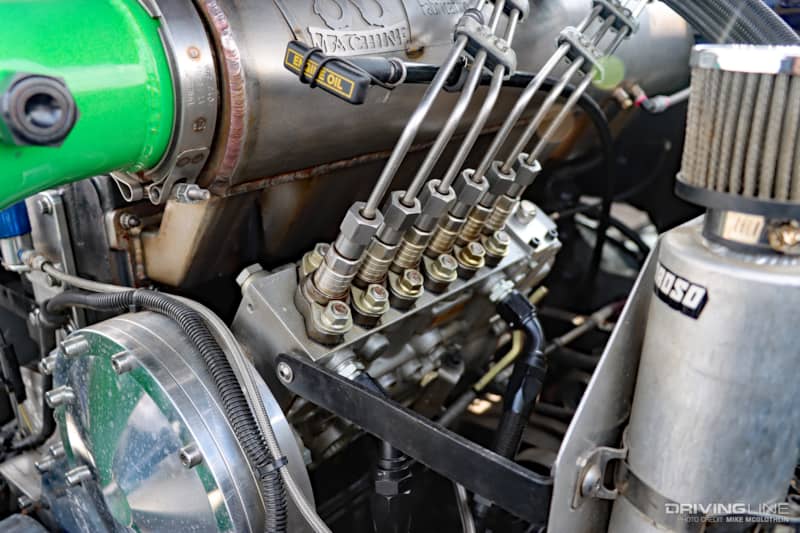 On the backside of the engine's billet front cover sits the heart of the Cummins. It's a P-pump built by Northeast Diesel Service, a highly revered injection shop in Missouri. The mechanical pump features 13mm plungers, a quick-rate cam and can support 5,000-rpm. It's also aggressively timed, with a horsepower-friendly, 40-plus degrees of timing advancement on tap. Downwind of the healthy P-pump, you'll find six top-feed style, mechanical fuel injectors from the mind of Monster Pump Mike. A gear-driven Waterman Racing fuel pump gets everything started by supplying plenty of low-pressure diesel to the 13mm injection pump.
Power Transferring Parts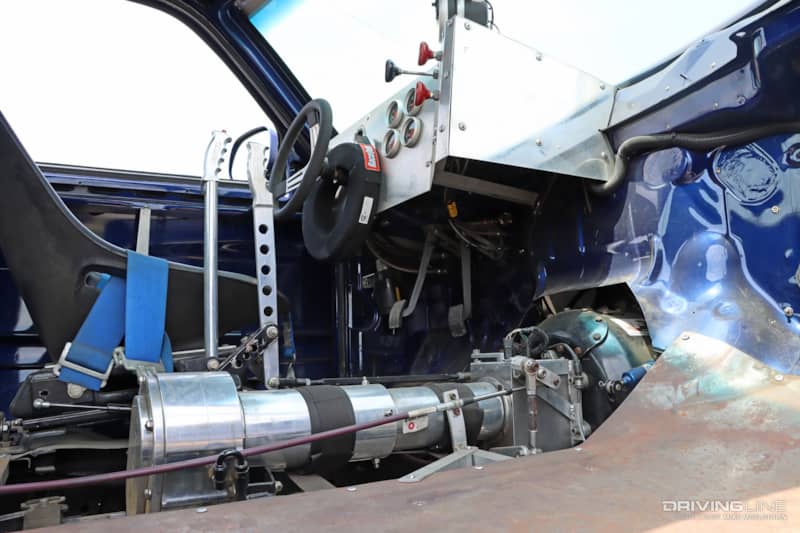 Yes, that's the transmission, transfer case and part of the driveline protruding into the cab. It's a near-bulletproof combination of components found in virtually every dedicated pulling truck these days. Power transfer begins with a four-disc Molinari Racing Products clutch that resides in a steel, blow-proof Browell bell housing. From there, a one-speed transmission from ProFab Machine takes over, routing power to a quick-change transfer case (also known as a drop box). The gutted cab is part of the overall goal to get as much of the truck's 8,000-pound heft as far forward as possible.
Overkill Axles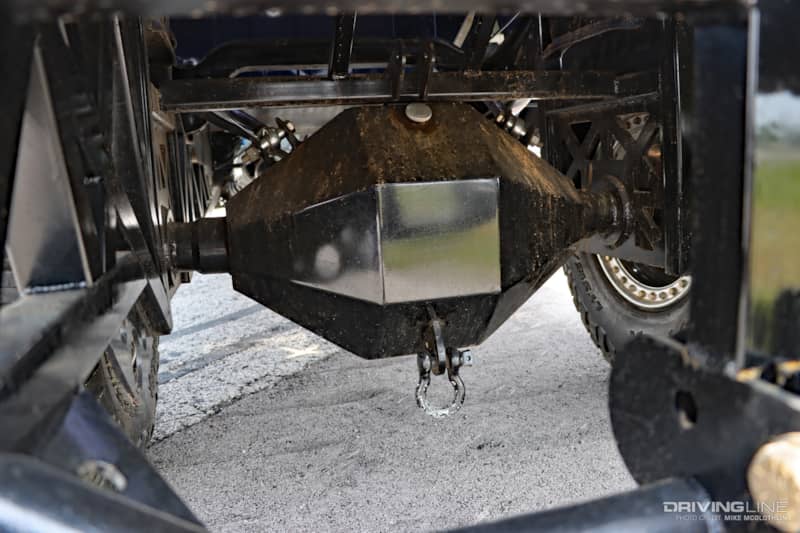 While not indestructible, the Barker Machine And Fab SQHD rear axle under Erik's Dodge is about as close to unbreakable as it gets. The Meritor/Rockwell unit conceals a spool and a 6.17:1 ring and pinion behind the fabricated housing. The SQHD has also been treated to gun-drilled axle shafts and hubs from SCS Gearbox. Up front, the Dana 60 has been fitted with Yukon Gear & Axle spin free locking hubs, a Grizzly locker and a homemade girdle and truss. Double-adjustable AFCO Racing shocks and coil springs are used to fine-tune the front suspension.
While seeing all-terrains isn't uncommon in truck pulling, finding four hybrid-terrain Nitto Ridge Grapplers across the back of a Limited Pro Stock diesel truck is rare. In fact, we'd never seen it done until we spotted the setup on Erik's Dodge. In particular, he found the Ridge Grappler's stepped block edges interesting, and thought he'd give them a try. Each 315/75R16 Ridge Grappler measures 34.5-inches in diameter and carries a load carrying capacity of 3,860 pounds at maximum pressure. We're not sure if Erik runs them at 65 psi or not but, given that the rear tires carry most of the burden imposed by the weight-transferring sled, we wouldn't be surprised if they're kept close to that inflation pressure.
Attacking The Track
With the duals stabilizing the load out back (along with the rigid rear suspension doing its thing), the front-mounted Mud Grapplers are able to dig throughout the course of a pull. The 315/75R16 extreme mud terrains measure just under 35-inches in diameter (the maximum allowed in the Limited Pro Stock class) and are nearly 13-inches wide. Running each Mud Grappler at lower pressure further contributes to their broad footprint. They're mounted to 16x10-inch Pro Comp wheels while the Ridge Grapplers in the rear are wrapped around 16x10-inch Real Racing aluminum wheels.
On The Job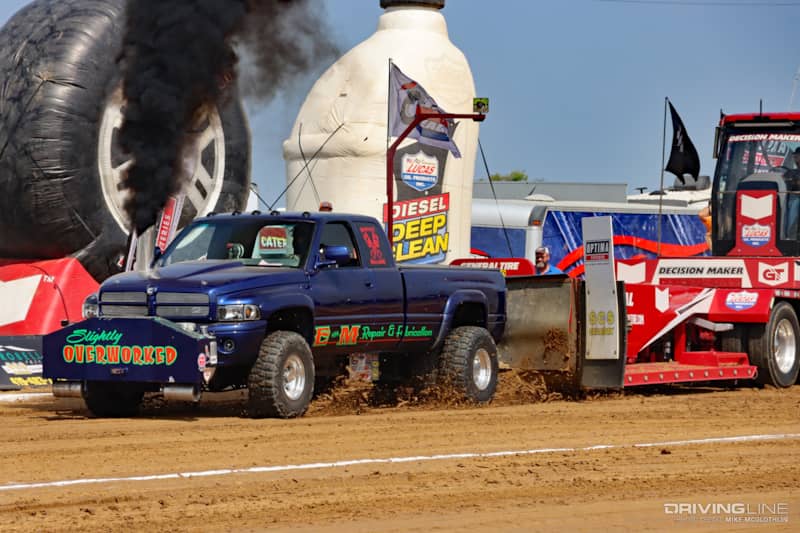 This is what Erik's creation looks like when it's time to go to work. Now imagine the sound of the 1,400-plus horsepower Cummins turning 5,000 rpm and the truck itself building more than 30-mph worth of ground speed before the iron sled finally brings it to a halt. Although winning never comes easy in competitive truck pulling, Erik has finished in the money on plenty of occasions and even earned a big win pulling with the Battle of the Bluegrass series in July. As seat time and information collected on the data logger continue to accumulate, look for Erik and his second-gen to be one of the more feared combinations on the Limited Pro Stock circuit.
More From

Driving Line
Curious what other rules the Limited Pro Stock Diesel Trucks have to play by? Look no further than our anatomy of piece on this ultra-competitive class of vehicles.